It's no secret, the 70s are my favorite decade of women's fashion and music. It might have something to do with being born in the 70s or it could just be the fact that the 70s brought us such an amazing vibe still strong today! If you are planning what to wear for a 70s costume party and have no idea where to start, look no further-I've got you covered. In this post you will find 3 seriously groovy 70s looks that will not only be easy to pull off, but you'll look like a million bucks sporting this playful, vintage style.
I've not forgotten about the men-I've pulled together several great pieces that are affordable and easy to find!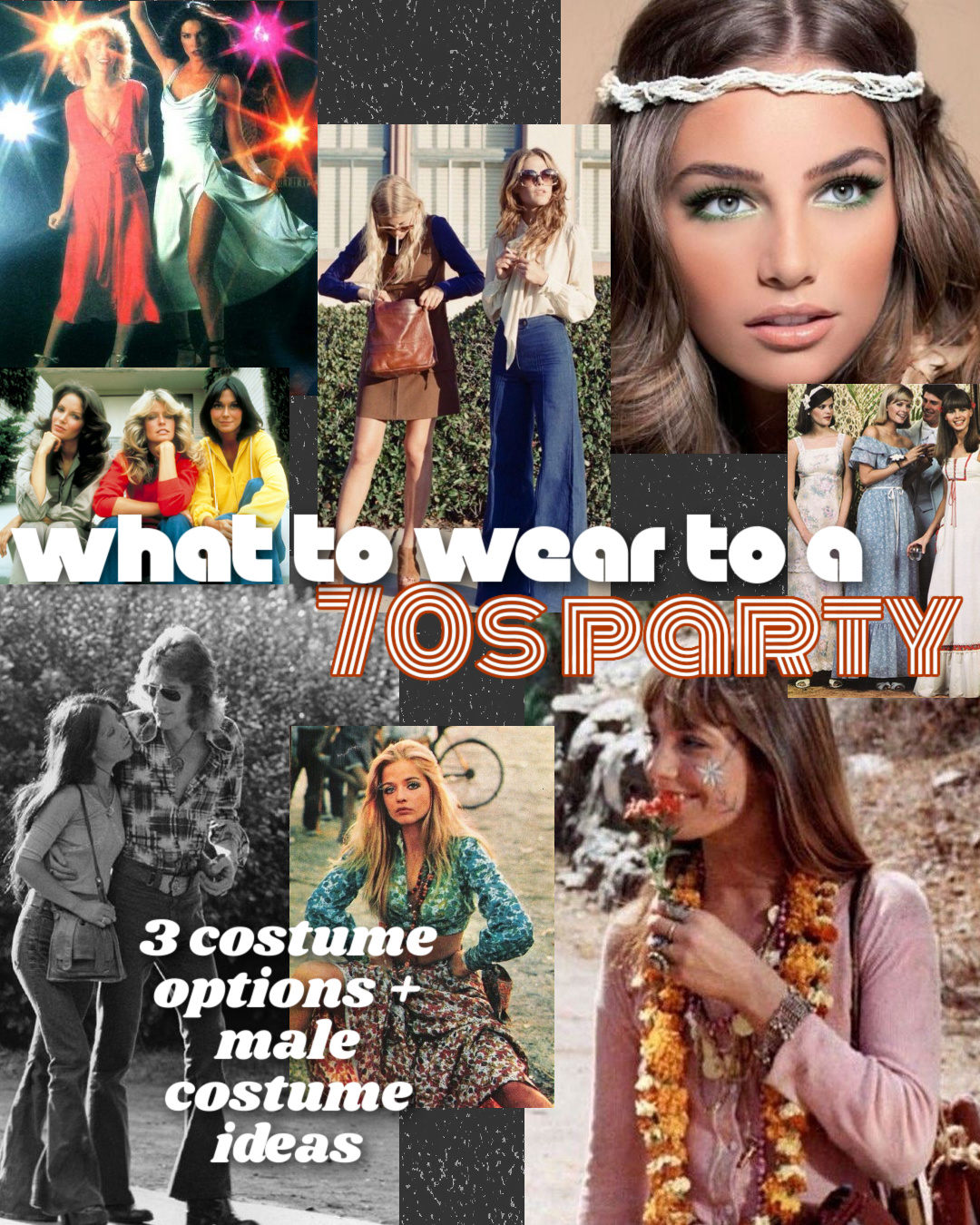 Not long ago I wrote a post on Dazed and Confused Costume Ideas. I threw a Dazed and Confused party several years back and it turned out to be so much fun to see what party goers would choose as their look of the night since there were so many great 70s  outfits in that movie. It inspired me to go beyond Dazed and Confused. This time I looked into the entire decade and included the fabulous disco era which was not included in the film. The disco days of the 70s were a seriously sexy and exciting time in fashion, not to mention in music! I'm excited to choose pieces today to recreate the bold styles of that time.
This post is for those of you that want to go beyond the basic 70s costumes you find on Amazon or Spirit Halloween that typically include a psychedelic dress, an afro, a fringed vest and a huge peace sign necklace. Nope-that won't do. We can do better. We're going to capture the essence of the decade by picking up inspiration and digging into what was actually considered fashion at that time in history.
The Decade of the 70s:
The 70s were a decade of bold fashion choices. People dressed like life was one big party. From bell bottoms to platform shoes, hot pants to maxi dresses, this time in fashion was an eclectic mix of individuality. The 70s were a pivotal decade in history. From Watergate and the end of the Vietnam War to the breakup of the Beatles and Women's Lib, fashion couldn't help but be effected.
Iconic movies inspired the times like Saturday Night Fever, Love Story, The Way We Were and even Rocky Horror Picture Show. Not to mention, the most iconic horror movies were made in the 70s such as The Exorcist, Jaws, The Omen, The Texas Chainsaw Massacre, Halloween and Carrie.
Music in the 70s came from Fleetwood Mac, The Bee Gees, David Bowie, ABBA, Queen, Pink Floyd and Earth, Wind and Fire just to name a few. Talk about music that passed the test of time.
So, if you're here, than you must've been invited to a 70s-themed party and that host is A-OK in my book! I'm always all about taking a time machine backwards and sporting an iconic look of a particular time. Costume parties are such a good time!
Since there are so many style angles you could cover from the 70s, let me be your guide through 70's style and help you determine what to wear to a 70s party. Let's find the perfect retro outfit for what's bound to be a great night!
I love themed parties and a 70's party is for sure the best! The 70's era was full of bold looks that screamed FUN! It's your chance to be a hippie chick or a disco dancing queen!
From the leftover hippies of the 60s, the women joining the work force, the punk rockers or the disco dancing club goers, the 70s had quite a few different styles within it's 10 year span. Each style was iconic in it's own right.
Let's break down a few different looks that would be perfect (and semi-easy) for a 70s costume and I'll suggest clothing and accessories that can pull your chosen look together. And as always, I like to pick pieces that can be worn well beyond one event. My 3 70s theme party outfits will not only be the hit of the party, you'll be accurately rocking an incredibly awesome decade!
Related Post: Practical Magic Outfits-The Perfect Fall Wardrobe
Women's Fashion of the 1970s: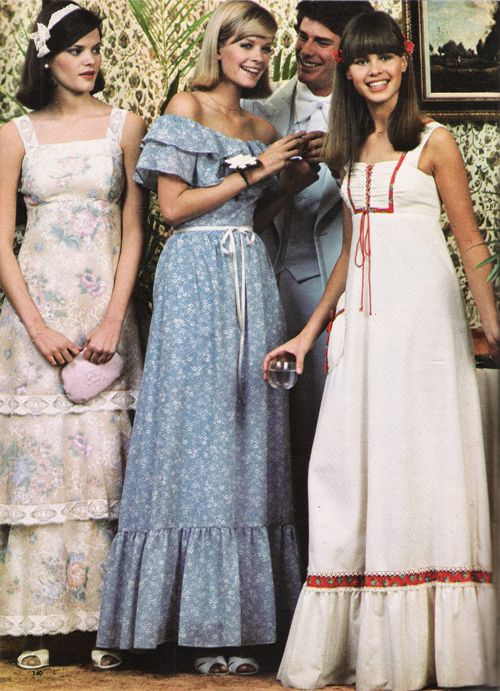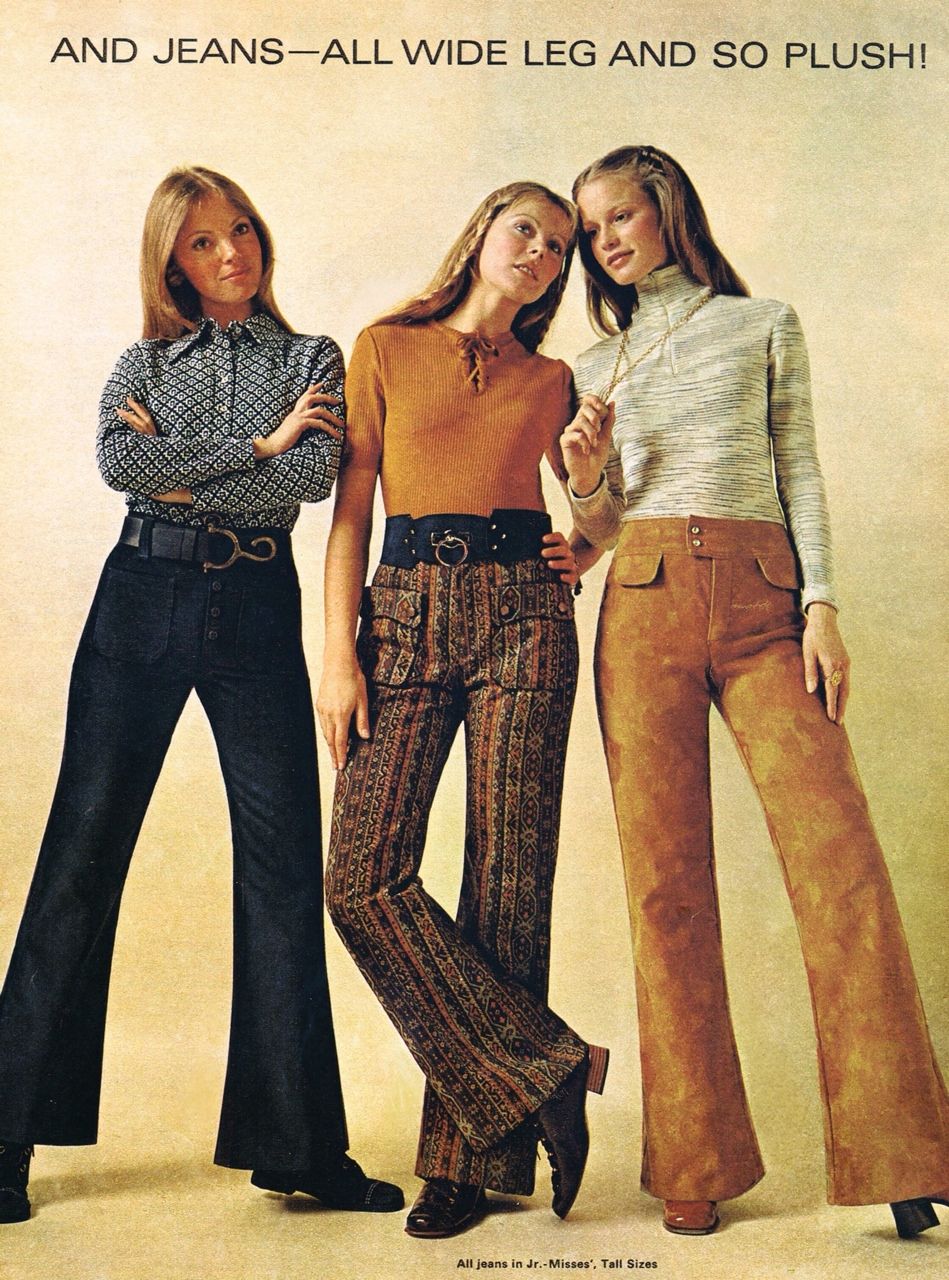 In the 1970s, fashion was based on an "anything goes" mentality. Individualism was celebrated which brought in some very diverse looks. This was the decade when people started dressing to please themselves rather than looking like everyone else. Women of the 70s were taking birth control, leaving the home to enter the office and fighting for equal rights. Cue the music, "I am woman hear me roar, in numbers to big to ignore". This progressive decade no doubt had an influence on what women were choosing to wear.
The early 70s were very similar to the typical "hippie" look that was so prevalent in the 60s. Tie dye, bell bottoms, bell sleeves, bold prints and peace signs were popular. Prairie dresses in Laura Ashley floral prints were a staple . So much of the hippie style was based on the European peasant costume. Garments were typically loose fitting and flowy. Flowers were a symbol of peace and love and often worn in the hair. Crocheted everything was everywhere.
The 2nd half of the 70s were all about the glamorous nightlife style of disco. The 70s has an air of anything goes and that was no different for disco fashion. Disco outfits were meant to sparkle and shine on a dance floor. Bright colors, sequins, crystals, flowy metallics and dramatic glittery makeup were the style and a necessity under the disco balls of the club. Disco dresses came in all different styles but the wrap dress was the hit. Men were no exception. They wore button-down shirts with a dramatic colors and prints and bell-bottom pants or suits with platform shoes.
Style Icons of the 70s:
Stevie Nicks
Farah Fawcett
Ali MacGraw
Cher
Jaclyn Smith
Lauren Hutton
Iman
Jane Fonda
Cheryl Tiegs
Olivia Newton John
Bianca Jagger
Beverly Johnson
Related Post: Steal the Look-Style Icon Stevie Nicks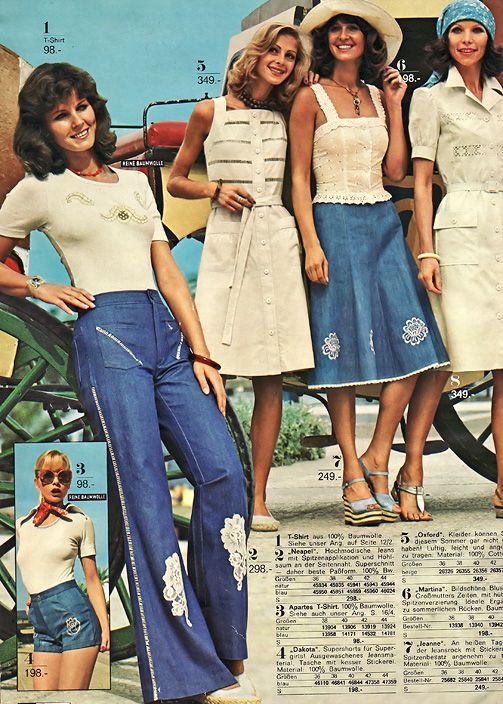 Men's Fashion of the 70s: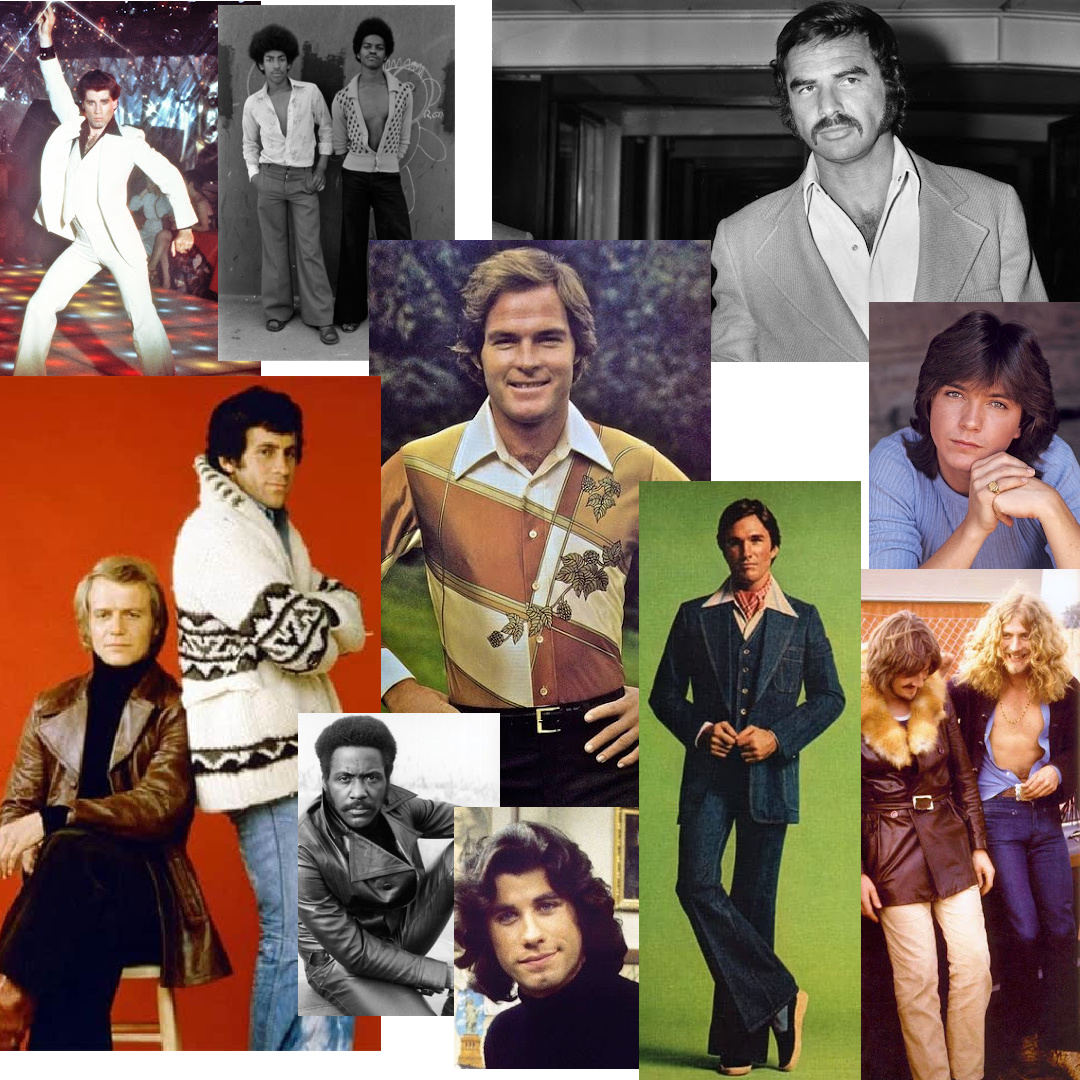 Men's clothing in the 70s consisted of bold leisure suits, bell bottoms and turtle necks . Buttons-down shirts with wide lapels and a flared pant set the 70's men's suits apart from previous decades. Wide ties became popular as well as bold, colorful prints. Paisley and chevron were popular prints.
Elvis Presley greatly influenced men's fashion in the 70s with his famous jumpsuits adorned in crystals. With his jet black hair, dramatic sideburns, Cuban heeled boots and an equally bejeweled wide belt, he changed the way men looked at fashion at that time. Now that's a costume all in itself.
Menswear, especially vintage, can be difficult to find. However, I was able to find a good variety of men's 70s fashion on Amazon. A bold, bright button down shirt unbuttoned half way is a must. Don't forget the gold chain! A leather blazer would be an excellent score as well as platform boots.
Men's hair in the 70s was luscious and voluminous. Natural curl, including afros were celebrated as was long hair, thick sideburns and the mustache. Men's hair represented the resistance to conform. Embracing what God gave you was the key.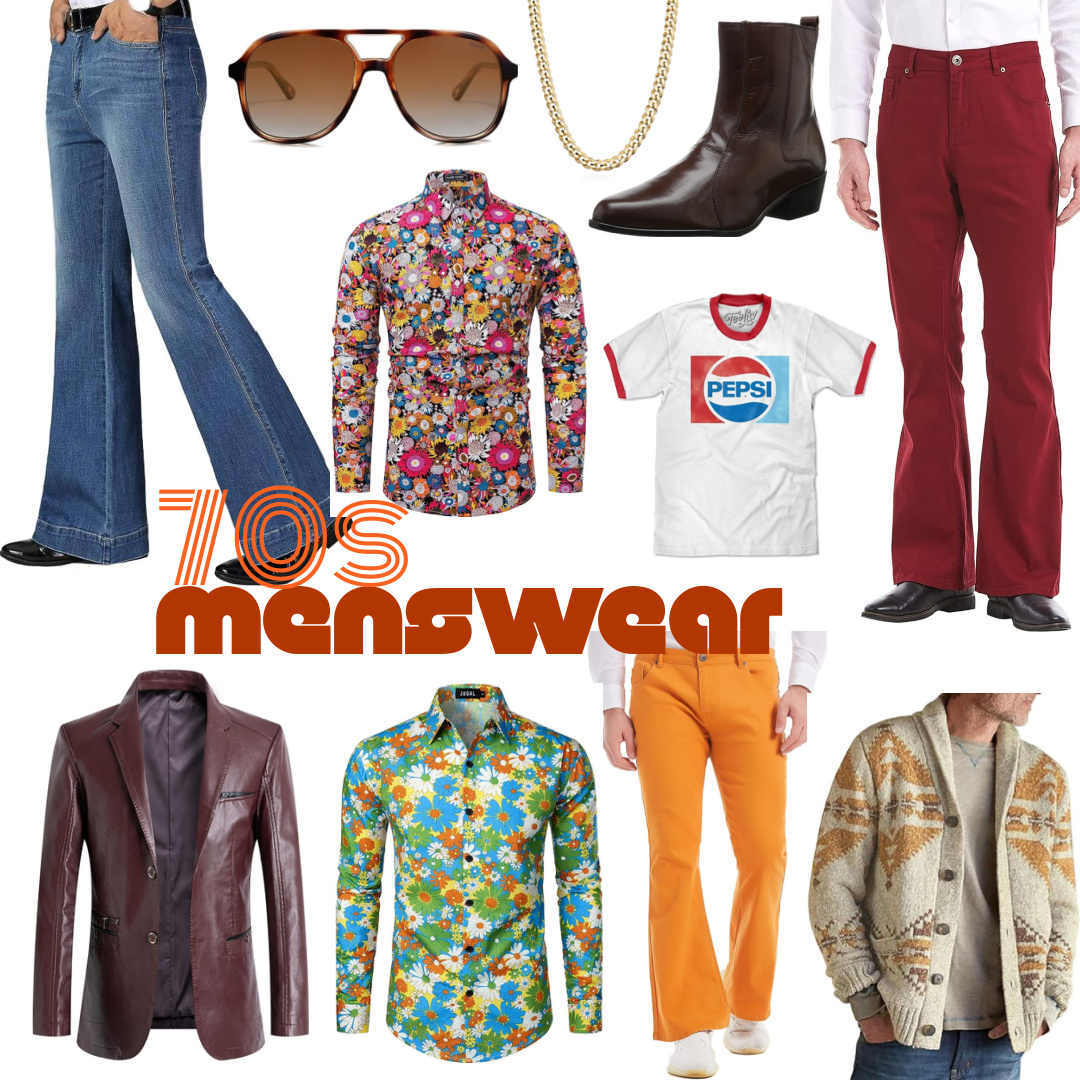 Shop 70s Menswear:

70s Hair & Makeup: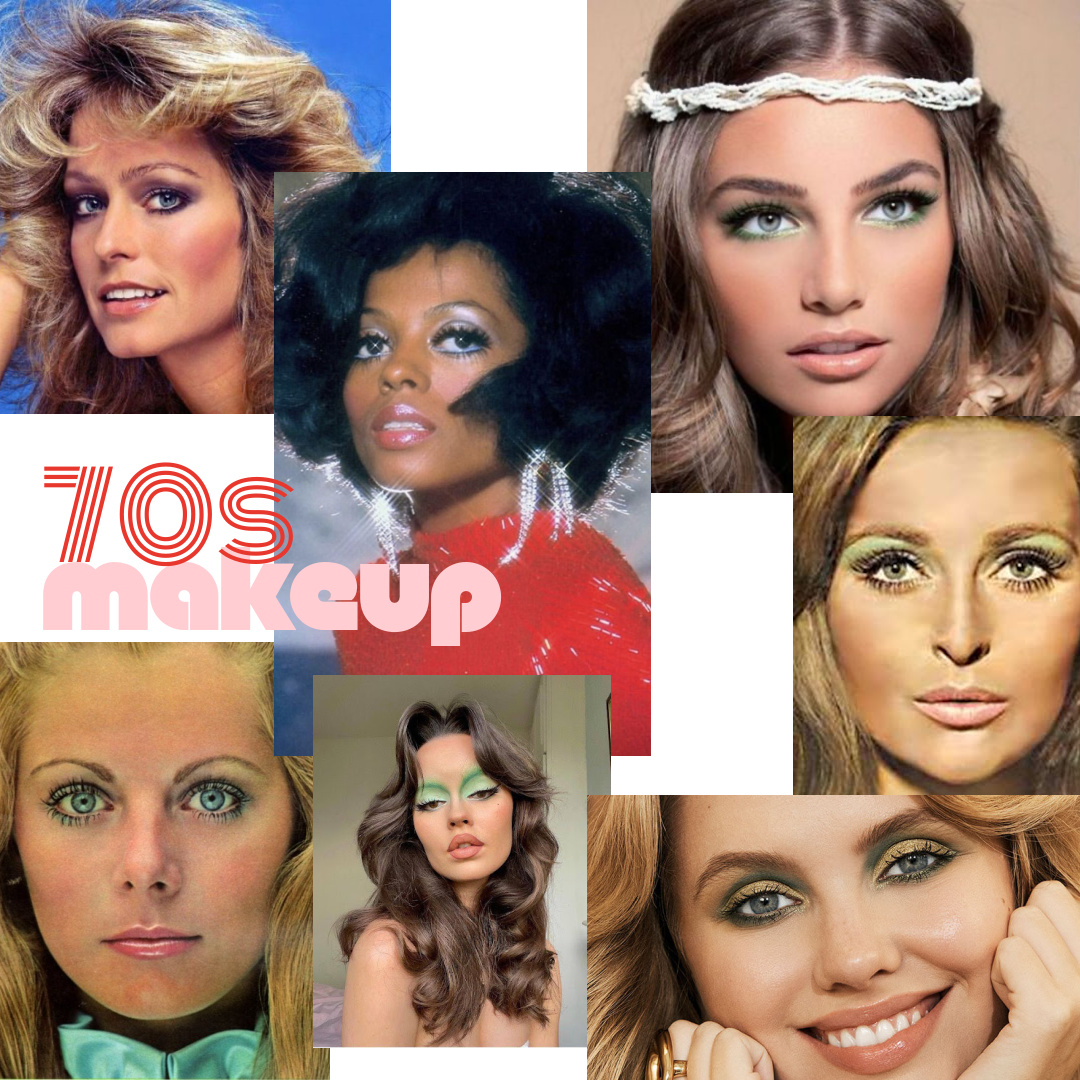 Hair in the 70s was big. It was feathered, layered and bouncy. That famous "Farrah flip" was probably the most recognizable hairstyle of the 70s. While flat ironed straight hair and the middle part (think Marcia Brady & Cher) were still in style, I think bigger hair makes a bolder 70s statement. The hot rollers came out as did the hairspray! Mullets and shag haircuts were also gaining popularity for both men and women. Afros became quite popular as well.
Makeup was bold as well with lots of blush and prominent top and bottom lashes. Accentuating beauty was in, the natural look was out. Super glamorous looks were key, especially in the disco era. Vibrant colors were used on the lids including iridescent powders and glitter. Pastel shadows like whites, greens and blues were used in eye shadows and black liner was used to accentuate a dramatic eye look. Brows were becoming bushy and more natural and lips could be bold or nude/pink depending on the look.
70s Shoes:
Platform heels were key. Chunky, tall heels ruled which tend to be much more comfortable than the stiletto. Even men wore platforms to enhance their heights. Knee high boots were also popular and were often paired with midi skirts and gaucho pants. Thick wedges were were popular as well.
70s Accessories:
Gold and bold was the ticket. Chunky gold bangles and gold hooped earrings were super popular. Turquoise and feathers also came into play. With the hippie style, fringe was popular. Big sunglasses in light lenses were also prevalent. Bold statement earrings worked well with most 70s outfits.
Shop Accessories:

What to Wear to a 70s Party:
When deciding which part of the 70s you want to dress up as, consider what is already in your wardrobe. So many of the 70s styles have come back and it won't be hard to put together a great costume. Whether you find pieces you have, borrow from your own closet or hit up the local consignment store, you shouldn't have any issues finding the perfect pieces to put together a great look!
I have put together 3 looks for women that encompass the decade. However, I did leave out the glam rock style (think Debbie Harry, Joan Jet, Patti Smith, The Ramones, The Sex Pistols etc.) which became huge in the 70s. It's definitely a style worth exploring but when it comes to iconic looks of the 70s, punk is not as remembered.
Related Post: The Coolest Halloween Playlist
Look #1-The Hippie/Boho Style: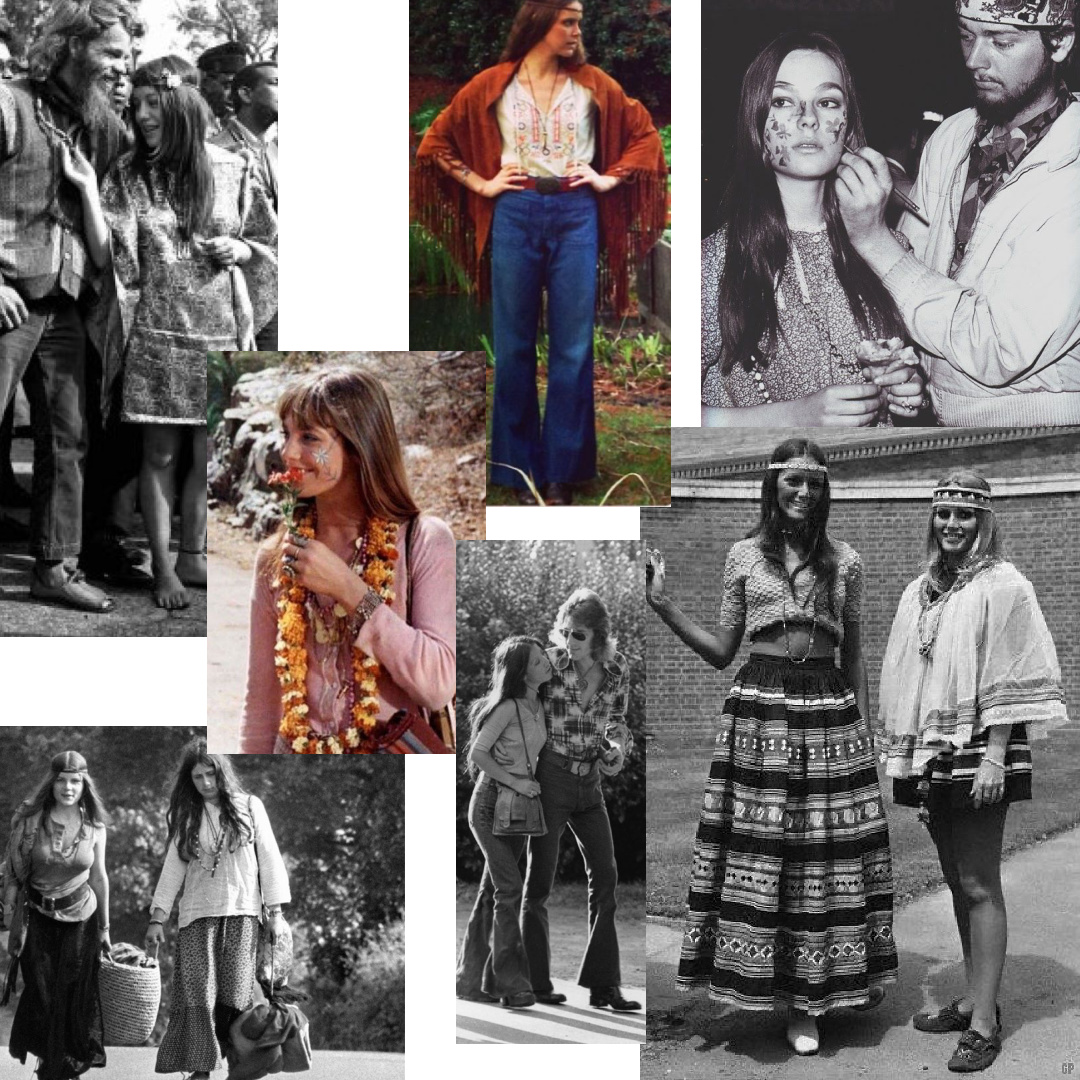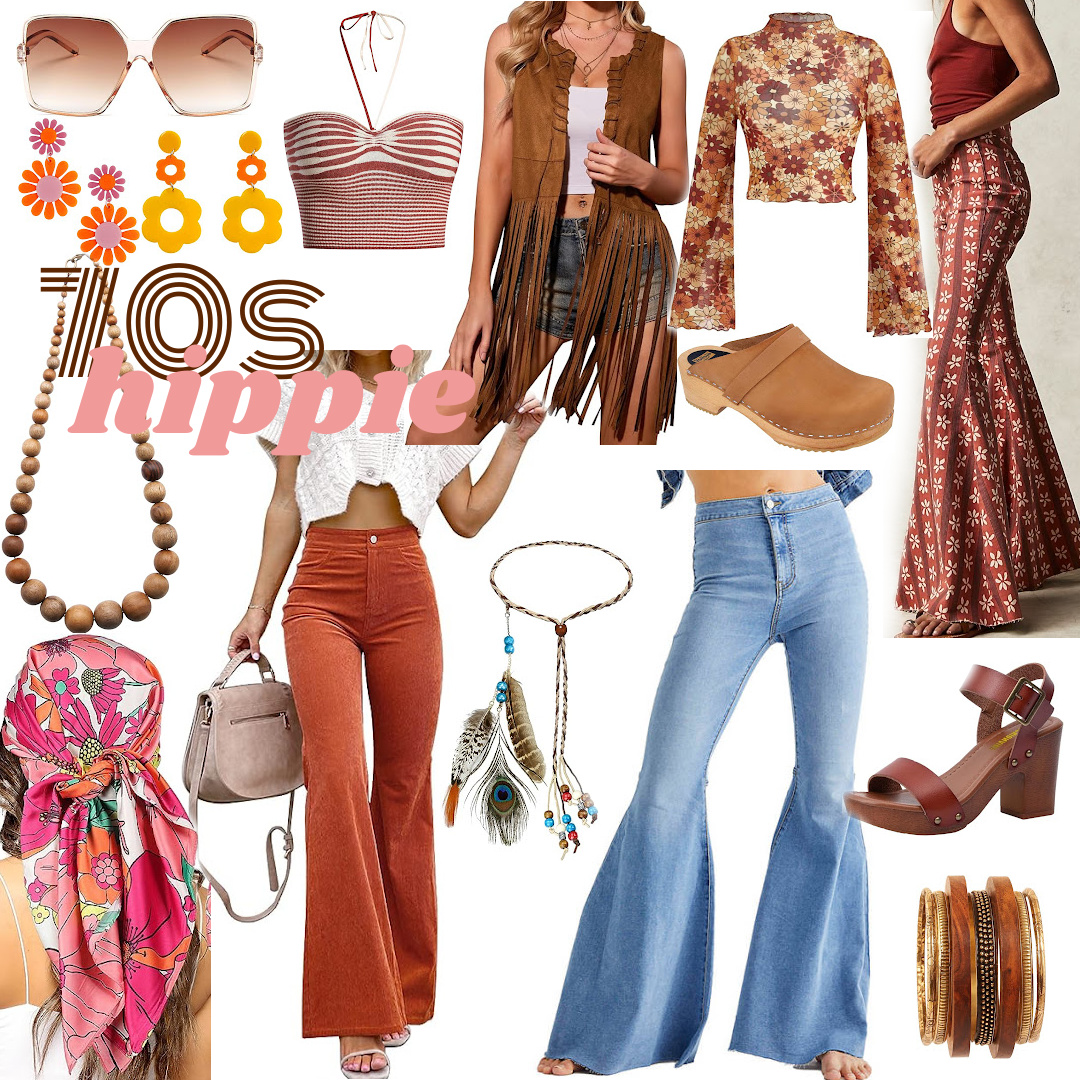 The hippies of the 60s continued into the 70s because the Vietnam War wasn't over until April of 1975. While the hippies of the 60s seemed a bit wilder and dirtier, the trend in fashion continued well into the 70s with bell bottom pants, peasant blouses, platform heels, maxi dresses and heavy jewelry. The hippie style became much more mainstream in the 70s.
This look is relatively easy to pull off since 70s fashion trends and boho styles are resurfacing as we speak. Skip the "hippie costume" you find on Amazon and pull together your own unique style. In fact, years ago at the last minute I decided to go to a Halloween costume party and threw on a short summer dress, knee high boots, piled on every necklace I owned and painted a flower on my face. Compared to the cringy slutty nurse, slutty vampire and slutty French maid costume I'd worn in years past-this look definitely was my favorite.
Jewelry Tip: If you have time, check out the jewelry on Shein. You can load up on necklaces and other accessories for next to nothing. They tend to take about 10 days to ship.
Related Post: Shein Haul Part 1 & Shein Haul Part 2
Statement Pieces to Pull Off the 70s Hippie Look:
Bell-Bottom Jeans
Tie-Dye Shirts
Embroidered Cotton Tops
Head Wraps/Head Bands
Circular Glasses or Over Sized Glasses
Fringed Vests
Psychedelic Prints
Knee-High Boots
Platform Sandals
Birkenstocks
Clogs
Floppy Hats
Crocheted Tops
Beaded Necklaces
Shop Hippie Style: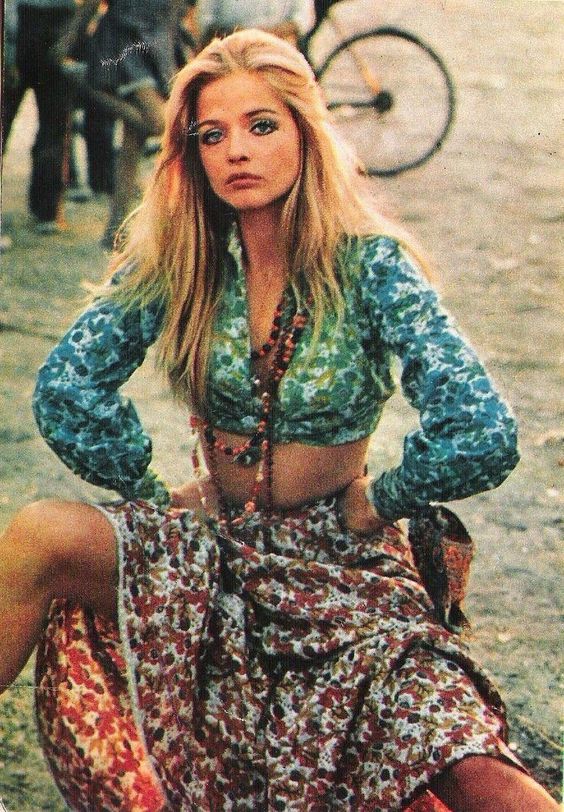 Look #2-Sporty/Casual: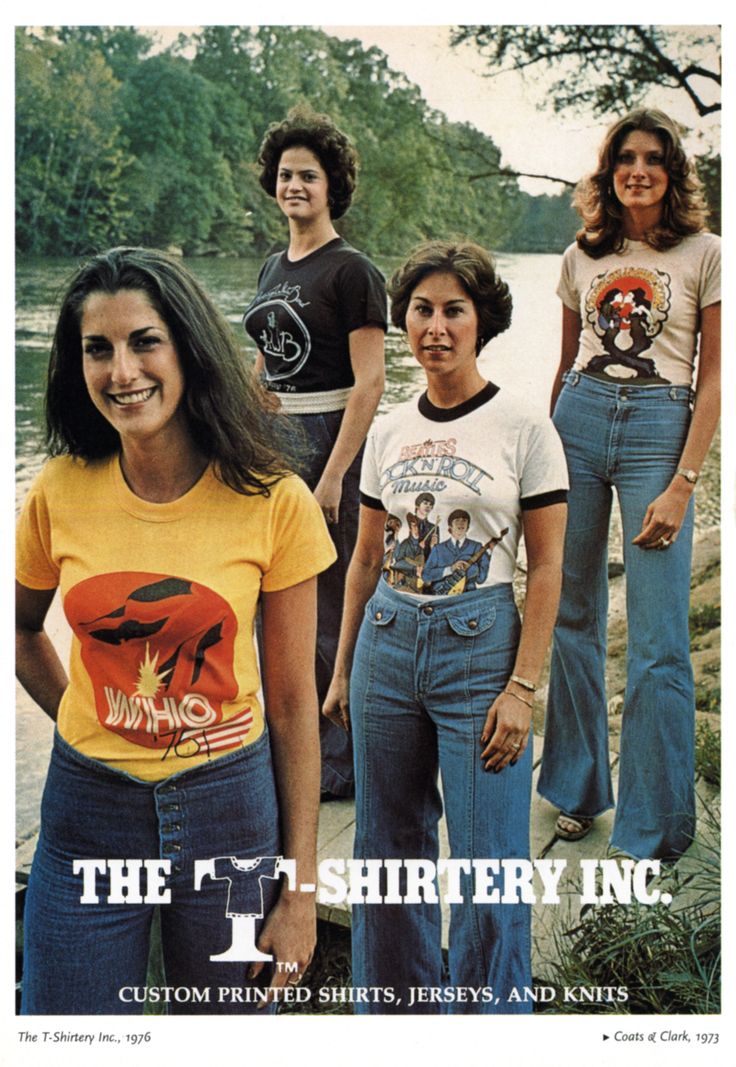 This second look is a simple way to pull off an iconic 70s outfit with minimal effort but maximum vibes. Simply wearing flared blue jeans, a tiny rocker tee and tennis shoes is an obvious look from the 70s. To complete the look, Farrah Fawcett hair is a must.
This look can also be pulled off by trading the rocker tee for a peasant top or flowy top but be sure to tuck it in. In fact, crop tops, halter tops and tube tops also SCREAM the 70s!
You don't have to wear tennis shoes if your's aren't vintage looking. Don't forget that Converse sneakers are classic but you could also wear a chunky heel, clogs or even flip flops.
Shop 70s Casual:

Look # 3-Disco Fever: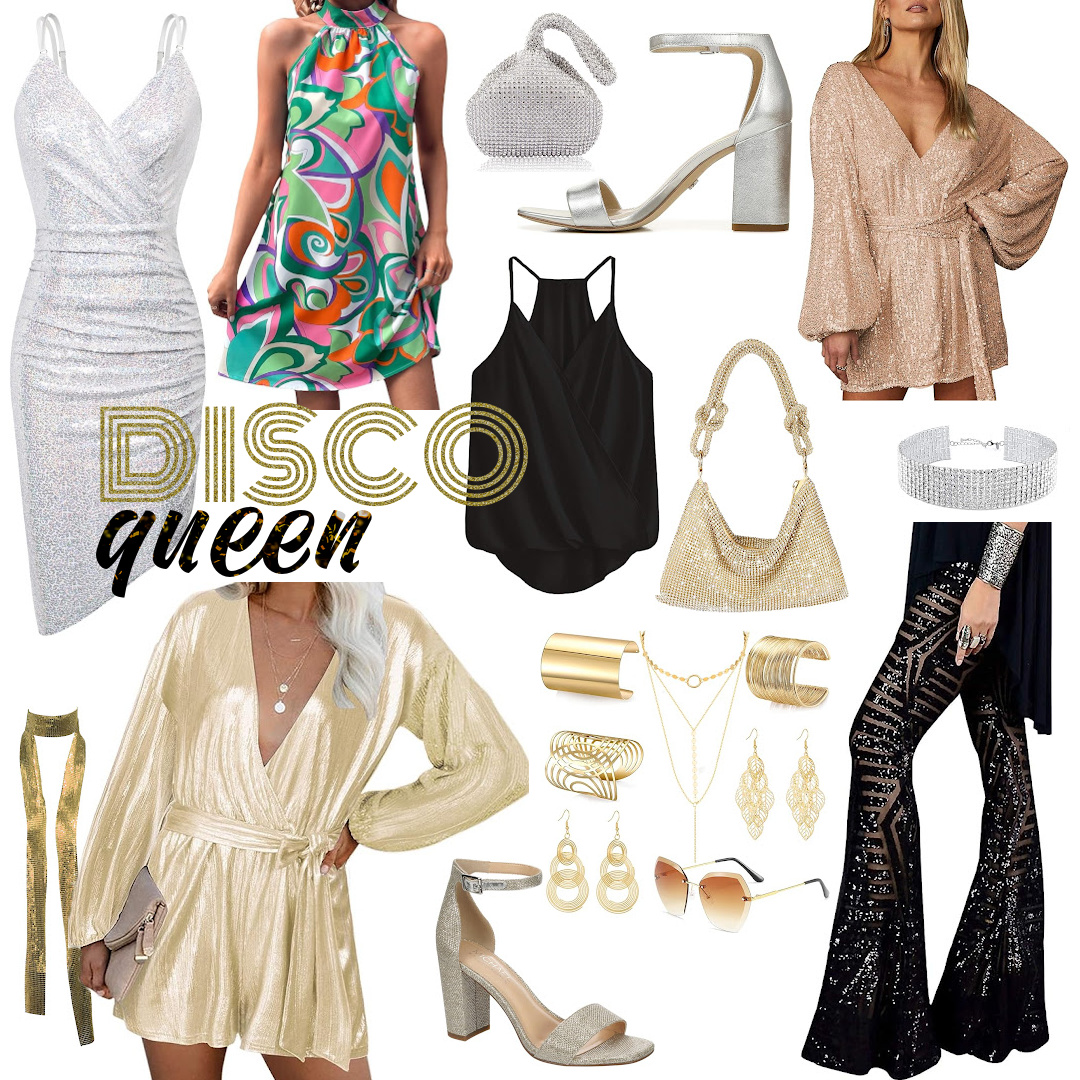 The disco look is based on what women would typically wear to go disco dancing. Studio 54, the famous New York City disco club opened it's doors in 1977 and attracted many celebrities making it the place to be. From musicians to actors to artists, anyone who was anyone wanted to be seen at Studio 54. The fashion seen in photographs captures the glitz of the decade. With disco in full swing-flowy, metalic, sequined and sometimes outrageous looks were a must. Standing out was the name of the game.
The iconic Diane Von Furstenberg wrap dresses were a staple as well as big hair and metallic high heels. Sequins are also a great way to up the look. Think human disco ball! This look is perfect for any 1970s party. Typical disco costumes usually include an afro, a super cheap sequined dress or pant suit which could be pretty accurate but I think we can do a lot better. By adding your own gold jewelry, pulling out the hot rollers and finding a dress that could possibly be worn again we're creating a pulled together look you can feel confident in. For inspiration, think Saturday Night Fever, Diana Ross, Elton John and Donna Summer.
A Few Disco Fashion Staples:
Sequins
Halter Tops
Plunging Necklines
Wrap Dresses
Bold, Glittery Makeup
Big Hair
Jumpsuits
Metallic
Faux Fur
Shop Disco Pieces: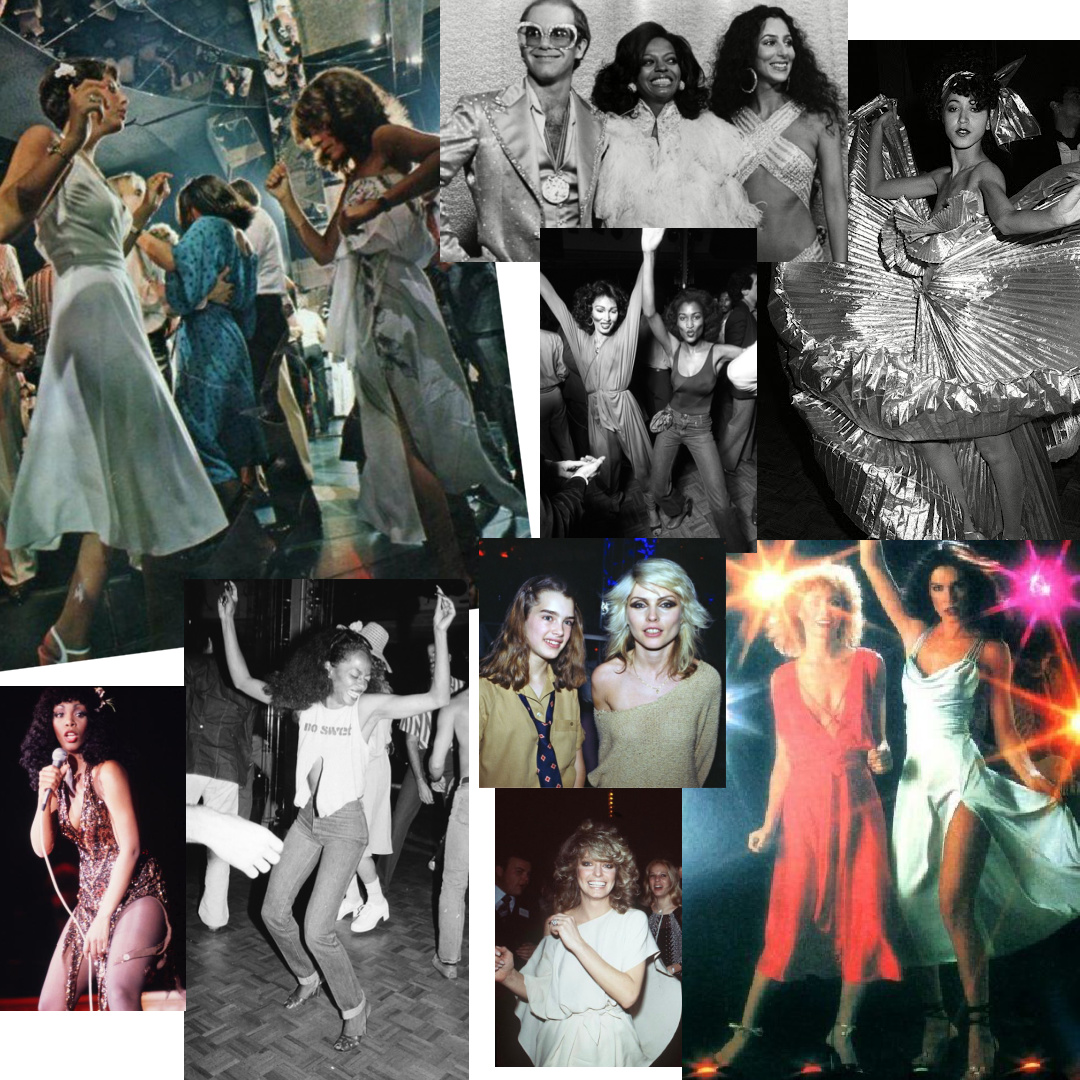 Where to Find the Best 70s Pieces:
The absolute best place to find the perfect outfit for a 70s party is a thrift store or in your parents/grandparents attic. Of course, this requires a little luck and a lot of extra time. The 70s were a while ago so it can be quite the treasure to find something authentic.
Amazon, surprisingly has loads of great pieces and they are affordable and ship quick. In this post I was able to find quite a few great items including menswear. If you are going for the hippie look, Free People is an excellent place to find pieces you could wear beyond one night. They are known for their boho style.
While I'm all about not looking generic and cheap on Halloween, Shein is still a great place to look for the perfect piece for way cheaper than you'd pay even on Amazon. You will need to plan in advance because orders do take around 10 days to arrive.
Get More 70s Inspo Through Film: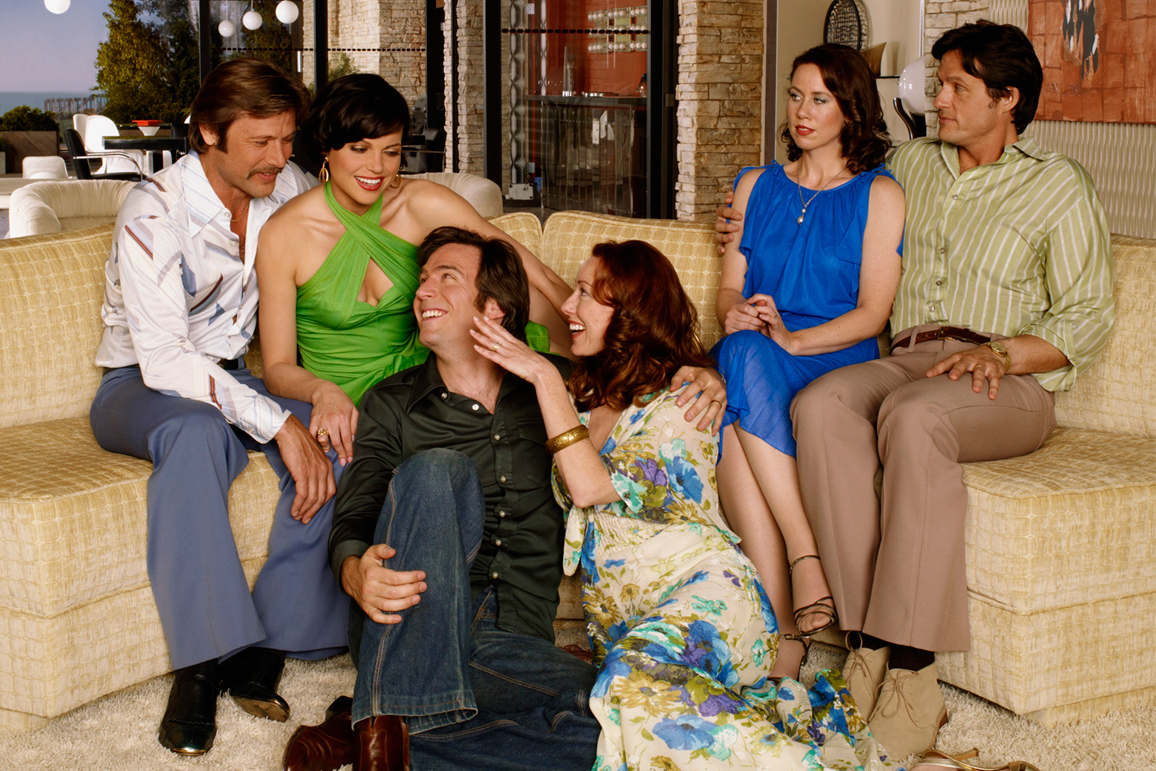 For further inspiration, there was a show that aired in 2008 called Swingtown. While it did not get renewed for a 2nd season and gained very little popularity, in my opinion it is a hugely entertaining series that captures the spirit of the 70s. From the home decor, fashion and character development this show is spot on. As the name implies, it does explore the swinging movement that gained momentum in the 70s but honestly, it is well done and rather than being salacious, it explores the complexity of marriage and relationships. Check it out HERE. And just so you know-it was on a local channel-not HBO. While the subject matter is risque there is no nudity or graphic scenes. Plus, it has a killer soundtrack!!
Daisy Jones & the Six is also a fantastic mini series on Amazon that perfectly captures 70s styles. It's based on the book by Taylor Jenkins Reid and in my opinion is better than the book! Plus, I wrote a "Steal the Look" post on Daisy's style. Oh and don't forget the film Almost Famous!
Speaking of a soundtrack-I am sharing my Swingtown Playlist below to further get you into the 70s vibes! And if you are the 70s party host, it's perfect to use during the party. Music can make or break a party-that's for sure.
The 1970s were an incredibly playful time in fashion and a great time in history. Women celebrated their assets unapologetically while fighting for equal rights. While we have come a long way from the 70s it must've been a time of movement, freedom and change.
Hopefully you've found this post helpful and inspiring. Figuring out what to wear to a 70s party is definitely one of the easier Halloween costumes to pull together and this post will insure you don't need to wear a cheap, hokey Halloween costume! Get creative, delve into your alter ego and be someone else for a night but do it in style!
xx, Jenni
P.S. Check out my Halloween section to find more costume ideas!
Shop the Post!

PIN IT!!!