As promised, I'm here with Part 2 of my boho summer Shein haul. I think this group of clothing is even better than the last so get ready for some fun, affordable pieces!
Check out my Shein Summer Haul Part 1 HERE.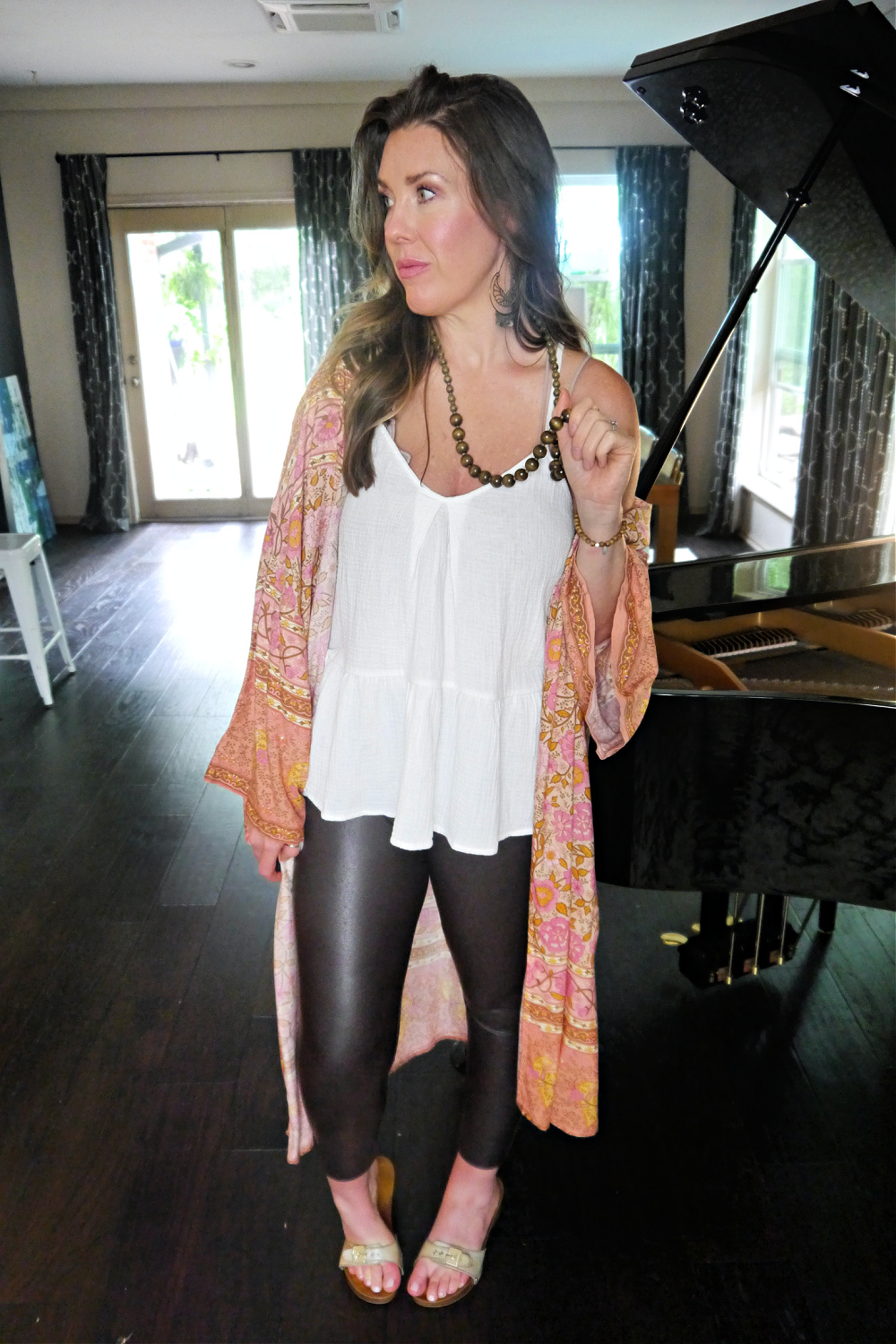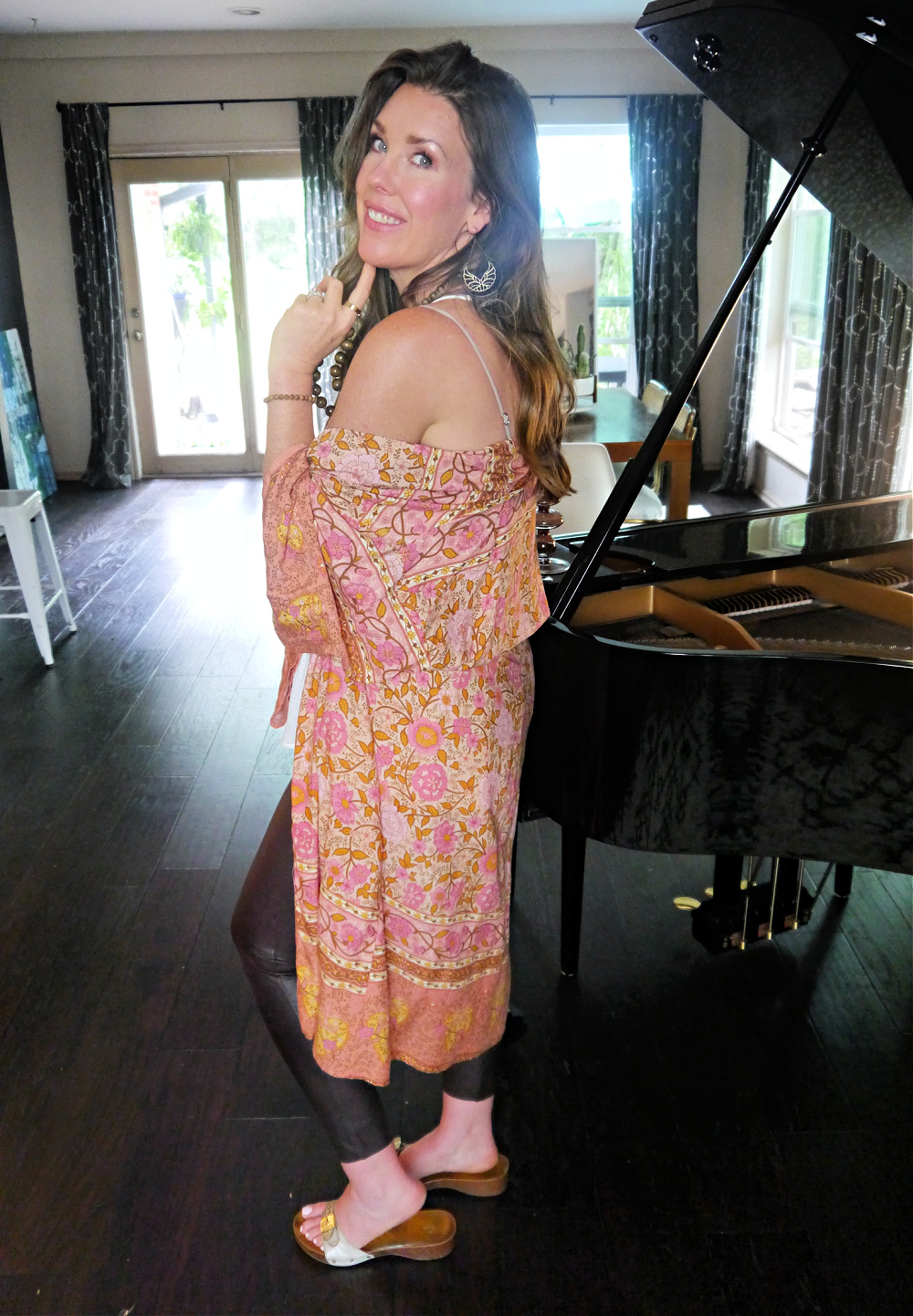 This kimono is so vibrant and absolutely gorgeous! It's longer in length than others I found but that gives it a bit more drama. I paired it with brown leather leggings a flowy white top and Dr. Scholl's.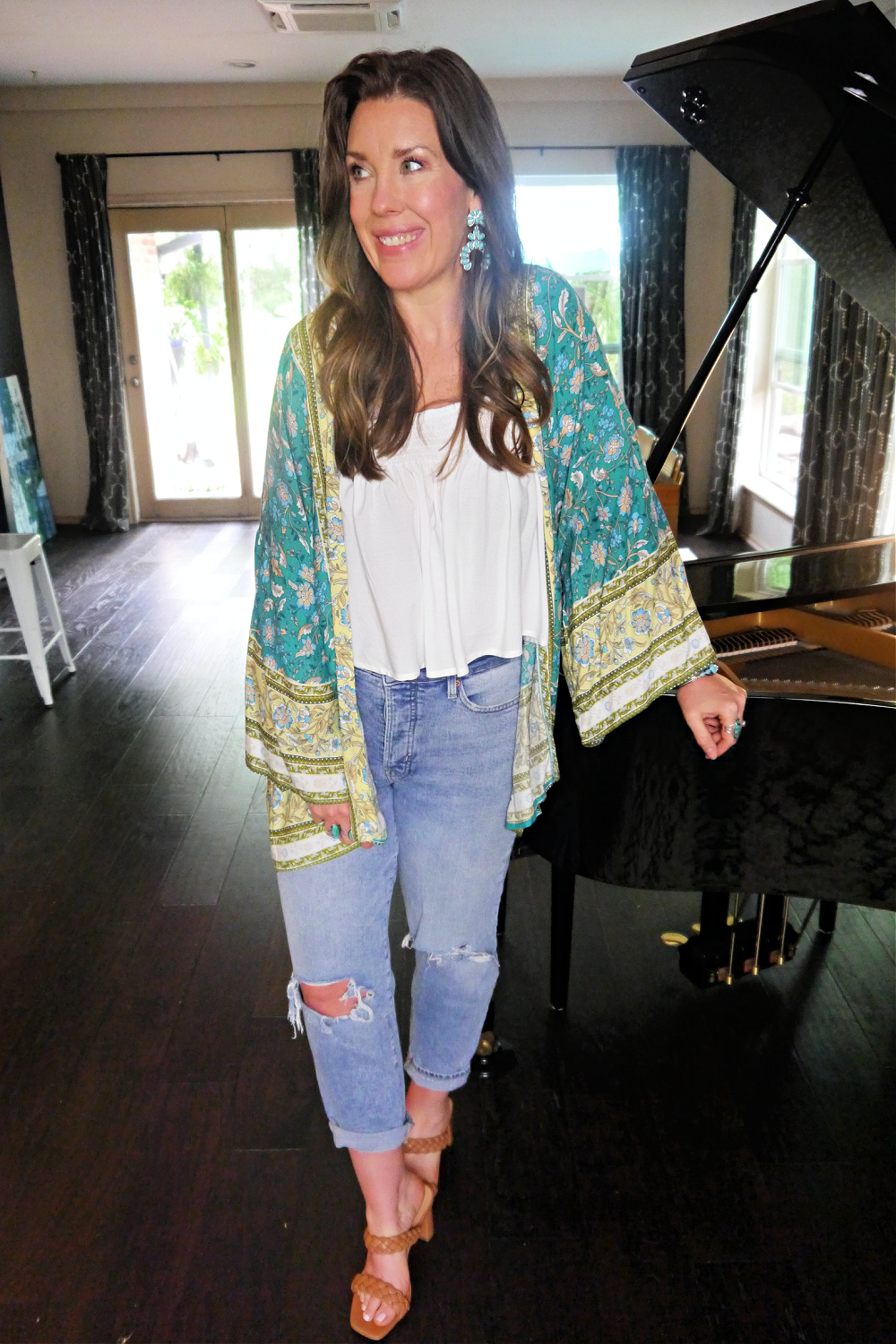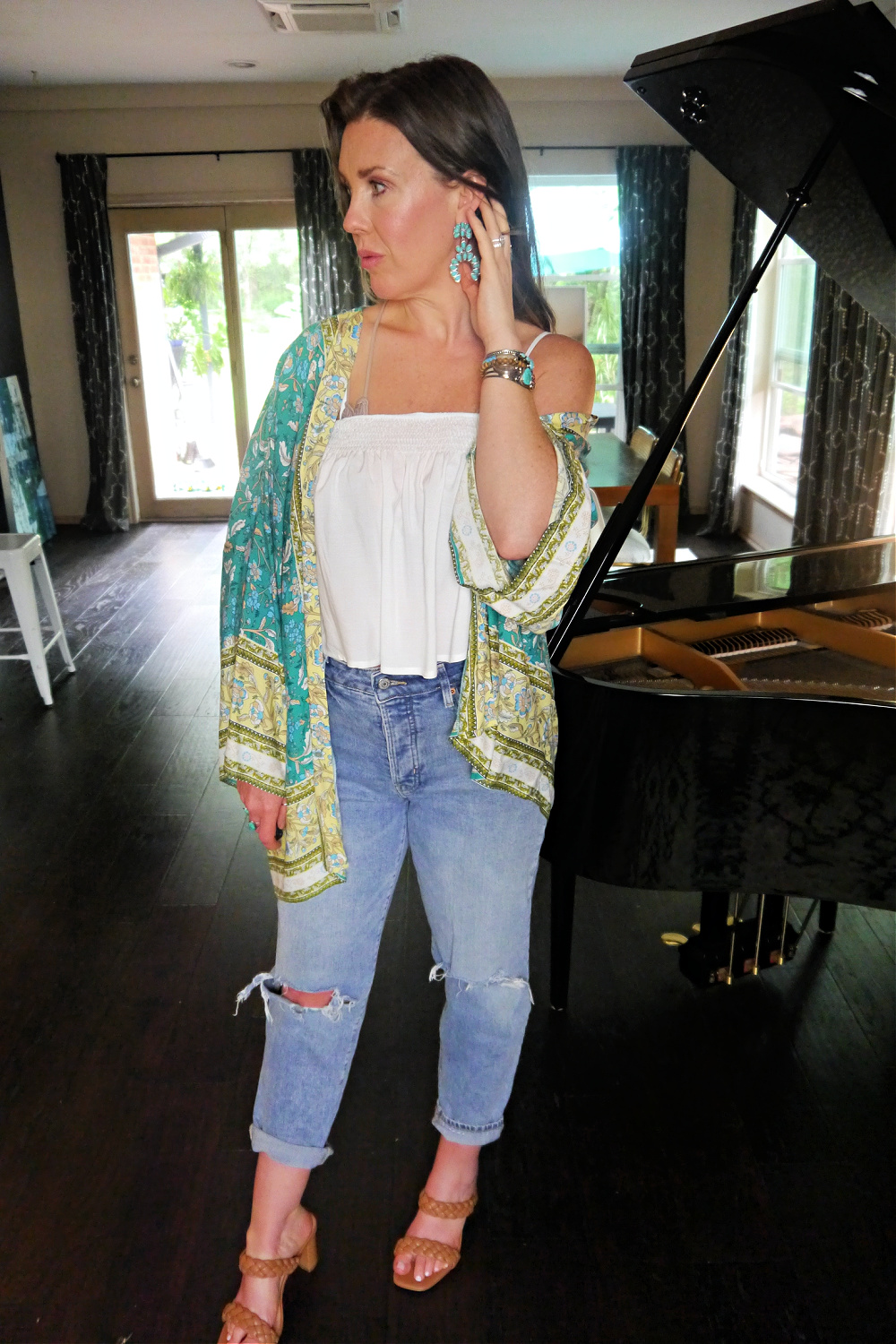 This kimono is extra casual because of it's length but none the less beautiful in pattern and color. I paired it with a Shein cropped top. I also wore it in my Elevated Ways to Wear a Kimono post and tied it at the waist.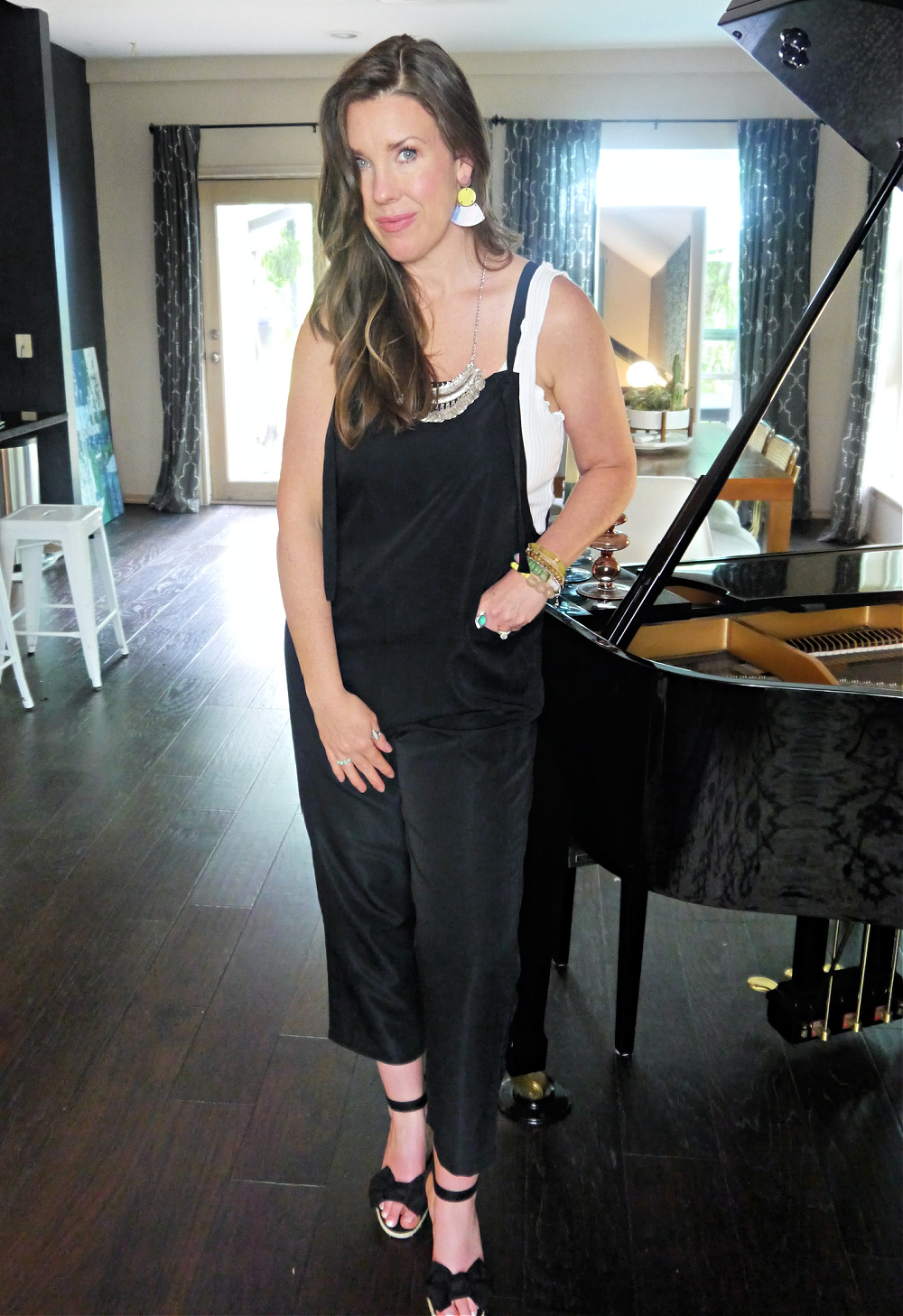 This jumpsuit turned out to be very wearable and flattering. It even has pockets! I will say it is not shiny in person. My lighting is reflecting in the picture.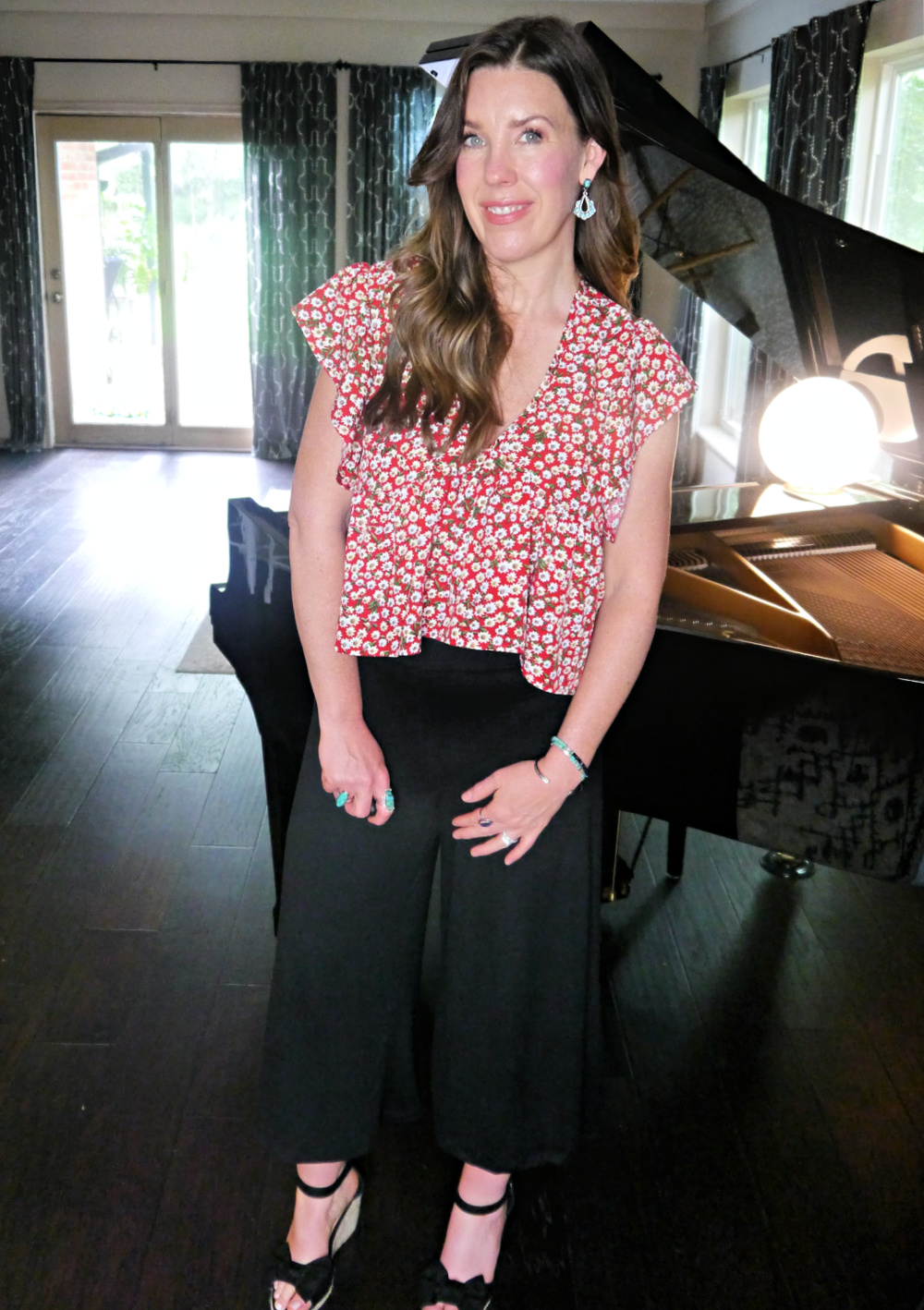 I bought this top in two prints. The other print is sold out but this red is not. I will say, this was in the miss pile until I paired it with THESE gaucho pants from Amazon. The top is very cropped and I had originally worn it with jeans. I was constantly tugging at the top to not expose my stomach. I felt like the added fabric from the ruffles and the stomach area was unflattering and adding bulk but when I paired it with the black pants, they seemed to remedy the issue. I'm happy to say I love this top now when worn with these pants.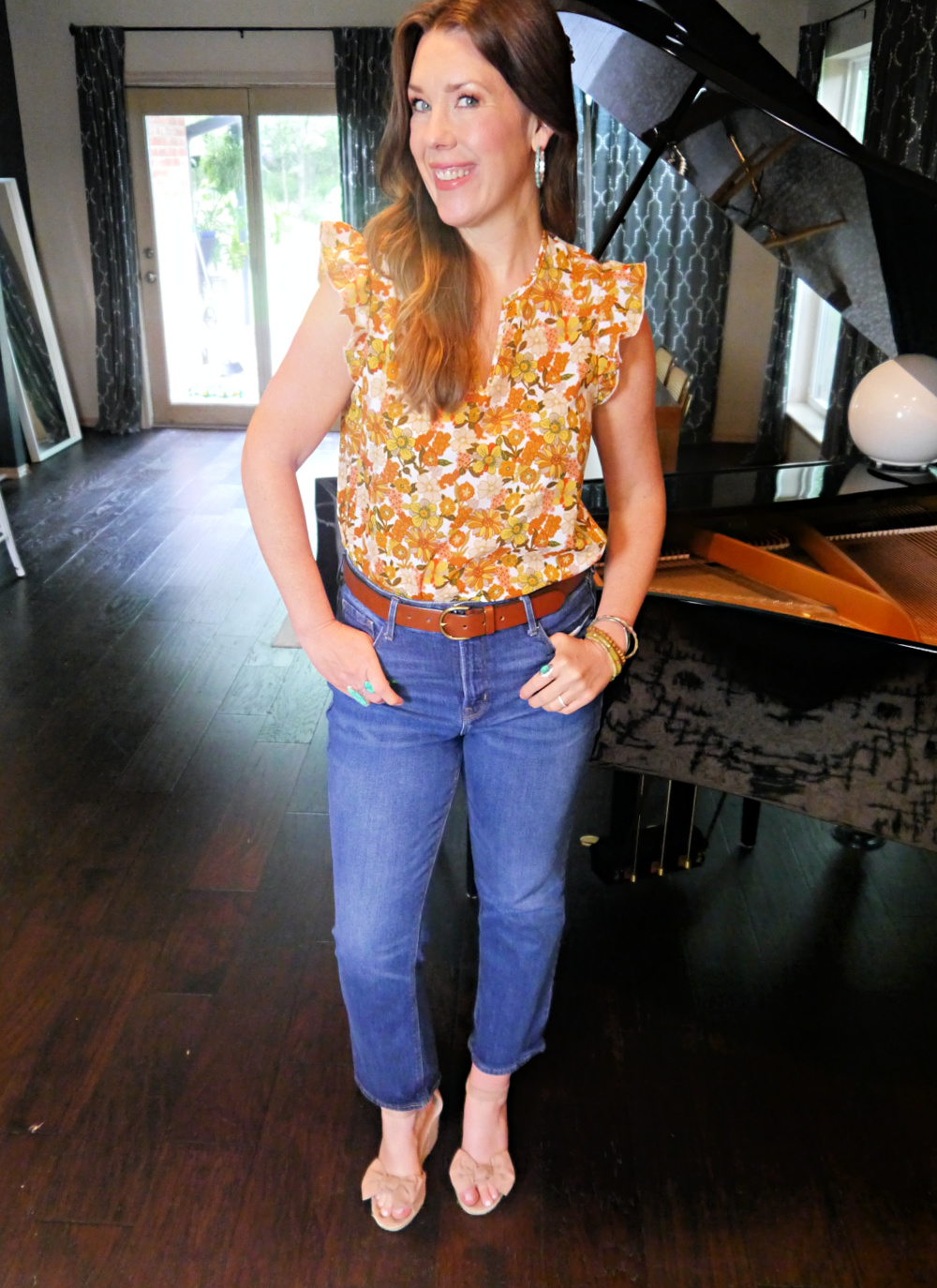 Love this orange top-very retro. I'm a sucker for ruffles on the sleeves so this top was a must have!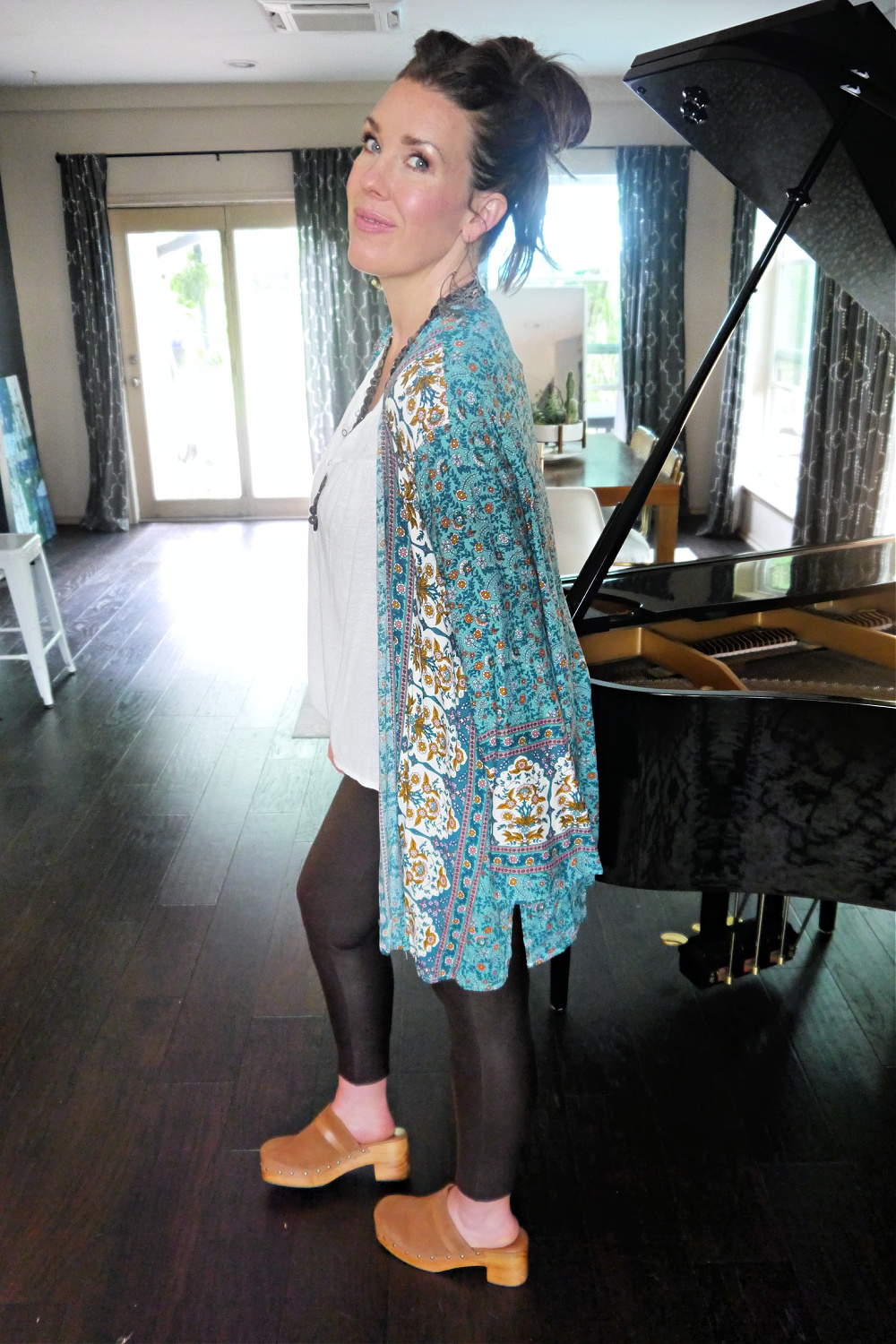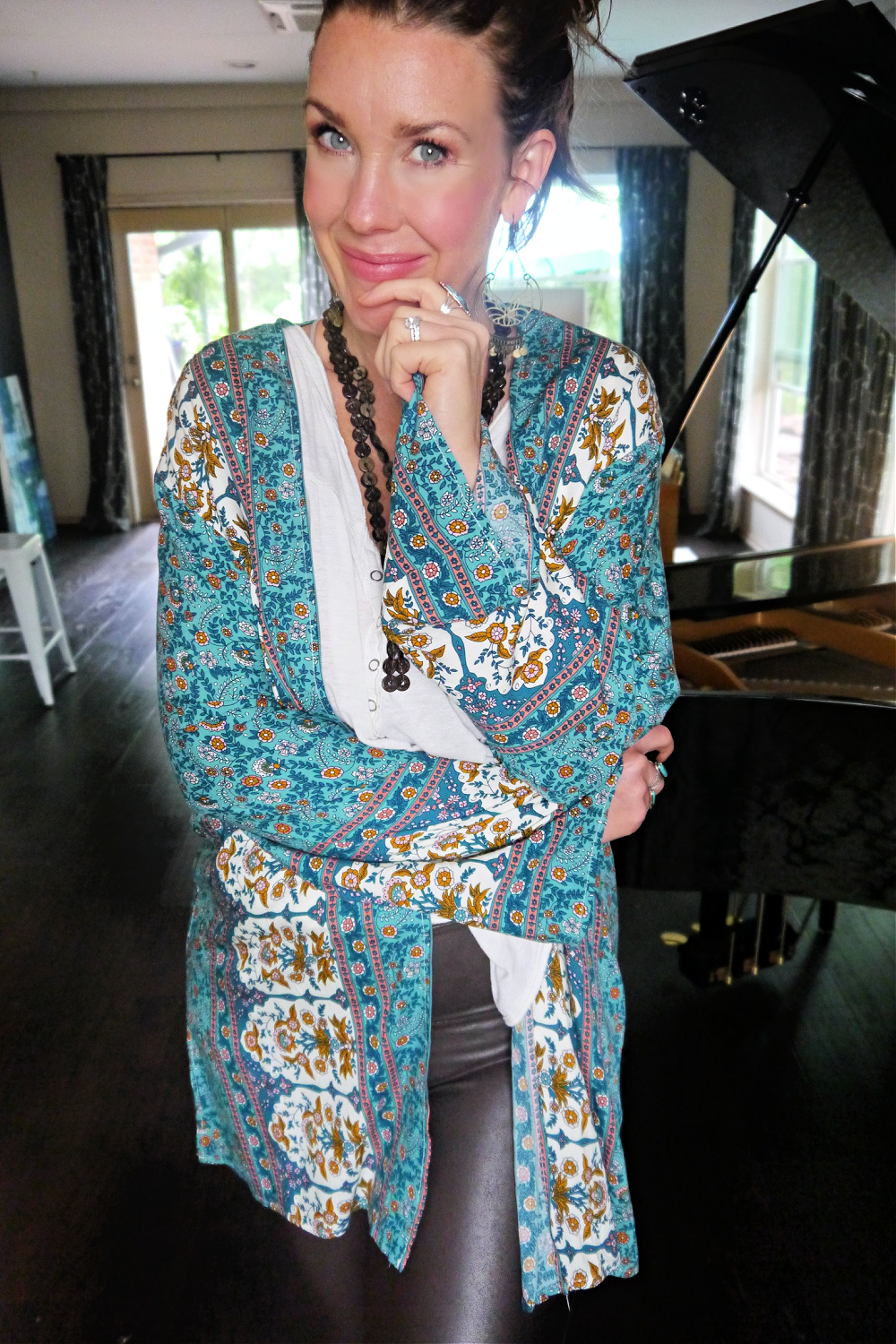 I love this mid length kimono. It's versatile in that I can make this work in the winter as well. It's definitely got a vintage vibe and pairing it with the same brown leggings from above and a simple white top made the look effortless. The wooden necklace (also seen in part 1) finished the look.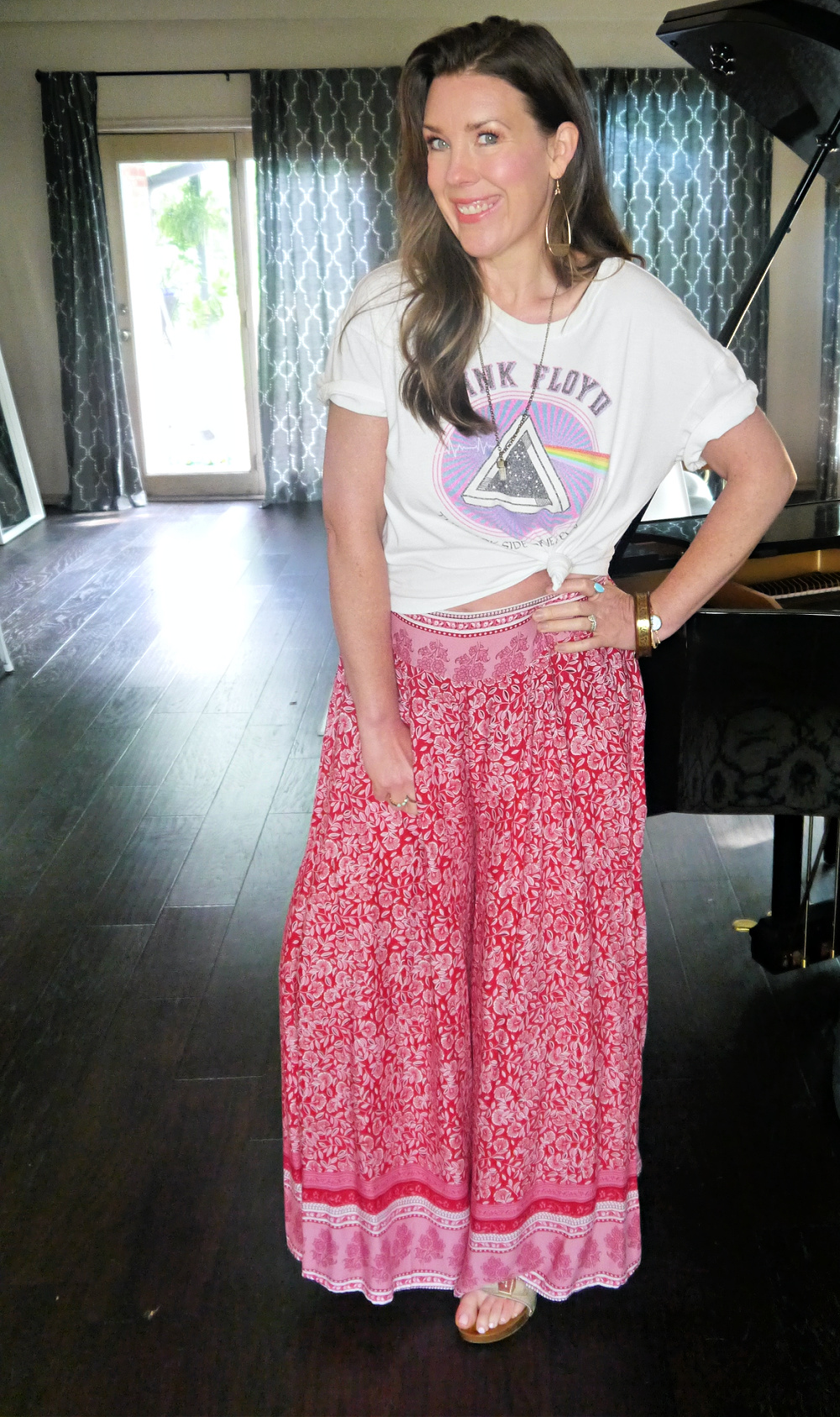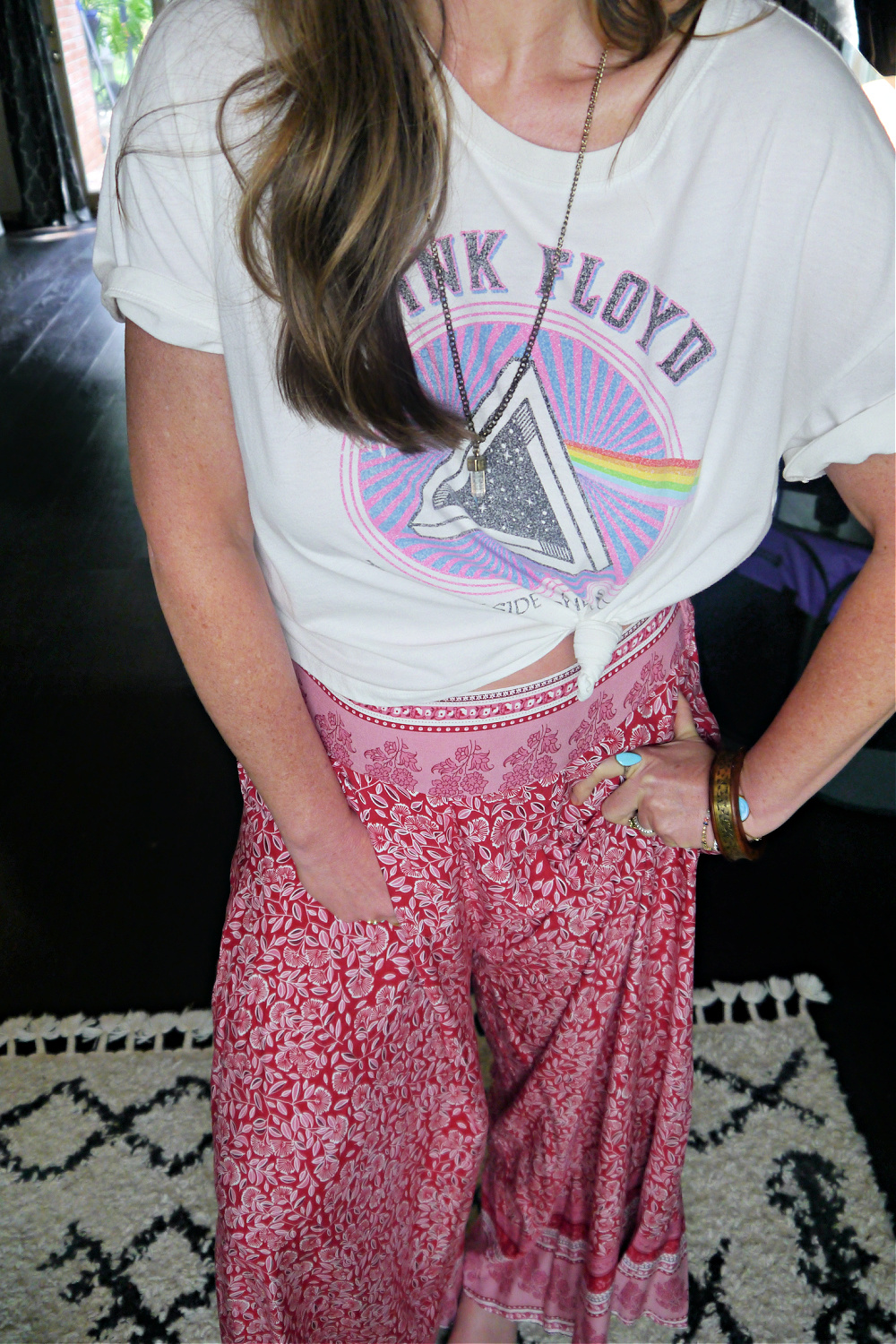 These pants are gorgeous. They are sold out at the moment but I included them in case they restock. I bought an XL because I was afraid a large would be too tight but I regret that. These are definitely TTS. The cropped tee is old from Old Navy. I will say I had trouble finding a top that looked right with these type of pants. Many tops made the outfit look boxy and added bulk. Tying the top to the side helped stream line the silhouette. I believe a tighter top that is cropped would work with these type of pants as well. I found THESE pants that are similar in case the pink pants don't restock.
Swimsuits are so hard. I hate spending money on something I know I probably won't feel comfortable in. Several of these suits I found on Amazon for triple the price so I didn't mind spending $9-$11 on them and taking a chance they would look bad or not fit. While no suit is going to look perfect for me, I will say, all of these were TTS and the green and blue suits are full coverage. The green and pink bikini could use a little more fabric in the bum area. The blue and white top was a separate and I plan to pair with white bottoms. I was pleasantly surprised at how well these fit and looked.
That concludes my summer Shein haul. I really am quite happy with my entire order and returned hardly any of it. I found the quality to be sufficient for what I bought. Let's be real, I'm not buying everyday clothing. Articles like kimonos and cute tops are not meant for heavy use or even weekly washing so I can not vouch for how these clothes would hold up if washed and worn often.
A reader has informed me that Shein's practices are very controversial as well as their fabric so I want to be honest about that. As I've said in the past, retailers like Shein and Amazon are very iffy at best and perhaps should be avoided totally in the future. This reader has encouraged me to do more research before I promote Shein again and I will do just that.
As for Part 1 and Part 2 of my Shein purchases, I stand by what I have shared as fun, fast and cheap summer fashion.
xx, Jenni
Shop the Post:

PIN IT!!!