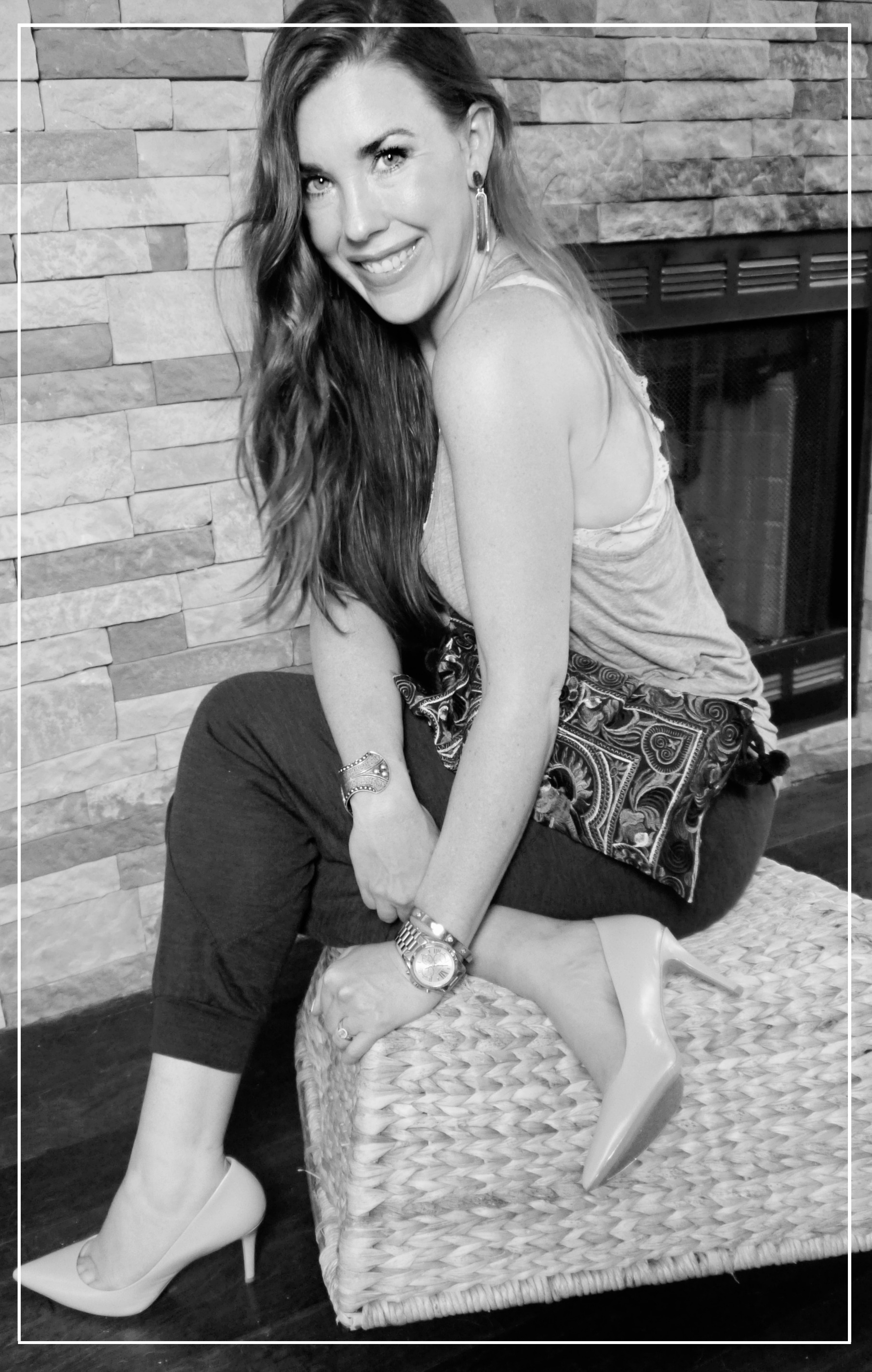 Welcome to Stealing Pretty!  I've been blogging on this site for about 5 years with no expectations but to have fun. I share what I love. Nothing more and nothing less.
My name is Jenn and I blog full time at Jenni Raincloud-A Natural Skincare Blog.  I've been blogging for almost 10 years!!  I absolutely love blogging.  It's not only my job, it's my passion!  I love creating and capturing pretty things.
I'm also a wife and mom of 2 beautiful girls, 6 cats, 1 dog and A LOT of chickens!  I live in a heavily wooded area with lots of nature. You could say my surroundings influence just about every aspect of my life, including my sense of style!
I find how we dress, decorate our home, the music we listen to and even the books we read and the movies we watch are all very valid way to express yourself.  At least for me, my overall lifestyle, especially my home and my fashion says a lot about my personality and how I feel on the inside.
The name Stealing Pretty means several things to me. One, I love beauty-any and all kinds. I draw inspiration from it and in a way, you could call it "stealing".
Also, I love to explore fashion icons, especially from the 60s and 70s. I like to make a fashion icon's style like Stevie Nicks, Elizabeth Taylor, Jane Birkin or even good ole' Beth Dutton accessible to us. So once again, the word "stealing" seems appropriate.
Last, one of my favorite movies is Stealing Beauty with Liv Tyler. It defined me as a teenager. Liv Tyler was my famous "twin" back when the Aerosmith videos were coming out-people actually would stop and tell me how much I resembled her. It was (and might still be) my claim to fame! Stealing Pretty is a play on Stealing Beauty.
As far as fashion, I love pairing high end bags and shoes with extremely affordable, dare I say cheap, clothing!  As a middle aged wife and mom, I just don't feel the need to drop a lot of money on what I'm wearing.  There's just something so rewarding to hunt for deals and make "cheap" clothes look expensive! Same goes with my home. I typically paint my own art, have no shame in my IKEA game and love to hunt for quirky, one of a kind items.
If I could choose words to describe my style it would be Boho, Edgy and Eclectic. I REALLY love vintage looks and couldn't care less about being "on trend".
For reference, I'm 5'7, 150ish and wear size 10-12 in pants and a M-L in tops. I would say I am well proportioned but lack a defined waist.
I rely heavily on Amazon.  First off, I tend to leave things to the last minute, so Amazon Prime comes in handy when I have a night out to dress for.  Second, I've found that Amazon has a lot to offer when it comes to tops, jackets, accessories and home decor that are unique and affordable. Sometimes you just have to dig.
I'm here to scout those items out and style them so you can look expensive for less!  I also love to hunt for a good deal and will be sure to alert you to sales you need to know about. Pinterest if my favorite form of social media so I also like to share beautiful rooms and outfits I find there as well.
I also love music and share my current playlists via Spotify!
I'm so glad you are here!! You can connect with me by commenting on the blog, DMing me on Instagram or emailing me at [email protected]
xx, Jenn