So, I might have gone a little nuts. This girl loves a deal and boy did I get one. I hesitated to share this huge clothing haul because none of what I bought is great quality and none of it was a necessity but it sure has given me a big boost and got me ready for summer! If you are in need of some new clothes at a great price, my honest Shein haul review is going to help!
This was my first time to order from Shein. I was slightly familiar with the ultra-affordable online shopping platform but had no idea just how much they have to offer. Lately TikTok has been overloaded with tons and tons of Shein haul videos from mainly gen z influencers but I (I'm 45) have found that despite the focus on trendy, young clothing items, I was able to find tons of pieces that feel age appropriate yet fresh. The majority of the items I bought have been great so I thought I'd share!
For anyone who doesn't know what Shein is, it's a Chinese company that is part of the fast fashion industry, meaning that they make trends available quickly and at affordable prices. This online retailer has clothes, accessories, shoes, home decor etc at a very low cost. You can read more about Shein HERE.
The biggest perk of SHEIN is that their clothes are CHEAP. Like 2-3 times cheaper than Amazon and the clothes are the exact same. Amazon has just taken to marking everything up lately but even when they didn't, they were never as cheap as Shein. Shein has a massive supply chain. You could scroll countless items for days.
At SHEIN you can find a dress for $12-$15 and on Amazon, the exact same dress is $35-$40. Even the Shein items on Amazon are marked up compared to the website!
It's no secret I am often a quantity over quality kind of girl. There are some items that I believe you should spend more on in order to get the quality but summer dresses, tops, trendy jewelry, even swimsuits aren't on that list.
Today I wanted to share with you half of my recent Shein orders. Yes, I bought that much that it has to be split into 2 different posts. I've placed two large orders in the last month (you'll understand why when you see the prices) and 90% of my order was amazing! I'm also including a couple of pieces in this post that I believe were not great.
Items typically ship from China but both orders arrived in less than 10 days. I'd say the shipping time was quite impressive. I had a return on my first order, they sent me a return label and (like Amazon) I took it to my local UPS, I did have to box it myself though. They have a free return policy on your first return of each order and I got my card credited in less than 7 days. So far, I have had no complaints about shipping or returns. Both times I ordered, there was free shipping as well. Also, if you spend enough (which I did on my 2nd order) you can qualify for free express shipping which gets your whole order to your door in around 7 days!
In these orders I wasn't expecting amazing quality, however, I was pleasantly surprised. Also, I was afraid that since everything was coming from China the sizing would be off. I have yet to find an item that wasn't true to size. I'm in my regular size in each piece.
And for the record-While I consider myself a style enthusiast, I am not a trendy fashionista. I am boho right down the line.
Related Post: How to Wear a Kimono Different & Unique Styling Ideas
Shein Haul: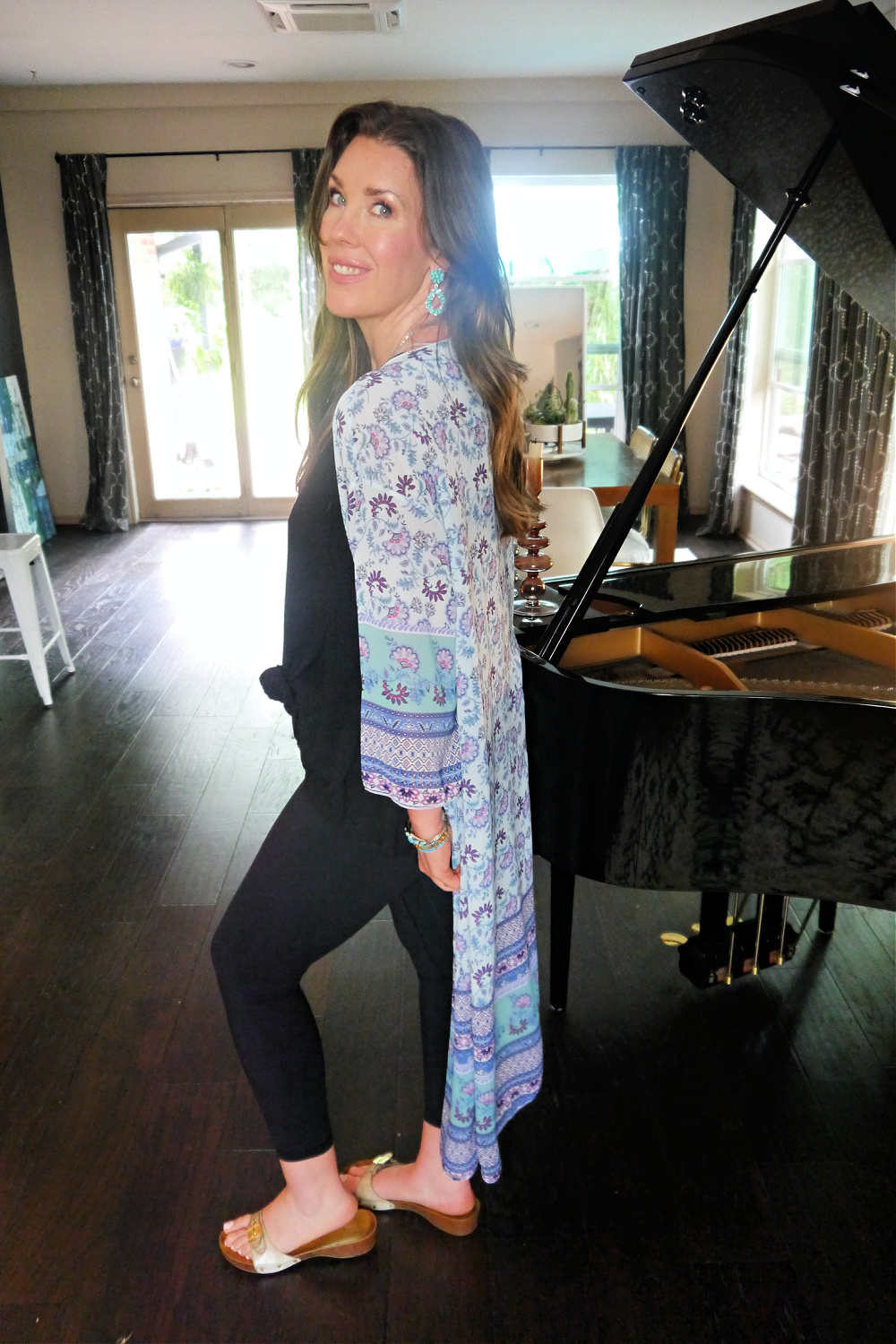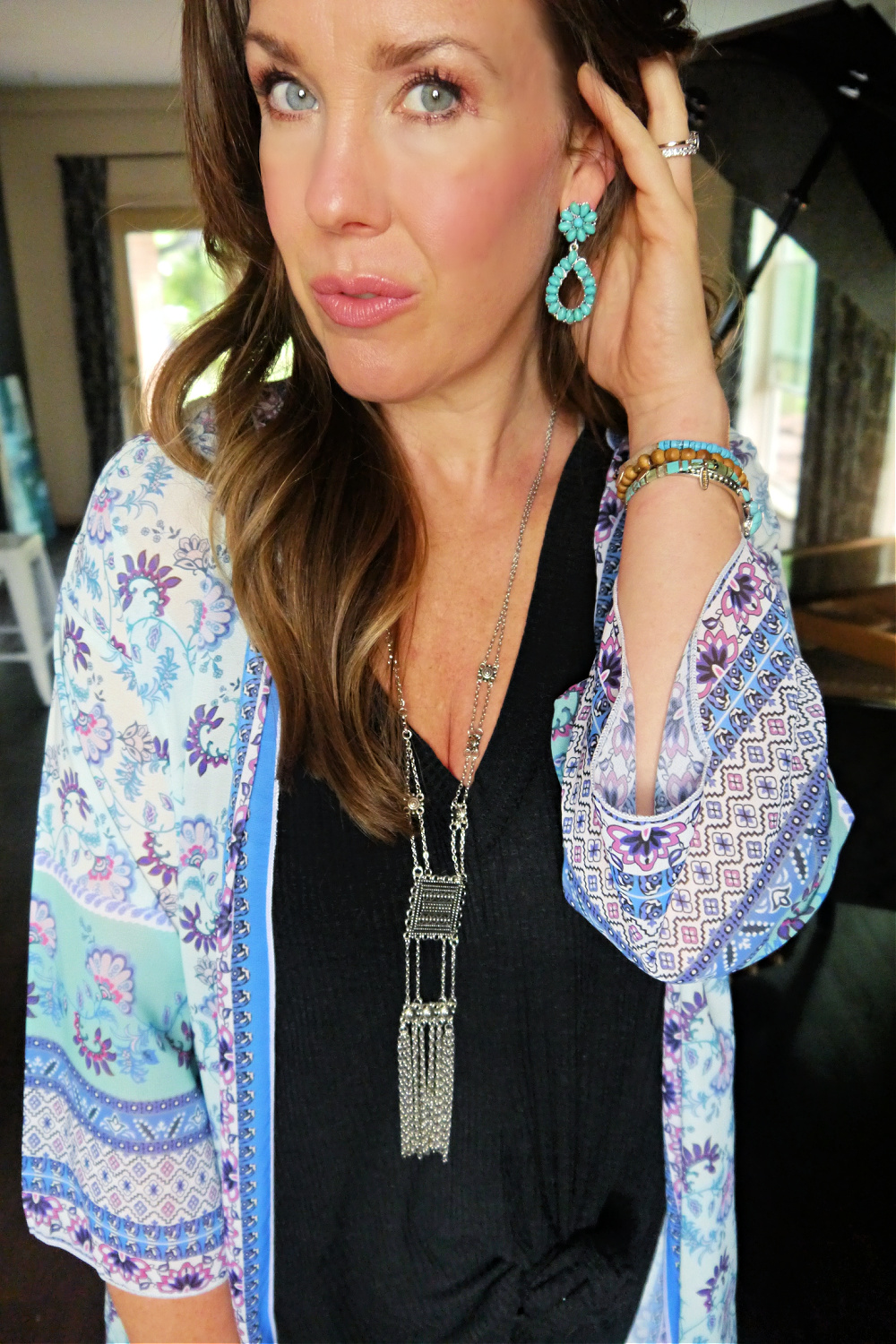 This $9 kimono is gauzy and see-through. It would make a great swimsuit cover up but I grabbed it because I love the colors! I wore it with a black tunic tied on the side and THESE leggings. The necklace and earrings are SHEIN. Both pieces were under $3.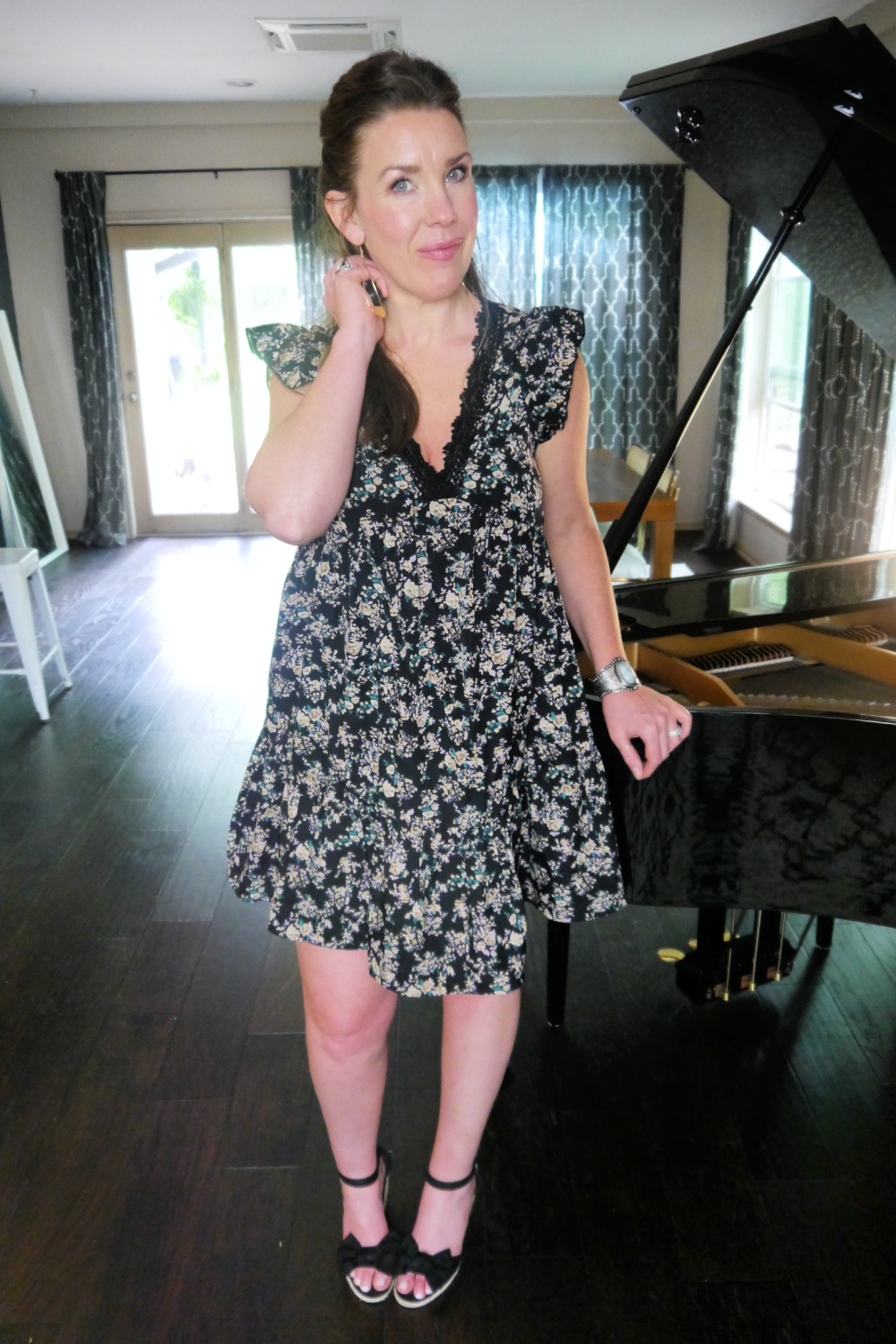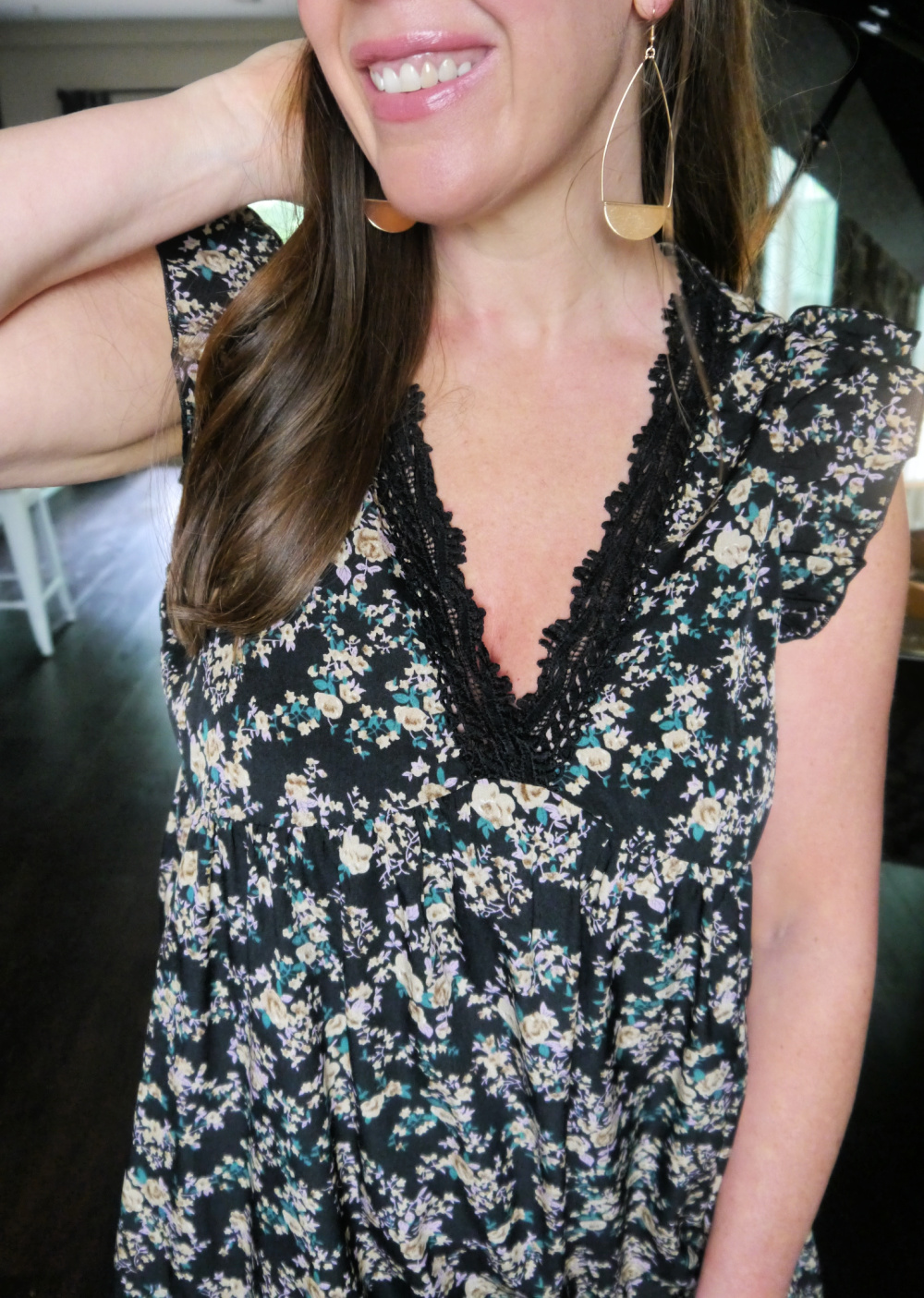 This $11 baby doll dress is so cute. The quality is great and I love the lace detail around the neck. It's not too short (I'm 5'7) and fits true to size. This dress will be easy to dress down with flip flops and roomy enough to be super comfortable in. The flutter sleeves make it so feminine. I paired it with black espadrilles similar to THESE.
Related Post: How to Style Flared Leggings (the fancy way)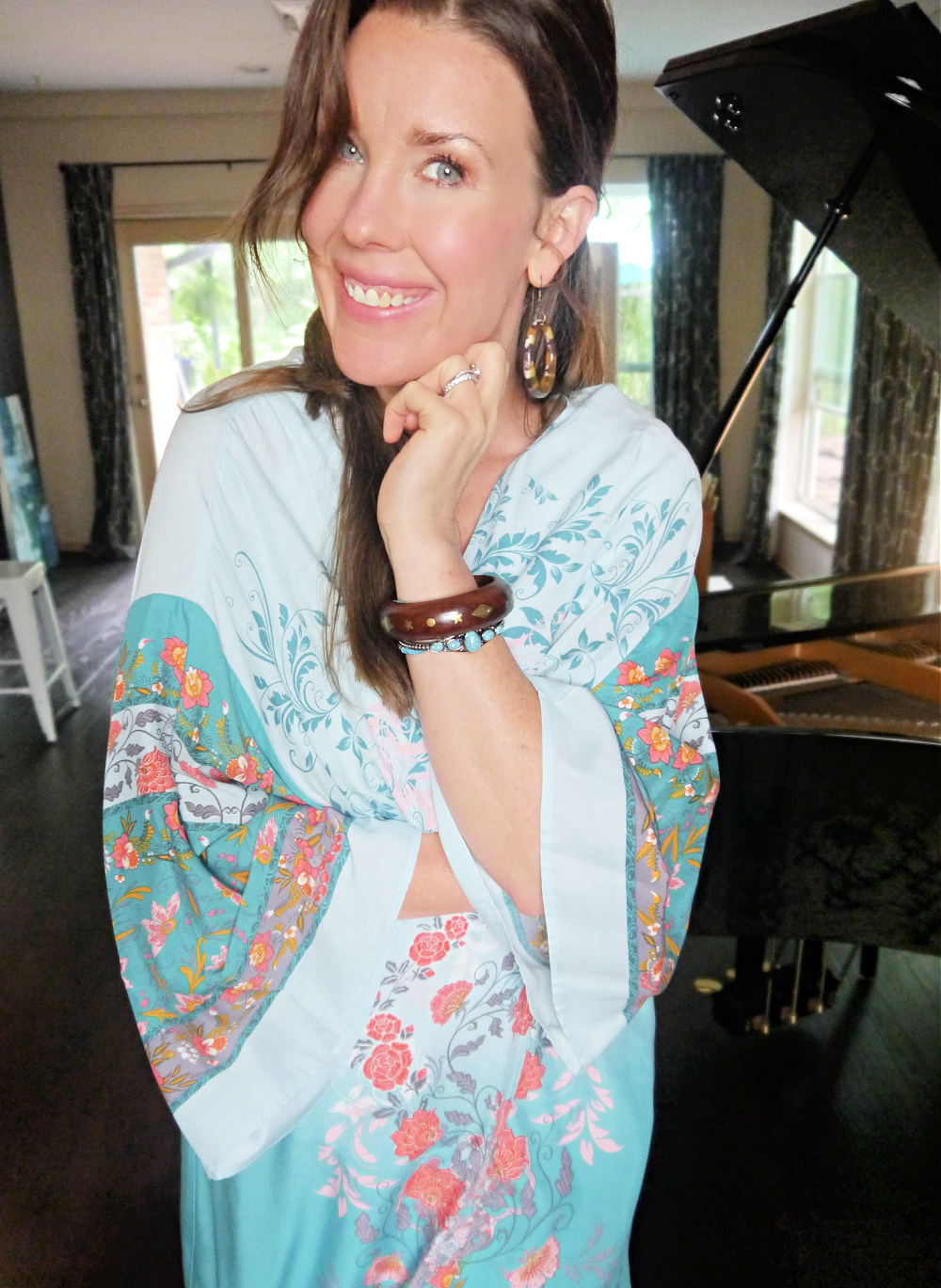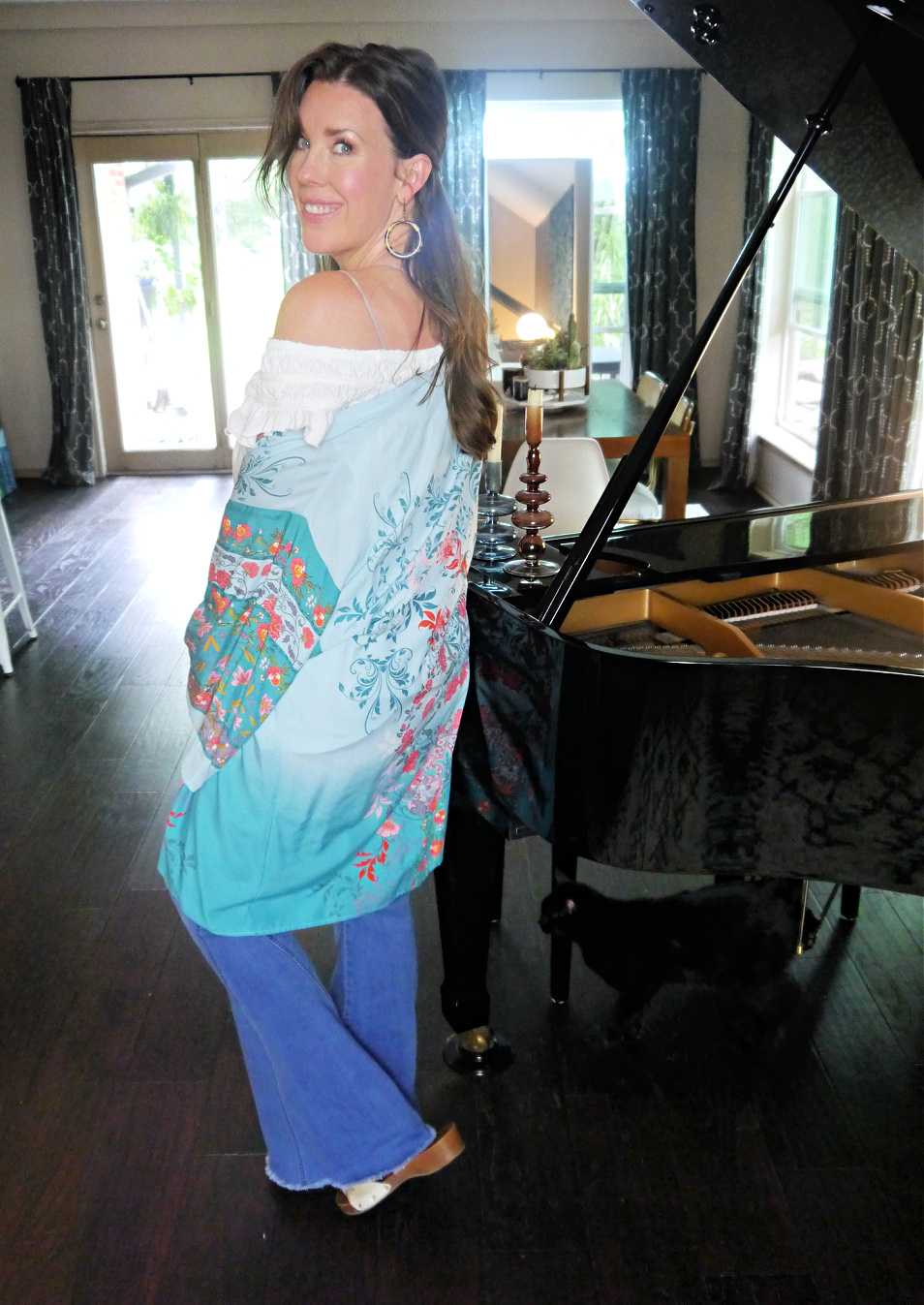 This gorgeous blue kimono is under $14! I've worn it several times already. It's the perfect size. It's not super long but not short either. I paired it with a white top and THESE bell bottoms. My turquoise bracelet is also SHEIN and only $2. My sandals are Dr. Scholl's.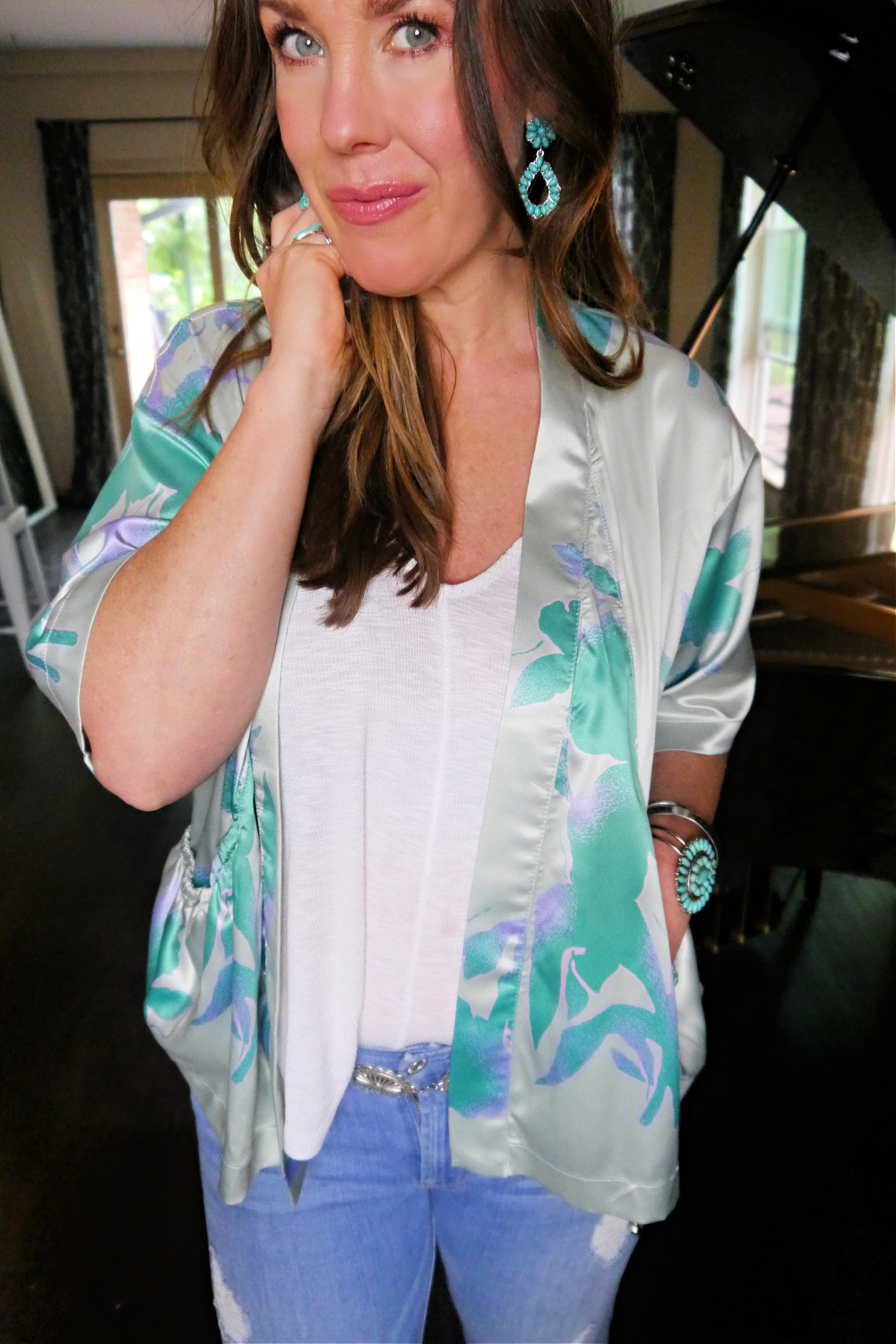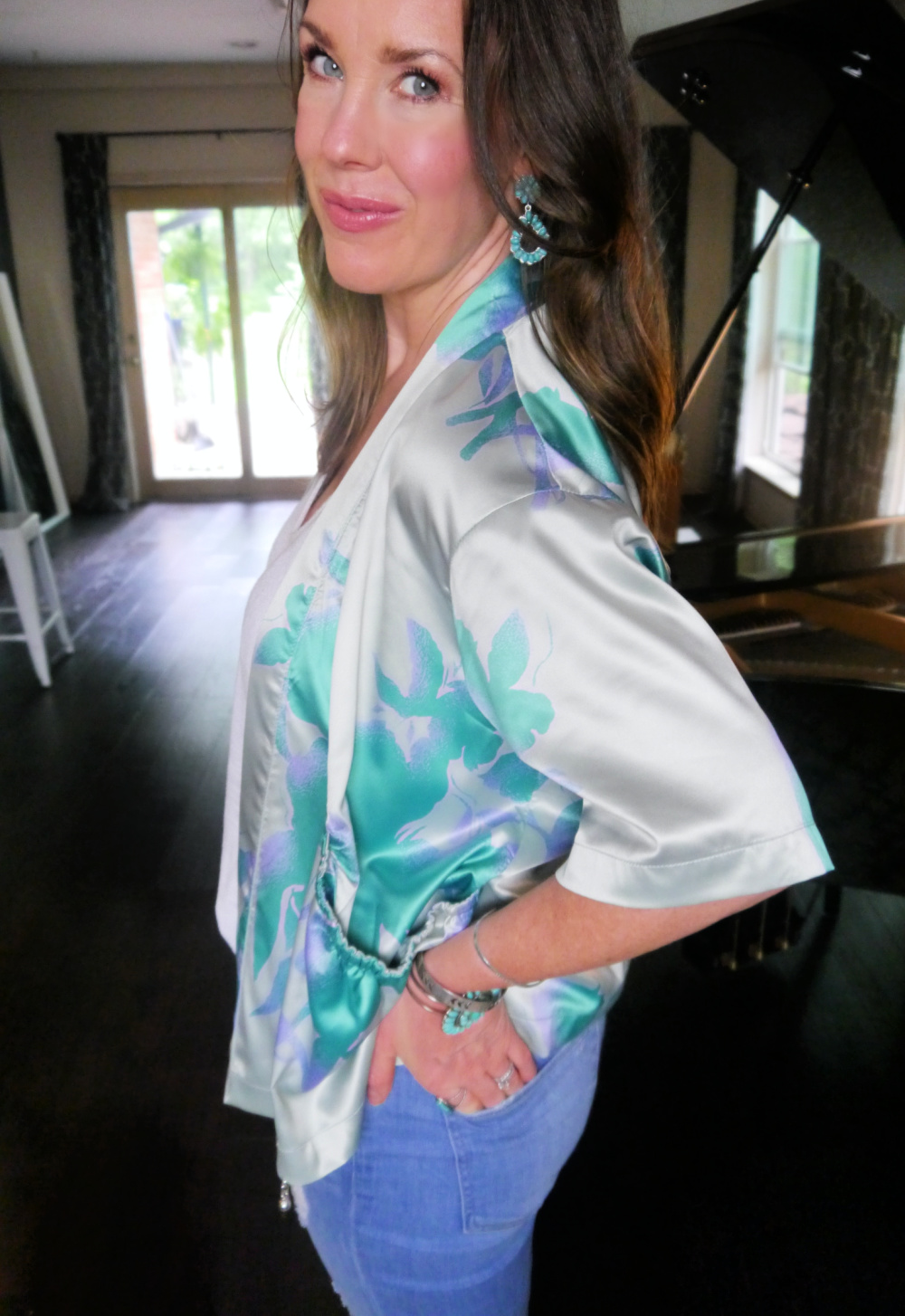 I had to have this silk, open front top because it literally looked like it came from a thrift store! The colors are gorgeous! Did I mention it's $8? I paired it with THIS Free People tank, jeans and THESE heels. My silver belt is also from Shein as is the earrings.
Related Post: Steal The Look: Style Icon Stevie Nicks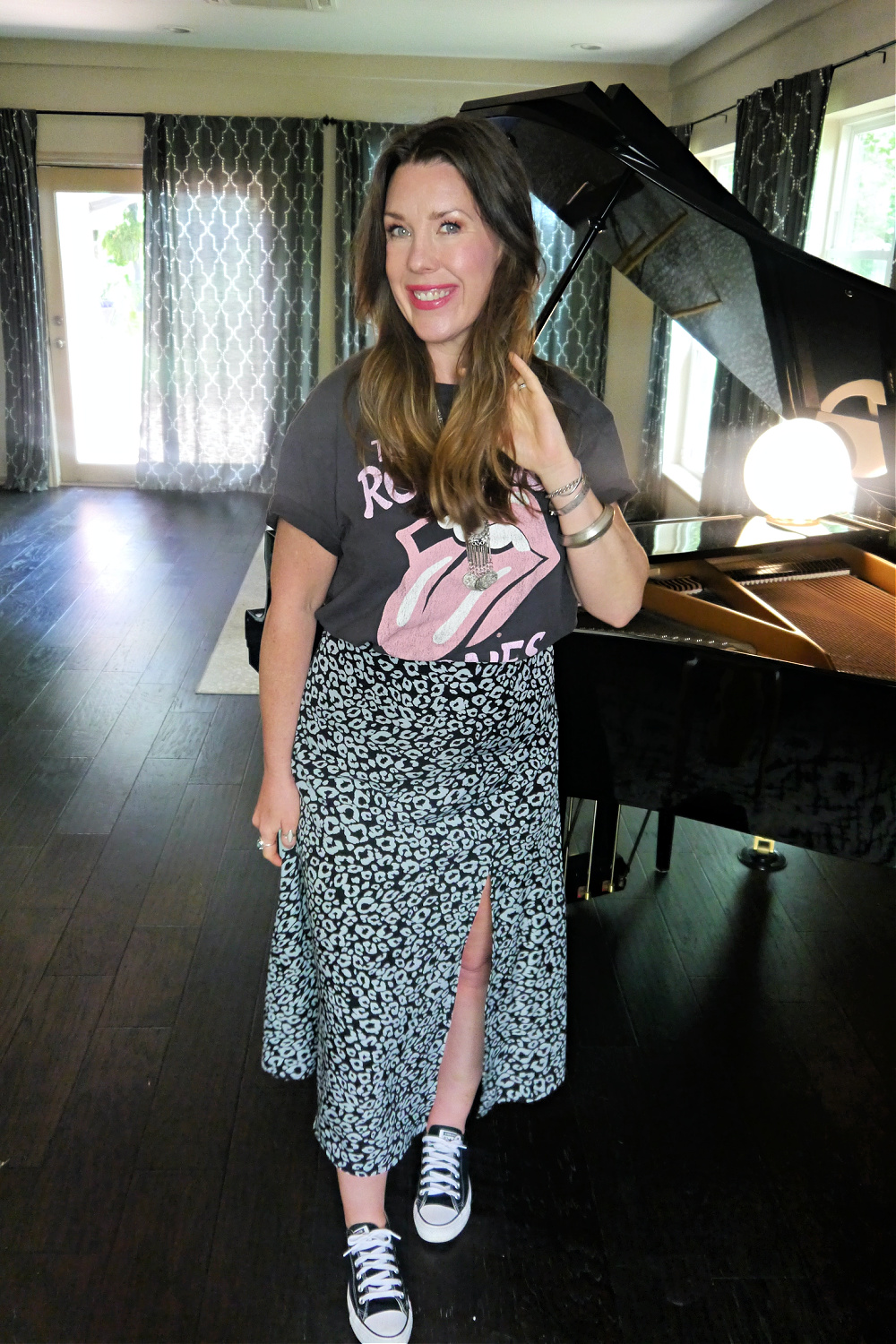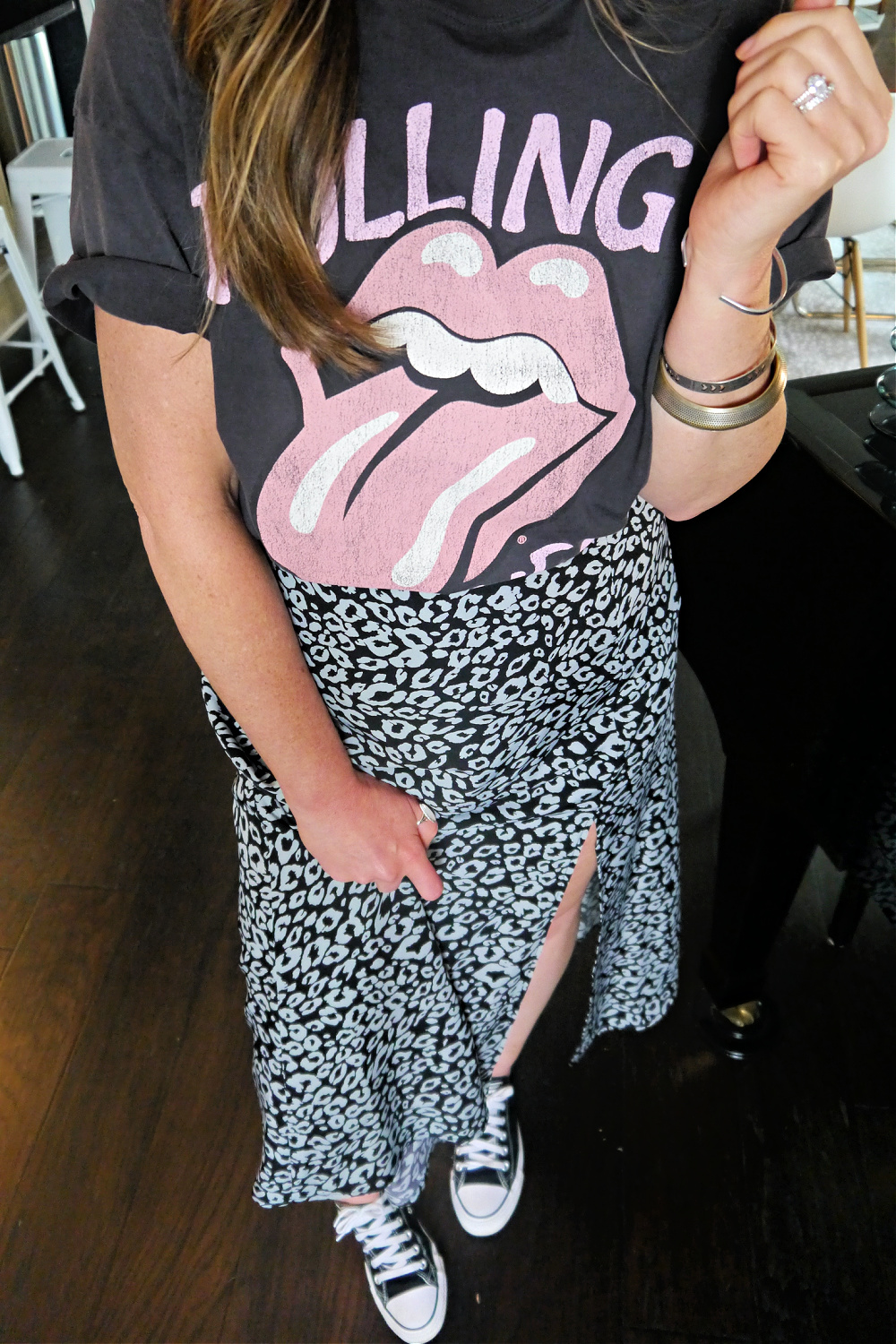 This skirt is not exactly flattering on me. It was around $7 which is why I took a chance but I'm not sure it's a winner. There is a lot of extra fabric which makes it look bulky. It took me a very long time to put this outfit together because literally nothing looked good! So, I included it but I'm not sure it's a hit. I'm not giving up just yet on it though. I'm in a large-it's TTS. The eternity band under my wedding ring is also Shein! It was $1.70! It's so good!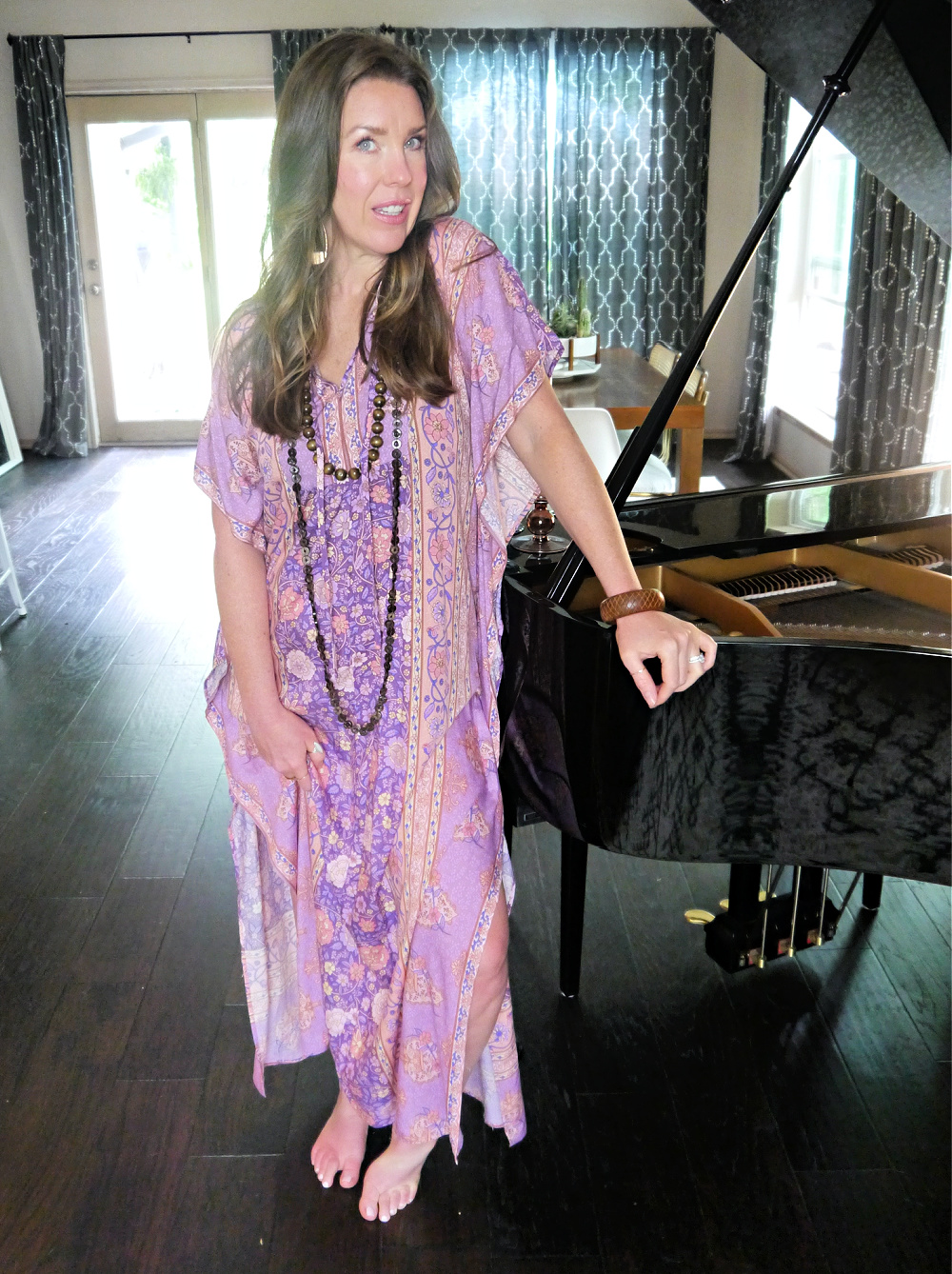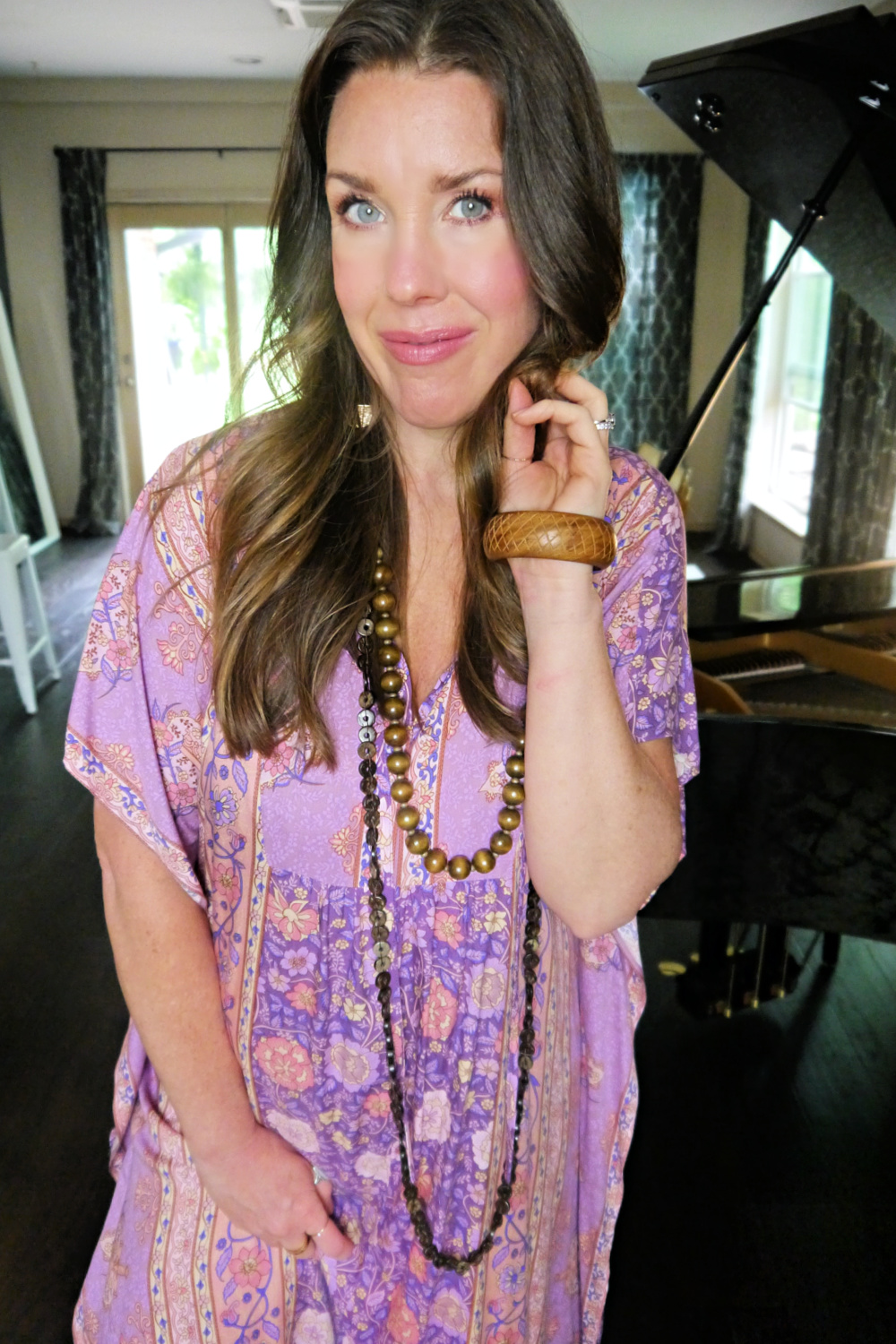 Come and knock on our door….. I'm channeling Mrs. Roper in this stunning caftan! It's certainly not for everyone and I'm not sure it's for me but I couldn't resist the print. It has slits up the side that aren't too high so it will be nice and cool in the summer. This dress also comes in plus sizes HERE. It runs TTS. The longer wooden necklace is also from this Shein haul.
This coin necklace has been in my Amazon cart for weeks. It's $14 on Amazon and $4 at Shein. It's fantastic and I've worn it with just about everything lately!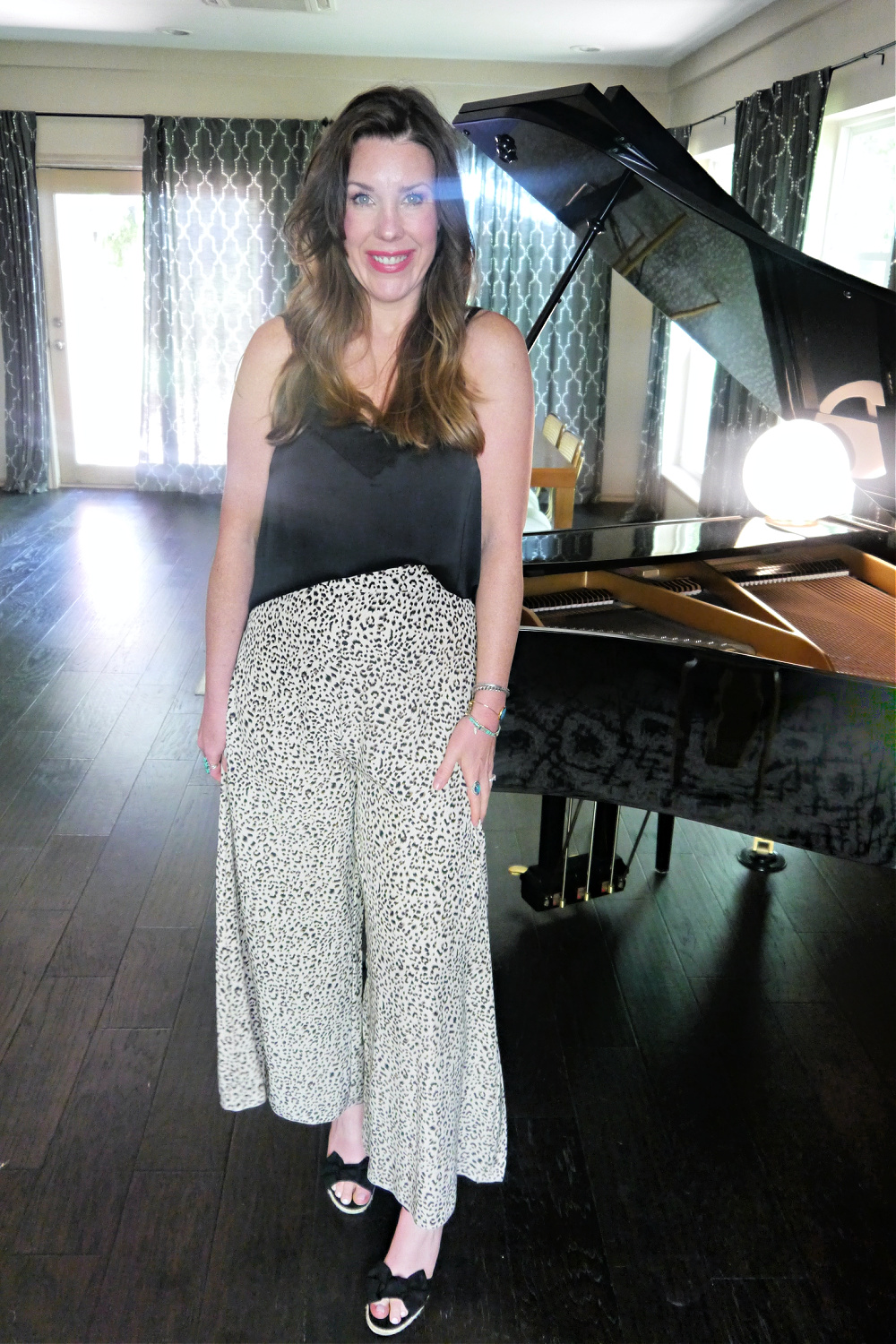 These pants are a MISS for me but I wanted to include them because they are really cute and well made. Why I won't wear them again is because they are super high waisted and tight around the tummy. I have a very proportioned figure meaning I don't have a small waist and I don't have big hips. I carry a lot of roundness in my tummy and my posture tends to accentuate it. While I chose the only flattering pose I could find, these pants made me look larger than I am. If you are curvier with a smaller waist and larger hips and legs, you might just love these pants. They are TTS.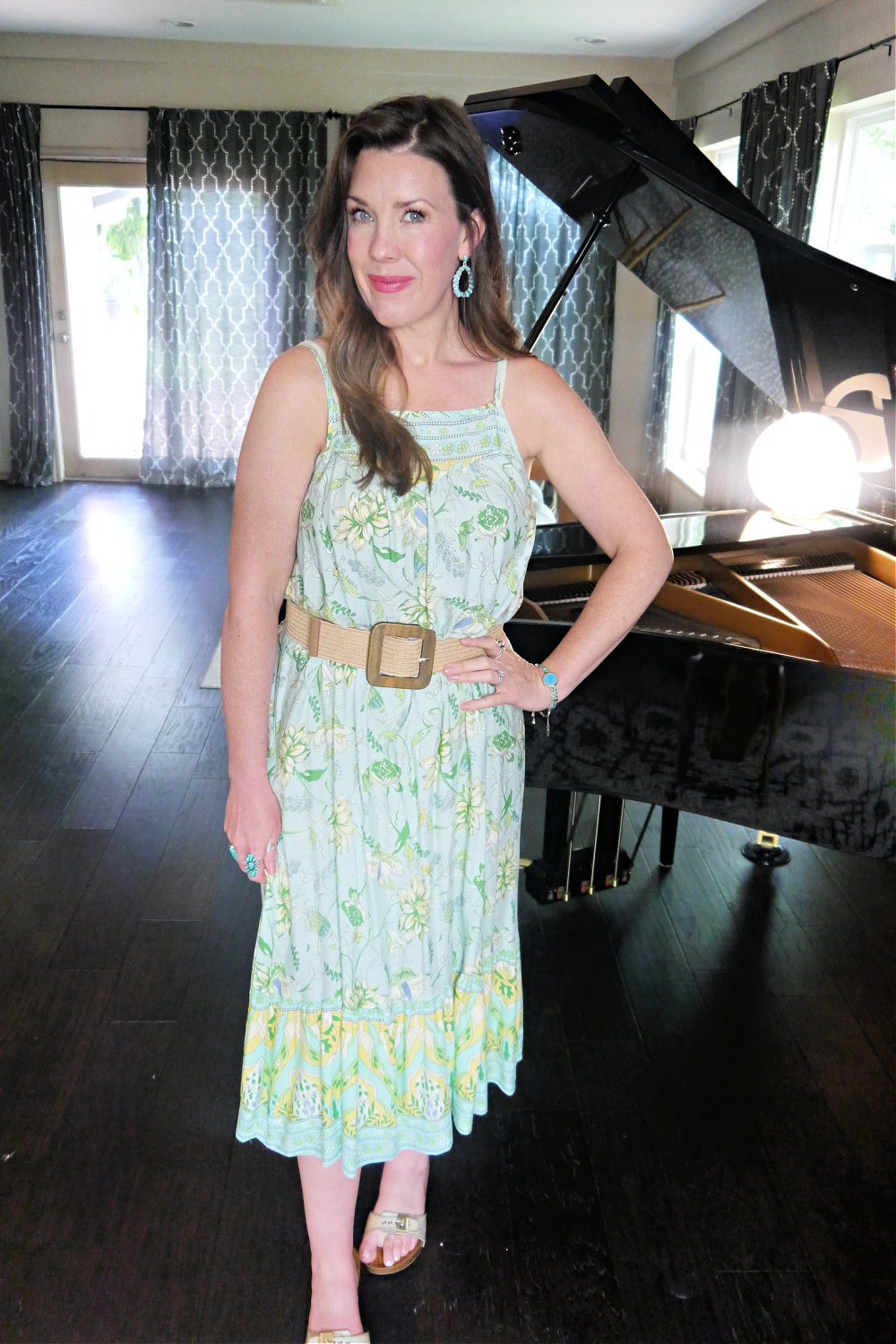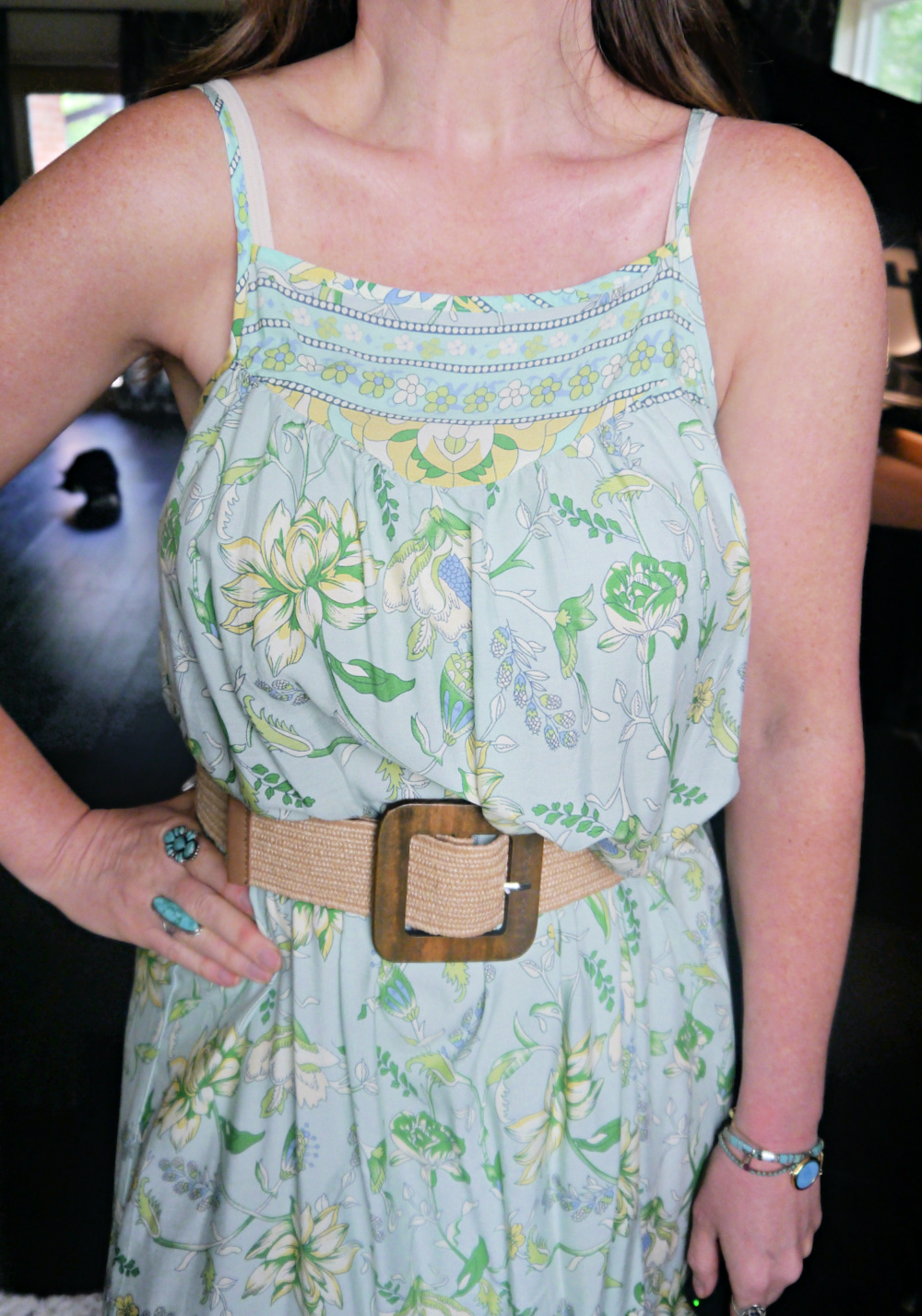 Unfortunately this beautiful dress is sold out but I linked it incase they restock. It is so pretty and light. If you like this style of dress, check out THIS one and THIS one. They are very similar. The belt is also from this Shein haul and is the perfect accessory if you're like me and love shapeless dresses but feel you need to elevate it once in a while.
Overall, I'm happy with my Shein haul. The quality of the items wasn't the best but I'm not disappointed. None of the fabrics had an odor even though they are all synthetic. Shipping was fast and free and the return I did on my first order was easy and I received a refund in a reasonable amount of time. The best thing is my bank account is not in dire straits. If you are a style lover, I think you'll enjoy Shein. They post new arrivals daily and often have flash sales plus there is always a usable discount code!
Next week I'll publish a blog post of the rest and that includes swimsuits-I found some incredibly good suits and at the prices they're at, you can afford to choose a few. I've also got several more kimonos and a few basics!
Related Post: Summer Shein Haul Part 2
Disclaimer: Since this post I have had a few readers inform me of the controversial business practices of Shein. It has been said that Shein has horrible working conditions and engages in child labor.  Their environmental impact is greatly in question as well. Excessive carbon emissions and non bio-degradable materials have also been reported. I have a hard time believing Amazon isn't just as bad so I'm torn. I respect the fact that a company is offering clothing for extremely cheap prices and not hiking already bad quality clothes up to unreasonable costs but their manufacturing process is highly concerning. I wanted to be transparent so you are aware if you choose to order.
xx, Jenni
SHEIN SHOP THE POST:

PIN IT!!!