Practical Magic is an October must watch movie. Everything about this movie is cozy, romantic and heart warming including the fashion! The movie came out in 1998 and has been a staple in my movie collection ever since. In this post, I'm going to take style inspiration from the outfits of Practical Magic and pull together some really fun pieces that are high on good witch vibes! Be warned, this post might inspire you to eat chocolate cake for breakfast, light candles with your breath and indulge in midnight margaritas!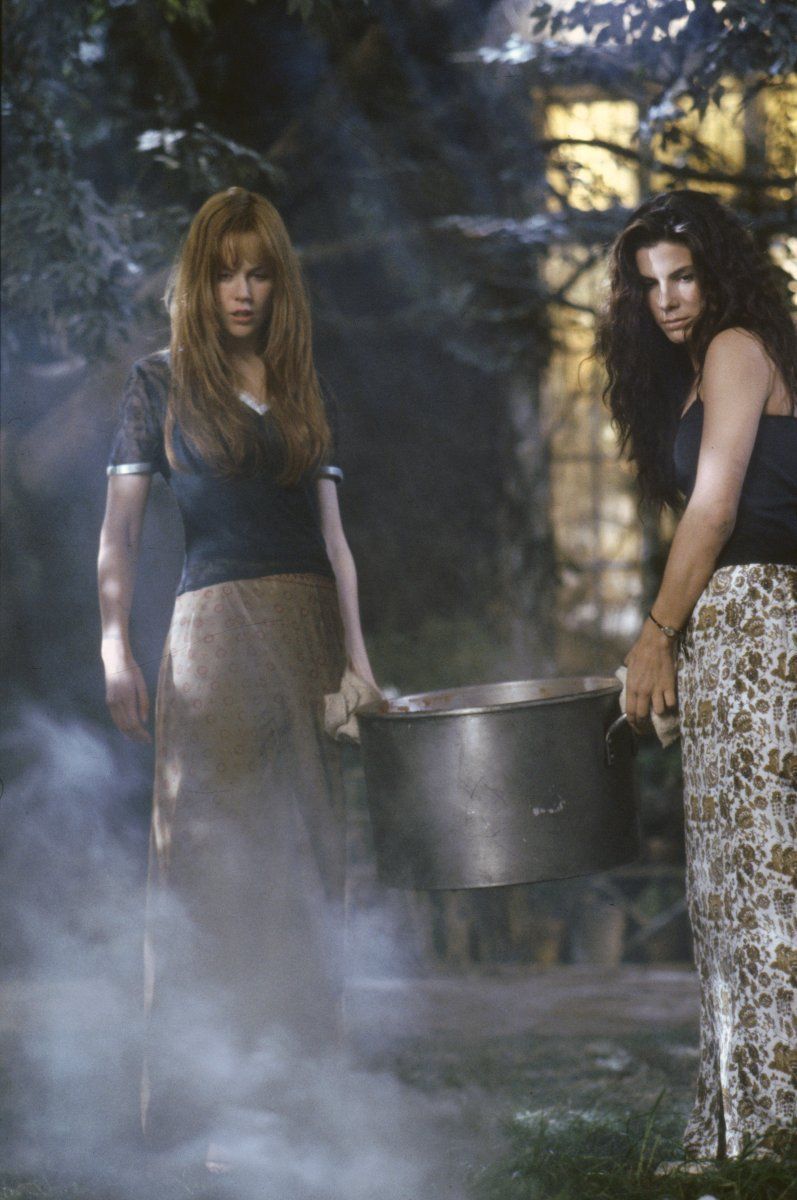 The Practical Magic style can be summed up in four words, Feminine, Coastal, Cozy and Chic. This movie does not have your typical goth inspired, witchy looks. Practical Magic is full of big cozy sweaters on top of girly slip dresses. Sandra Bullock and Nicole Kidman wear super long hair and light, pretty makeup. The movie throws in a few 90's looks like purple colored, wire rimmed glasses, chokers and long floral skirts but none of the outfits look dated. It's 90's style fashion that can be seamlessly translated into the style of today.
Sally and Gillian's personalities are totally different and that is often shown in their outfits. Gillian is more of a free spirit, chasing love and in touch with her sensuality. She wears a lot of lace, a belly chain and revealing tops. Sally is conservative and wants to reject her witchy heritage. She is often in jeans and feminine tops. She wears slim button up cardigans with floral skirts. The overall look of both feel similar and the chunky, long cardigan is what both styles have in common.
"There's a little witch in all of us."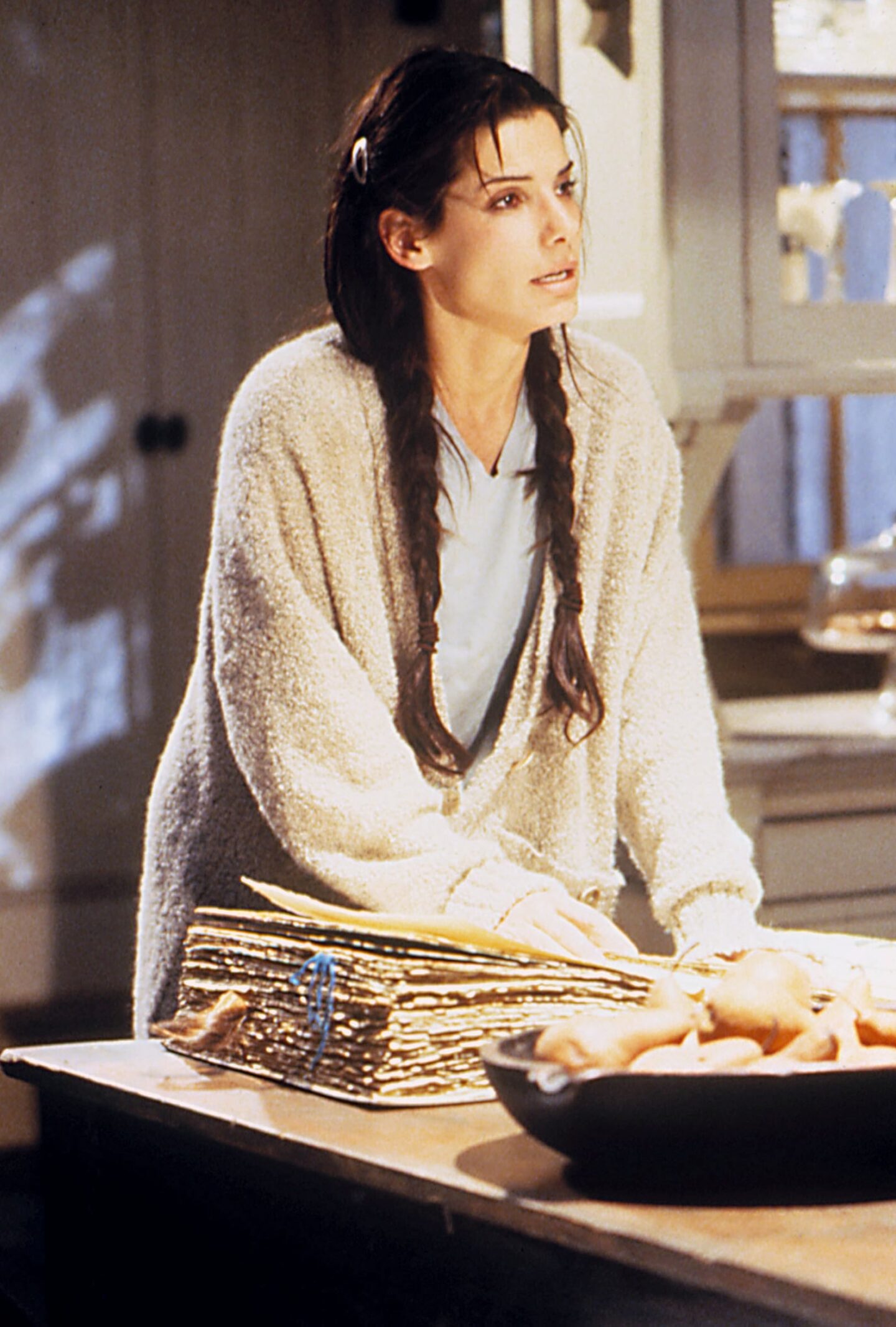 "Sometimes I feel like there's a hole inside of me, an emptiness that at times seems to burn. I think if you lifted my heart to your ear, you could probably hear the ocean."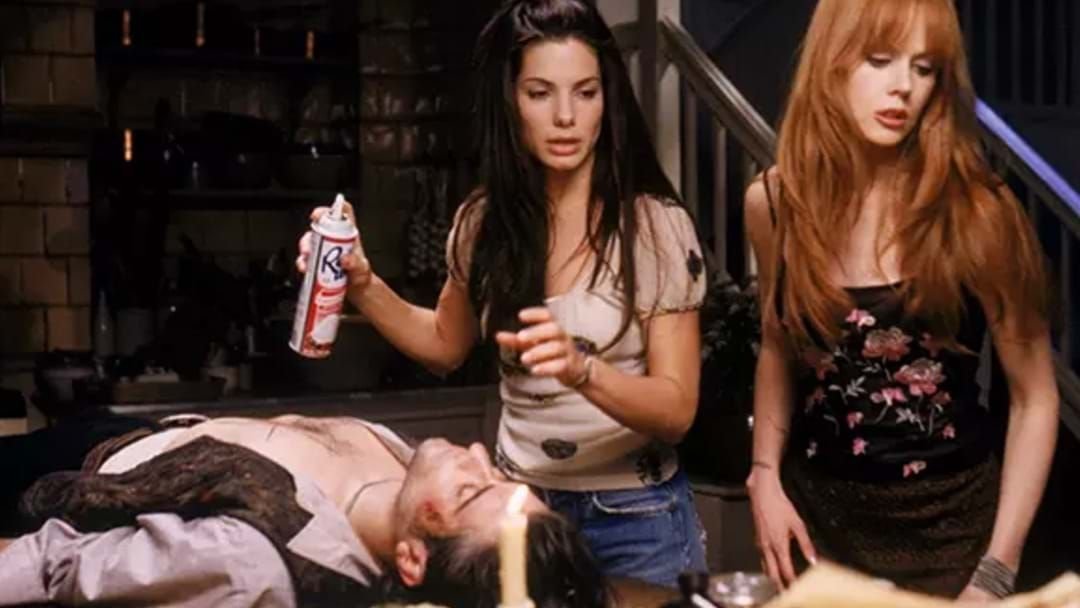 Synopsis of Practical Magic:
Practical Magic stars Sandra Bullock, Nicole Kidman, Stockard Channing, Dianne Wiest and Aidan Quinn. It is based on the book by Alice Hoffman.
The Owens women have a long history of being good witches. When an Owens woman falls in love the man is cursed to die. The movie focuses on Owens sisters, Sally Owens and Gillian Owens. After Sally loses her husband from the curse she comes back home to live with her two eccentric aunts in their stunning Victorian house on a cliff overlooking the ocean. While nursing her broken heart, Sally senses her sister is in trouble and travels several states away to save her. Gillian's boyfriend, Jimmy is an aggressive ego maniac who terrorizes both sisters when Sally arrives. Sally ends up over drugging Jimmy and killing him. The sisters use magic to try to bring him back to life. Chaos ensues after Jimmy comes back more evil than he was and they must kill him again. However, his evil spirit does not die and stalks the sisters, forcing them to use more magic to save themselves.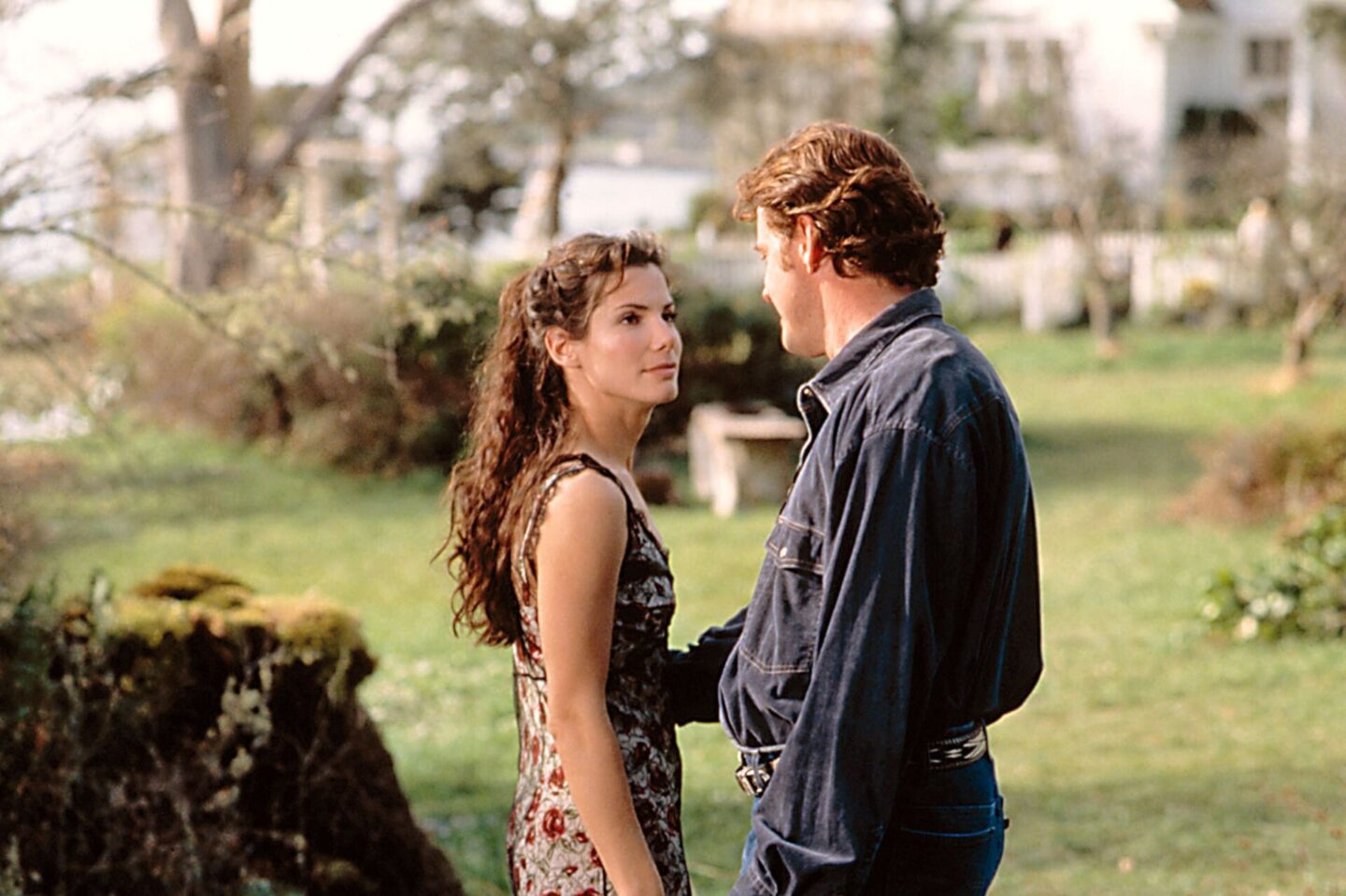 "He will hear my call a mile away. He will whistle my favorite song. He can ride a pony backwards. He can flip pancakes in the air. He'll be marvelously kind. And his favorite shape will be a star. And he'll have one green eye and one blue."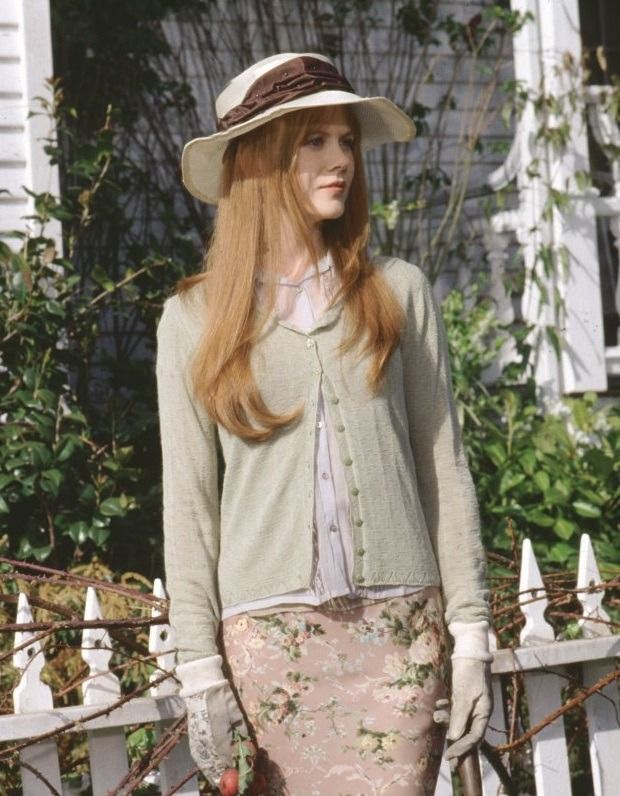 "There are some things I know for certain: always throw spilled salt over your left shoulder, keep rosemary by your garden gate, plant lavender for luck, and fall in love whenever you can."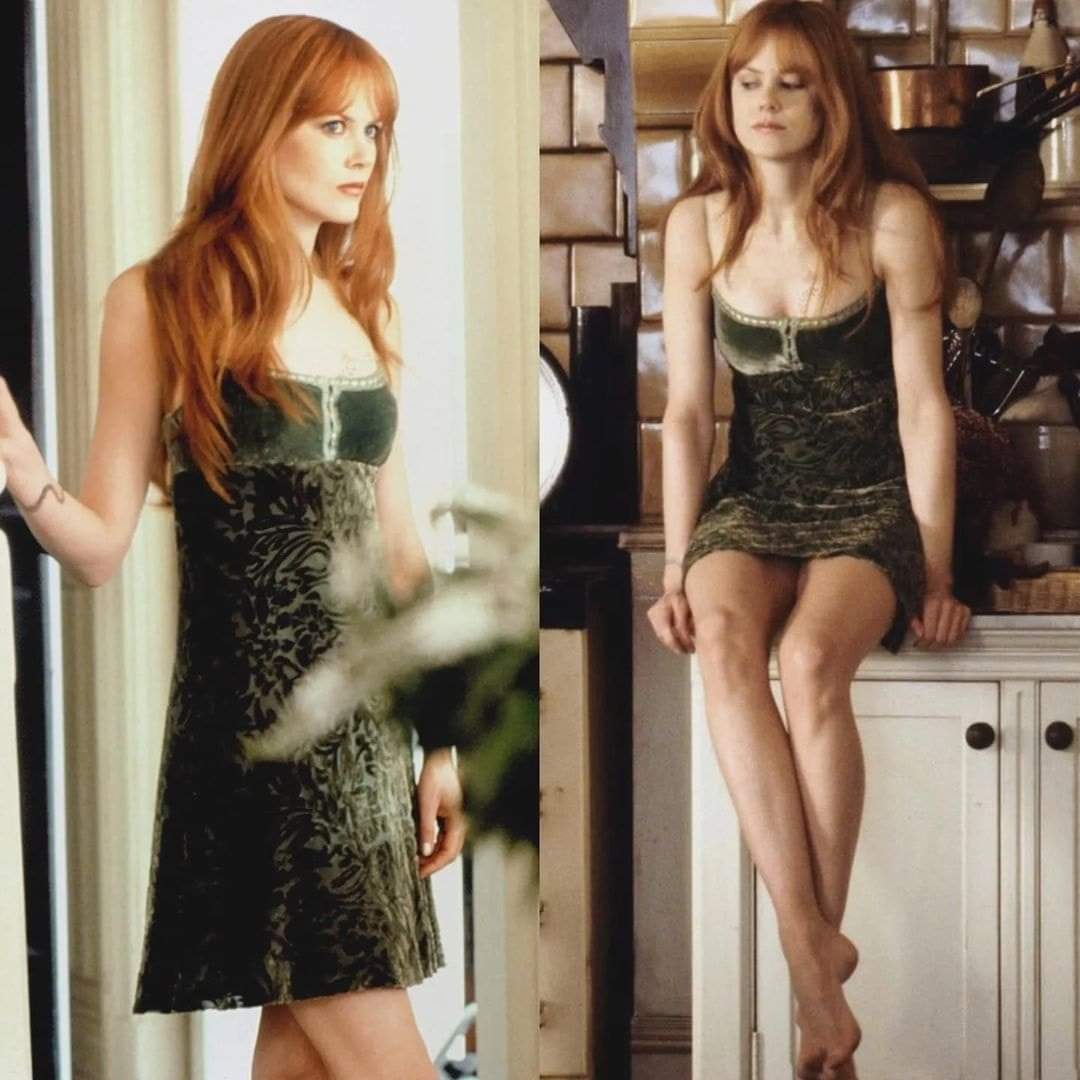 "It makes your heart race. It turns the world upside down. But if you're not careful, if you don't keep your eyes on something still, you can lose your balance. You can't see what's happening to the people around you. You can't see that you're about to fall."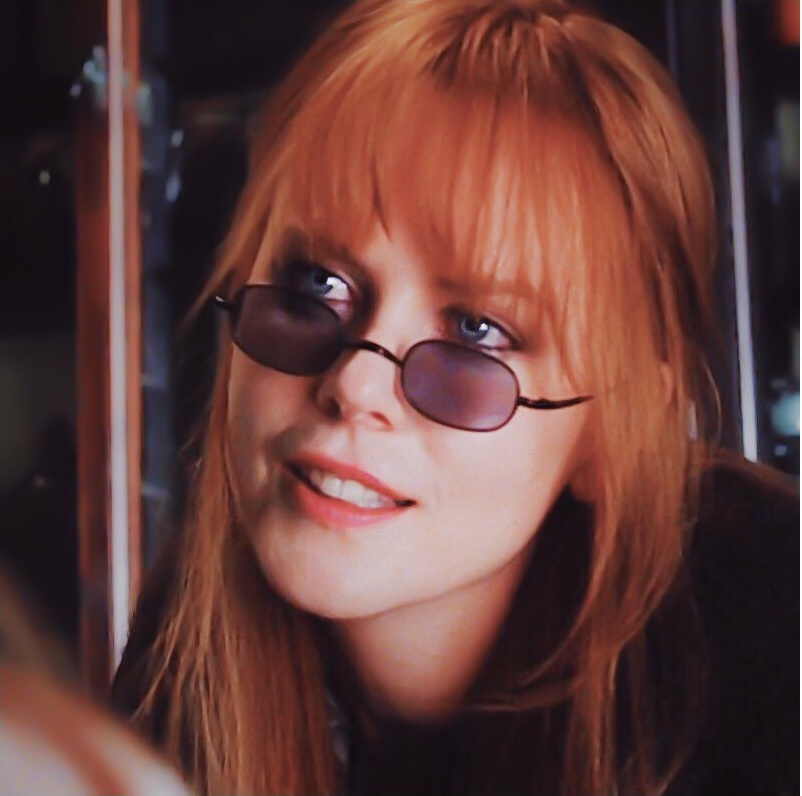 Sally & Gillian Outfit Staples:
A few key pieces of clothing define the style of Sally and Gillian. Layers are key. Boho skirts, tops and dresses are subdued by classic, grandpa style cardigans. Floral patterns and lace are often worn. Luxurious fabrics like silks and velvet are included in several outifts.
Oversized Cardigans
Slip Dresses
Mom Jeans/Straight Leg Jeans
Black Camis
Floral Maxi Skirts
Floppy Straw Hats
A bonus fashion accessory is of course a black cat. They are all throughout the film!
Aunt Frances & Jet Outfit Staples:
The aunts have a different style then Gillian and Sally. I've focused more on the younger sisters but the aunts have an incredible style all their own. Below are a few staple pieces that represent the aunts. I added a few aunt friendly pieces to my collage.
Kimonos
Oversized Hats
Long Dresses
Statement Rings
Long Necklaces & Earrings
Scarves
Gloves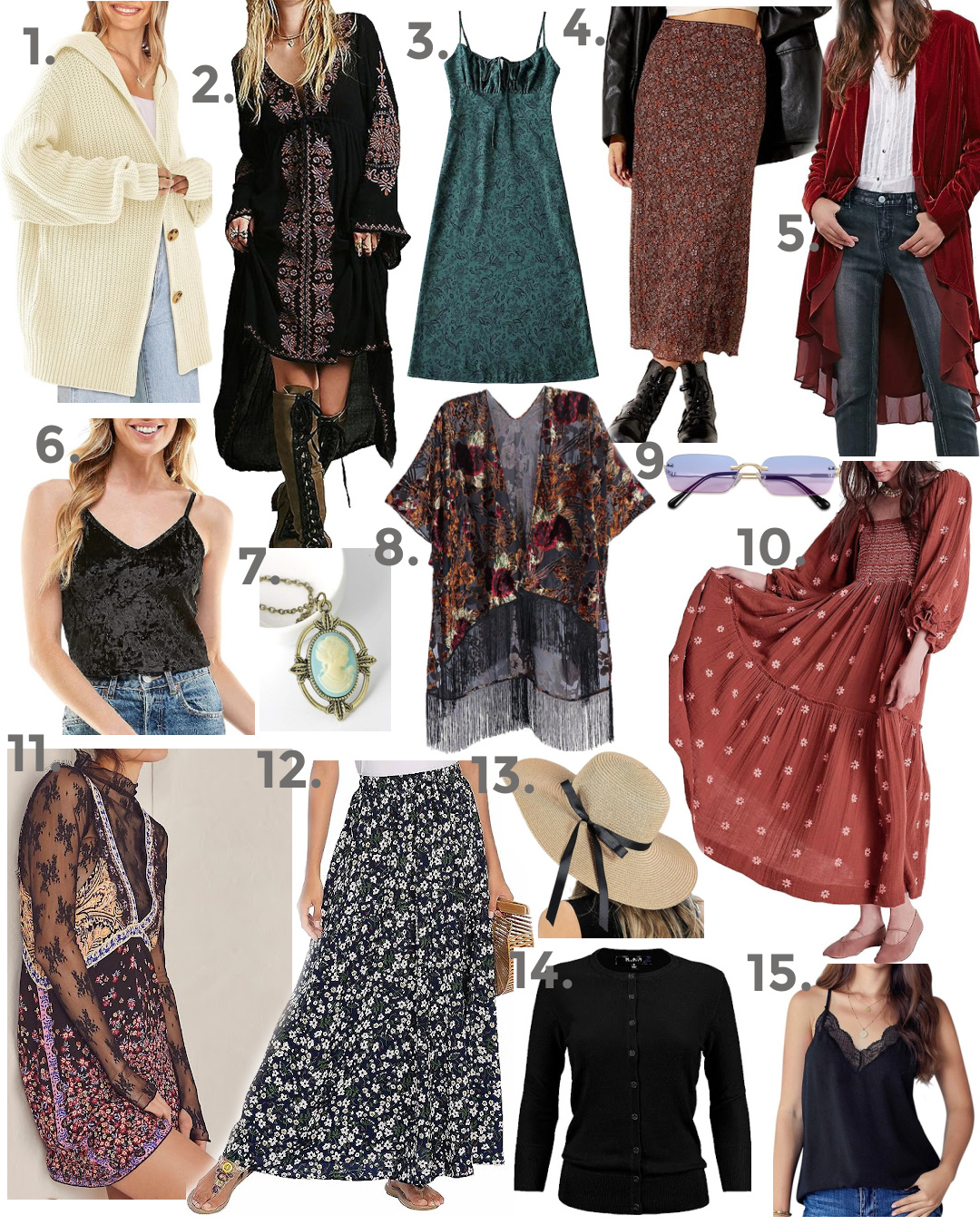 I've pulled together a few pieces (many from Amazon) that will make the Practical Magic outfits easily accomplished!
A Few Fun Film Facts:
It has a killer soundtrack with 2 exclusive songs by Stevie Nicks (a remake of Crystal and If You Ever Did Believe) featuring Sheryl Crow on back up vocals. It includes other artist such as Faith Hill, Joni Mitchell and Harry Nilsson.
Practical Magic, like many of the best movies, got bad reviews from critics. Yet regular viewers are still raving to this day making it a cult movie classic.
A real witch was consulted during the making of the movie and ended up threatening to curse the movie according the director.
Jimmy, Gillian's boyfriend was supposed to be from Texas but was rewritten when Croatian-American Goran Visnjic was cast.
The Victorian family home in the movie was so enchanting that Barbara Streisand inquired whether it was a real home she could purchase. The movie was mostly filmed on a set in California but a shell of the house was built on San Juan Island, Washington.
What wasn't filmed on a set was filmed in Coupeville on Whidbey Island in Washington. Many locals played townspeople in the last scene of the movie and were paid $40 a day.
The director, Griffin Dunne is the brother of Dominque Dunne who stared in the Poltergeist. She was famously strangled to death by her boyfriend after her filming. Griffin Dunne also starred in An American Werewolf in London.
I wanted to focus this post on the Practical Magic outfits and how to incorporate them into your own wardrobe. However, between Sally, Gillian and the aunts, it would be fun to use these lovely characters as inspiration for a Halloween costume. The film is such a classic, it would be easy to pull it off a costume people would recognize.
Practical Magic is one of my favorite Halloween movies of all time. Nothing quite gets me into the fall spirit like this movie does. This year is the 25 year anniversary and I can easily say, it has been loved by several generations in my family already.
The Practical Magic outfits might have originated in the 90's but could be worn today exactly as they are straight from the big screen. I hope you've enjoyed my interpretation of this cozy, eclectic style and have some fun inspo. for your upcoming fall wardrobe!
xx, Jenni
Shop the Post:

PIN IT!!!