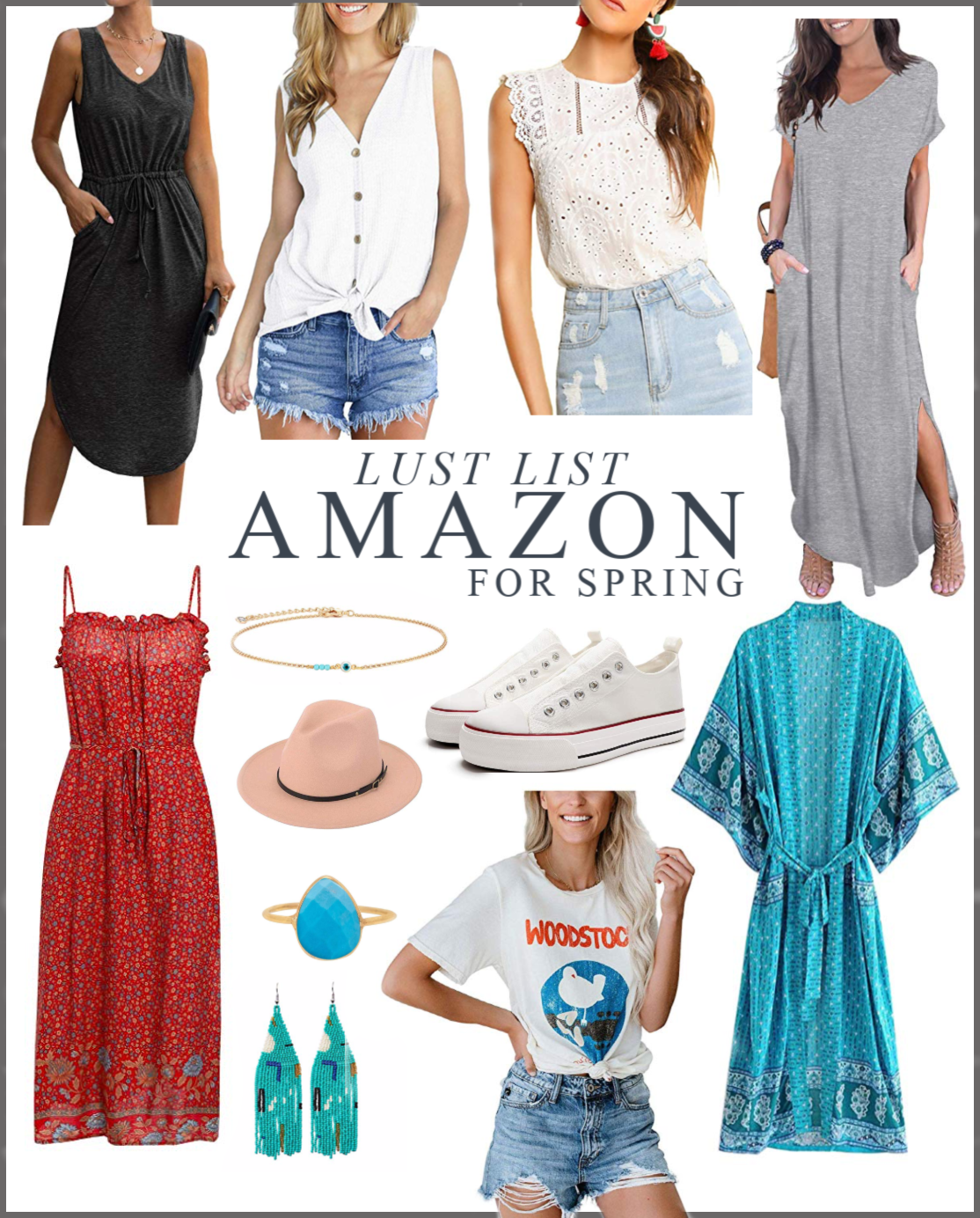 Spring is right around the corner as are warmer days! I've got a mile long wish list so I thought I'd share what I have my eye on!
V-Neck T-shirt Dress-I love this light, breezy dress. It comes in a light gray and olive green as well and from the reviews and pictures, it looks very flattering on all body types.
Button Down Waffle Knit Top-I love these tops. I think this one would be easy to wear with jeans or cut offs!
Eyelit Trimmed Top-This is such a cute top and it does not seem to be cropped at all which can be hard to find in this style top. It also comes in several colors.
Maxi T-Shirt Dress-This dress has been in my cart for over a year now and I think it's time to grab it. I've seen many knot it at the side or even belt it! It can be dressed up or down depending on the accessories. It also comes in tons of colors!
Boho Floral Dress-I love this dress-It comes in 2 other fabrics and would be so comfortable and cool in the heat.
Evil Eye Dainty Necklace-I've just ordered this super affordable, super dainty necklace. It also comes in an anklet and a bracelet. I can't wait to get it in the mail! I'll keep you posted!
Wool Panama Hat-I'm not a big hat person but I wish I was. I'm thinking of trying this one though since it is on the cheaper side and gets great reviews. A hat like this takes a boho outfit to the next level.
Converse Dupes-I love these slip ons. My white converse are in bad shape so I might just grab these since they're much more affordable and so cute! I've been seeing tennis shoes being paired with flow, flowery dresses which is starting to grow on me.
Spell Dupe Kimono-I love the fabric on this kimono and as I've shown more then a few times, I love a kimono in the summer. Not only does it add a pop of color to your outfit, it also covers the back of your legs when your skirt or shorts are too short!
Turquoise Ring-I always wear my turquoise ring but it's seen better days and this one looks like a higher quality. Plus, I saw this exact ring last year at Anthropologie for way more than double the price of this one.
Woodstock Tee-I love this tee and think it would look great to cut up the neck for a slouchier look!
Beaded Tassel Earrings-A beaded, bright earring is one of the easiest ways to jazz up an otherwise boring outfit! These are said to be light weight despite being large. They come in a bunch of different color combos too!
xx, Jenni
Shop the Post: