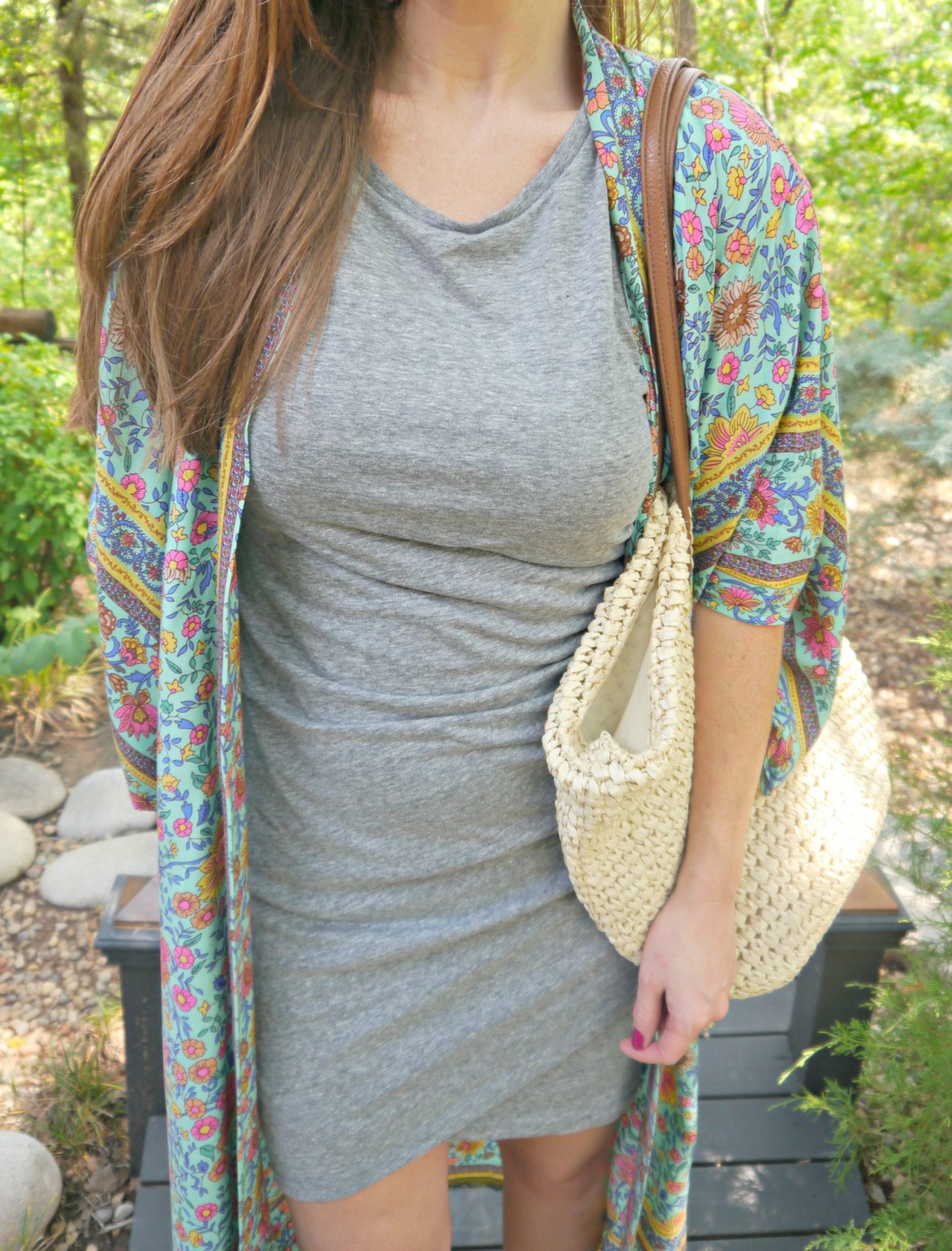 THIS kimono is one of the favorite finds on Amazon lately!  When I bought it, I was nervous it would be too dramatic since it's longer in length then I would typically wear.  It turned out to be such a fun addition to my wardrobe.  In fact, it's one of those pieces that I have to talk myself out of wearing constantly!  Sooooo, I decided I liked it so much, I would style it three different ways, in order to get the most wear out of it!  Oh and I should mention its' Prime and under $30!
This kimono has traditional kimono features such as the cut outs under the arms and instead of a completely open arm, there is an opening wide enough for the arm to fit through but the rest is closed.  I would prefer the sleeves be open and might actually remove the hem.  Tweaking this kimono would be worth the time since it is so pretty.  It is a lightweight material that is a breeze to iron.  The colors are super vibrant as well.  I'm wearing a medium so I would say it's true to size.  I must mention that it comes in a red/orange version that is just a beautiful.  Find that one HERE.
Look #1-Leith Dress & Booties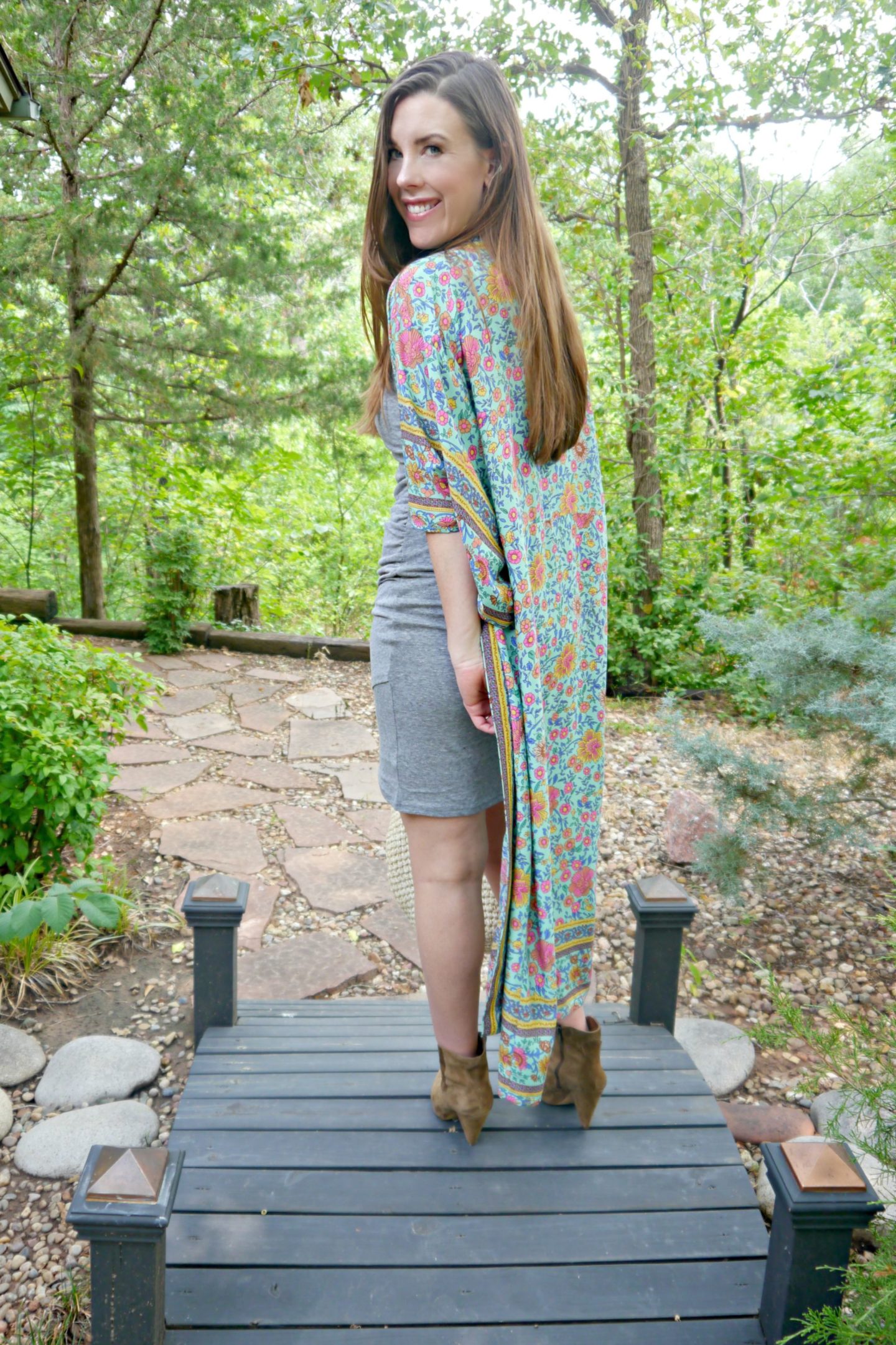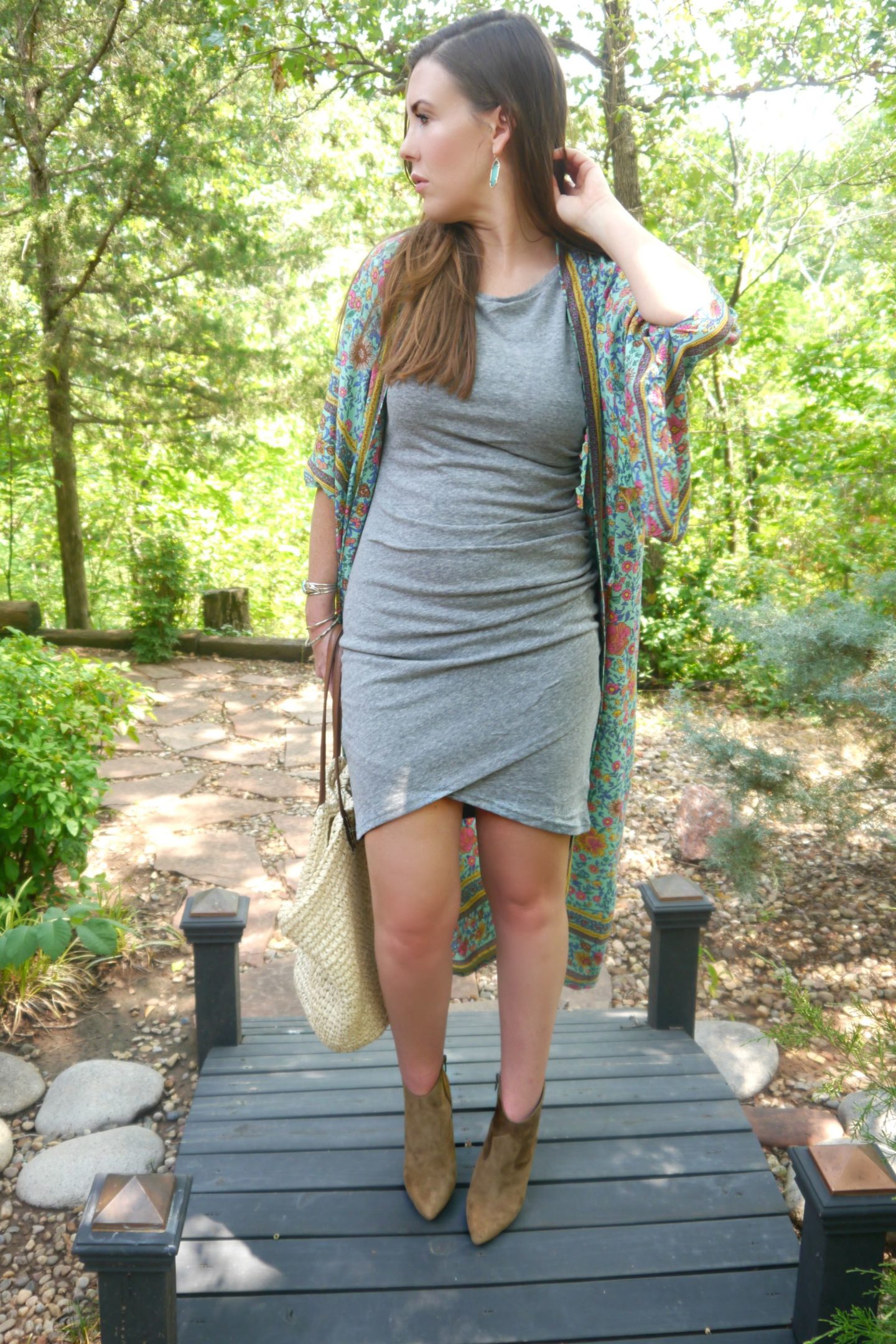 This is a great look for transitioning seasons.  It has turned out to be my favorite look of all three.  Let me say a few words on THIS dress.  I typically try to not fall for the same items of clothing that every blogger wears.  This dress is very popular among bloggers and because it's over $50 and is a simple knit dress, I have been avoiding it.  I actually bought 2 body-con dresses w/ rushing from Amazon and sent both back.  Sometimes it doesn't pay to go cheap!  Turns out, it is true what everyone is saying-this dress is very flattering.  I don't consider myself to have a small waist and wide hips but this dress gives the illusion of hourglass proportions as well as a flatter mid-section.  The ruching disguises a less then flat tummy and has a double panel of fabric over the stomach making it very comfortable. I highly recommend getting this dress and now that I own it, believe it is definitely worth the splurge.  Plus, it will be versatile through all the seasons!  I'm wearing a large and it is somewhat roomy which is good for me.  I'm 5'7 and weigh 150.
My boots can be found HERE.  They are another splurge that have turned out to be well worth it due to quality and uniqueness.  The heel is not too high making them doable for an everyday bootie.  Plus, the pointed toe looks great with dresses and skinny pants.  I am in between an 8.5 and 9 and the 9 fits perfect.
Look #2-White Jeans & Sandals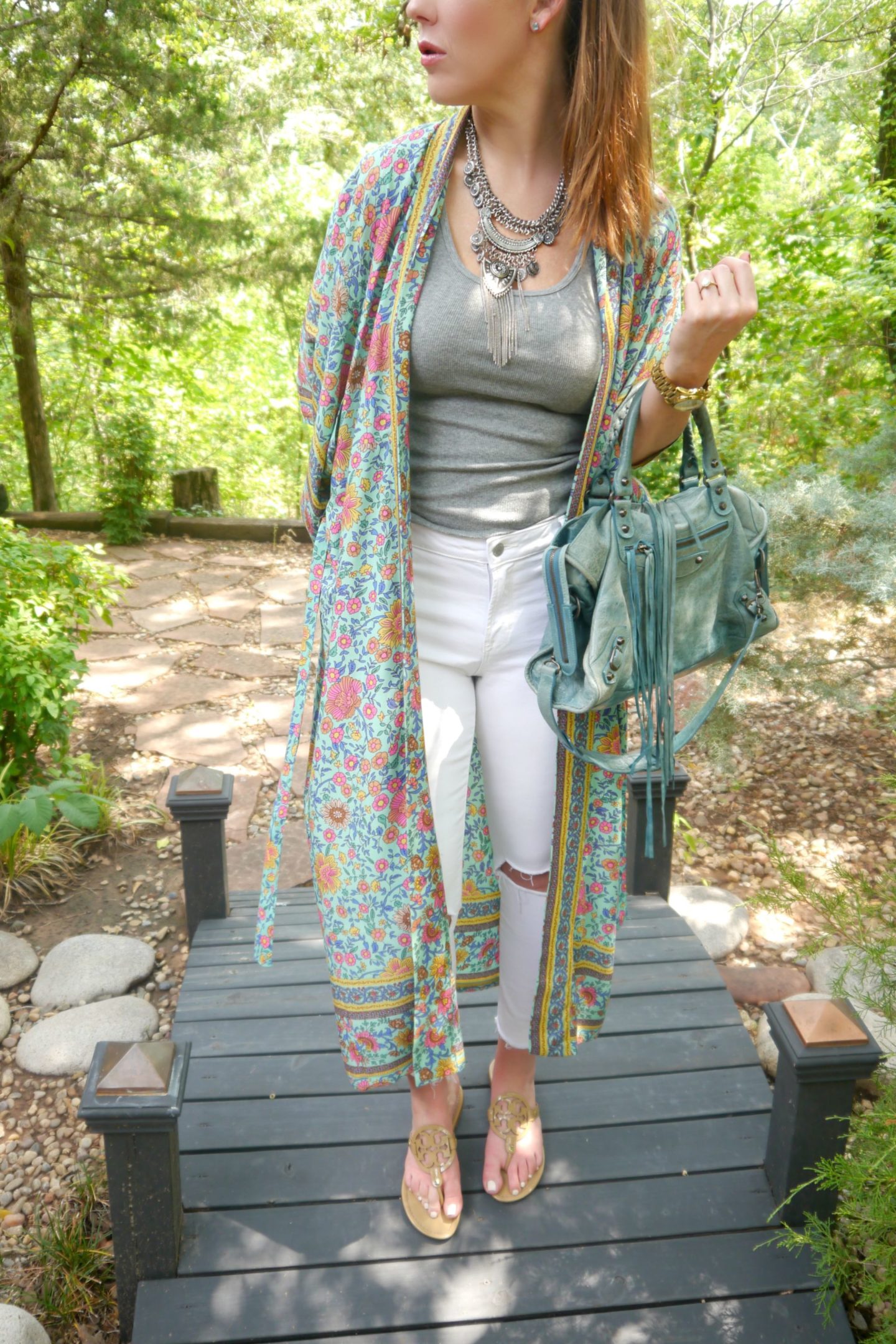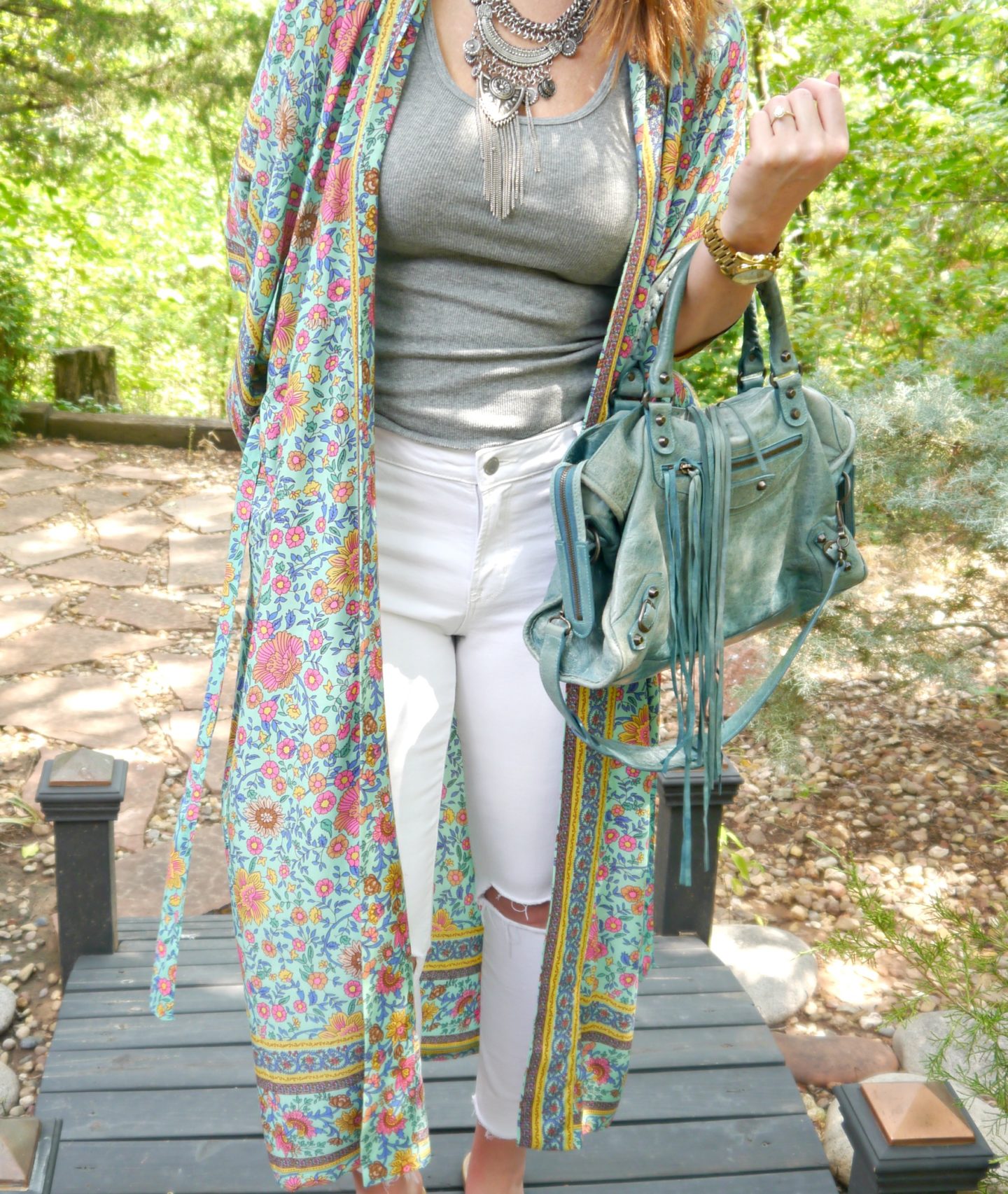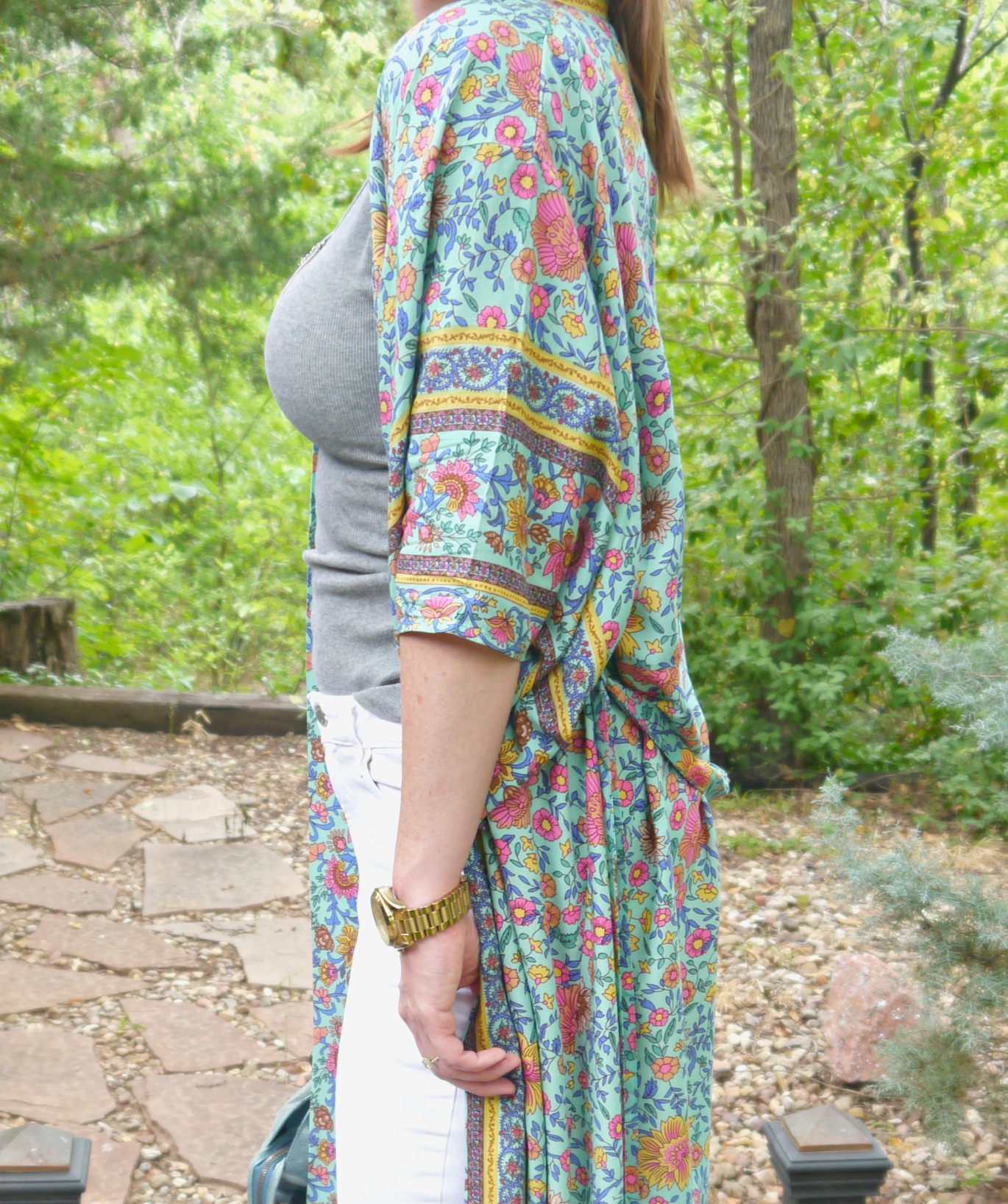 I've been loving white jeans lately.  You might have caught in my last outfit post that I took my usual Old Navy rockstar jeans and cut the hem off the ankle as well as cut out the knees.  I'm so glad I did and am constantly wearing them now.  I paired the white jeans with a gray tank for a simple base to accentuate the kimono.  I decided to throw in a boho necklace to pop up the boho look even more!  Throwing a neutral and simple sandal helped to ground the look.
Look #3-Short Shorts & Heeled Sandals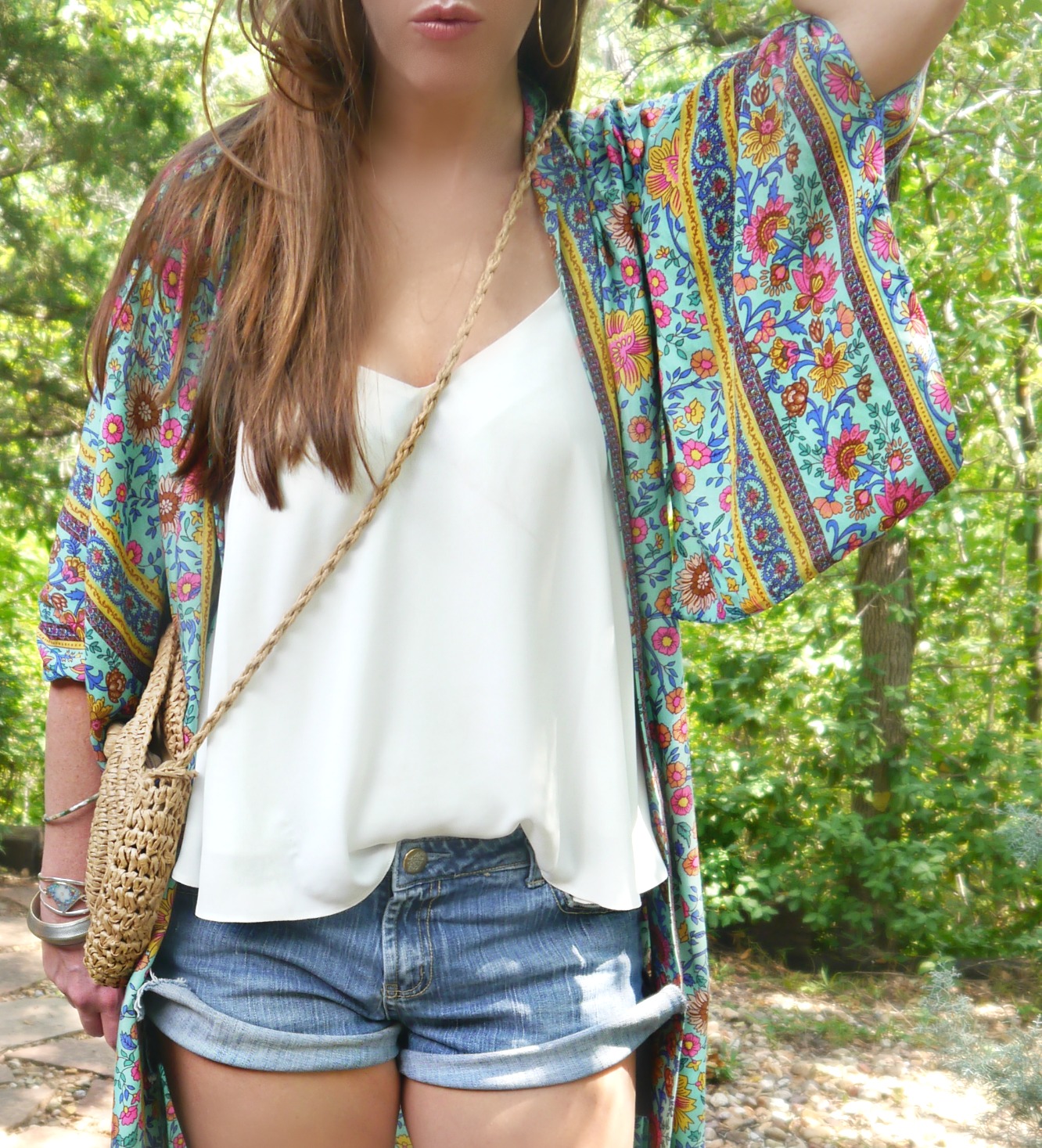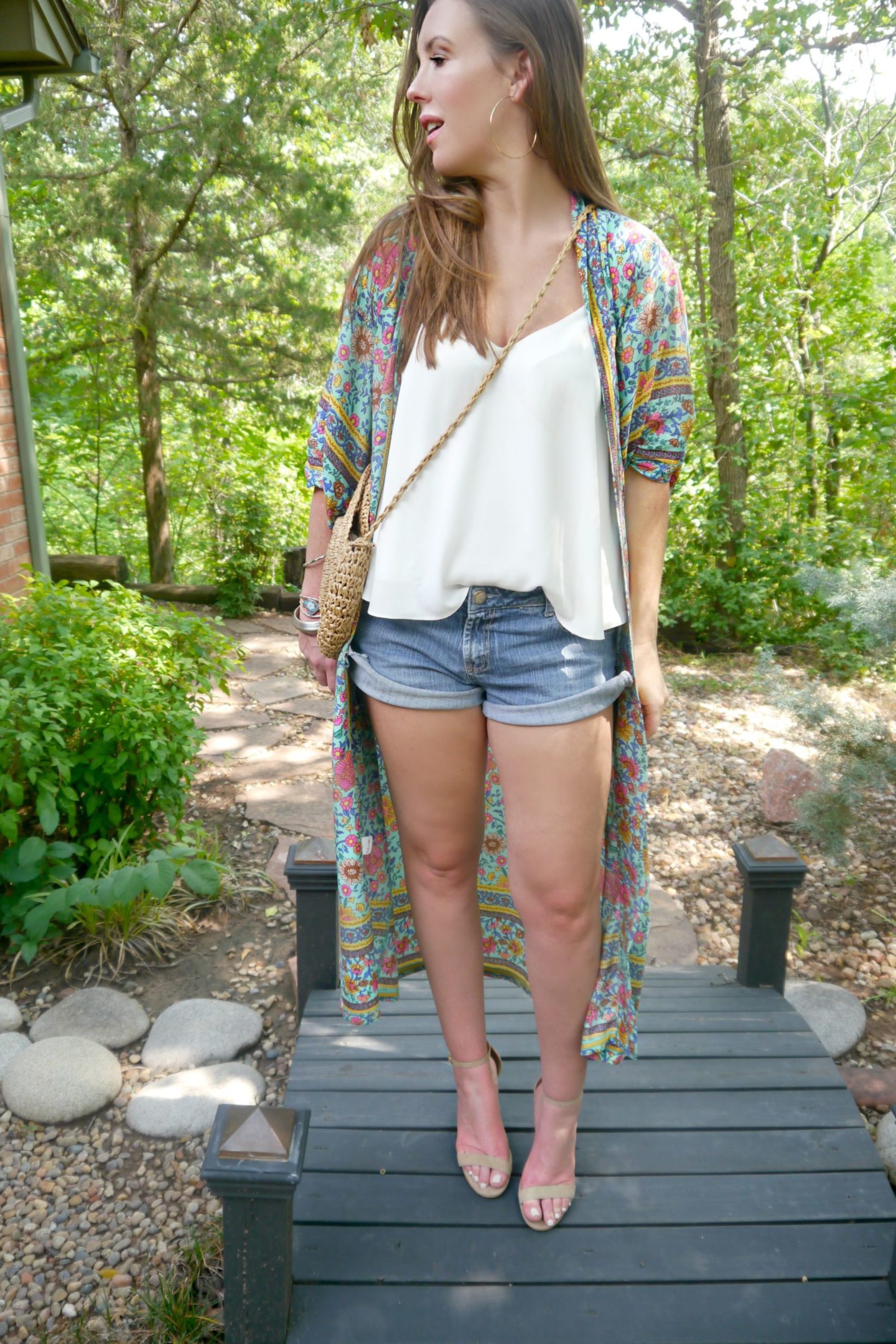 I'm not hugely confident in shorts but throwing a long kimono over them helps A LOT! This kimono is light enough to wear in hot temps and can be worn with short shorts to help tone down the risk of looking trashy-ha!  I wore THESE heeled sandals to help shape up my legs a bit and a dressy cami tied it together.  THIS straw bag is another Amazon find and great to use as a crossbody when you don't want to hold on to a bag.  It doesn't hold much and isn't the best quality but it does pair well with the look.
I've rounded up a few more kimonos I found on Amazon that might be worth a go!  These looks are super easy to achieve and all 3 were comfy and cool.

xx, Jenni
Shop the Post