With Halloween fast approaching, finding a last-minute costume is necessary for many. If you're looking for a quick and easy last minute DIY 80s costume for an upcoming Halloween party-you've come to the right place. I'm exploring several looks including couple and group Halloween costumes from 3 different movies. The best part is that these costumes are off the beaten path from typical 80's costumes. They are not only creative, they're easy to pull together and perfect for a last minute costume.
In the very distant past I've fallen victim to overtly sexy Halloween costumes but now I enjoy thinking of creative (but easy) costumes that express more style. It's a fun way to express yourself while being someone else for one night! Plus, choosing a character from a movie gives you a chance to understand who it is your dressing up as and really get into character!
Coming up with 80s Halloween costumes is fun because I grew up in that decade and I'm always ready to hop in that 80s time machine and reminisce about the past.
I have pulled together quite a few last-minute Halloween costumes that are perfect for couples and groups. Read on to find the perfect costume for Halloween night. I promise, even at an 80s Halloween party, you won't see yourself coming and going with these suggestions.
Just so you know-I've watched all of these movies either in preparation for this post or within the last 2 weeks for fun. I paid close attention to the detail of each of these characters and am pretty confident I was able to nail the looks even linking only Amazon Prime! I've kept items affordable with free shipping as well!
Related Post: The Breakfast Club Costumes
Heathers:
"She's My Best Friend. God, I Hate Her." -Veronica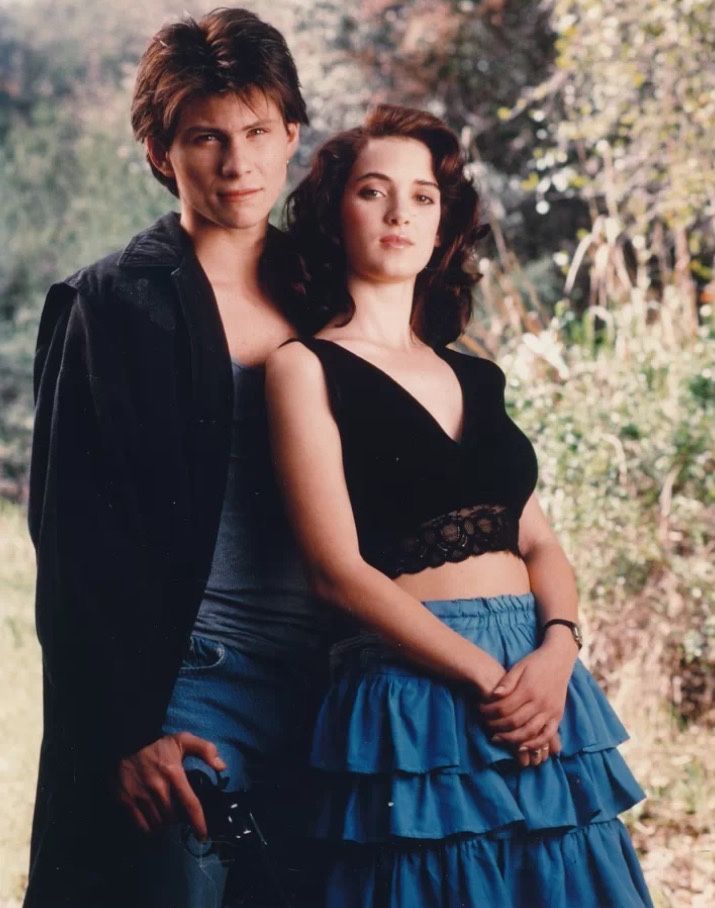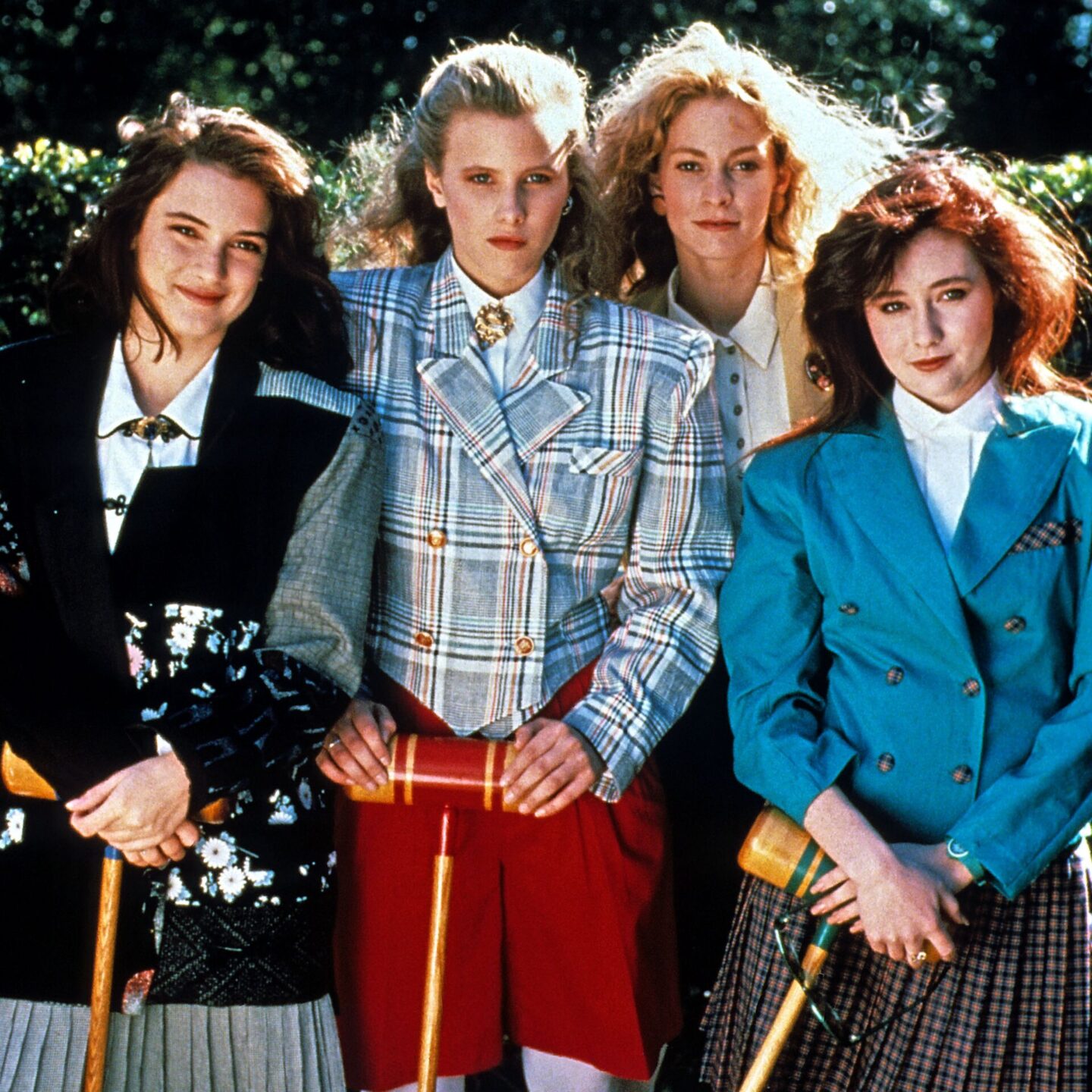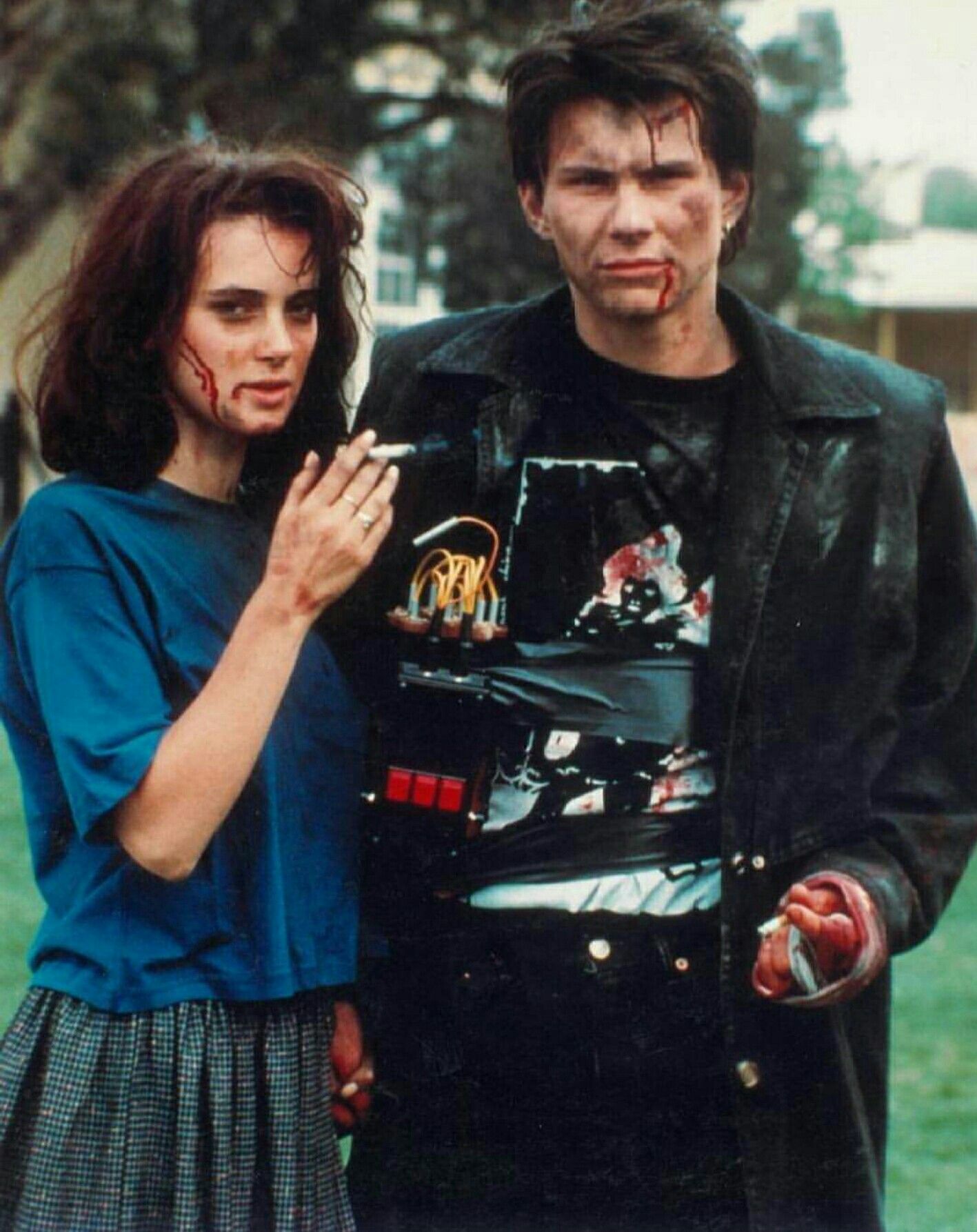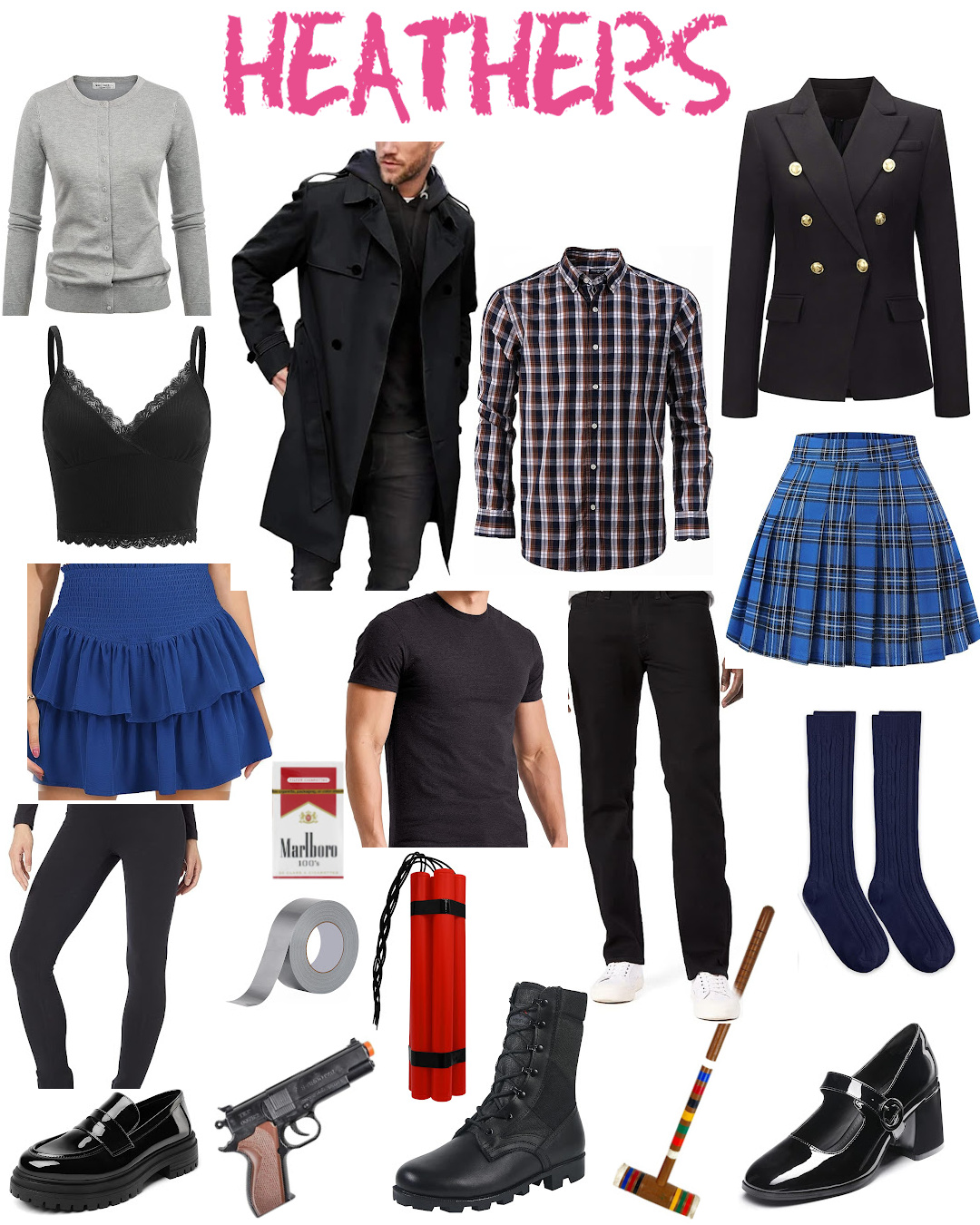 The first movie we'll explore is Heathers. This 1988 film starred Winona Ryder, Christian Slater and Shannon Doherty. It has been considered to be one of the best coming of age films of all time. It has become so popular that it's been adapted into a musical and a mini series.
Heathers is a dark teen comedy where Winona Ryder's character, Veronica is part of the popular clique at school where all of them but her are named Heather. Vernoica is becoming increasingly upset at their cruel behavior and feeling more and more alienated from the group. Vernonica and her boyfriend, J.D. (Christian Slater) confront the head of the popular girls and accidently poison her. They must hustle to make it look like a suicide but in the process, Veronica discovers J.D. has a habit of killing students he doesn't like. While she tries to stop J.D. she also clashes with the groups new leader, Heather (Shannon Doherty).
There are several costumes we can pull from this fun but controversial film. I've linked pieces for Veronica, J.D. and the Heathers.
​Veronica's most recognizable outfit is what she wears on the movie poster. She wears a black v-neck crop top trimmed in lace with a ruffled blue skirt. It was hard to find what she wore on the bottom but I eventually found that she wore black leggings and some kind of chunky shoe. She also wears a gray cardigan.
J.D.'s main staple is his long, black trench. He's seen in a rocker tee and a gray tank with dark pants and combat boots. You can also complete the look by duct taping fake dynomite around your chest. A pack of cigarettes would also be a great prop. Be sure to address people with his famous quote, "Greetings and Salutations".
The Heathers famously wear oversized blazers with dramatic shoulder pads and matching skirts. They wear bright colors and aren't afraid to combine prints. In an iconic scene of the movie, the Heathers are playing croquet in their skirts and blazers.  This look is very easy to pull off with pleated, plaid skirts, knee socks or panty hoes and bright blazers with large shoulder pads. Turns out, you can buy croquet mallets on Amazon. This costume would be perfect for a group of three.
For Veronica and the Heathers, the hair is key. You'll want to curl your hair, preferably hot roll it. Lots of teasing and hairspray will be needed to get volume on the top.
Veronica Costume:

J.D. Costume:

The Heathers Costume:

Related Post: 3 (easy) Iconic Halloween Costumes w/ Amazon Prime
Indiana Jones:
"Indiana Jones. Always knew someday you'd come walking back through my door." — Marion Ravenwood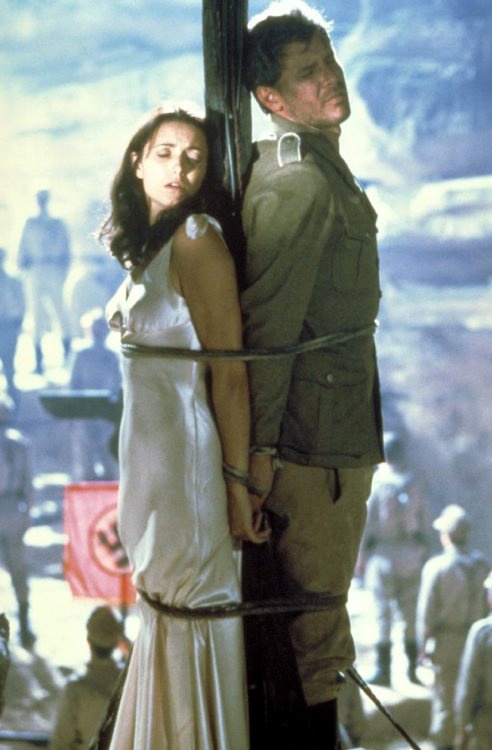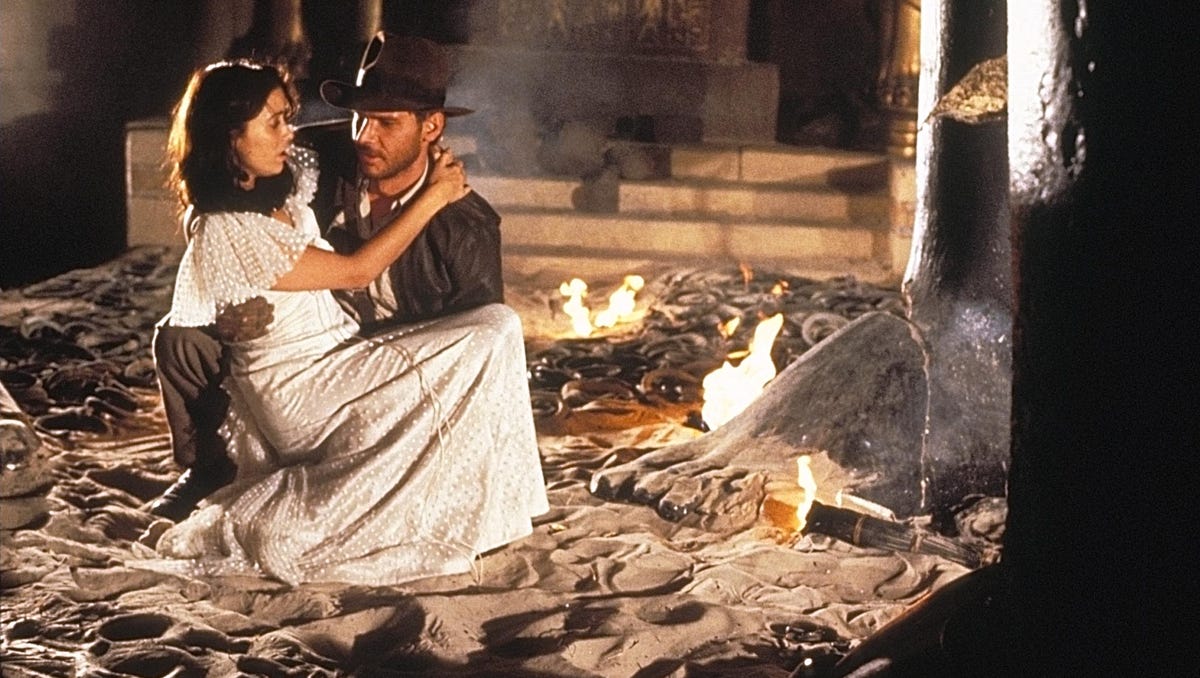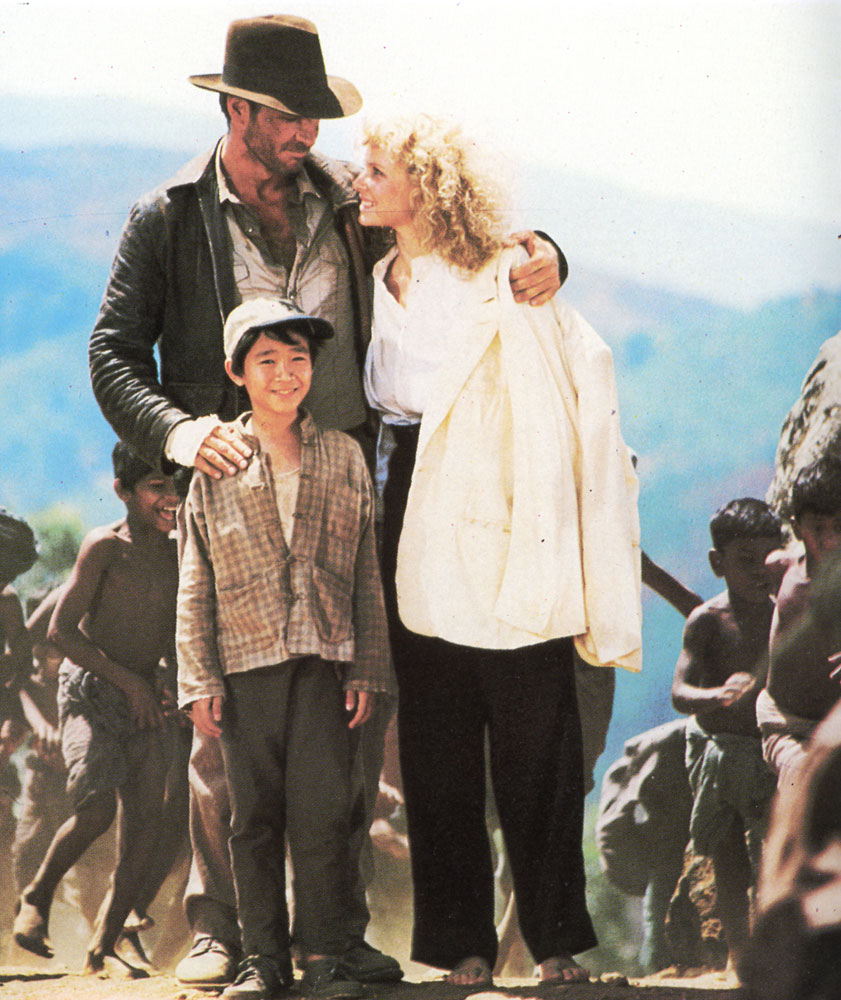 Related Post: Dazed and Confused Outfits/Costume Ideas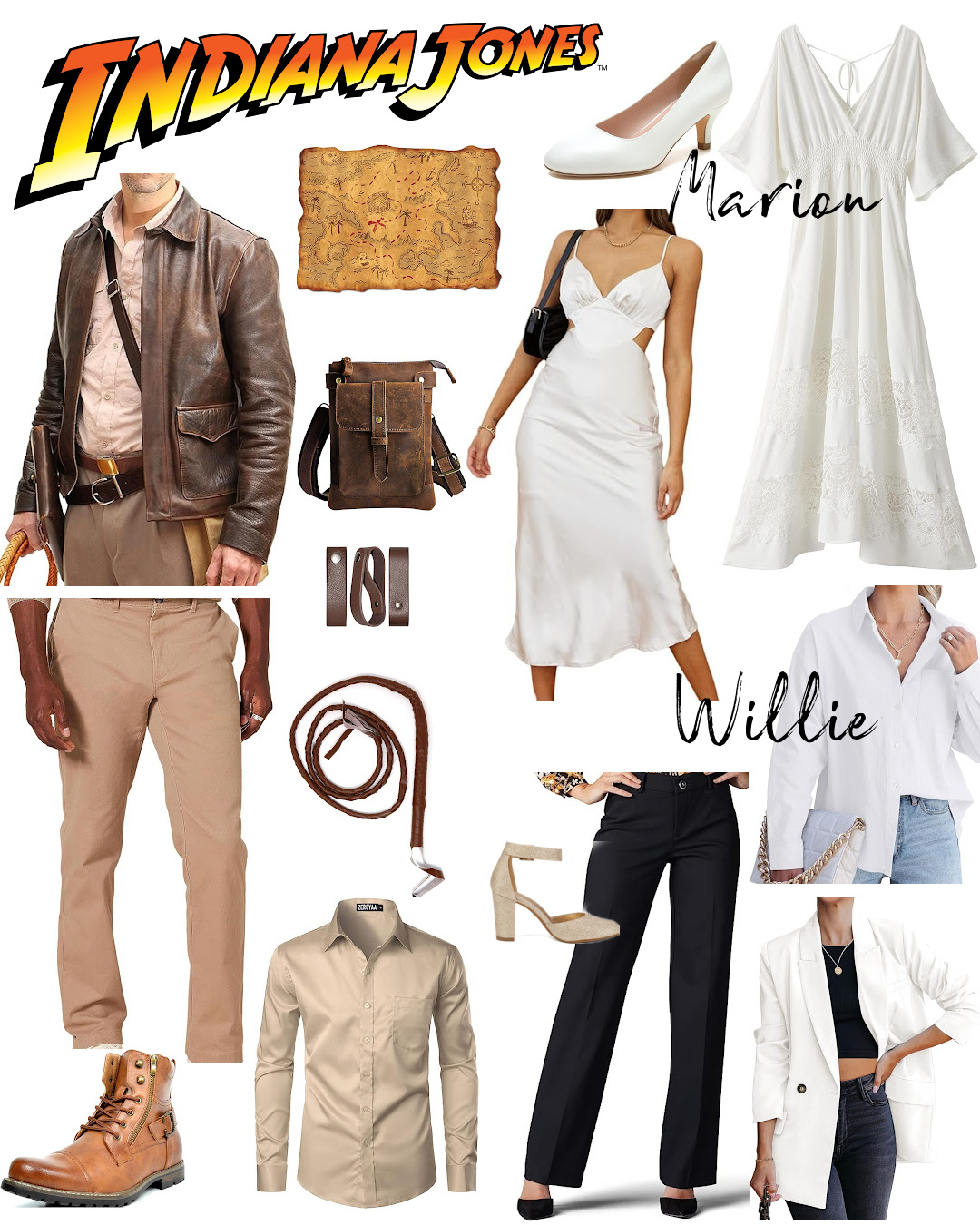 Next I'm pulling costumes from 2 Indiana Jones movies, The Temple of Doom (1984) and Raiders of the Lost Ark (1981). I chose 2 different films depending on your hair color.
Indiana Jones is a staple of the 80s and beyond. Directed by Steven Spielberg and produced by George Lucas, Indiana Jones is an iconic film series that continues to this day!
In The Temple of Doom, Kate Capshaw plays Willie, a vivacious nightclub singer who likes to complain and act like a prima donna but in the most endearing and humorous way. Most of her outfits are impossible to recreate unless you find a pricey costume but there is one simple look that is very reminiscent of the movie and so easy to wear if you need a couples costume.
In Raiders of the Lost Ark, Jones' former love interest, Marion partners with Indiana to dodge the Nazis and recover the Ark of the Covenant. Marion is quite feisty and gives Jones a run for his money throughout the entire movie.
An Indiana Jones costume requires the right hat and a whip. The khaki shirt and brown pants are universal as well as the shoes. The brown leather bomber jacket is a huge plus but not 100% necessary. I did find the perfect jacket on Amazon though.
Marion wears several familiar outfits throughout the movie but most notably she wears a white dress that would be quite recognizable next to Indiana Jones. She actually wears 2 different white dresses in the film and both were somewhat easy to recreate. She wears white kitten heel pumps. Her brown hair is mid length and loosely curled.
Willie wears a white button-down shirt with a white oversized blazer. She also wears black dress pants all of which were meant to be from Indiana's tuxedo in the previous nightclub scene. She also has on gold round toed heels. Her hair is blonde and curly. She is carrying her sequin dress from the nightclub she met Indy in so extra points if you have a red and gold sequin dress! I would've liked to recreate her Arabian princess look but there was no way to do it affordably and easily which is the main point of these costumes in this particular post.
Indiana Jones Costume:

Willie Costume:

Marion Costume:

The Lost Boys:
"One thing about living in Santa Carla I never could stomach: all the damn vampires." -Grandpa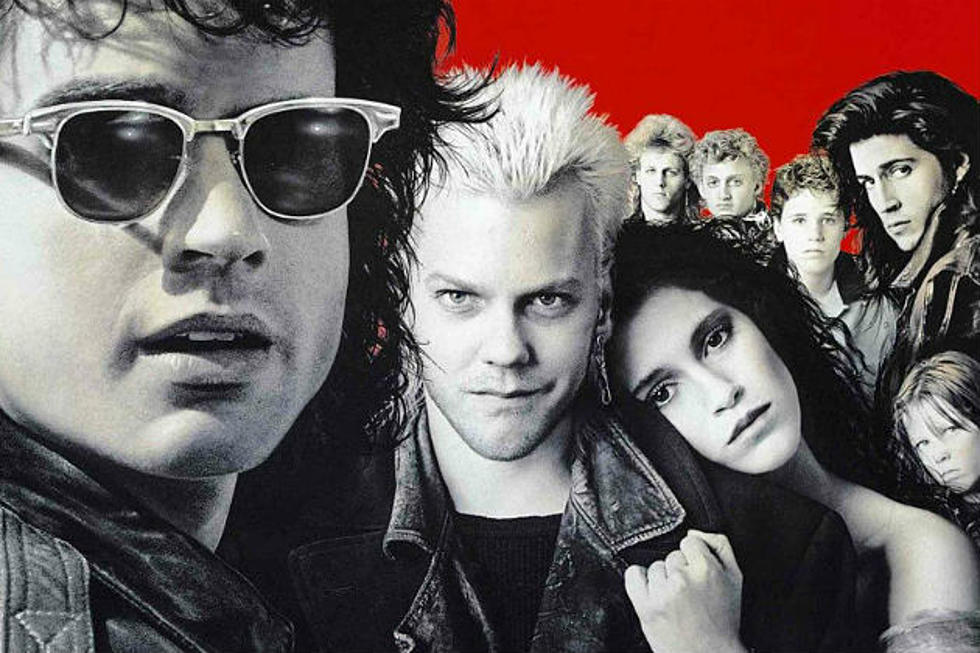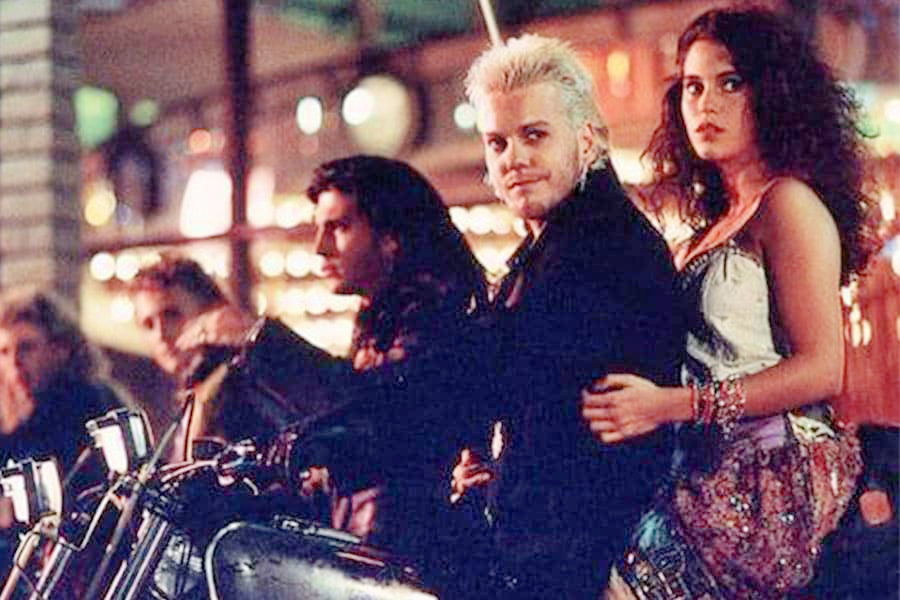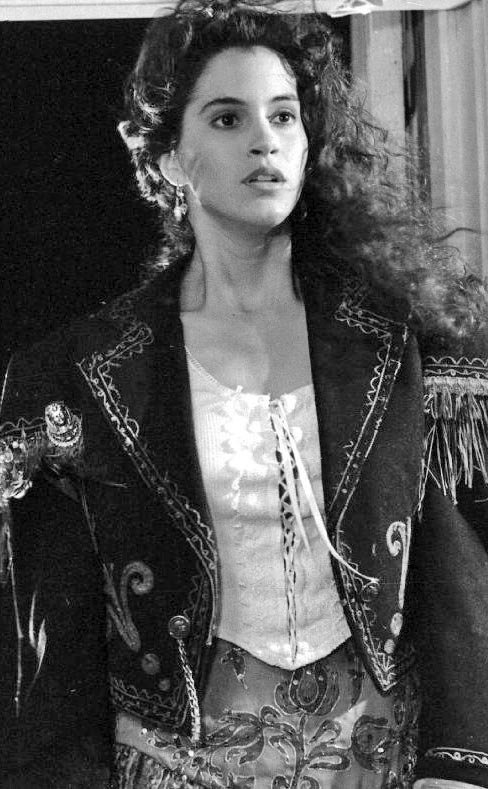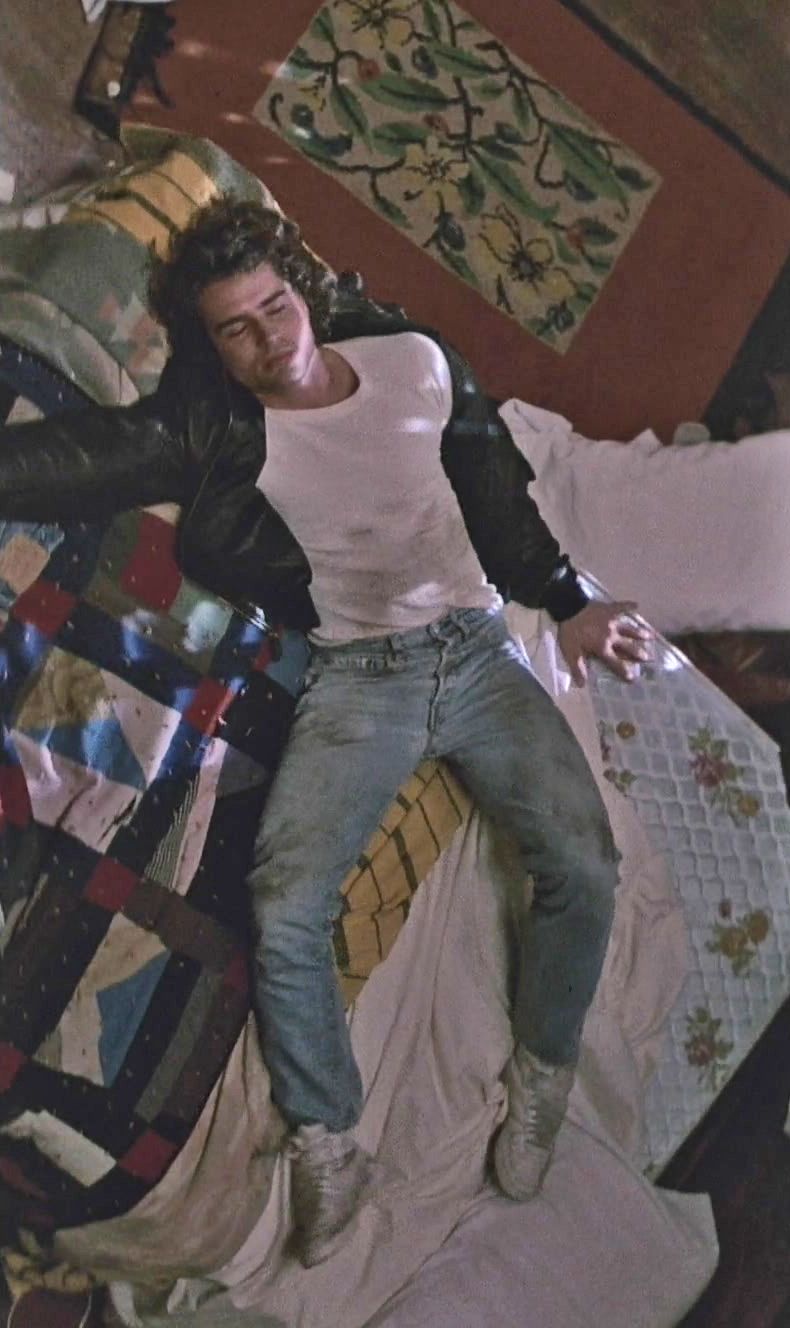 Related Post: 4 Breakfast At Tiffany's Costumes
Related Post: What to Wear to a 70s Party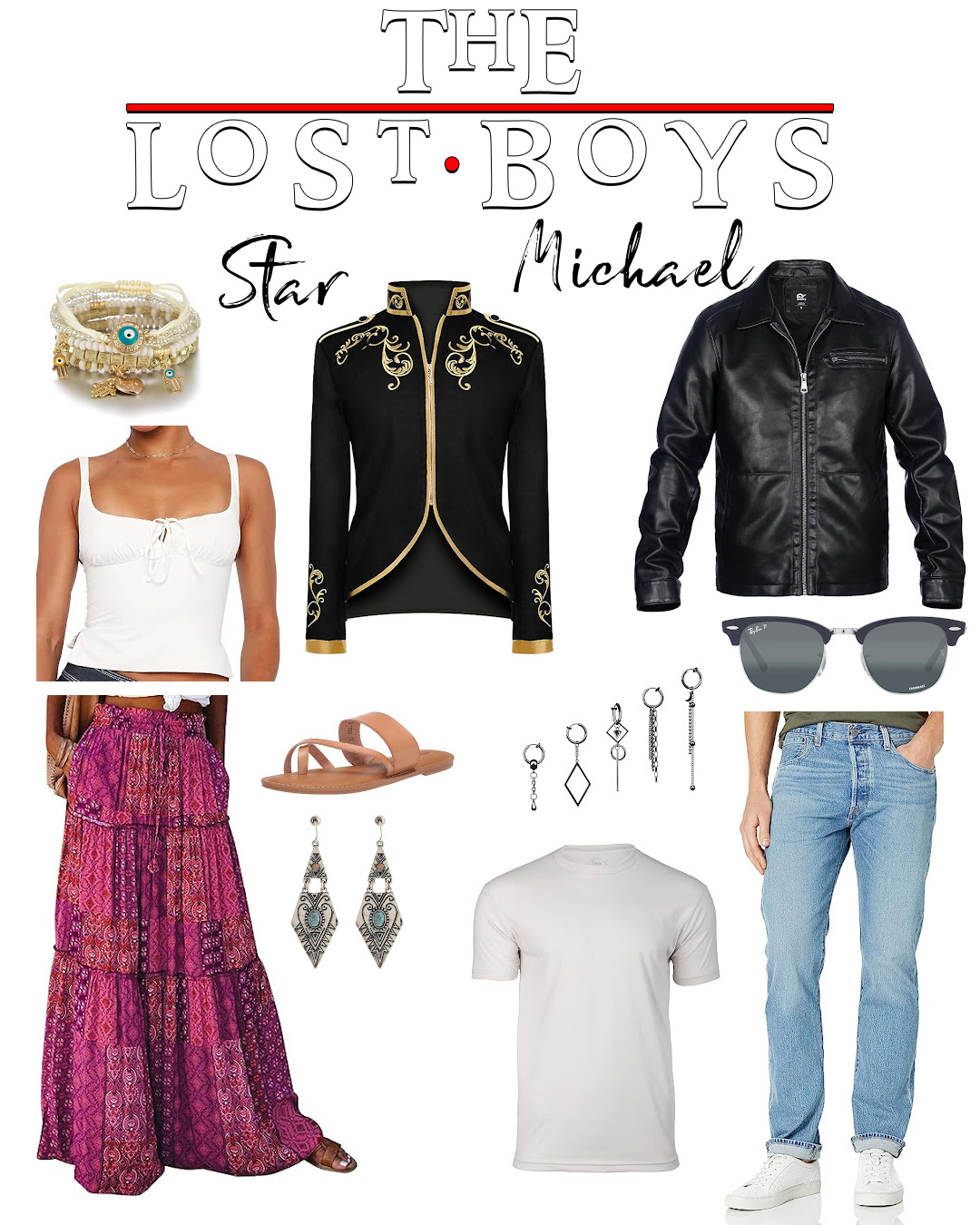 The last movie we'll explore is The Lost Boys. One of the original teen vampire movies, The Lost Boys has a couple of characters that when worn together would be a fantastic couples costume! This 1987 comedy/horror film from director Joel Schumacher, starred Jason Patric, Corey Haim, Dianne Wiest, Kiefer Sutherland and Corey Feldman.
Michael, younger brother Sam and recently divorced mother Lucy move to California to live with her eccentric father. While exploring their new town, Michael spots Star, a beautiful, mysterious young woman who is connected to a rough biker gang. Turns out the biker gang, including Star, are vampires and Michael is tricked into drinking blood and becoming a vampire as well. Younger brother Sam meets Edgar and Allen Frog, two young vampire hunters who help Sam defeat the vampire biker gang and save his brother Michael.
Michael, played by the handsome Jason Patric. He is in a simple outfit of jeans and t-shirt. He's seen in a gray and white t-shirt with medium wash jeans, a black leather jacket and Rayban Clubmaster sunglasses. He's typically seen in white leather tennis shoes or what seem to be cowboy boots. His hair is curly, long and wild. One staple of this costume is an earring. No worries-I found magnetic men's earrings to pull off the look minus a piercing!
Star has a distinct gypsy/boho style. She wears long skirts, lace up white tops, a military/circus master jacket and also has wild, long, curly hair. She's shown barefoot in her long skirts but was also filmed with black boots too. She has one arm full of eclectic bracelets and wears dangly earrings.
These two costumes are a great choice if you are looking for last-minute costumes that can be put together quickly and affordably. Michael's costume contains very common clothes in a man's wardrobe. He's definitely a jeans and a t-shirt kind of guy. Star is a great costume for us boho girls. I linked one skirt in particular but found several really great skirts that I would wear outside of a Halloween costume.
Michael Costume:

Star Costume:

How to Make an Easy 80s Outfit:
If you're looking for an 80s costume that's less specific, I've rounded up a few must-have pieces that really scream the 80s. Throw together 3 or 4 of these items and you'll definitely have an obviously 80s outfit!
Fingerless Gloves
Crimped Hair
Jean Skirts
Bright Colors
Leg Warmers
Scrunchies
Side Ponytails
Headbands
Off the Shoulder Tops
Acid Washed Jeans
Denim Jackets
Shoulder Pads
Puffed Sleeves
Animal Prints
Related Post: The Craft Outfits & Costumes
John Hughes Movies for 80s Inspiration:
A John Hughes movie from the 80s is an iconic piece of the pop culture of that decade. A John Hughes film defined a generation of young adults. There were so many great movies that are worth watching over and over and certainly a fun way to find a few funny couples Halloween costume ideas as well as individual and group costume inspiration. Below is a list of his most famous 80s movies. Rewatching your favorite movies is a great way to come up with the best costumes!
Ferris Bueller's Day Off
The Breakfast Club
Pretty in Pink
Weird Science
16 Candles
National Lampoons (Vacation, Christmas Vacation and European Vacation)
The Great Outdoors
Where to Find the Best 80s Clothing:
Finding vintage 80s clothing is of course the best way to pull together a costume for an 80s party. Your local thrift store is a great way to find what you need. Also, don't forget to check out your parents/grandparents attic! You never know what treasures you might find! Since I can't link anything but new clothing, I've scoured Amazon for all the pieces you'll need for the '80s costumes in this post. Amazon offers such fast shipping and eliminates having to run around but genuine 80s clothing is always the goal.
A few honorable mentions for a last minute DIY 80s costume are Marty Mcfly from Back to the Future, Baby from Dirty Dancing, Lloyd Dobler from Say Anything, Tina Turner, Freddie Mercury, Maverick from Top Gun, Madonna or David Bowie. I'm not so sure how easy these suggestions would be but if one rings a bell, inspiration might just take over!
Halloween is my favorite holiday and I love a costume party. It's just so much fun to be someone else for a night. While I'm a fan of scary Halloween costumes, I also love to revisit the past. I hope you've found your perfect easy DIY Halloween costume. I think the 3 movies I chose and the costumes that come from them are a clever take on 1980s Halloween costumes.
Happy Halloween, Jenni
P.S. Be sure to check out my Halloween section of this blog for even more inspiration!
PIN IT!!!