Are you ready to recreate some Breakfast at Tiffany's iconic looks in order to come up with the perfect Halloween costume? There are several Breakfast at Tiffany's costumes that aren't typically seen on Halloween but today let's explore 3 fun Holly Golightly costumes and 1 couple's costume that are easy to recreate and many of the classic pieces can be worn again and again.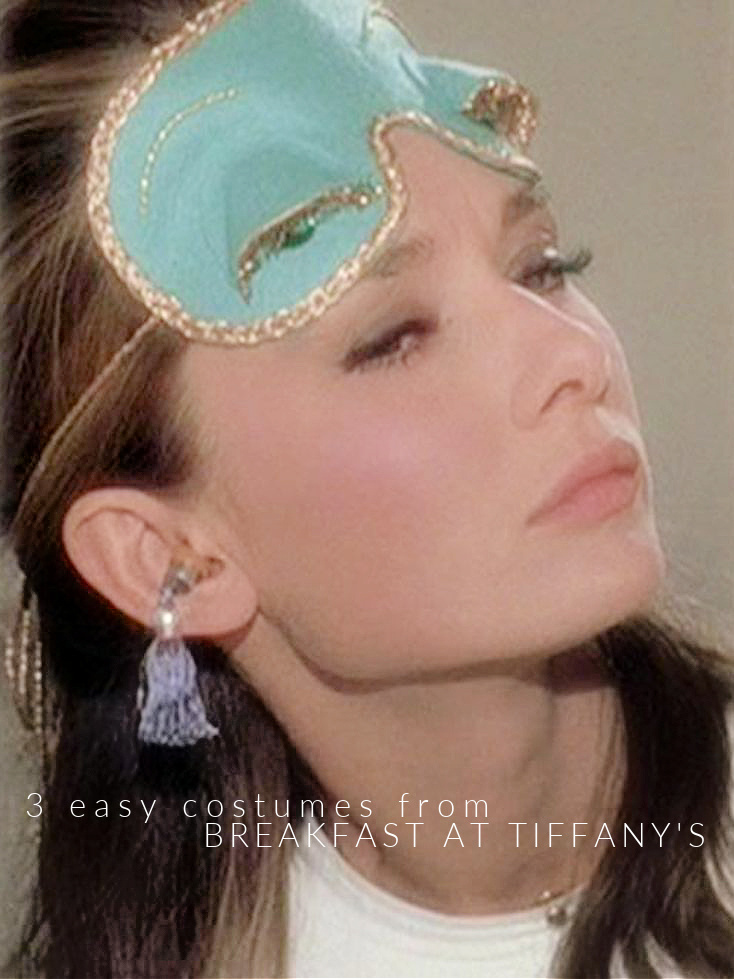 I love Halloween, but getting invited to a costume party seriously get's me flustered.  I mean, I could just go out and by a stupid expensive, overly sexual, slutty pirate costume, right? WRONG.  Ha, Ha…. Gone are those days that a slutty nurse, a slutty cat, a slutty mouse, a slutty clown, or a slutty witch is gonna work!  I'm so over it.
"In girl world, Halloween is the one night a year when a girl can dress like a total slut and no other girls can say anything about it."

-Mean Girls
No longer does the above quote apply to the majority of us. I'll admit, it sure did at one point in my young adult life but now I think Halloween costumes should be clever and witty and hopefully about 70% of your get up can be worn again in a normal setting.  I'm pretty sure most readers that visit my blog are in the same boat so I thought I would write a post on 3 great options from one of the most classic films, Breakfast at Tiffany's. These Halloween costumes are set apart from the usual iconic Audrey Hepburn opening scene in the long black dress and diamond tiara. Plus, I threw in a fun (and super easy) couple costume at the end!
Audrey Hepburn was known for her roles in My Fair Lady, Funny Face and Roman Holiday but her most well known role has to be the iconic Holly Golightly in Breakfast at Tiffany's. Audrey had a timeless, classic style that has been imitated for decades. She is a style inspiration for many and it's easy to see why. Her style has stood the test of time and whichever famous Audrey look you choose, you can be sure you will be able to wear the pieces again and again.
Related Post: 3 Iconic 80's Costume Ideas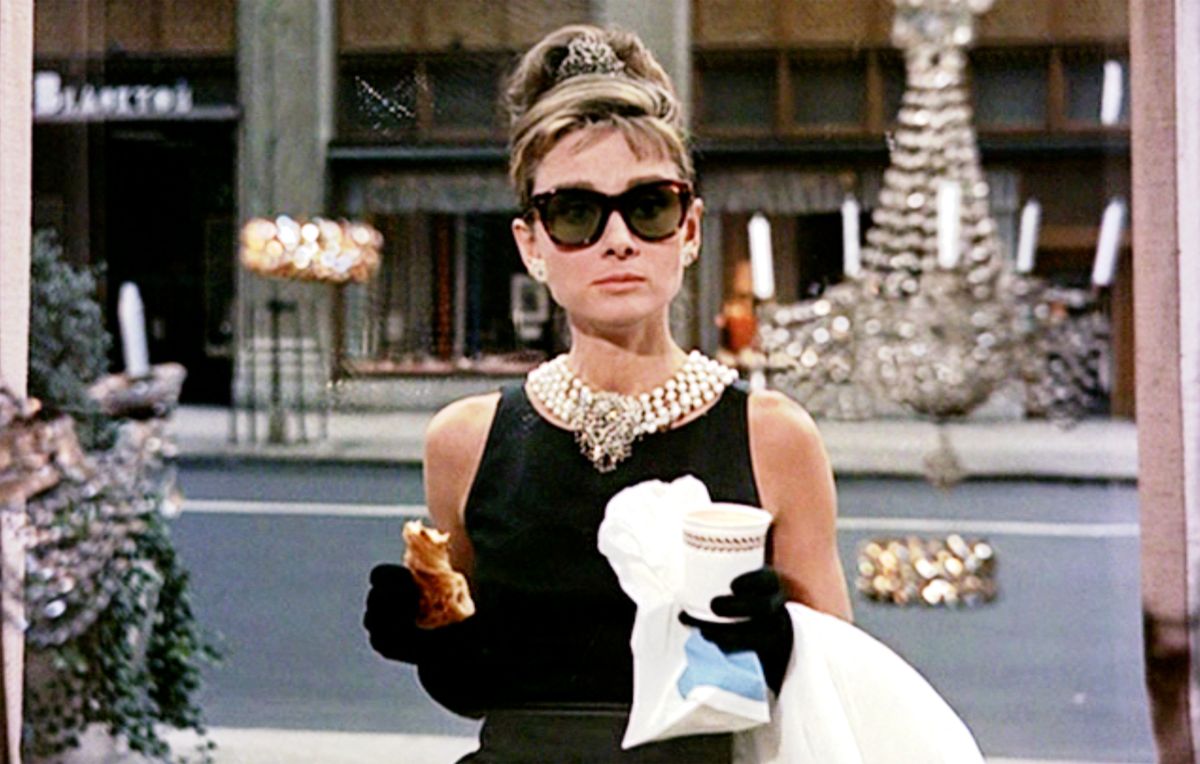 A Little Background to Get You Into Character!
Holly Golightly is a social climbing, fashionable 20 something trying to escape her past while living a glamorous lifestyle in New York City. Her plans to marry a millionaire are foiled when a handsome, young man not so different from herself moves into her apartment building.
Interestingly enough-Marilyn Monroe was up for the role!
Hubert De Givenchy designed Audrey's outfits in the film and not only was his muse, she also became a close friend.
Most associate the opening scene (shown above) of the film to be the typical Breakfast at Tiffany's costume. The iconic black dress, pearl necklace, black gloves, oversized sunglasses and long cigarette holder is for sure such a memorable look but today I thought it would be a fun idea to explore 3 different scenes in the movie that would make an unexpected (and easy) Audrey Hepburn costume this year.
"'It's like Tiffany's,' she said. […] 'It calms me down right away, the quietness and the proud look of it; nothing very bad could happen to you there, not with those kind men in their nice suits, and that lovely smell of silver and alligator wallets. If I could find a real-life place that made me feel like Tiffany's, then I'd buy some furniture and give the cat a name.'"

"No matter where you run, you end up running into yourself"

-Holly Golightly
You've come to the right place if you're looking for unique yet easy Halloween costumes. I've pulled together 3 memorable looks plus 1 couples costume from the movie that anyone will recognize. These timeless styles will not only look great at a costume party, but several pieces can be worn in your everyday life.
Related Post: Last Minute PRIME Halloween Costume Ideas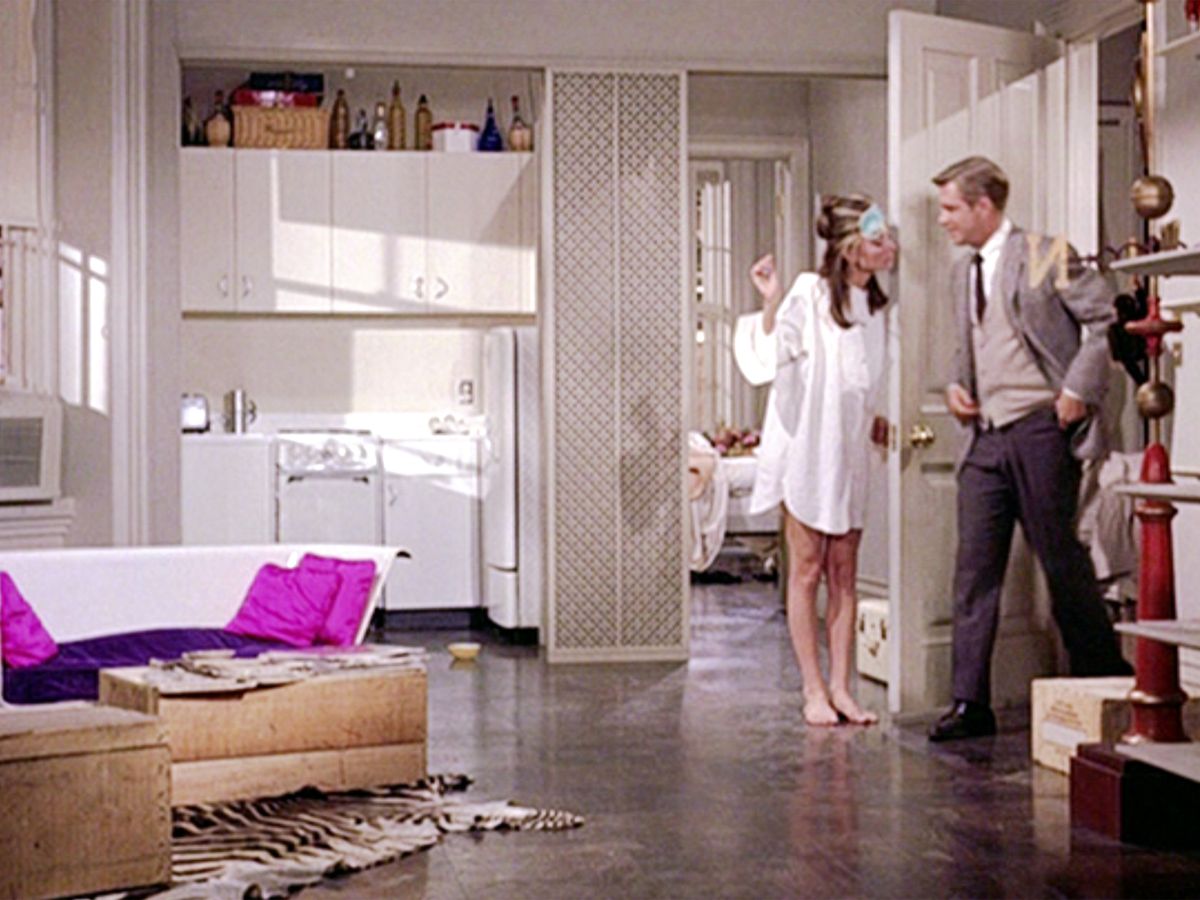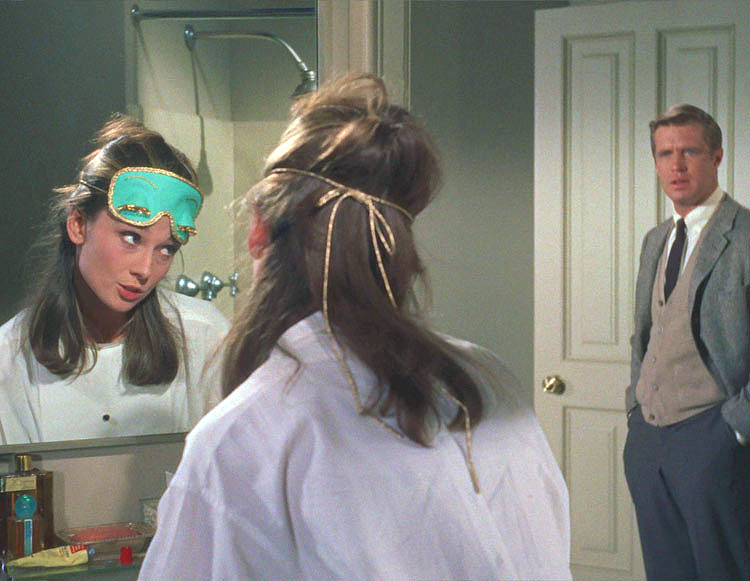 Look #1 Tuxedo Shirt:
What a fun Holly Golightly costume this is! I love this scene in the movie-That mask is to die for and an oversized tuxedo shirt-so chic. This mask is actually very easy to find on Etsy! Plus I found a tuxedo shirts that look big enough to work.  I would suggest shopping in the men's section for this look-That tuxedo shirt is huge on Audrey, plus, getting a big shirt is the only way that would be party appropriate. She's barefoot in the scene, so nude flats would help give that illusion. You could also wear a black kitten heel which would jive with the overall look.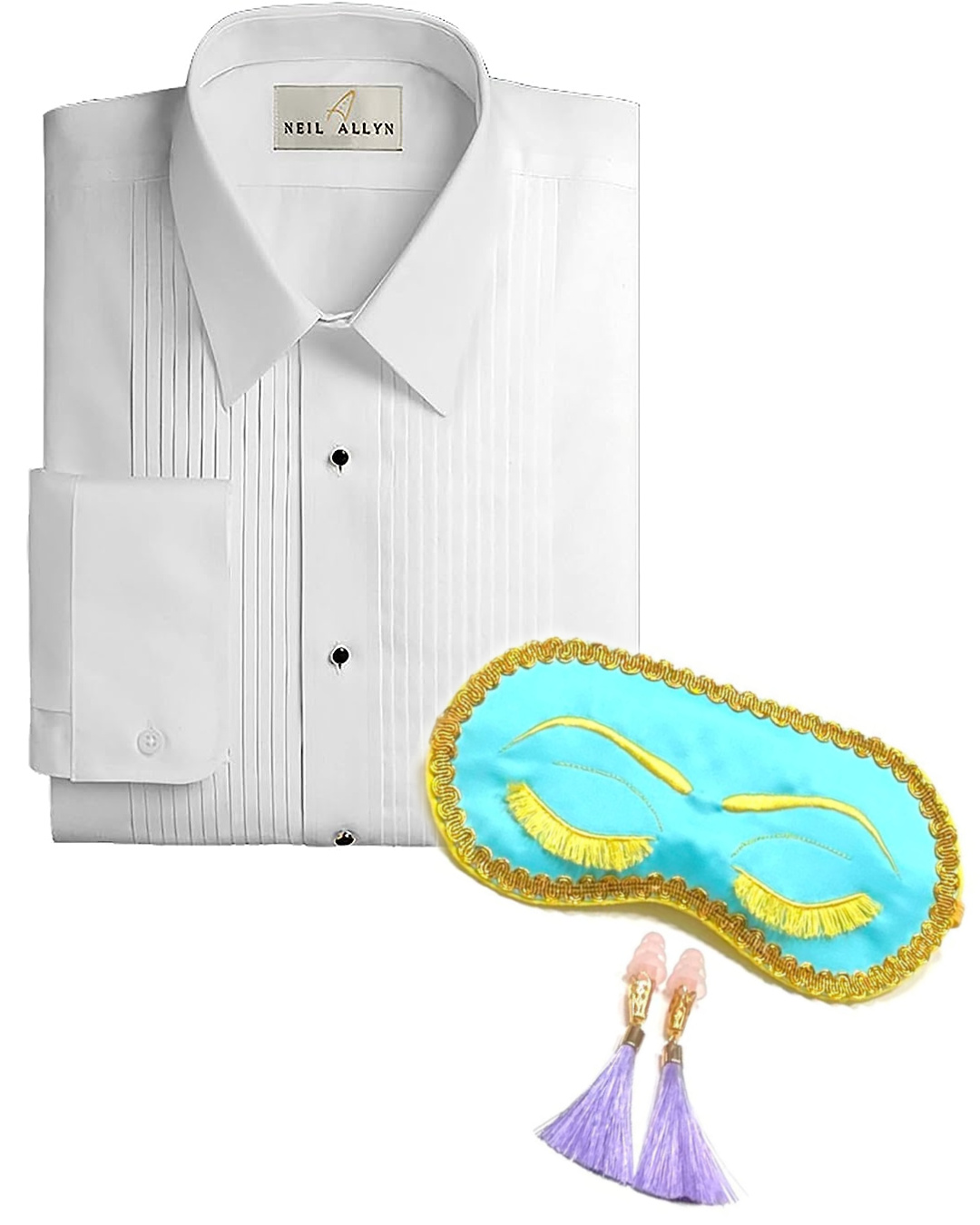 What You'll Need:
Related Post: Steal the Look: Stevie Nicks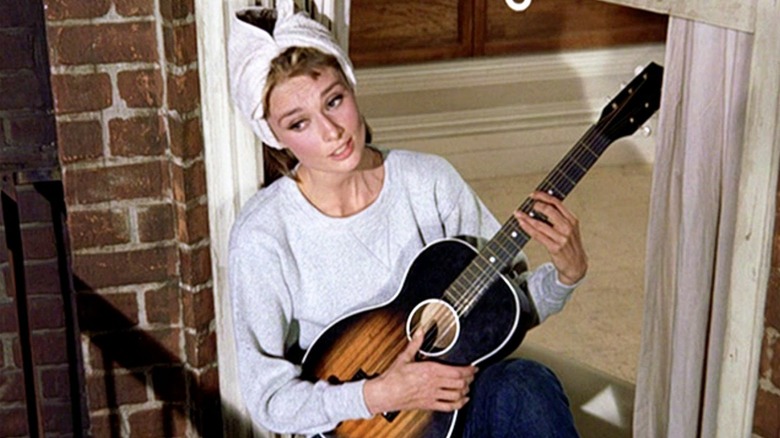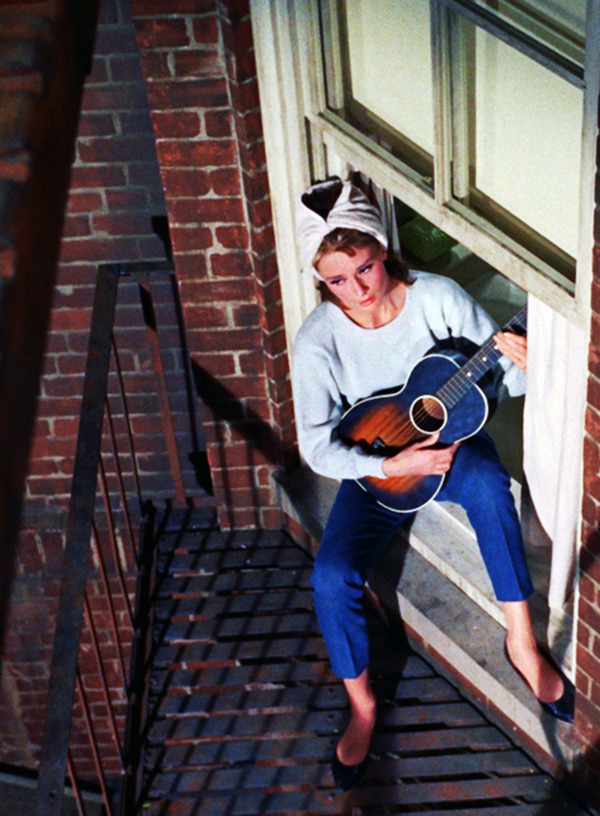 Look #2-Moon River
This scene stands out in the movie because Audrey was singing the infamous Henry Mancini favorite, Moon River.  Funny thing, this look is easy and comfortable yet chic at the same time!  Oh and don't you worry-I found a cheap ukelele too!  Hair is simple with a hand towel tied like a head band at the top of the head. Everyone has skinny jeans and an oversized gray sweatshirt so this look would be the easiest to pull together!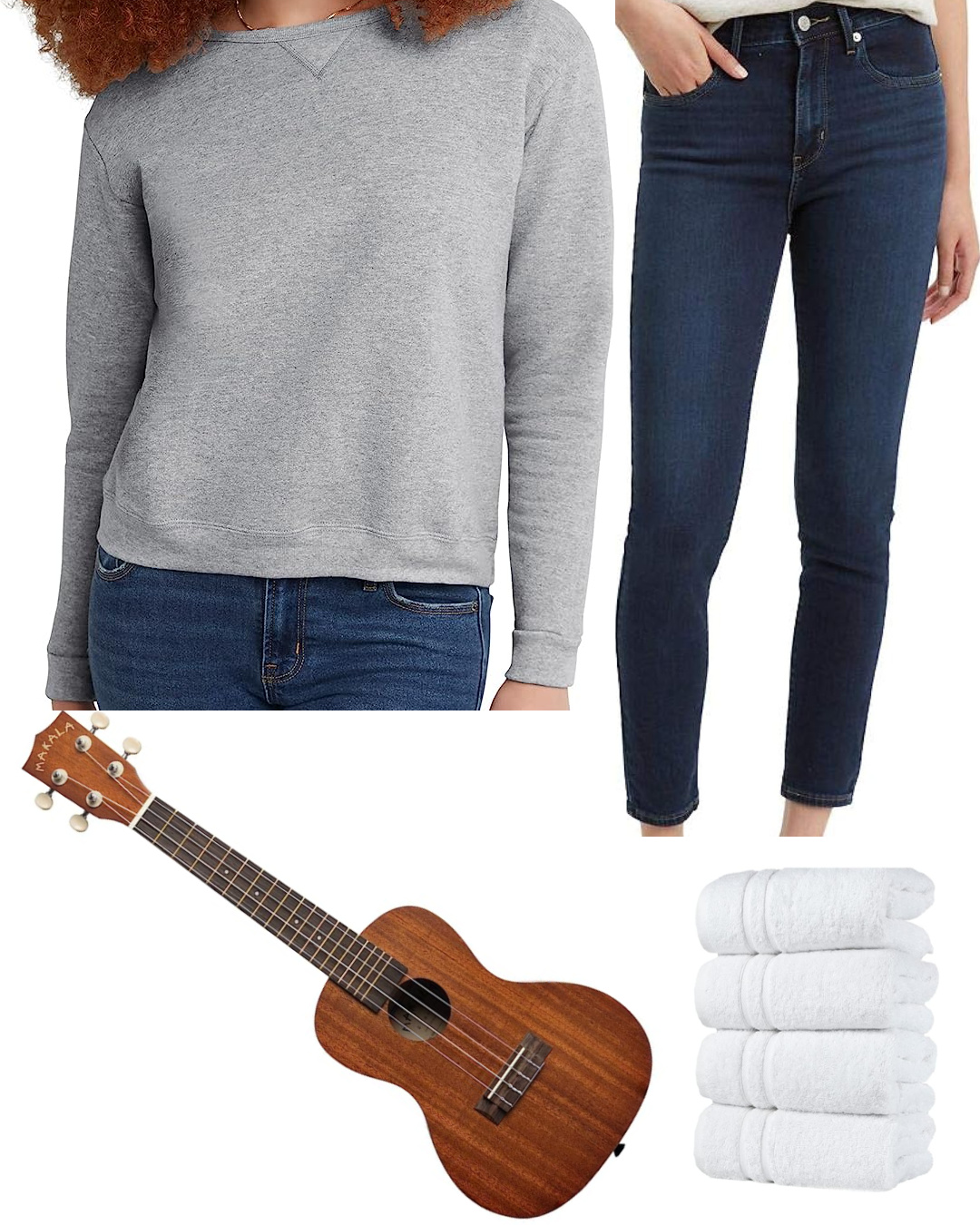 What You'll Need: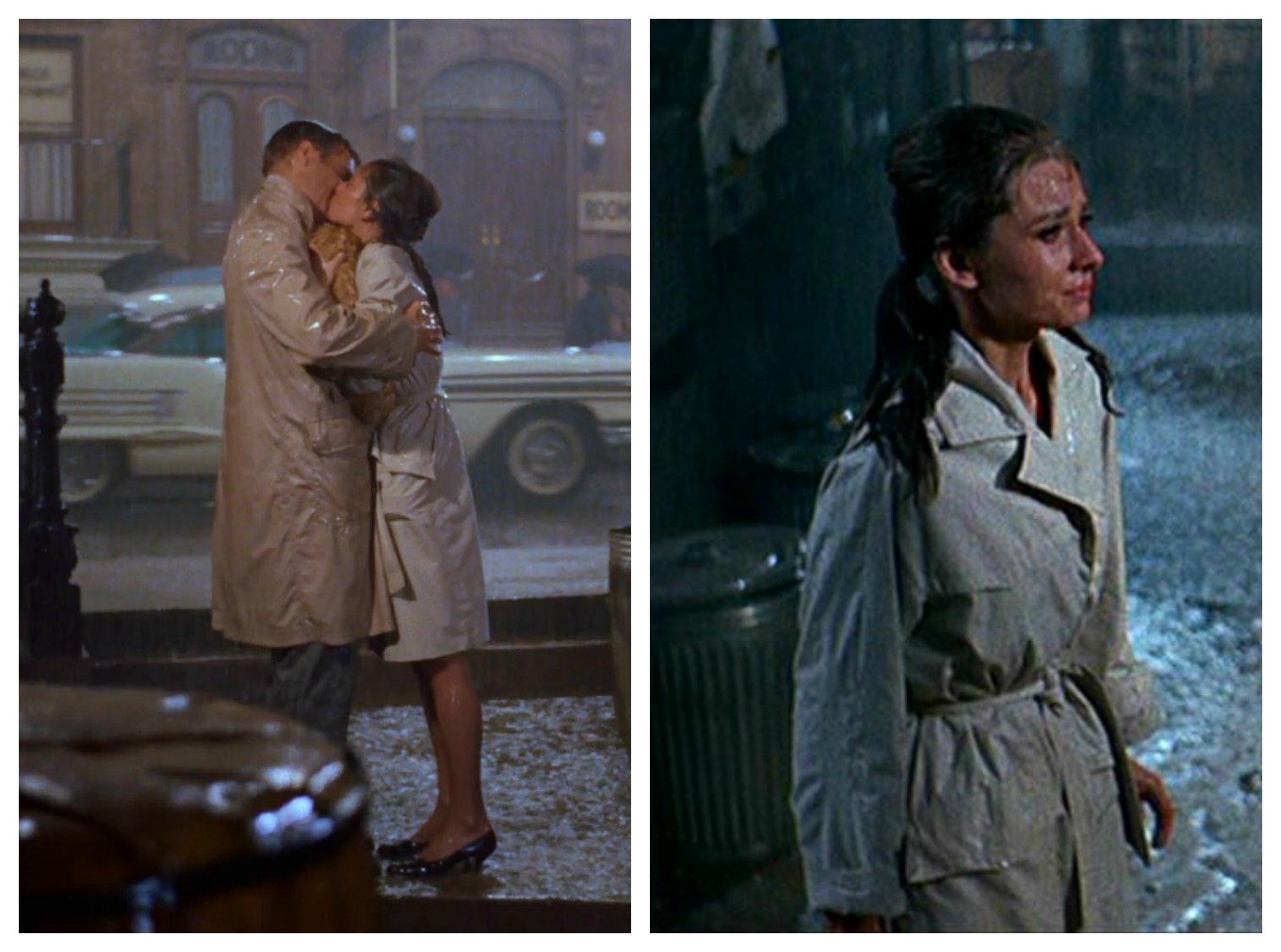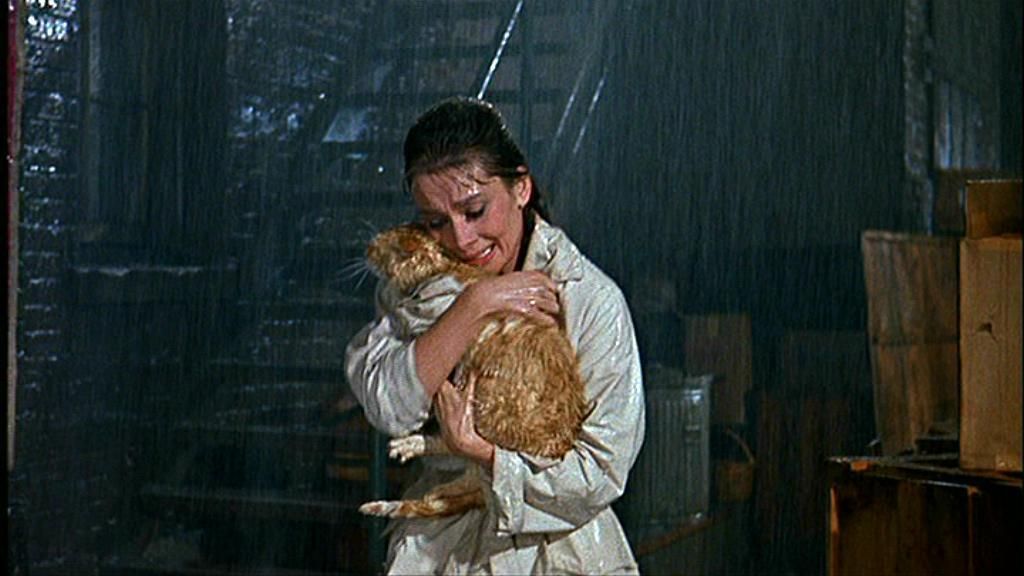 Look #3 Trench Coat
Let me start by saying-trench coats are classic. They never go out of style and look incredibly classy in every situation. If this is the look you go for, know you will be able to wear a trench for decades to come. Add black kitten heels and the right hair and you've got a look. The hair is very important in this one. Audrey has volume at the top with 1/2 her hair up and the other 1/2 in 2 pig tails secured near the lower back of her head. Oh and don't forget Cat!
To really nail the look, you could give your hair a wet look by using mousse or gel and letting your makeup run a bit.
"No matter where you run, you always end up running into yourself."
-Holly Golightly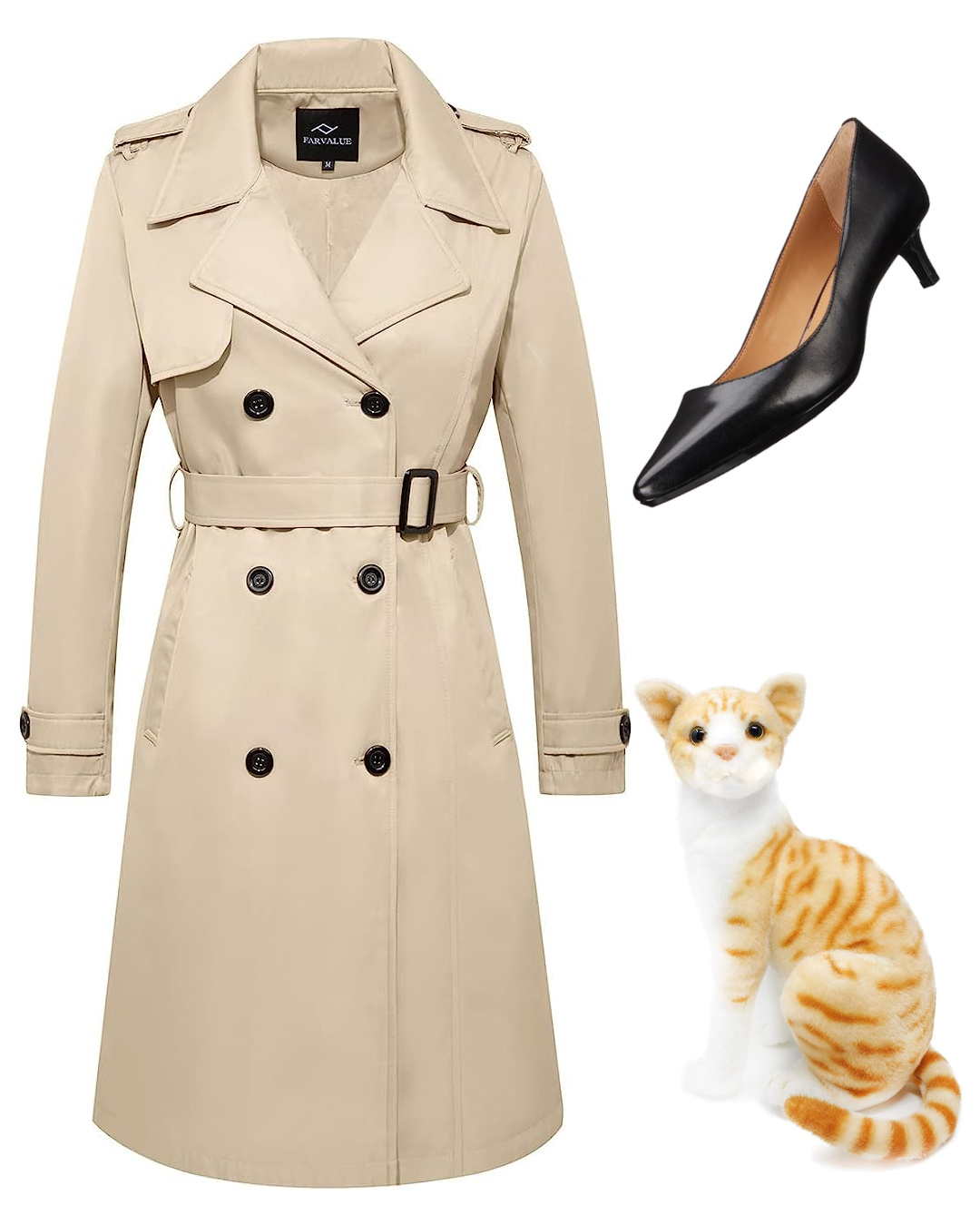 What You'll Need:
Relate Posts: Steal The Look: Elizabeth Taylor
Look #4 Cat & Dog Masks:
This is a fun scene and again involves classic, versatile pieces. Audrey wears an burnt orange coat and tailored, gray belted dress with black kitten heels. You can find a printable download of the dog and cat masks on Etsy HERE. The male counterpart to this costume is simply a suit and tie.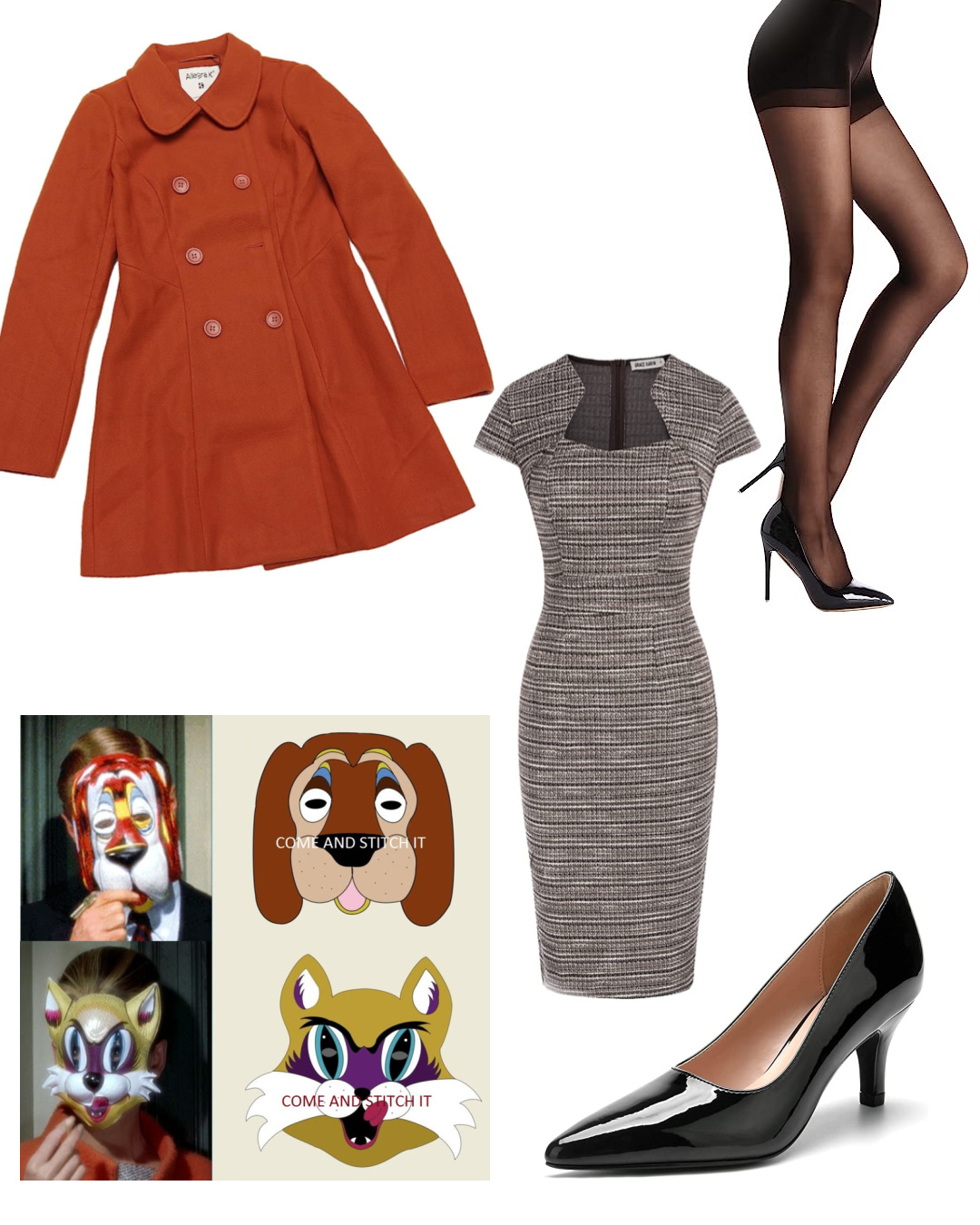 What You'll Need:
Related Post: The BEST Halloween Playlist!
Holly's Hair & Makeup:
The 60's makeup is marked by a perfect cat eye.  Audrey's cat eye is the epitome of this look.  A liquid black eye liner is a must.  Audrey wears lots of lashes and a light smokey gray effect on the lids.  Brows are big and bushy but slightly shaped and not drawn in.  Throughout the film she wears a pinky/nude lip stick that doesn't compete with the eye makeup. Find a really fresh pink blush and you are set!
Audrey Hepburn's hairstyle was teased at the crown and pulled back. Whether it was in a french twist or half up and half down, it was always pulled away from her face. Audrey has tiny little bangs that probably only work on her so I would skip that!  Her hair color is a medium brown with thick blonde/caramel highlights.  Her hair is long and straight.
I hope this helped you with your Breakfast at Tiffany's Halloween costume! My hope is that this will be a one stop shop for your perfect look from this iconic film! Please leave me a comment on your costume ideas-I would LOVE to hear them! Oh, and I really hope I didn't offend anyone with my jokes about sexy Halloween costumes-to each is own-if we're at the same party, I promise I won't say a word!
xx, Jenni
Shop The Post:

PIN IT!!!