Dirty Dancing is one of the most loved movies of all time and the main character, "Baby" had a style that was effortless and timeless. Just in time for summer, Baby's style is the perfect inspiration! In this post, I will breakdown her Dirty Dancing outfits and find options on how to recreate her famous looks today.
For those of you unfamiliar with the movie, Dirty Dancing came out in 1987 but is set in 1963 in an upscale vacation resort called Kellerman's in upstate New York. 18 year old Baby, played by Jennifer Grey, visits Kellerman's with her mother, father and older sister.
Baby Houseman is a bit of a tomboy as well as a highly intelligent young woman fresh out of high school. She ends up mingling with the hired dance instructors at the resort and is asked to fill in for a female dancer who gets pregnant. Handsome dance instructor, Johnny Castle, played by Patrick Swayze must teach Baby ballroom dances to perform at another resort despite the fact that Baby has never danced before. The rest is cinema magic and definitely worth a watch!
Baby had an incredibly versatile style. What I find interesting is that the movie came out in 1987 but took place 1963. Today, Baby's outfits are easy to recreate and even if you wore each one exactly as she wore them, you would not be out of style for today.
In the 60's there were full dresses and skirts with a high waist that was cinched in usually by a belt. Boat necks were the neck of almost every dress or shirt Baby wore. This bygone era proves these classic styles pass the test of time.
To recreate Baby's style today, there are a few staples that you'll need:
A pair of white sneakers, preferably Keds
Cut off jean shorts in 2 lengths, knee length and mid-thigh both rolled up
White cotton tops
Striped knit tops
Midi Skirt
Related Post: Unique Ways to Wear a Kimono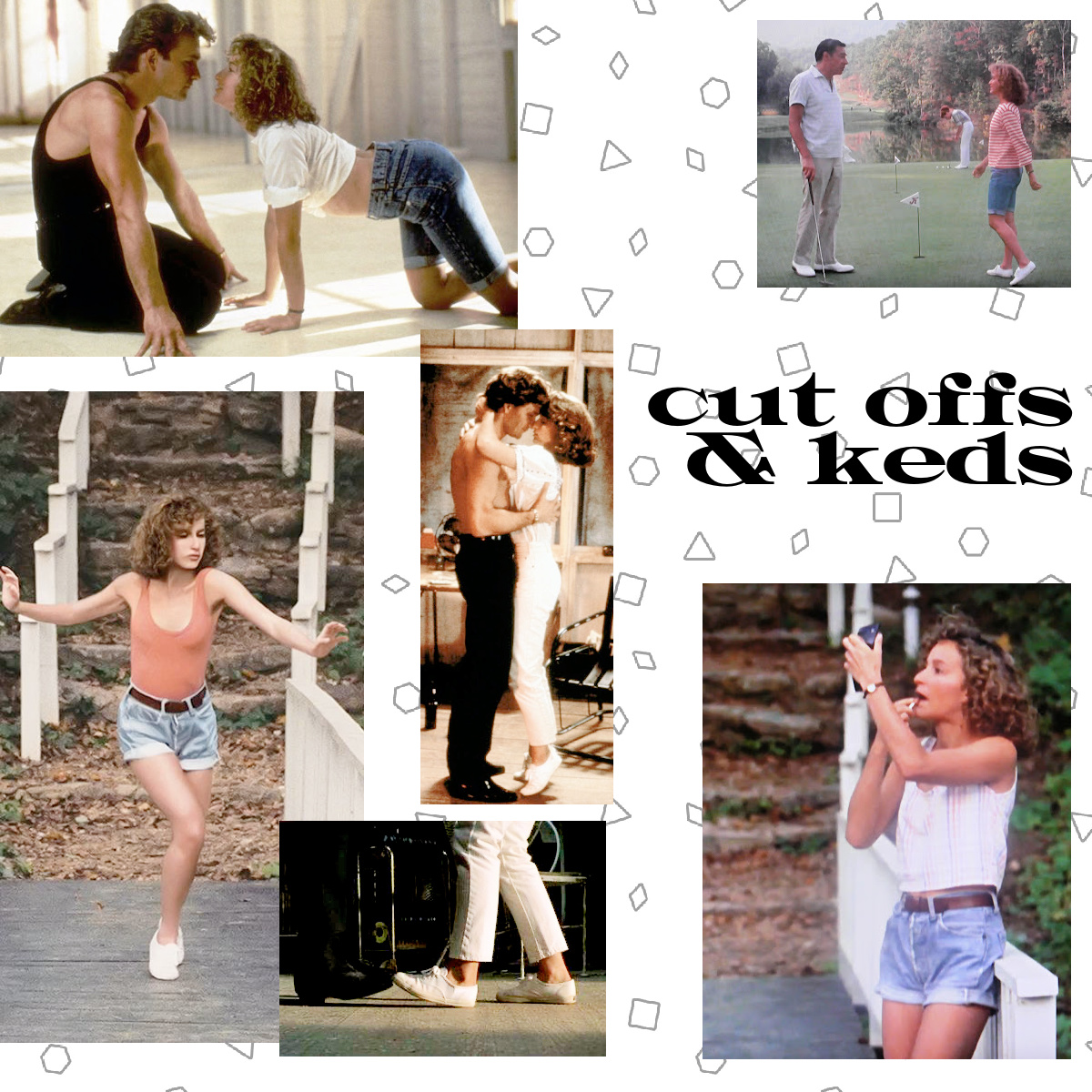 Cut Off Jeans & Keds:
A pair of white tennis shoes is key to her look. She wears them with everything except her dance costumes and the dress she wears to dinner on their first night at Kellerman's. She even wears them with a midi skirt and light cotton top.
Baby wears any length of cut offs well and keeps it simple with striped tops or a pink body suit. The shorts all seem to by high waisted and fitted. The thigh length cut offs are Levis. With the shorter cut offs she wears a brown leather belt.

Related Post: Steal the Look-Daisy Jones and the Six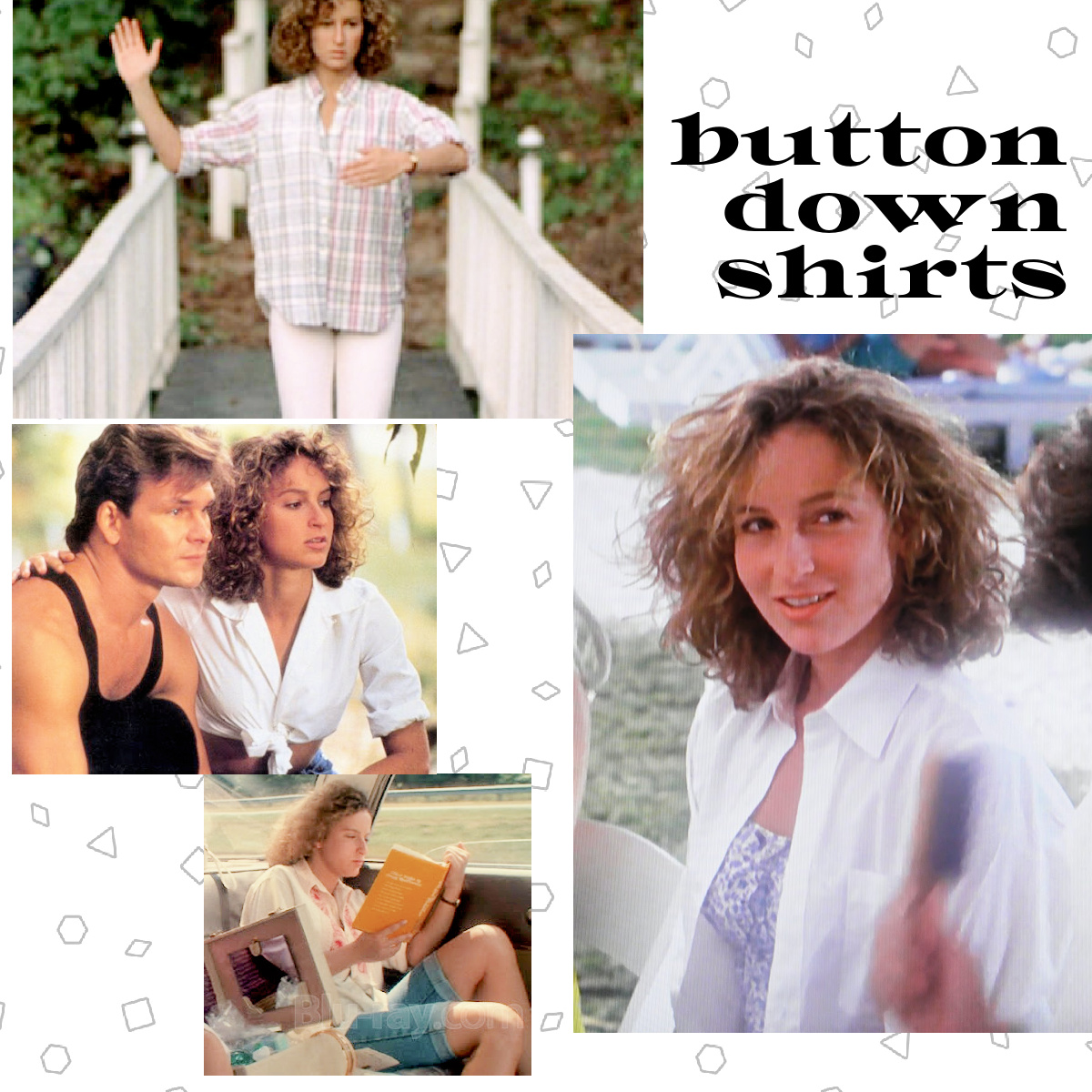 Button Down Shirts:
Baby wears her white button down top in several different scenes in the movie. We often see her wear it over a small tank or top. She wears it as an outer layer almost like a cardigan. We also see her wear it in the iconic "Love is Strange" scene where she ties it under her chest and pairs it with her knee length cut off blue jeans and Keds. Other scenes in the movie show her wearing 2 other button down shirts as well-once with cut offs and once with white jeans.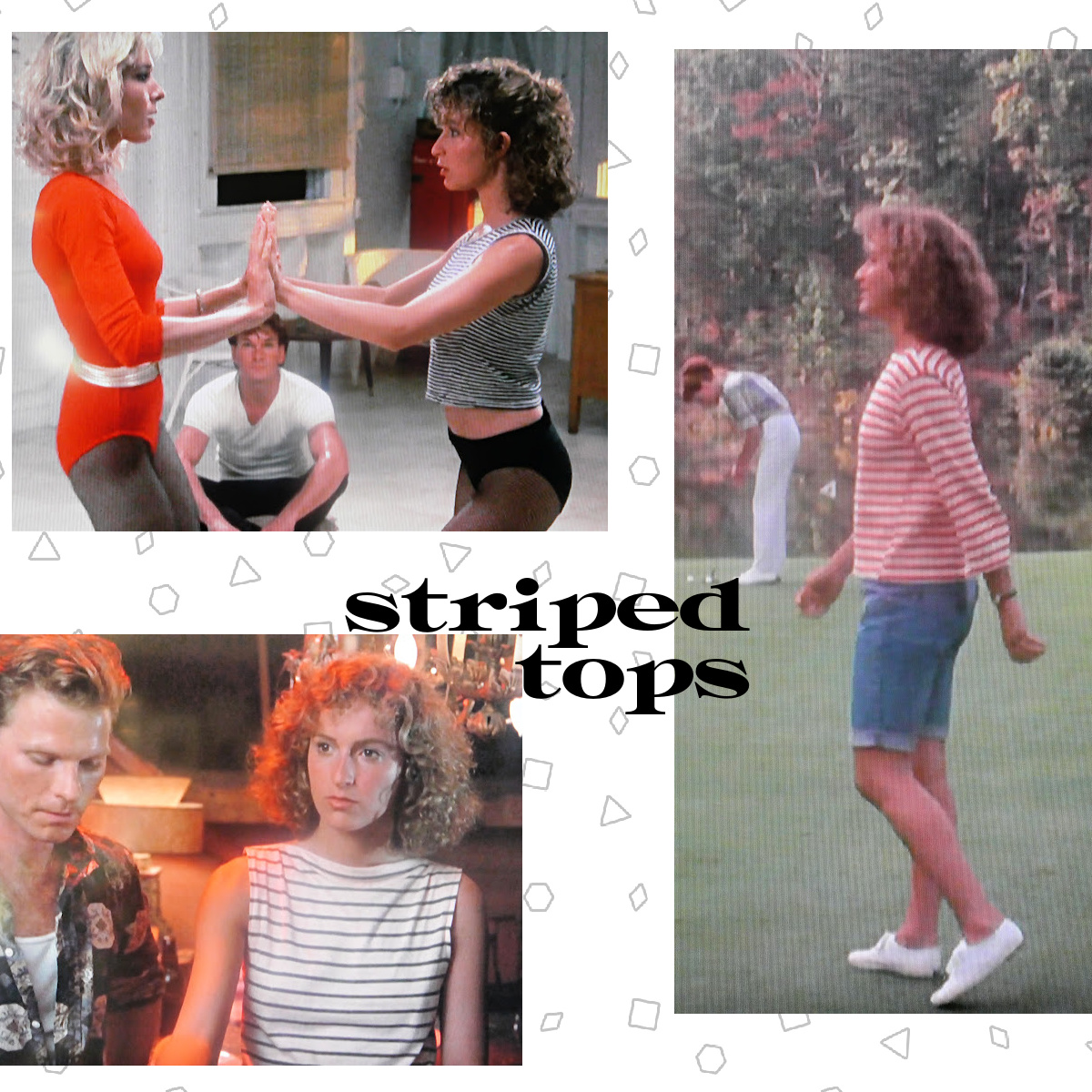 Striped Tops:
In the movie, Baby is seen wearing 3 different casual tops that are striped. All of them have a high neck and they seem to be a thin knit material. Stripes are a classic staple in every style wardrobe but French women have made them incredibly chic. Baby pairs all of these striped tops with denim cut offs and white Keds.

Related Post: Steal the Look-Beth Dutton Outfits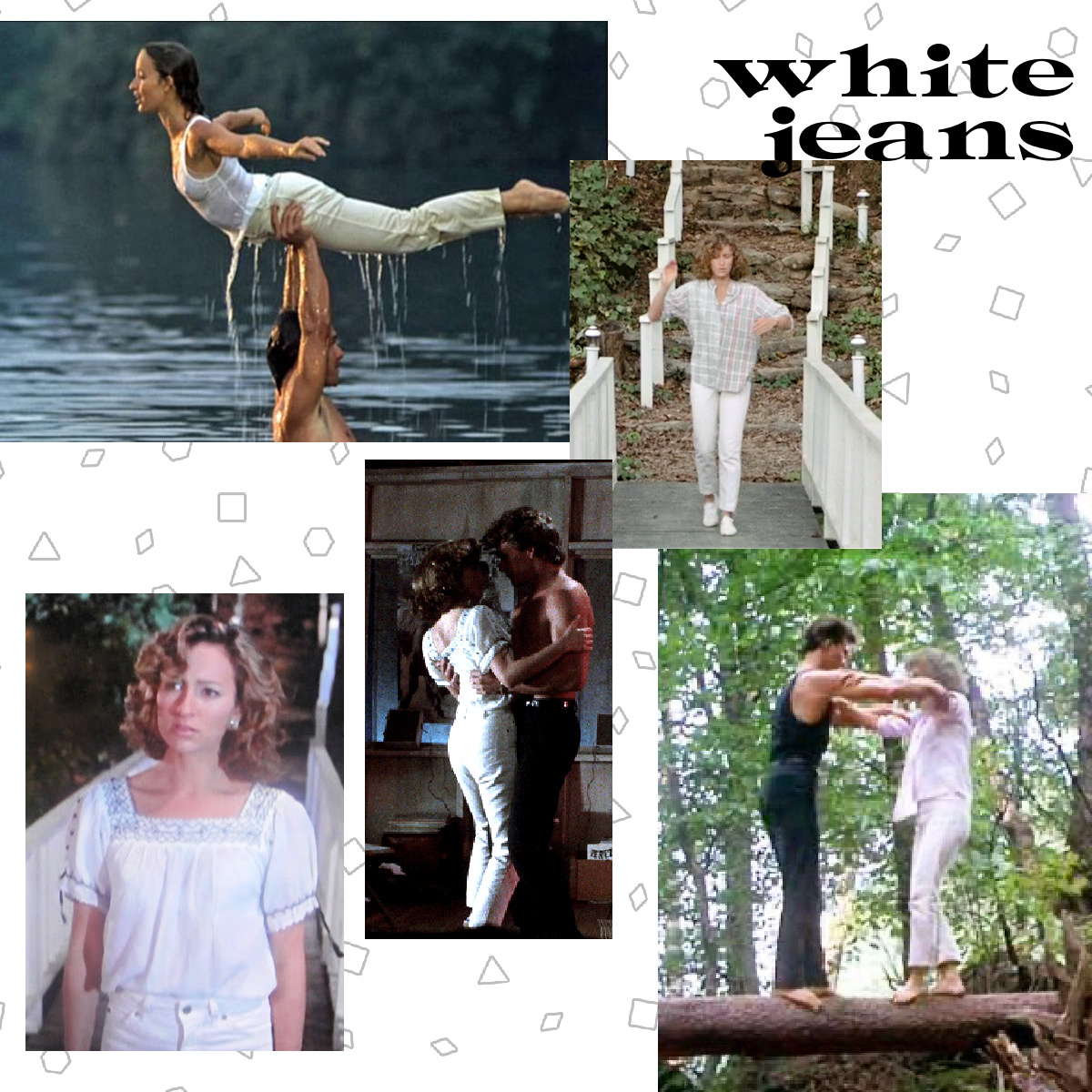 White Jeans:
Baby wears white jeans throughout the movie. They seem to be a high waisted, straight leg cut right above the ankle. She wears them with a white cotton blouse embroidered with blue flowers, a striped button down and a white tank with a button down worn on top.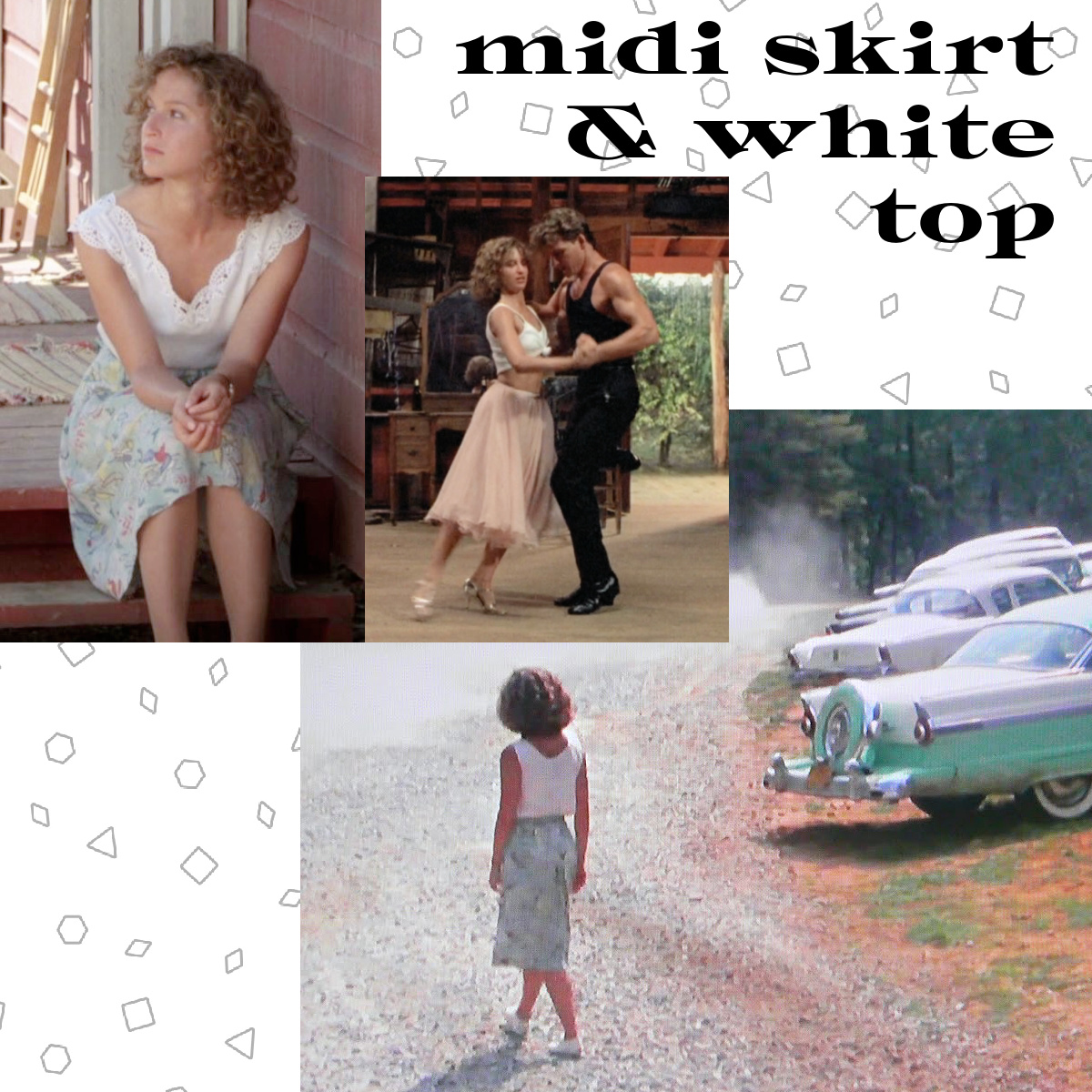 Midi Skirt & Cotton Blouse:
This look isn't prominent in the movie but I think it's worth a mention. It is a timeless and feminine look and so easy to recreate today. There is a scene where she wears a pink chiffon skirt with a white tank tied in a knot during a dance practice. This look can easily be translated in a non-dance situation so I had to include it! The tank can be tied much lower yet still centered in the middle. Even the dance shoes could be worn to complete the look all though simple sandals would work well too. This particular look would also be a great Dirty Dancing costume for Halloween!

A few looks from the movie I did not focus on were the more formal dress or most of the clothes Baby wore in dancing scenes. Baby's dancing leotard, silver shoes meant for dancing and stage clothes could be incorporated into modern dress if you wanted to but in this post I stuck to more casual looks.
Baby's iconic clothing pieces could easily be put into a capsule wardrobe to get you through the entire summer! I'd add a straw bag like THIS ONE and with a couple skirts, pairs of short, summer tops and button downs, you could pull a classic look perfect for the warmer season!
Click on the pictures below to find the clothing items!
xx, Jenni

PIN IT!!