Flare leggings are all the rage at the moment. Whether you dress them up with high heels or opt for a casual look with an oversized sweatshirt, a variety of styles can be achieved with these comfortable flared pants. Today, I'm going to show you how to dress up flared leggings. From work wear to date nights, these leggings create the perfect base for any occasion!
I like a trendy look to my style but the number one goal for me is comfort. That's one reason I love this bell-bottom leggings trend. You can dress these pants up or down depending on different occasions. In this post, I'm going to show you a few different style ideas you might not have thought of on how to wear flare leggings! I want to show you that these comfy pants can totally be dressed up! This variation on the black leggings is proving to be just as versatile yet with a flair-see what I did there? Lol!
Why I love flare leggings so much is because they are much more comfortable than flare jeans and I believe more flattering. When it comes to a pair of flares, you have to be careful to get the right shape of bell bottom because unlike the skinny jeans or a regular legging, flares can either elongate the legs or shorten them depending on the drape of the flared bottoms.
These flares are in heavy rotation in my wardrobe lately!
Where to Buy the Best Flared Leggings:
I swear by THESE black flare leggings from Amazon. They are so affordable, so comfortable and very flattering no matter what your body type. They have a high-rise waist but there is no compression which I personally prefer. I've had my pair for a couple years now and they have held up well. I am careful not to dry them because one rule with flare pants is that the length needs to be long. Otherwise, high water flares can shorten the legs and tend to look down right dorky. The length of your flares might be the only downside to this trend. You have to get the length right or else this do can become a BIG DON'T! In my opinion, these are the best flare leggings.
American Eagle also has these leggings that I do not have but have heard they are great quality. They now have the crossover waistbands that is catching on quickly. Their leggings have a more subtle flare. They are an extra cost compared to my Amazon flared leggings but from what I've heard, they offer a quality pair of flared leggings.
Flare Legging Outfit Ideas:
First, let me say that in the fashion world, oversized everything is such a trend right now. I'm thankful for that since I have a teenage daughter who is constantly surprising me with how baggy her jeans and shirts are-lol! Back in my day we wore low rise, tight jeans with a hint of butt crack, a tiny tee with a playboy bunny on it and Wonder Bras that pushed our boobs up under our chins! I'm absolutely not complaining about the oversized style but I'm also not that into it for myself.
The casual look is so easy to pull off with these pants and worn for ultimate comfort. Adding a simple tee, a pair of platform sneakers, a denim jacket and accessories can add personality to an otherwise boring look. I feel that all over TikTok, Instagram and Pinterest the casual look is all you see when it comes to flare leggings. It's easy to throw a sweatshirt and tennis shoes on and create a casual look. I've seen a few other ideas that include a baseball cap, puffer vest or even a cozy sweater but as usual, these looks are all very casual.
The best part of this look is that it doesn't get any more comfortable. I'm going to focus more on achieving the perfect look by dressings these babies up! Lord knows that if I can get away with joggers or leggings when going out, I'll do it.
I think the cozy/casual look is too easy to mess with in this post so I'm focusing on mainly how to style your flared leggings minus the sporty look.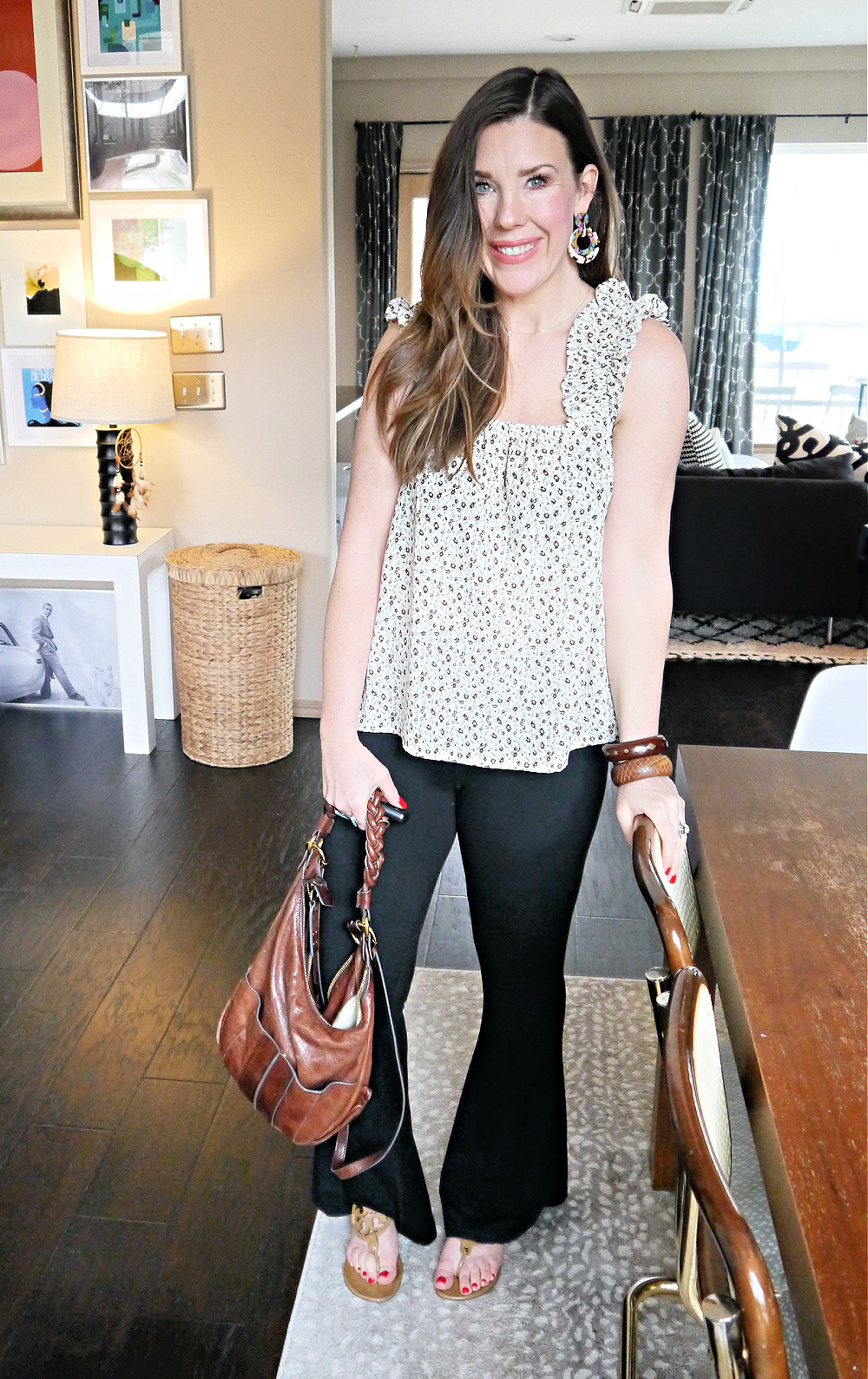 I shared this ruffled top on my Top Amazon purchases of 2022. It's easy and breezy and works with jeans as well. I added sandals and cute earrings and this is a stylish yet easy look that go just about anywhere.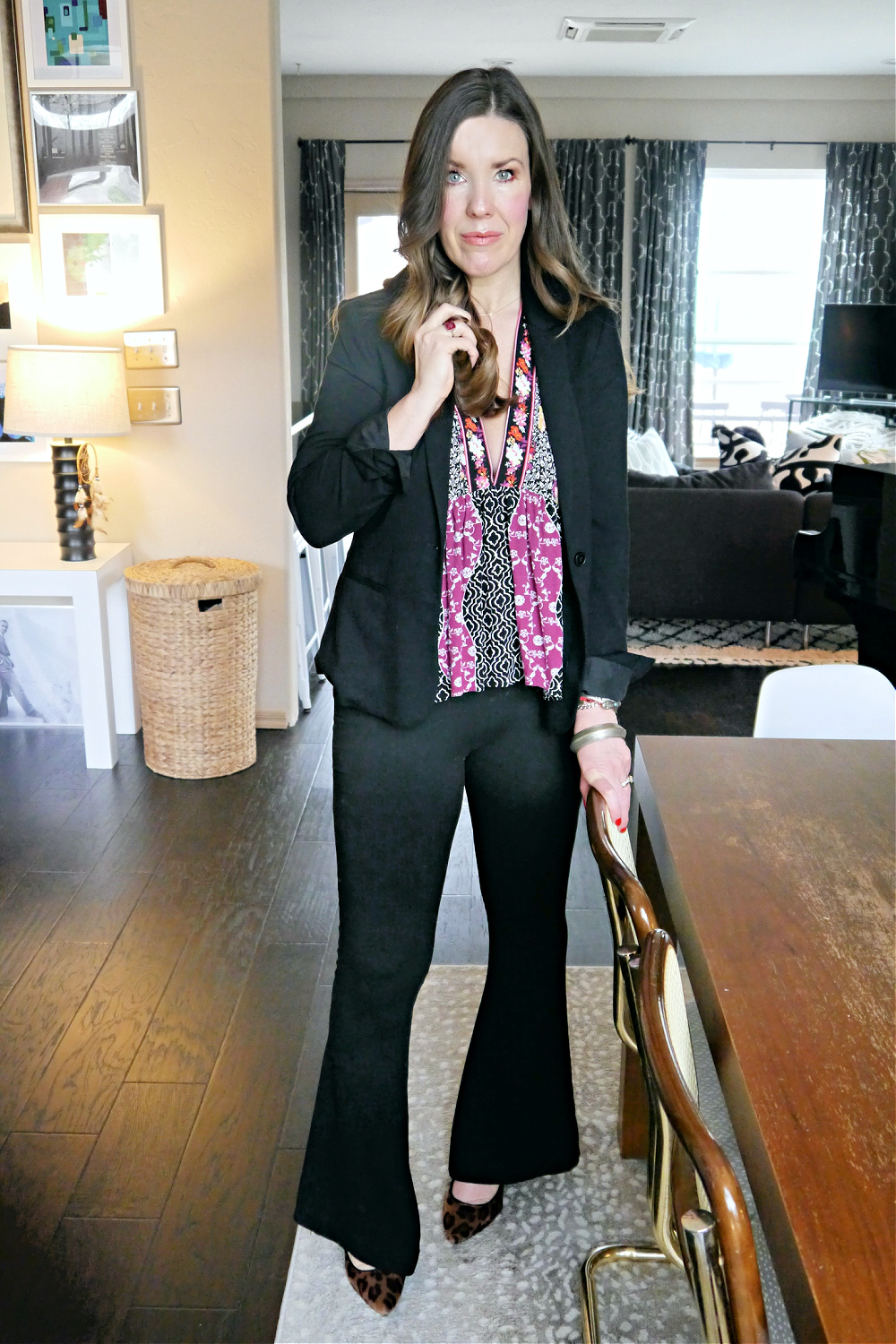 Adding a black structured blazer gives these pants a "work appropriate" feel but with a colorful top and leopard heels it can easily transition into happy hour. A leather blazer would be great as well. My top is old Free People and can be found all over Ebay. I've linked several below! It runs true to size.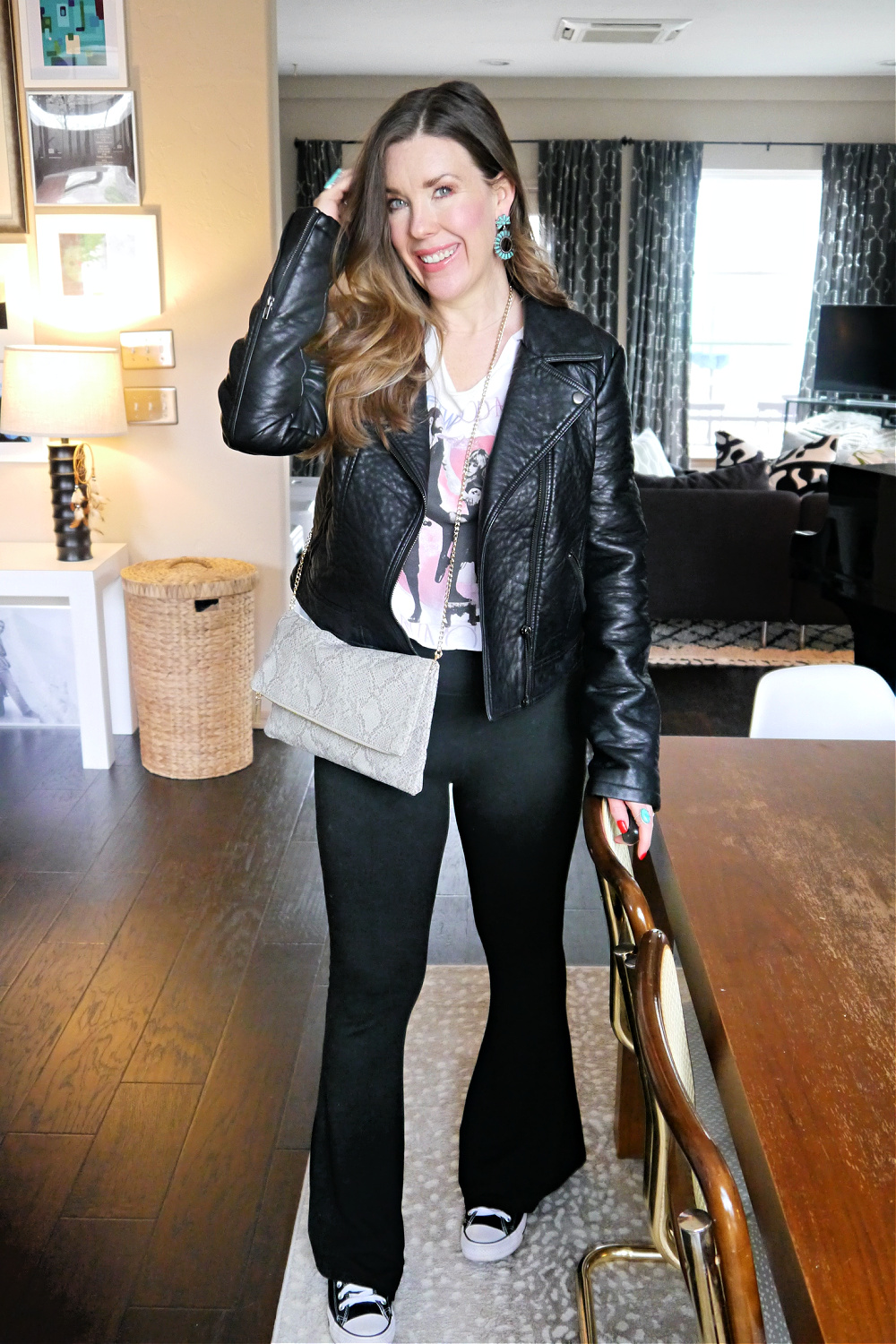 With this look I did go quite casual with the black Converse. I found an oversized Fleetwood Mac t-shirt at Old Navy and cropped it and cut out the neck. The structured moto jacket polishes off the look making it a bit less casual. I also grabbed for a snakeskin clutch to add a bit of spunk. You could totally add heels to this look for a more dressy night out.

This look includes an old Free People dress I tied on the side and added a studded clutch. I have my moto jacket in tow in case it's colder which makes the otherwise boho dress more edgy. I added some boho statement jewelry and the studded clutch all though, I think a black clutch like THIS one would be more cohesive. Check THIS cute FP dress that is current.
FYI-I get most of my Free People tops and dresses on Ebay for so much less. Go HERE to find a page full of this dress. Some of them are brand new. It runs very big. I have a small on and I typically wear a M-L. I should've got an XS.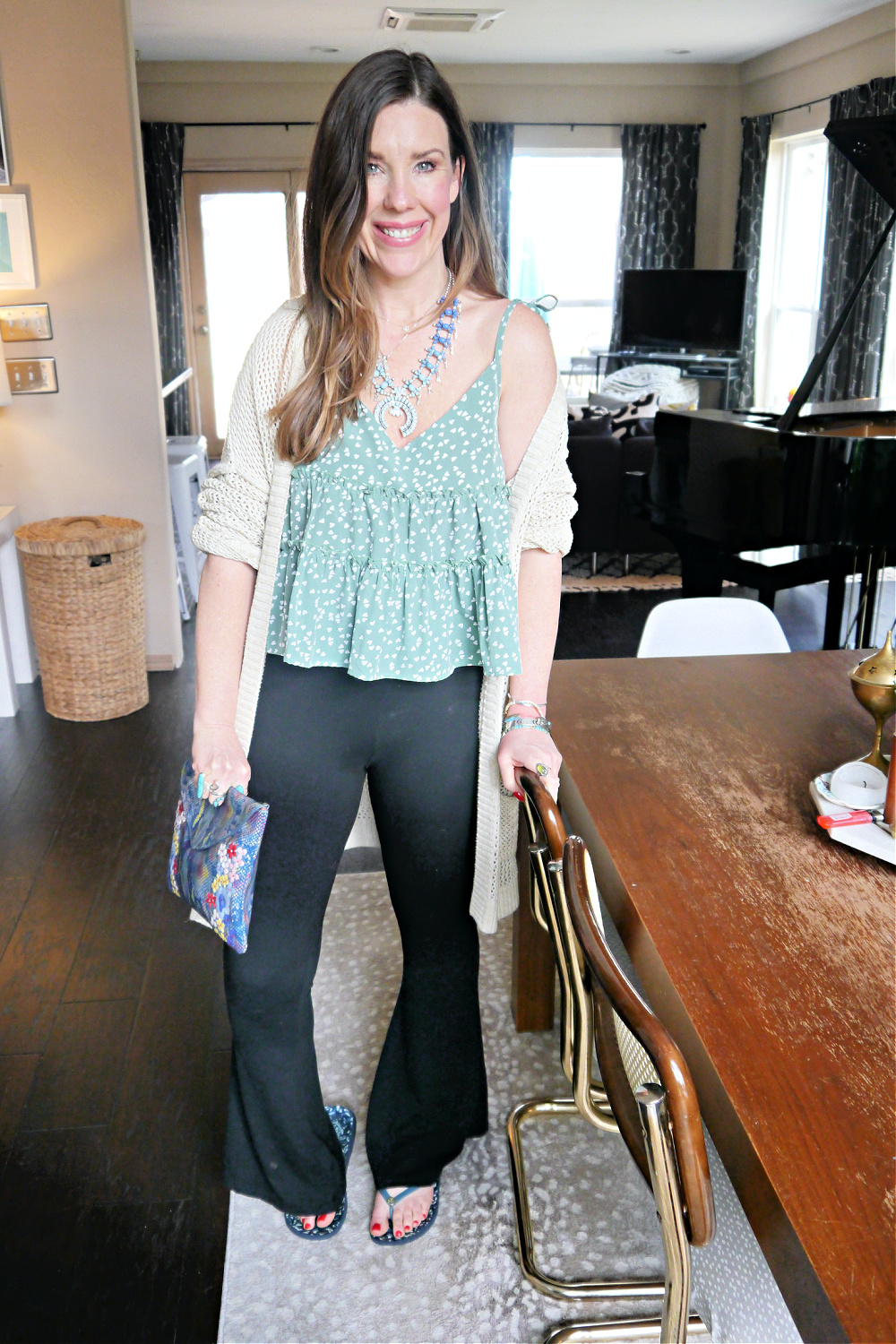 This is one of my favorite looks with a flowy, tiered cropped top, a squash blossom necklace and Tory Burch flip flops. I grabbed an oversized cardigan for an extra layer but a cropped cardigan would be really cute as well. My colorful clutch is the perfect match to the top and adds even more whimsey to the look. This layered look is perfect for a casual day in spring.
Find a necklace similar to mine HERE. Shirt similar to mine HERE. Find a similar clutch HERE. Find a similar oversized cardigan HERE.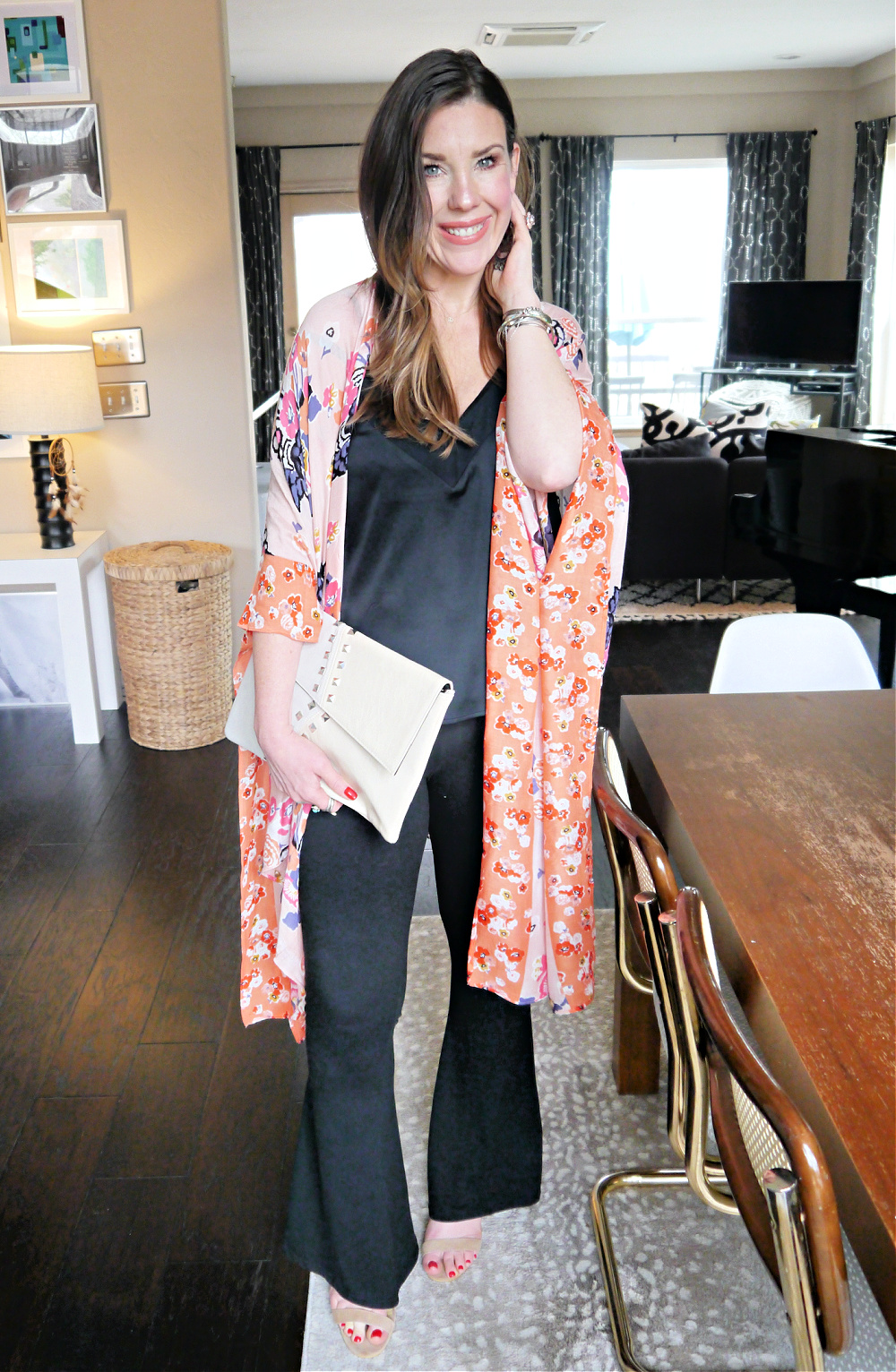 This kimono is a FIND and so affordable. It was one of those Amazon purchases that was even better in person than on the site. I wore a black cami under it which created a stream lined look with the flared leggings. Again with the cream colored studded clutch and a pair of nude, strappy heels.The whole outfit gives off a creative, artsy vibe. Find a similar clutch HERE.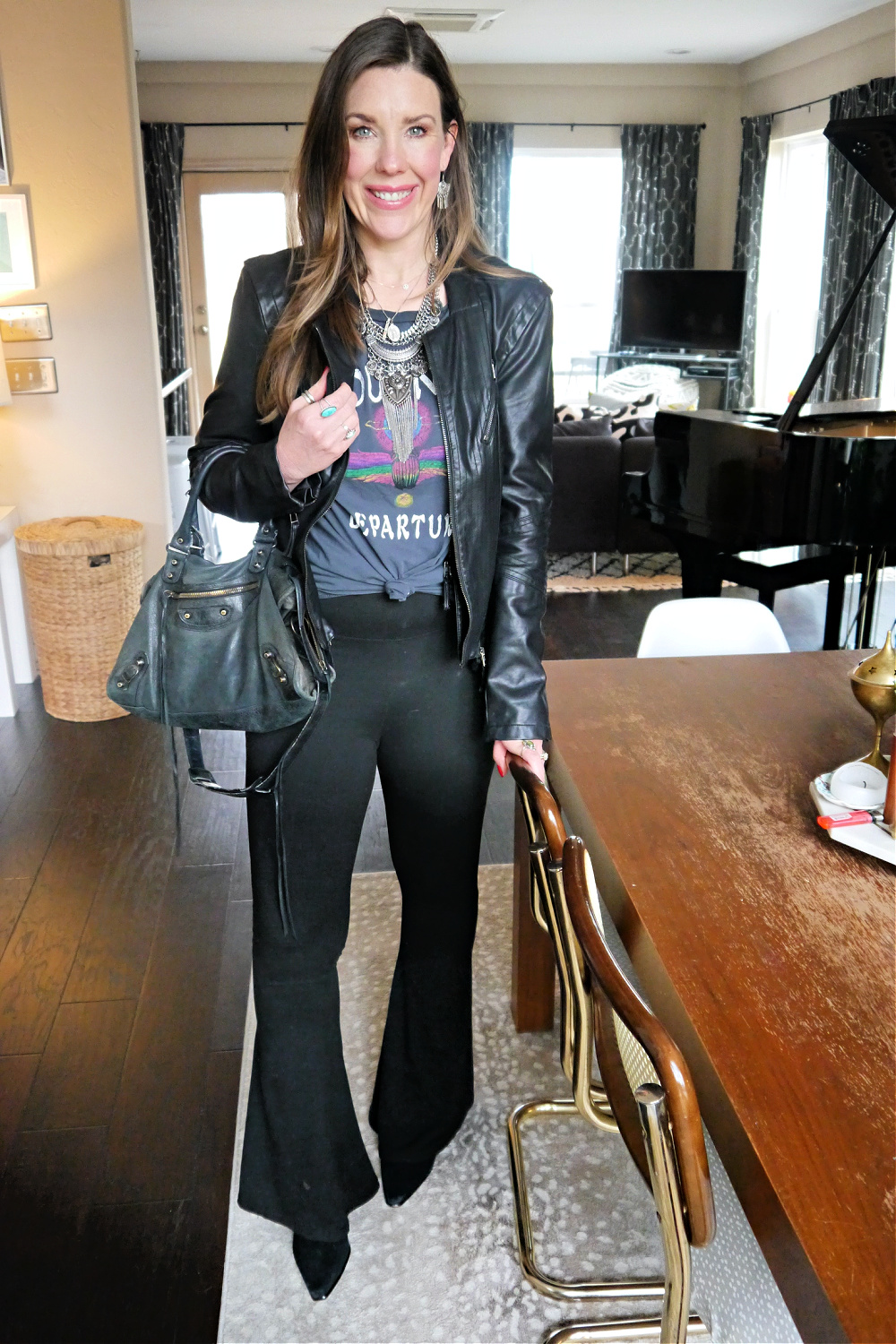 I like to add an edge to my typical boho look and was able to easily achieve that with the perfect pair of flares. A graphic tee and leather jacket is a simple add on. I added some edgy/boho necklaces and bracelets and am able to achieve both contrasting looks. Tying the front of the t-shirt helps give shape to the look. This look is definitely in my comfort zone-it's edgy yet comfy-perfect! For my shoes I have on a pair of suede knee high boots. Clunkier booties do not work with the thinness of the fabric on these pants.

Adding heels and a clutch gives these trendy pants a whole new stylish look and makes them perfect for a date night or drinks with the girls! Yet, adding flip flops and a flowy top can give an easy, laid back summer vibe. And of course a sweat shirt and tennis shoes makes it an easy, everyday option!
This new flared leggings trend is A OK in my book! I hope I accomplished my mission of showing how these pants are not just for baggy t-shirts, sweatshirts and sneakers! These are the perfect pants to dress up, express your personal style while staying comfortable!
xx, Jenni
PIN IT!!!