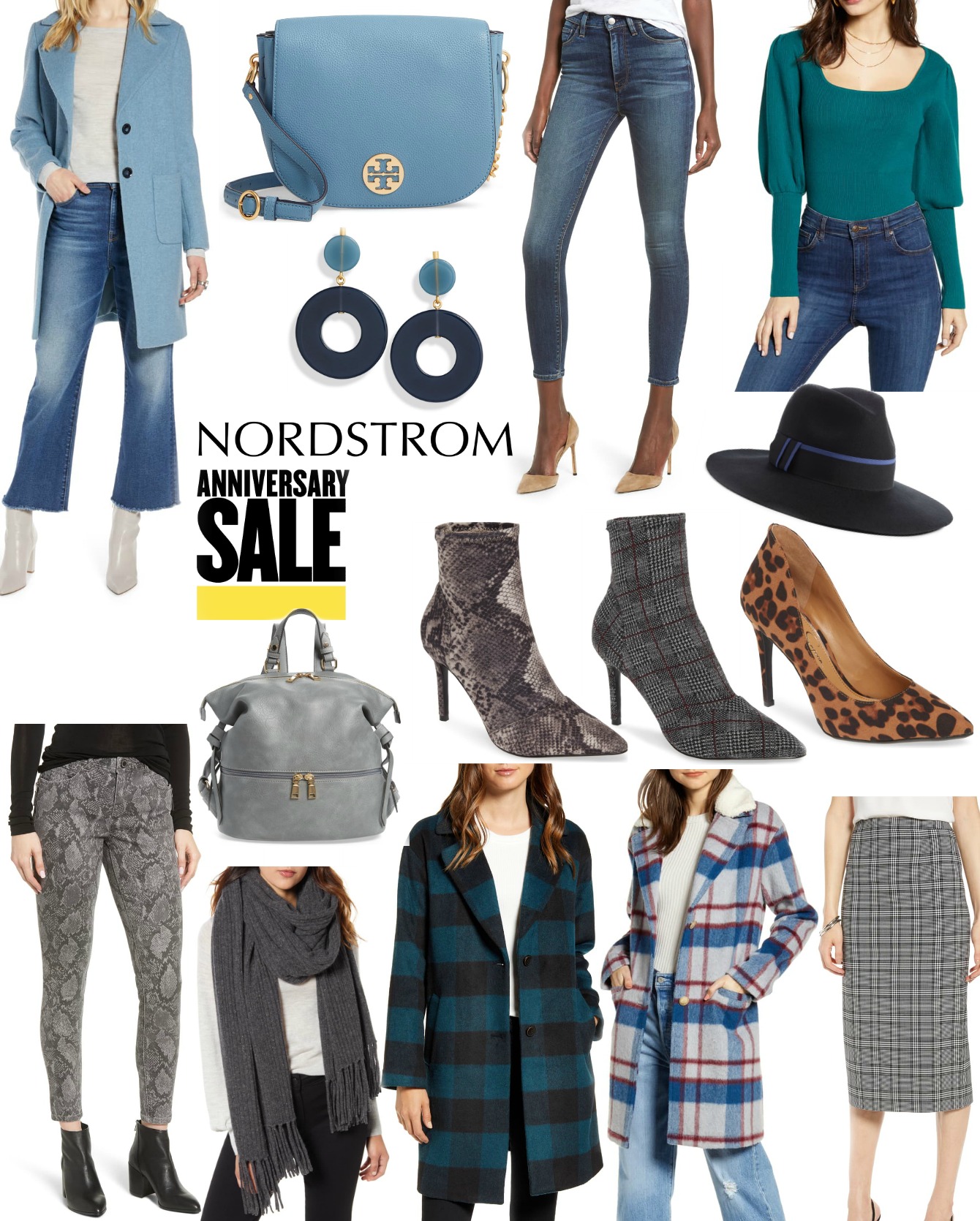 It's that time again, the Nordstrom Anniversary Sale!  If you're not familiar with this sale, it comes every July and Nordstrom puts fall/winter items on sale.  These items serve as an indication of the trends to come.  You can often find some really great deals if you're willing to shop for cooler clothes in the heat of the summer!  I've rounded up my picks plus revealing the 3 upcoming trends that I've noticed from this sale!
Monochromatic Outfits:
Halogen Patch Pocket Coat-This coat is such a gorgeous blue.  I will warn you that it keeps selling out but I'm hoping they'll replenish their stock because I love the shape and color.  It also comes in a blue/green!
Tory Burch Crossbody-I love a pop of blue and while Tory Burch is a bit too preppy for me, this shape of bag seems to be "in" for the fall and the color is amazing.
Madewell Blue Round Earrings-These earrings are super affordable and would make the monochromatic look really easy!
Hudson High Waisted Skinny Jeans-These are high quality designer jeans for a little over $100.  They are on major sale and all sizes are stocked.  If you choose to monochromatic your look in blue, blue jeans make that really easy!
Square Neck Sweater-This sweater is such a great color and since it's between a blue and a green would be easy to mix with either color.
In case you're not sure what I mean by monochromatic, let me explain.  This is probably my favorite trend.  I love mixing clothes and accessories from the same color family.  This could mean wearing an outfit using all different colors of greens-from pea green to hunter!
Plaid:
Buffalo Check Blue/Black Coat Love the look of this coat and the colors are neutral enough to incorporate into any wardrobe.  The price is great too!
Plaid Blue/Red/Cream Fur Collared Coat-This coat is somewhere in-between rugged and chic!  I love the colors and would love to pair it with jeans and white booties.
Plaid Pencil Skirt This pencil skirt would look great with a chunky sweater and sock booties or heels.  It's a great price point and would work for day and night.
Plaid Sock Booties-At $40 off, these booties would work great with any length of skirt as well as jeans!
Animal Prints:
Snakeskin Skinny Pants-These are a great price and could be dressed up or down.
Snakeskin Sock Booties-I love these booties. They are the same as the plaid booties I mentioned before but in snakeskin, there's just something about them.  They would literally match with everything and effortlessly edge up any look!
Leopard Print Pumps-I have these and LOVE them.  They look great with everything!  I typically wear them with skinny jeans and chunky sweaters.  Plus, they're definitely on trend this fall!
Accessories:
Chunky Gray Tassel Scarf I love a chunky, cozy scarf and this one looks amazing!  It comes in many colors and is cashmere which I did not notice when I added it to the list-lol!  It's stupid expensive so if you like the look but aren't in the budget, try THIS one instead.
Gray Backpack This backpack has been on the Nsale for a couple of years now and each year I miss out on it.  I love that this year it comes in this gorgeous gray color and think it would be perfect for moms on the go.
Black Panama Hat-Panama hats are flattering, easy to wear hats and I love this one with the tiny detail of blue.  It also comes in maroon.
At my other blog, Jenni Raincloud-I focused more on items that I would call staples.  Check that post out HERE.
This sale ends August 4th.  Remember, Nordstrom offers free shipping on all orders as well as easy, free returns!
xx, Jenni
Shop the Post: