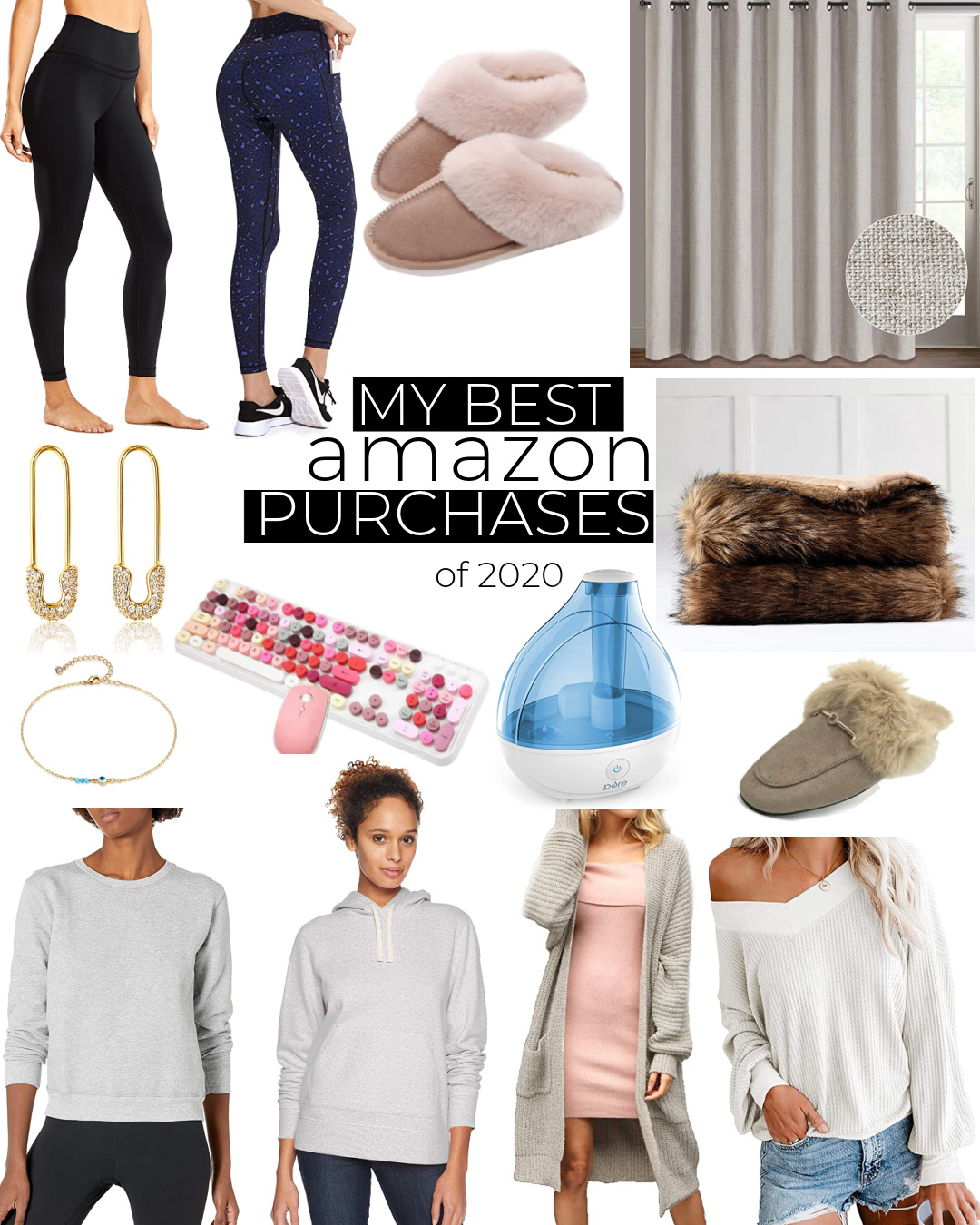 2020 was a rough year for us all. If it weren't for Amazon, I think we would've all gone crazy! I made way too many purchases in 2020 and ended up returning a lot as well. However, I have ended up with some of my favorite Amazon purchases EVER. I thought I'd share them with you today!
The BEST leggings-I'm incredibly picky when it comes to leggings. I hate wearing Spanx. I actually bought an extra large in them hoping they would be more comfortable and not so constricting. DIDN'T WORK. I've determined I need a bit more give then Spanx and I also found I need there not to be a seem at the top of the waste band. I wear these leggings all day. They constrict but not in a painful way. I've heard they are called the "naked legging" and I will say, it really feels as if you have nothing on. I wear these dressed up or with a sweatshirt. I highly recommend if you are picky like me! They are TTS. I got a large. I've heard they are comparable to Lululemon but 3x cheaper.
Blue Cheetah Leggings-I couldn't resist the pattern of these leggings. However, they run small and have seem at the top of the waste band which can start to bind after wearing them for a while. I sized up to an XXL again with the hopes of finding a comfortable legging. They are just OK in the comfort department but they really are cute. I like to wear them when I'll be running errands rather then sitting at a desk all day. I pair them with a black puffer vest and white long sleeved tee and black Nikes for a put together look. Do you need to size up 2 whole sizes? Probably not. One size would be sufficient. These leggings are worth a try because they are around $20 bucks.
Furry Slippers-I've mentioned these slippers before but I'll say it a million times-they are one of my favorite purchases and I'm so glad I didn't get Uggs and pay triple what these cost. I've worn these so much I've had to throw them in the wash twice already on normal with my lights and they have come out perfect both times. I even threw them in the dryer the second time. Did I mention I have worn these out and about too many times to admit because I forgot to change into real shoes?
Oversized Linen Curtains-We have huge windows in our den so I needed about 170 inches worth of curtain. These are absolutely perfect. They lined and considered black out curtains. The linen is durable and comes in several colors. Each panel is 100 feet wide and 84 inches long (they also come in 95 inches long). I couldn't be happier with them and all it took to dewrinkle them was to throw them in the dryer with some wet clothes. No ironing needed! I bought a pair for our bedroom as well.
Safety Pin Earrings-These are so cheap but look like high quality. I wear them all the time and they still look brand new!
Evil Eye Anklet-I bought this in the summer and never took it off. It's stayed looking brand new despite showering and swimming. It looks much more expensive then it is and is very dainty.
Wireless Keyboard and Mouse-I've got computer neck thanks to working 5+ hours a day on a very low sitting sofa. I decided it was time to embrace the working from home mentality, get a desk and a few accessories. This keyboard and mouse are so cute and a cinch to set up!
Humidifier-I love a good cool air humidifier. It's no secret that I have 789 plants indoors during the winter not to mention dry air zaps my skin of moisture so a humidifier serves a couple purposes.
Fur Blanket-I've paid way too much for a West Elm fur blanket and decided I would give one from Amazon a go and I'm so glad I did. This blanket comes in two different sizes and several different types of fur. I got the one in "brown". I also splurged and got the 60×80 all thought it comes in the typical throw size 60×50. I could not be happier with the quality. It is every bit as nice as the West Elm at more than half the cost.
Fur Lined Mule-I've been wanting a simple, comfortable shoe I can wear with jeans, joggers and leggings. I have always liked the Gucci fur lined mules but not enough to buy them. These are comfortable and decent quality for the price. They also come in black which I'm thinking about getting as well! They are TTS. I also bought THESE from the same retailer in snakeskin. I sized up. They are not comfortable but look good. I'm really hoping I can wear them in. The fur lined were immediately comfy.
Hanes Sweatshirt-These sweatshirts come in every color and are $8-12. Cropped, boxy sweatshirts are so in right now so I decided to by these sweatshirts in gray and black and cut the bottom off! It worked so well without making it too cropped and the end of the material where I cut rolls just a bit giving it a worn in look!
Amazon Brand Gray Hoodie-This is such a great quality sweatshirt that is so warm for winter. I literally cook (ew…) in this sweatshirt and have to use my spray deodorant all day-lol! I bought an XL so it's just a bit oversized. I've washed it a ton since I bought it and it still looks brand-new.
Long Cardigan-I've been eyeing this cardigan for over a year now and noticed it was $10 off (still is) so I decided to grab it. I'm very happy I did, it matches with everything and is a great fit. BTW-the color I got and that is pictured is "apricot". No idea why but to me it's a creamy taupe with gray flecks in it. It's one size fits all which is odd. I wear a M-L in sweaters and this fits me just right.
Waffle Knit Top-Love this Free People dupe. Sometimes waffle knit on Amazon turns out a bit rough feeling but this one is soft. The sleeves billow like the FP top does and it looks great with one side off the shoulder. I've worn it with jeans as well as leggings. It can be pulled down over your backside for coverage. I got a large and would say it's TTS. It also comes in quite a few colors.
One more item I just bought and am loving but didn't include it because it might look a bit cheap are THESE two necklaces. They are sturdy however the gold is a bit shiny and bright. I don't mind it and haven't stopped wearing them but because the coin is a tiny bit smaller then a quarter, the quality might be questionable to some.
xx, Jenni
Shop the Post: