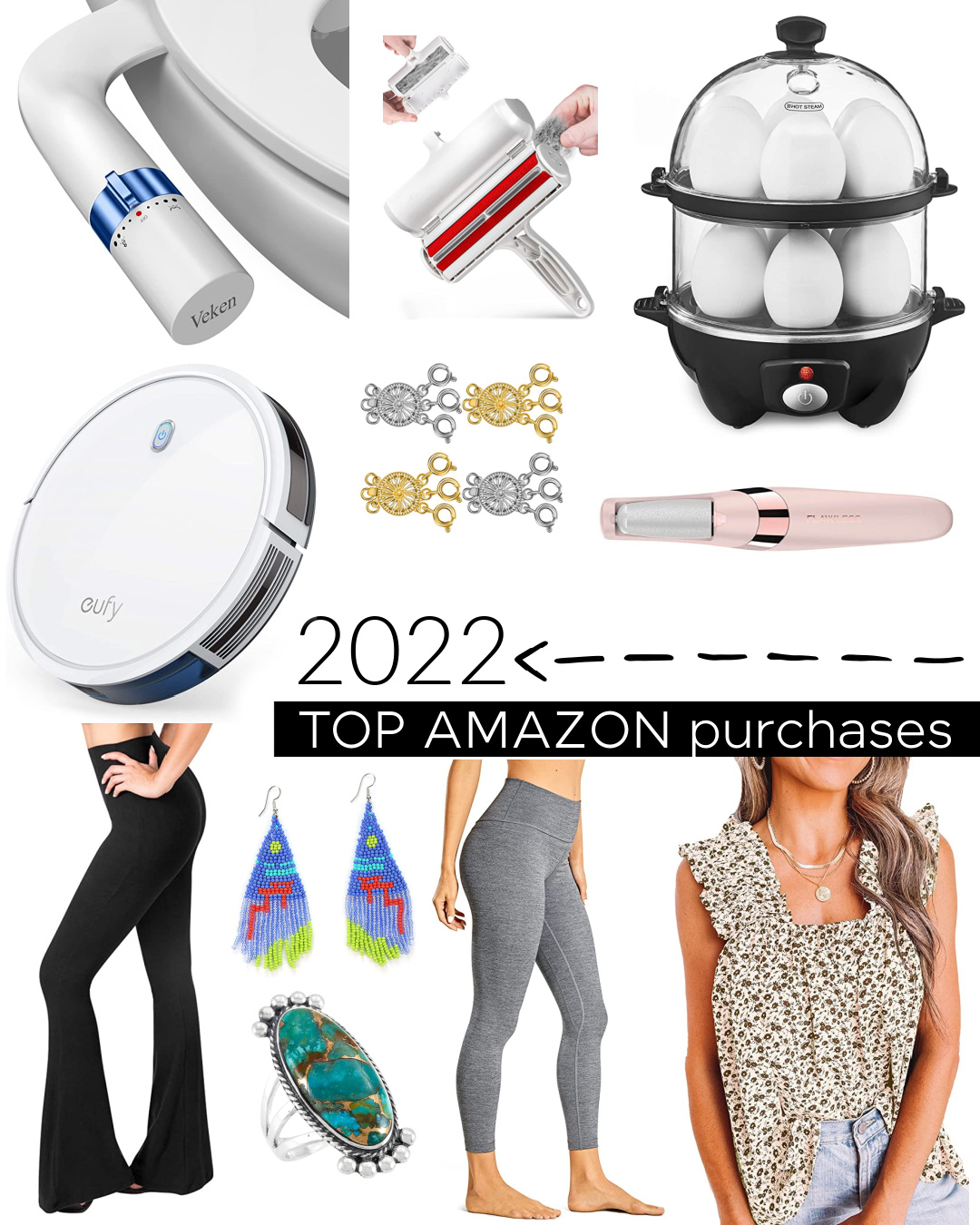 I say all the time that I shop way too much on Amazon. Ideally I would spend more of my money at small businesses but let's be honest, instant gratification is a problem and Amazon has what you need in a pinch and then some. In 2022 I have purchased quite a few items that I've really enjoyed. Most of these items I've used long enough to know I love them.
Bidet Attachment for Toilet-I got this bidet for Christmas and it's ended up being amazing! I will spare you details but I will say we use less toilet paper and feel a whole lot cleaner! This bidet would be a great thing for postpartum as well. My husband said it was very easy to install and takes up very little space on the side of the seat.
Pet Hair Remover-This pet hair remover is literally magic. I don't know how it does it but it works! I was using so many sticky sheets using a lint remover and now I reserve those for clothes! It's quick and easy to use and works in a pinch when unexpected guests pop in!
Double Tier Egg Cooker-We raise chickens and love eggs! Boiling eggs can be such a chore but this little appliance makes it so easy! It's easy to use and easy to get just the right hard boiled egg for your preference by adjusting the water you add. It's also very easy to clean and dare I say that I think the shells peel off easier.
Robo Vac-I love this guy! Granted, robo vacs aren't great if you have an open concept home but I find that putting him in individual bedrooms with the door shut saves me some time. He tackles bedrooms and I tackle living room/dining room/kitchen area.
3 Layered Necklace/Bracelet Clasps-I love to layer bracelets and sometimes necklaces. However, bracelet clasps can take forever to connect due to the awkward angle. Layered necklaces tend to twist around each other defeating the purpose of the style. These clasps are super cheap and come in a 4 pack. I have found these super helpful and easy to use.
Electric Foot File-If you're like me and struggle with rough feet, this tool is a lifesaver. It's so easy to use and works so much better than a non-electric powered tool. It comes with a charging chord that you can plug into a USB port or get a USB plug-in adaptor. Once it's charged you can unplug the chord so it is truly cordless while you work on your heels! With this item you can remove a large amount of dead skin in a short amount of time!
Bell-Bottom Leggings-If you love soft, comfy leggings and you love bell bottoms, these pants are a hybrid of the two. They are so comfy and soft and the flare gives such a fun vibe. They run true to size but are not the type of legging that compress which is great if you find compression leggings uncomfortable. The price is so low yet the quality (so far) is there.
Boho Beaded Earrings-I love these beaded earrings. They are so cheap yet unique. They add a pop of color to any outfit and come in several different patterns. They are great quality as well!
Turquoise Ring-This ring is only $40 but is sterling silver and genuine turquoise. I figured the ring would be iffy quality due to the price but it is not and I wear this ring daily. I even bought another turquoise ring from this company and it, as well is fabulous quality!
CRZ Women't Leggings-This brand of leggings is by far the best I've found on Amazon. Apparently they are a dead ringer for lululemon Align leggings. They are true to size and wash well. They don't fade at all and are squat proof. They are flattering on because they have compression but not so much that they hurt. I have 3 pairs and my daughter has 3 pairs.
Floral Top-I bought this top in the brown/cream and the navy/white. I love both. The straps make these tops unique and I love that they are flowy and great for those days you feel bloated! They look great with jeans and a bold earring!
I hate to say it but I've been indulging in the Amazon shopping already in 2023 so stay tuned for those shares!
xx, Jenni
Shop the Post: