The queen of effortless chic, style icon Jane Birkin embodies a timeless style. Simple, understated  yet incredibly fashion forward, pictures of Jane Birkin in the 70's are easily confused with photos of today. Jane's look is easily obtained today so let's dig in to Jane Birkin's style and steal the look!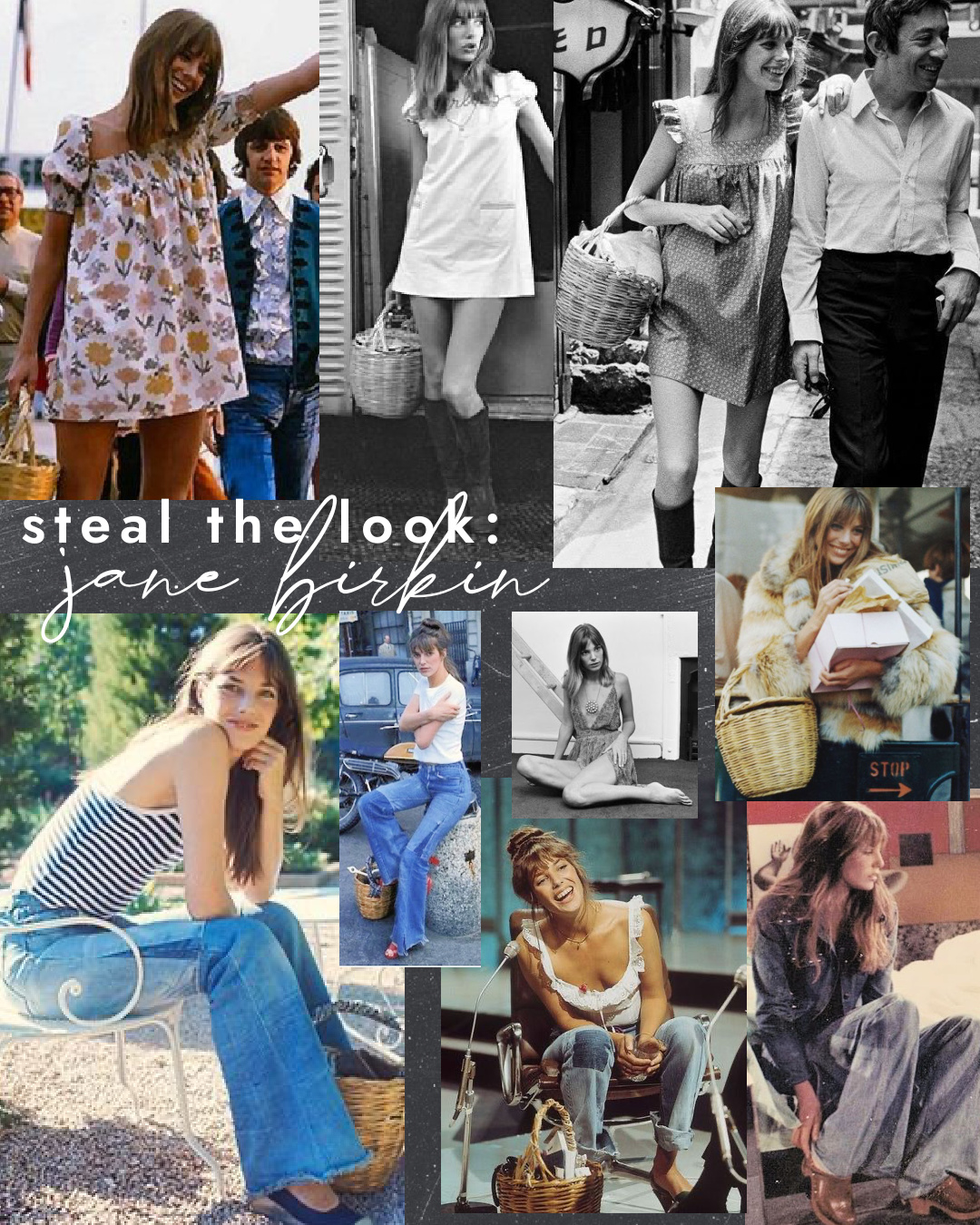 Jane Birkin is a London born actress who moved to France in her early 20s. She starred in French movies like La Piscine, Slogan and Je T'aime Moi Non Plus. Her famous 13 year relationship with Serge Gainsbourg brought on a music career with her first album Jane Birkin/Serge Gainsbourg in 1969. She has continued her career with several movies and TV roles as well as several solo albums.
Jane Birkin's style is incredibly individualistic. She was one to wear whatever she felt good in. She didn't seem to care about trends and as a result, her style has stood the test of time.
The famous "Birkin Bag" was named after her after being on a flight with the CEO of Hermes. The Birkin bag might be the most coveted (and expensive) bag to date.
As usual with my "Steal the Look" series, I like to find pieces that work for today. While I don't mind looking kitschy, I want to modernize a vintage look rather than copy it. Jane Birkin was famous for her mile long legs and she loved to wear very tiny shorts and dresses. I personally am not pulling that off so I've chosen more modest and age appropriate pieces that still give the look.
Related Post: Steal the Look-Style Icon: Elizabeth Taylor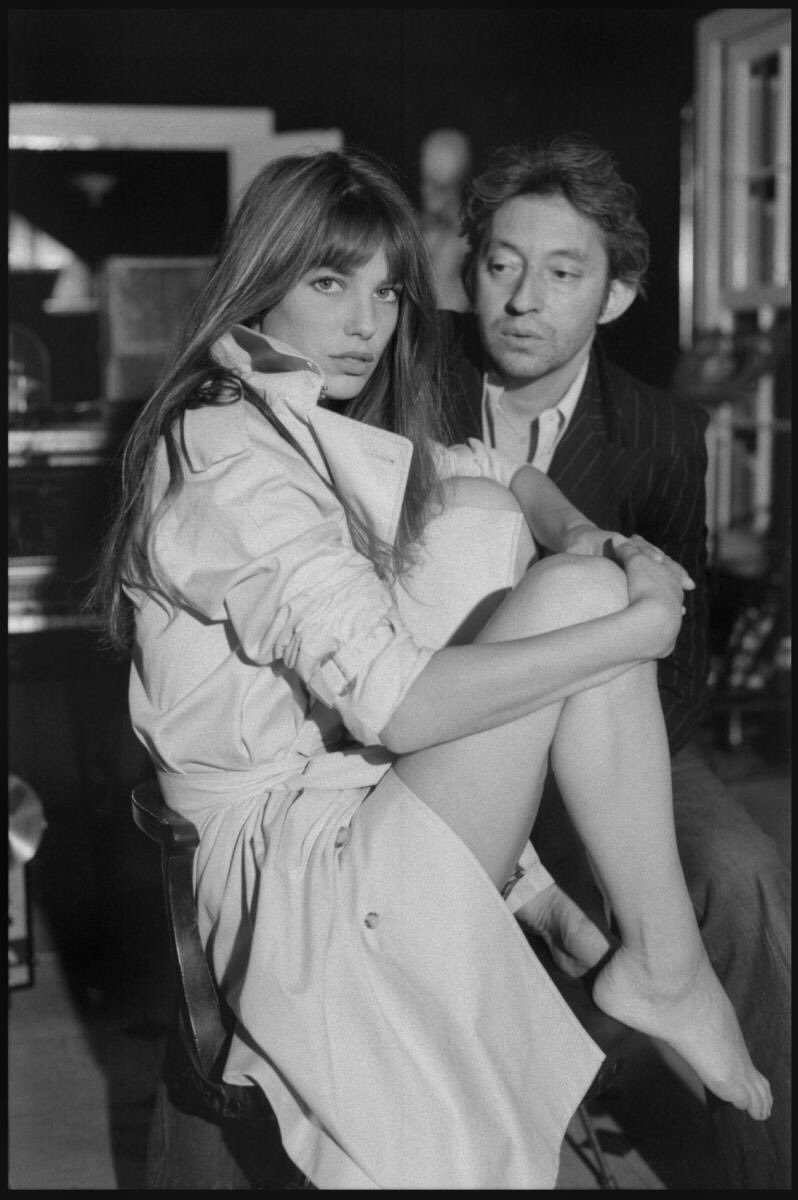 6 Pieces that Scream Jane Birkin Style:
Basket Bag-Jane carried a basket for a purse for decades. While completely unconventional but 100% unique, Jane carried the basket even when she was turned away from nice restaurants.
The Mini Dress-Jane Birkin was 5'8 and had incredible legs. She often was seen in mini dresses as well as short shorts. She was even photographed wearing cut off jean shorts with black tights and heels.
Loosely Faded Jeans-Never was she photographed in skinny jeans. She was typically in a high waisted flair or straight leg pair.
Espadrilles-Nothing says European summer more than espadrilles-at least in my opinion.
Flutter Sleeves Tops & Dresses-While Jane Birkin kept her style somewhat androgynes, she often would wear very feminine off the shoulder tops or ruffled sleeves. A plunging neckline was nothing Jane shied away from either.
Ballet Flats- While Brigitte Bardot made them popular in the 50s, Jane continued the trend in the 60s.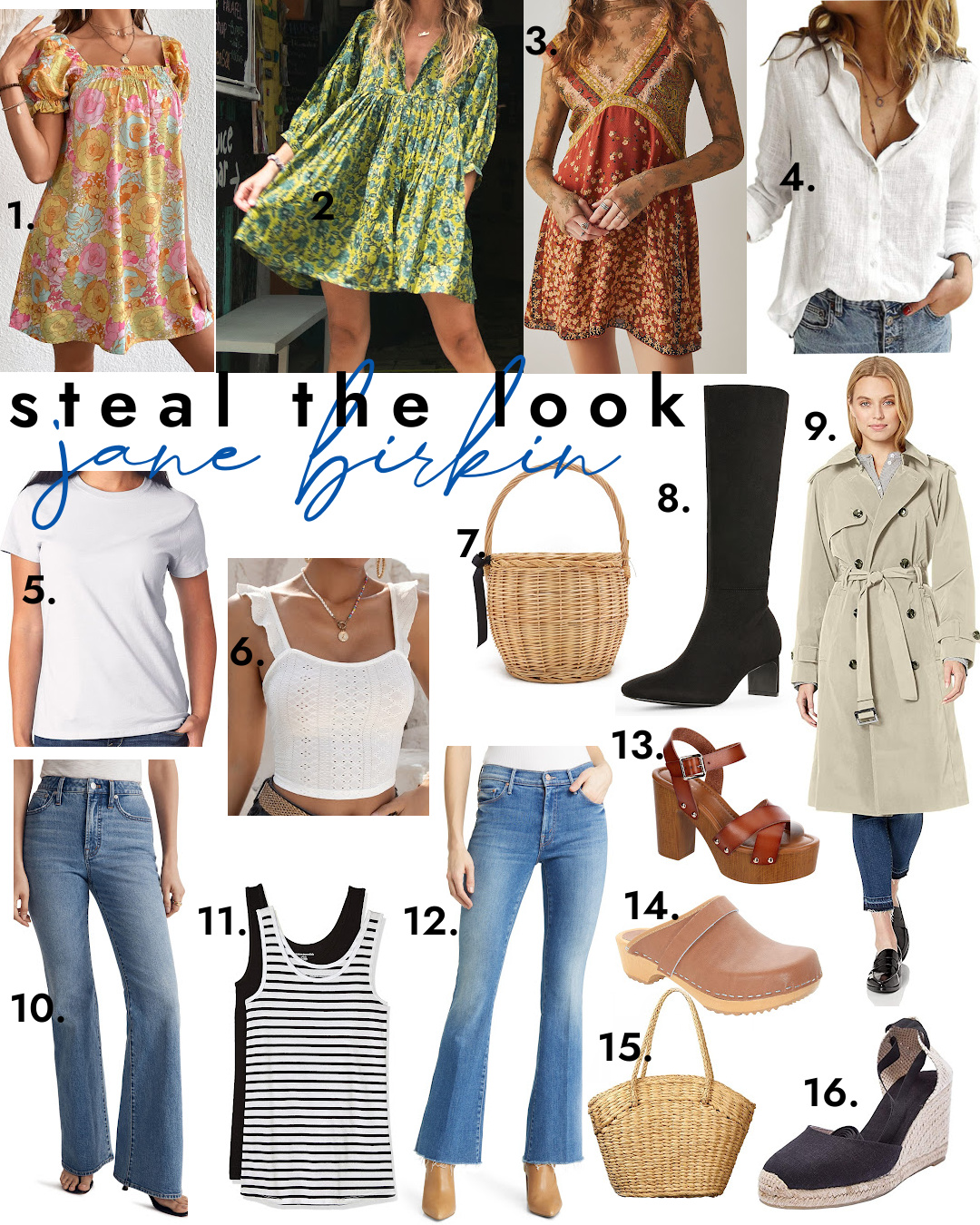 Related Post: Steal the Look-Fashion Icon: Stevie Nicks
Jane Birkin's Beauty Style:
Nothing says Jane Birkin more than bangs. Her hair was incredibly young and girly and gave her a bit of a kittenish look.
Her makeup focuses mainly on her eyes. With lots of mascara and heavy eye liner on the bottom lashes, white liner on the tear line, Jane's eyes were very baby doll like. Lips seemed nude or natural most of the time.
Jane Birkin was an actor, singer, author, mother and philanthropist on top of being a woman who's keen style has gone down in history and has been immortalized and imitated ever since.
My "Steal The Look" posts are my favorites! I have lots of iconic women on my list to do next but I would love to hear from you! Who would be good for us to steal their look?
xx, Jenni
Shop the Post

PIN IT!!!