I've got to admit, quarantining has brought out the inner shopper in me. I think we're all searching for a bit of comfort and I tend to seek comfort in the form of candy and the occasional shopping spree. However, I was in need of some everyday clothes that are comfortable and could double as cozy wear/running around wear and I found some items I'm crazy about!
I'm one of those Amazon shoppers who is in fear that they might ban me from ever shopping again because I return so much but this time was not the case. Unfortunately, I've only returned two super cheap shirts and kept everything else!
I thought I would share what I am loving as well as give you a few ideas on cute outfits to wear around the house or even out and about when that day comes.
For sizing reference: I'm 5'8, 150lb. I wear a 10 in jeans, large in bottoms and a medium in tops. I'm a 36C and have a long torso.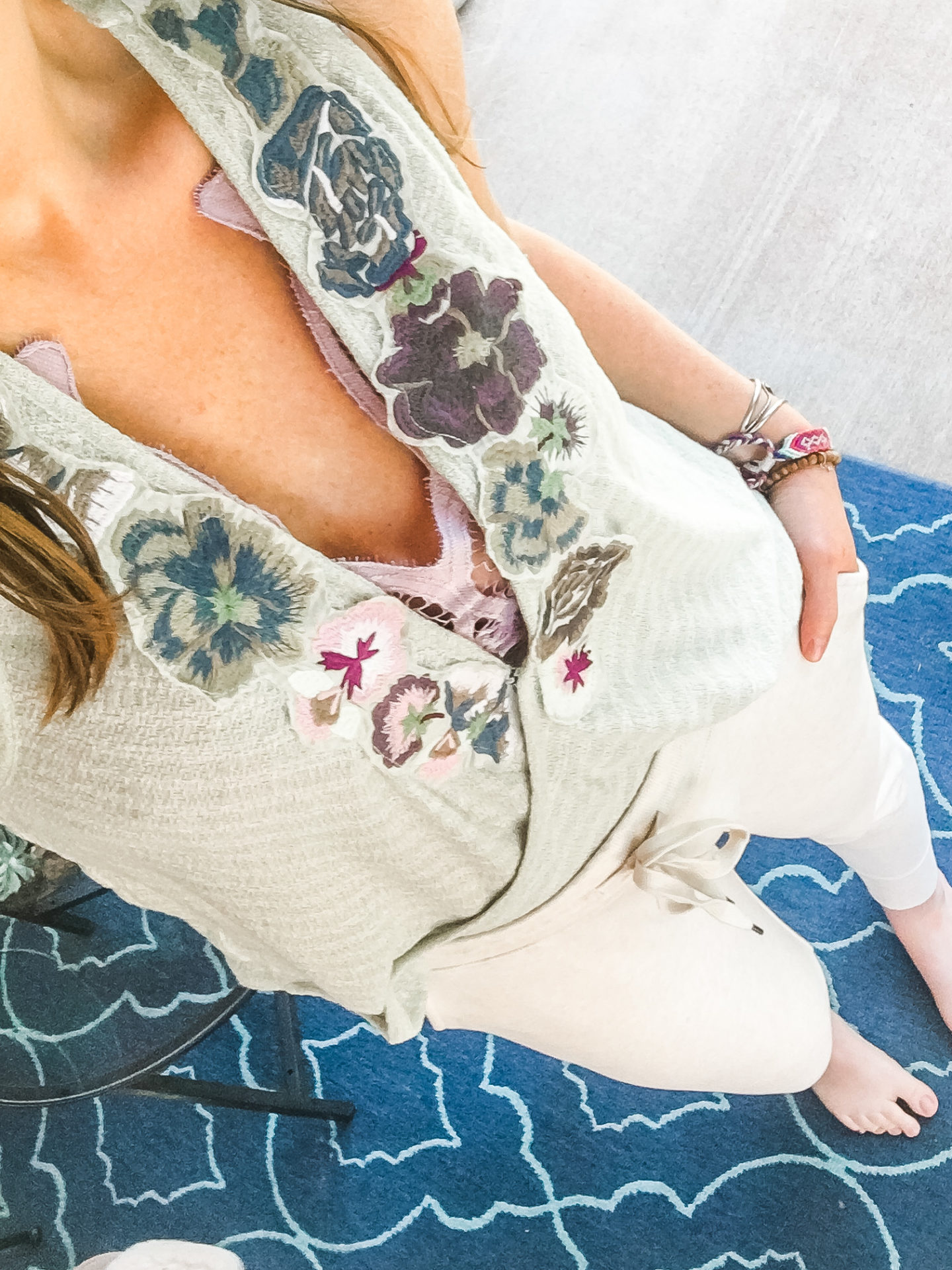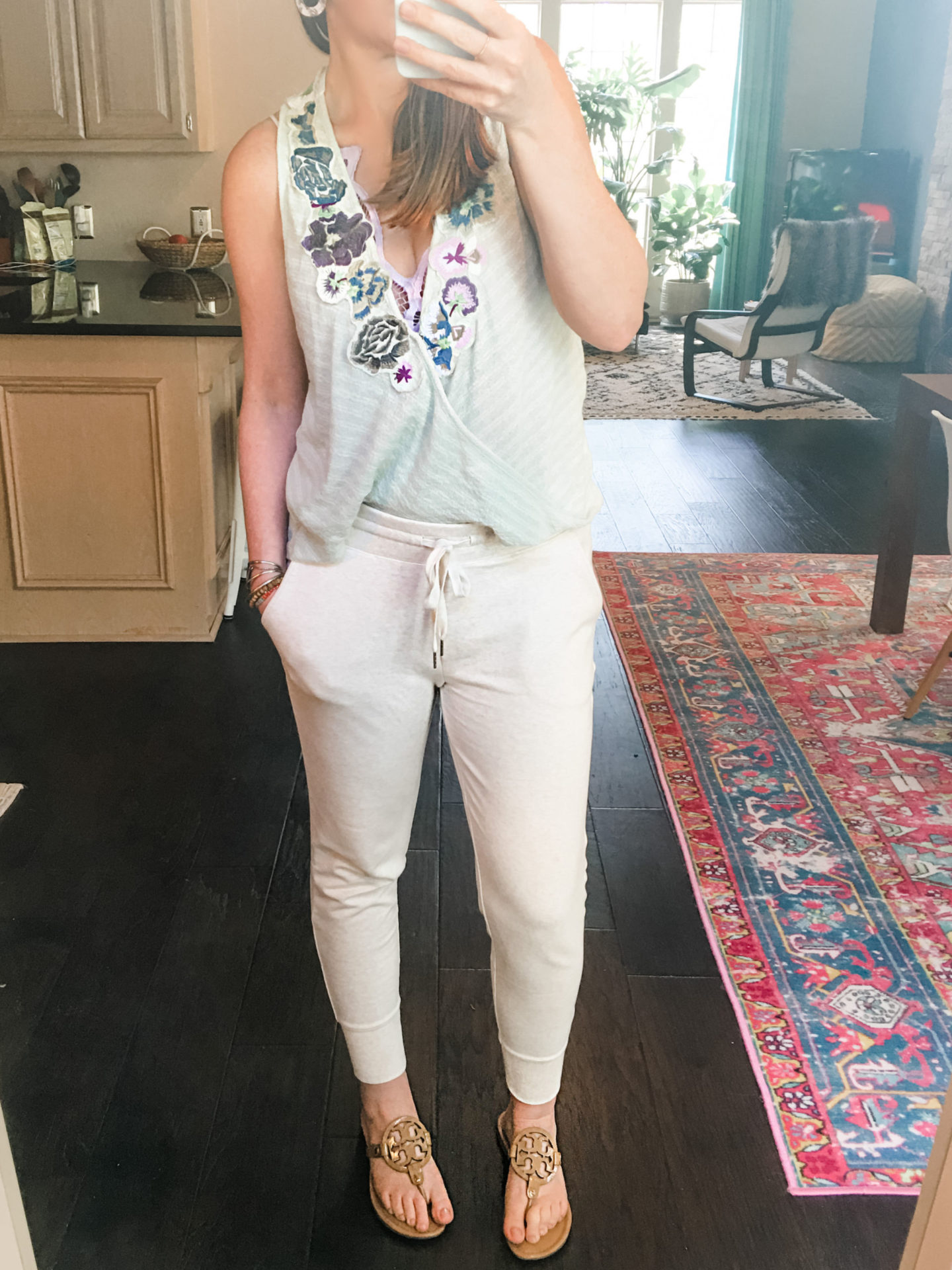 Free People Frida Top: Love this top. It runs a little large but not hugely large like some FP tops. I'm wearing a small in this picture. This top is from last season but I could care less and love to find Free People tops on Ebay and Amazon. They aren't used and usually have tags. I believe this top was around $6 and the regular price was $68! This top is very low cut. I wear a cami or bralette with it for coverage.
Joggers: These are an oatmeal color but they come in several different colors as well. They are medium thickness and not see through. They are fitted and high rise. I'm wearing a large and would say they are true to size. I really like them and might get the black as well.
Free People Dupe Bralette: These run somewhere between true to size-small. I'm wearing an XL. They fit loose which is what I prefer since I wear them all day. They are more padded more than the Free People version which is really nice. The Free People bralette is $38. I have 2 Free People bralettes and I can honestly say, the dupes are just as good if not better then the original and only $10!  They're a HUGE score!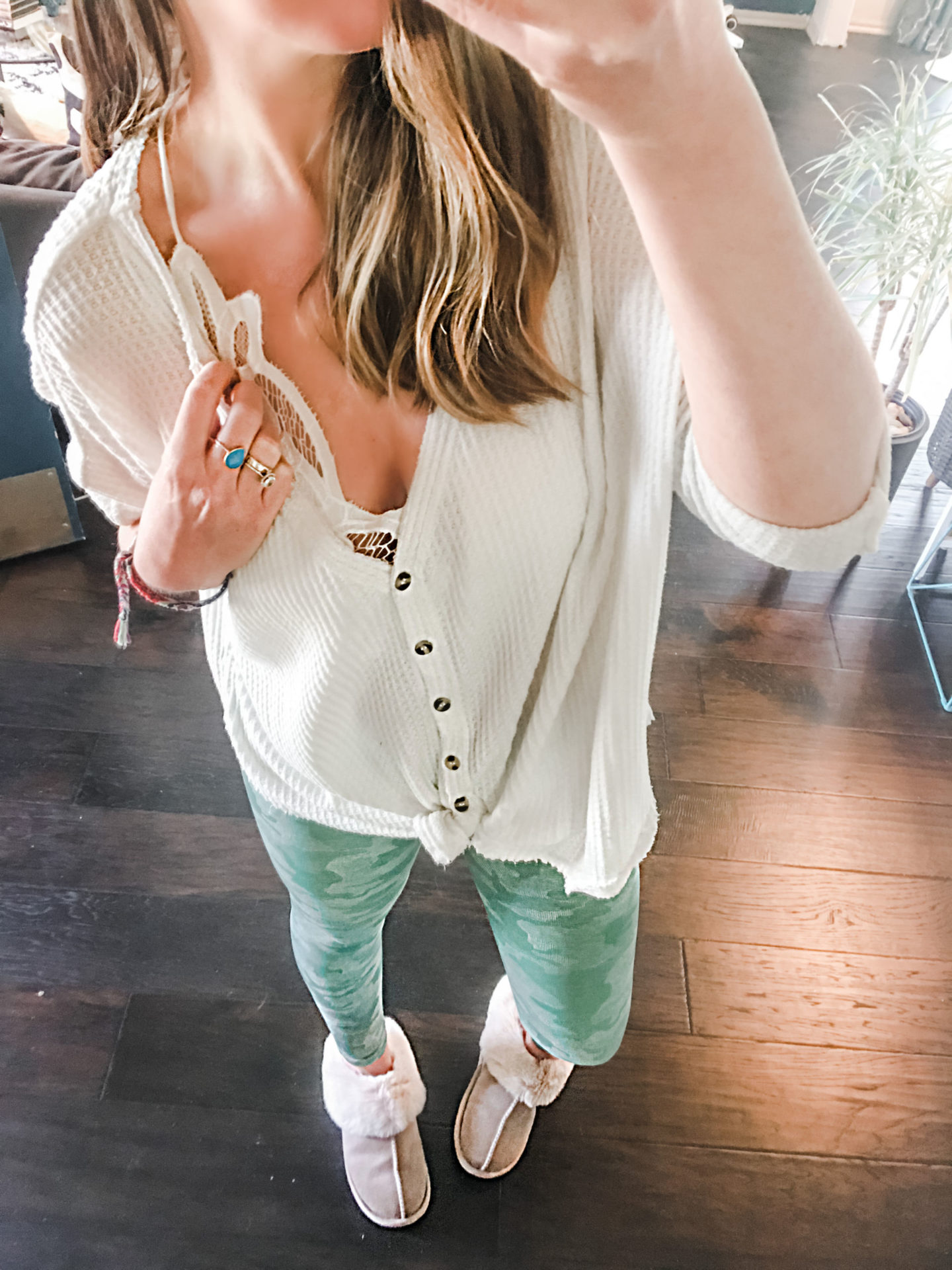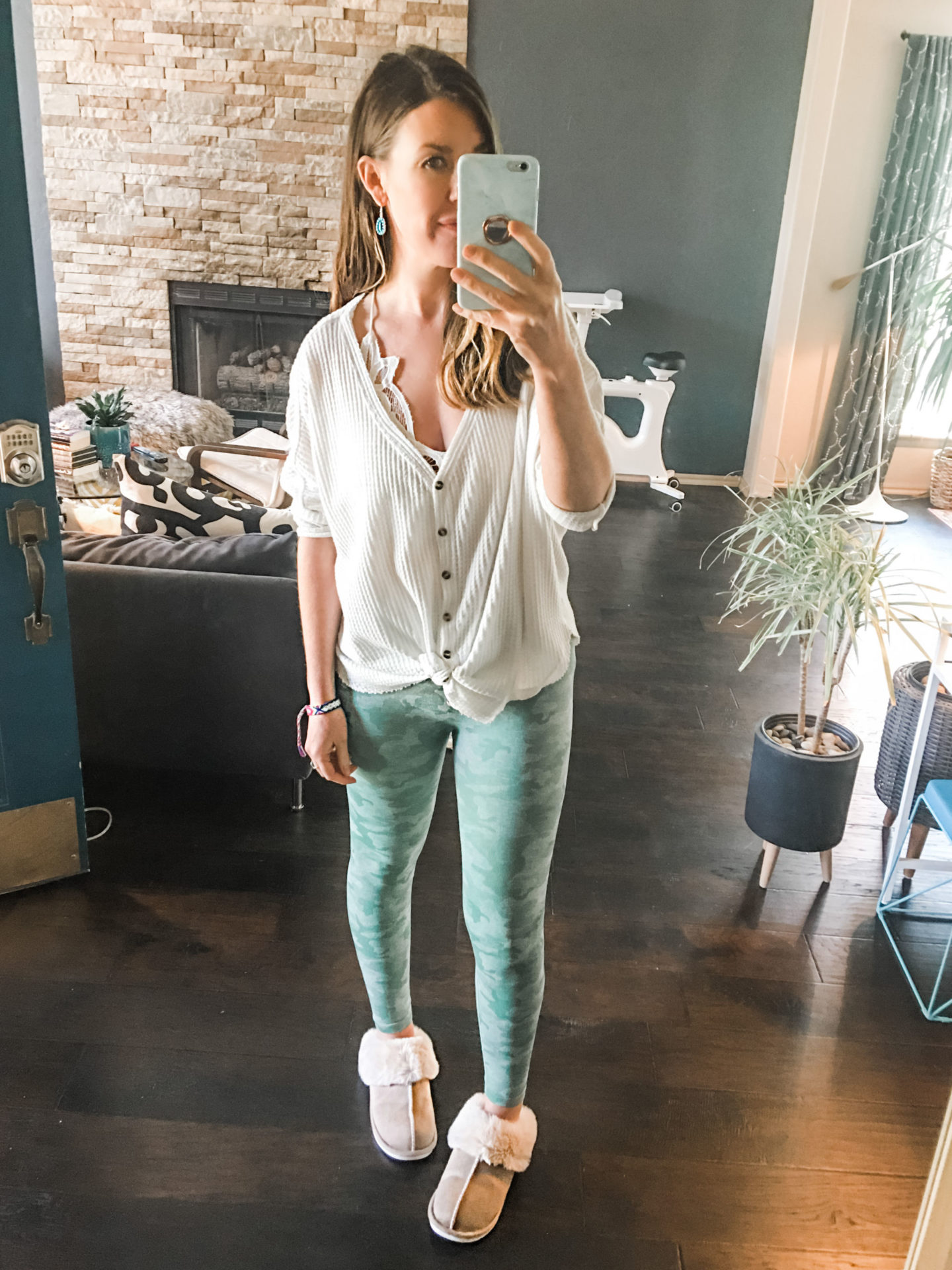 Button Down Top: Love these Urban Outfitter waffle knit tops. They run very large but are so soft and comfy. I'm wearing a large and wish I had bought a medium. They come in several colors. The dupes on Amazon don't compare.
Green Camo Leggings: I LOVE these! There are several retailers of these on Amazon and naturally I searched until I found the cheapest. I ordered my normal size of large and they fit great. Another blogger had these and said they were extremely tight and wished she sized up. I don't agree so possibly the sizing is different from retailer to retailer. They keep their shape all day and while they are snug in the tummy they aren't like a spanx legging where you are so sucked in it's uncomfortable. These also have an interesting texture which I love.
Slippers: I have wanted the Ugg slippers for so long but never bit the bullet. I decided to grab these and I'm so glad I did. They are so comfy and like the Uggs, they have a rubber sole so you can wear them outside and not worry. I got the 8/9 and they fit perfect. I'm typically a size 9.
Free People Bralette Dupe: See above-Cliff's notes: Buy the $10 dupe-they're just as good. I'm wearing an XL.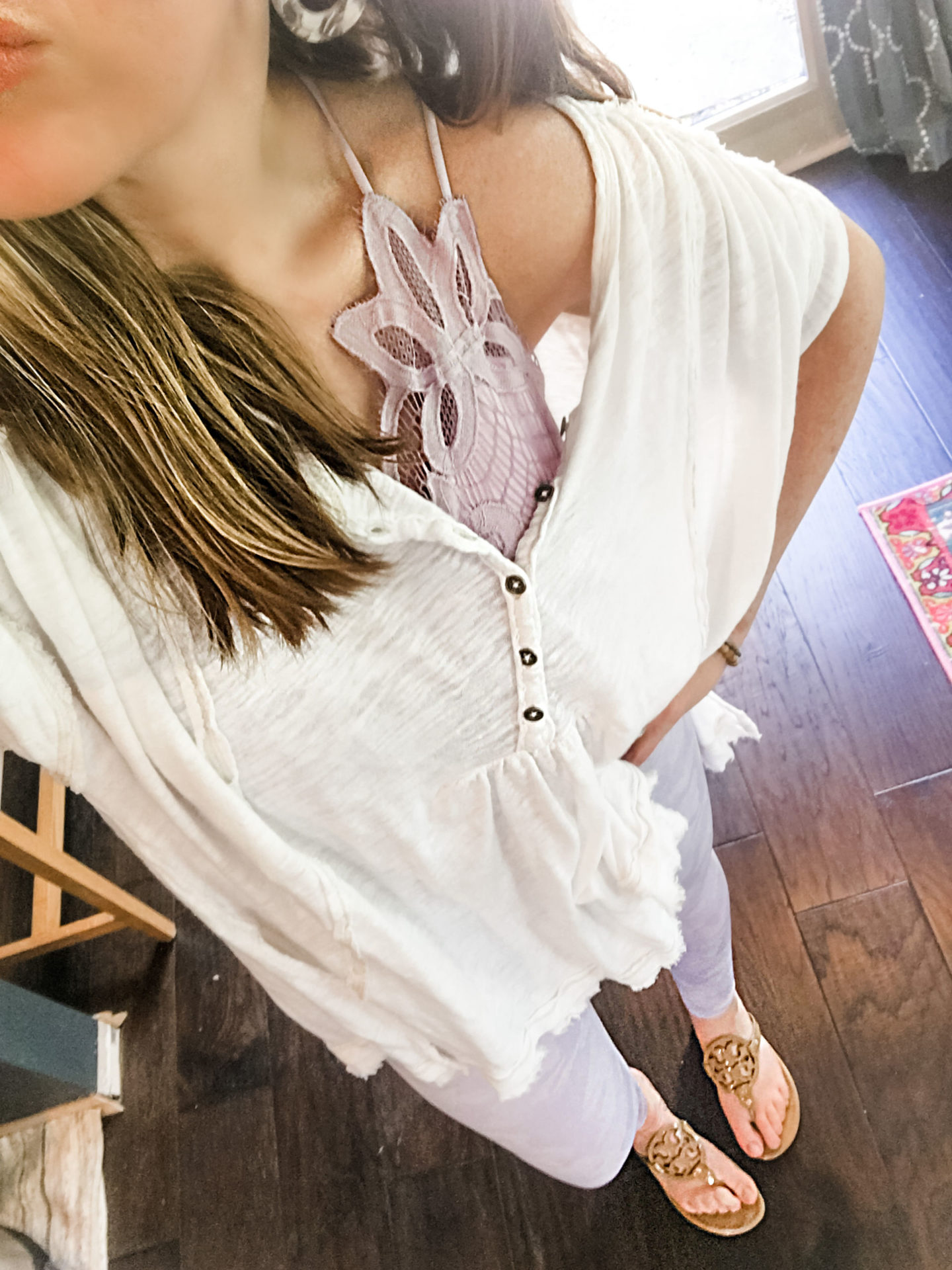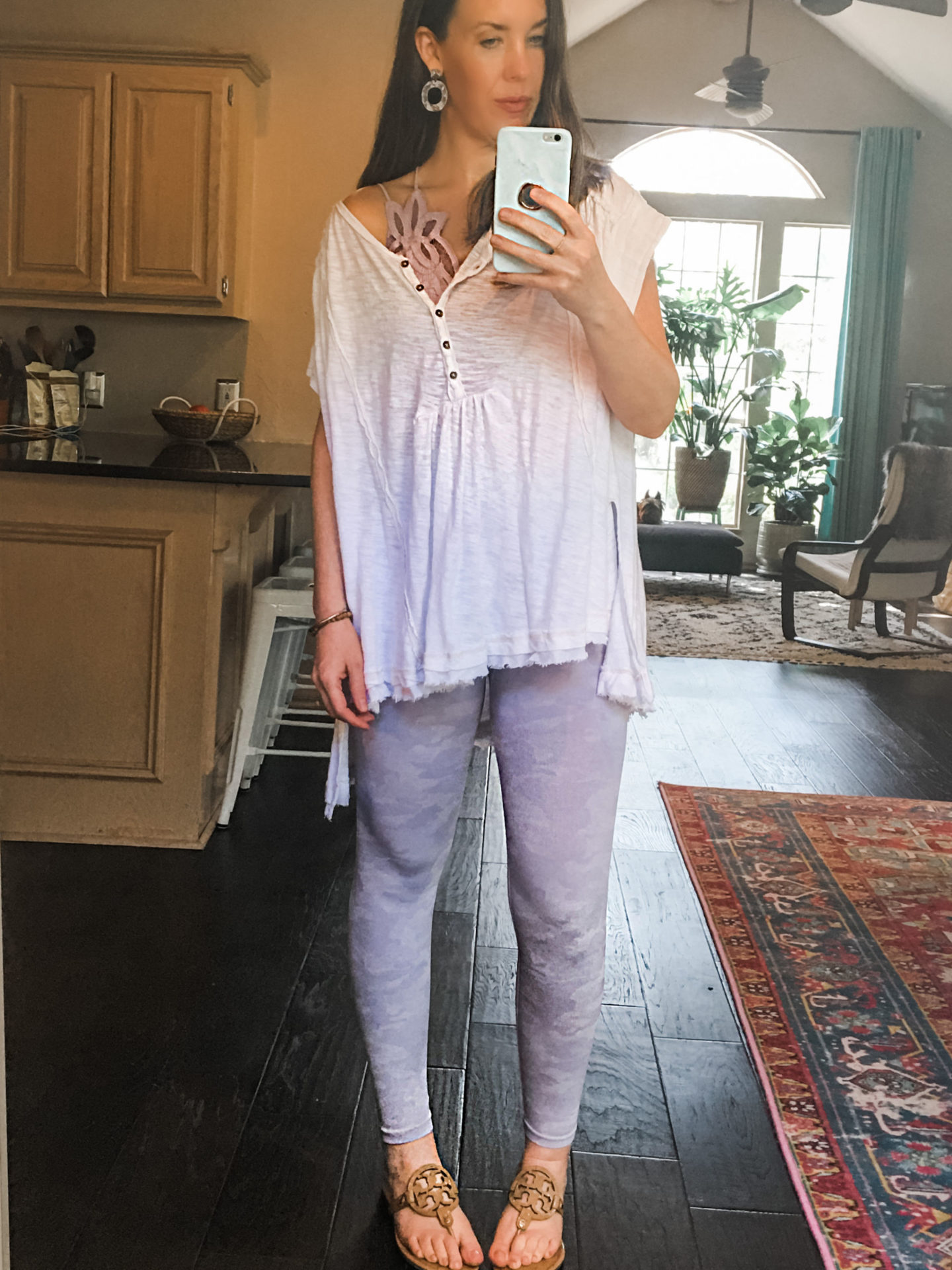 This outfit is a repeat of what's above. These are the lavender version of the camo leggings and the lavender bralette.
This top is Free People I found on Ebay for a fraction of the cost because it's off season! I've linked a couple below. Find some HERE. If you snag one, beware that it runs super big. I'm in an XS with plenty of room to spare.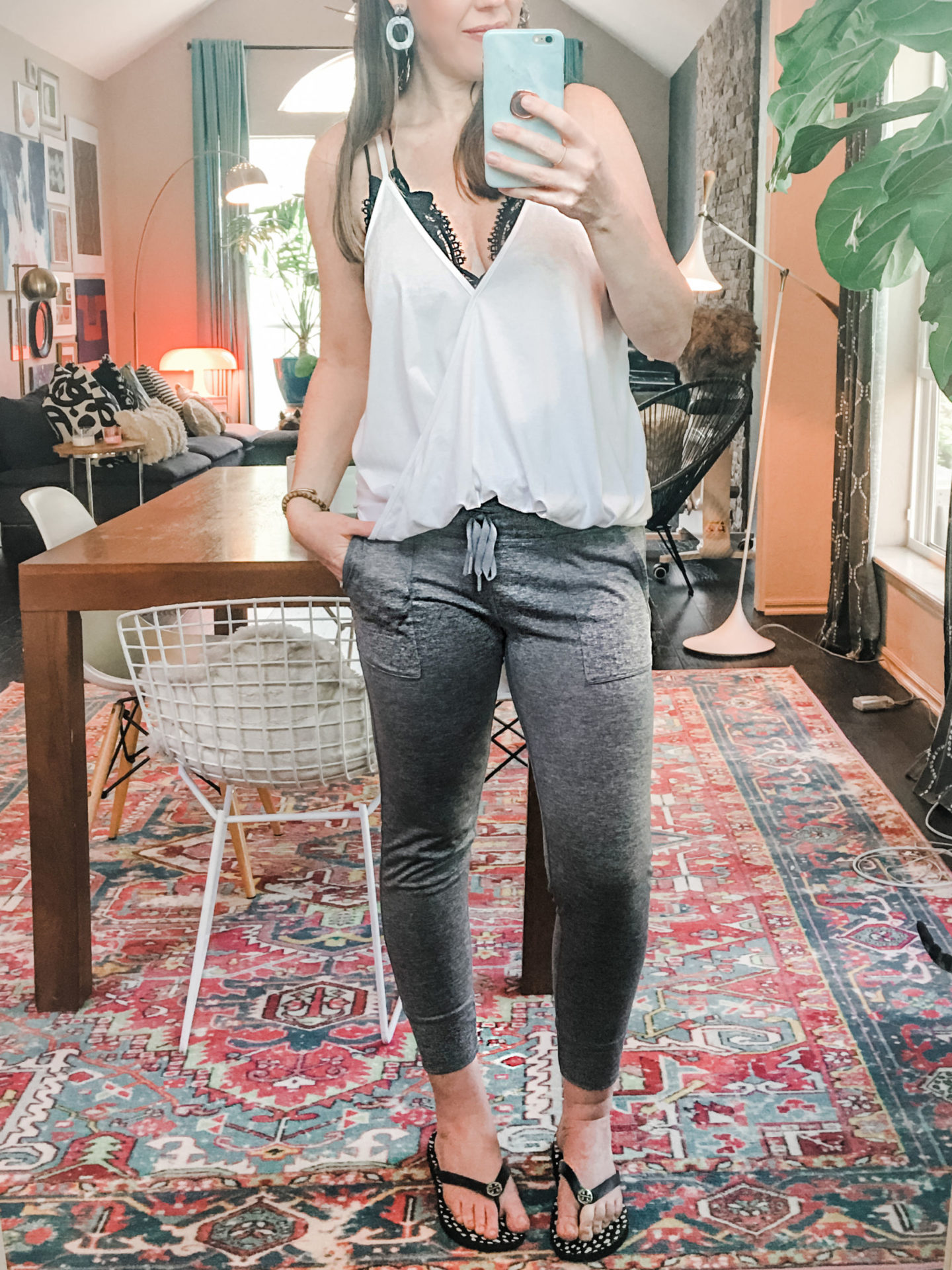 Wrap Top: I'm a bit on the fence with this top. It's cute but it's a bit billowy and thick. It's also pretty low cut but the straps adjust. I haven't tried it with a normal bra or even a more high coverage sports bra. I do like the fabric-it's a soft knit. I'm wearing a large and would say it's true to size.
Aerie Jogger: I love these and have had them for quite some time. They hold up well. My only complaint is they run a bit small. I'm wearing an XL. I'm pulling them up through out the day but the large was way too uncomfortable. They are a strange fabric that is super stretchy and a bit shiny. I am in between sizes at American Eagle and these pants are no different.
Free People Bralette Dupe: See above…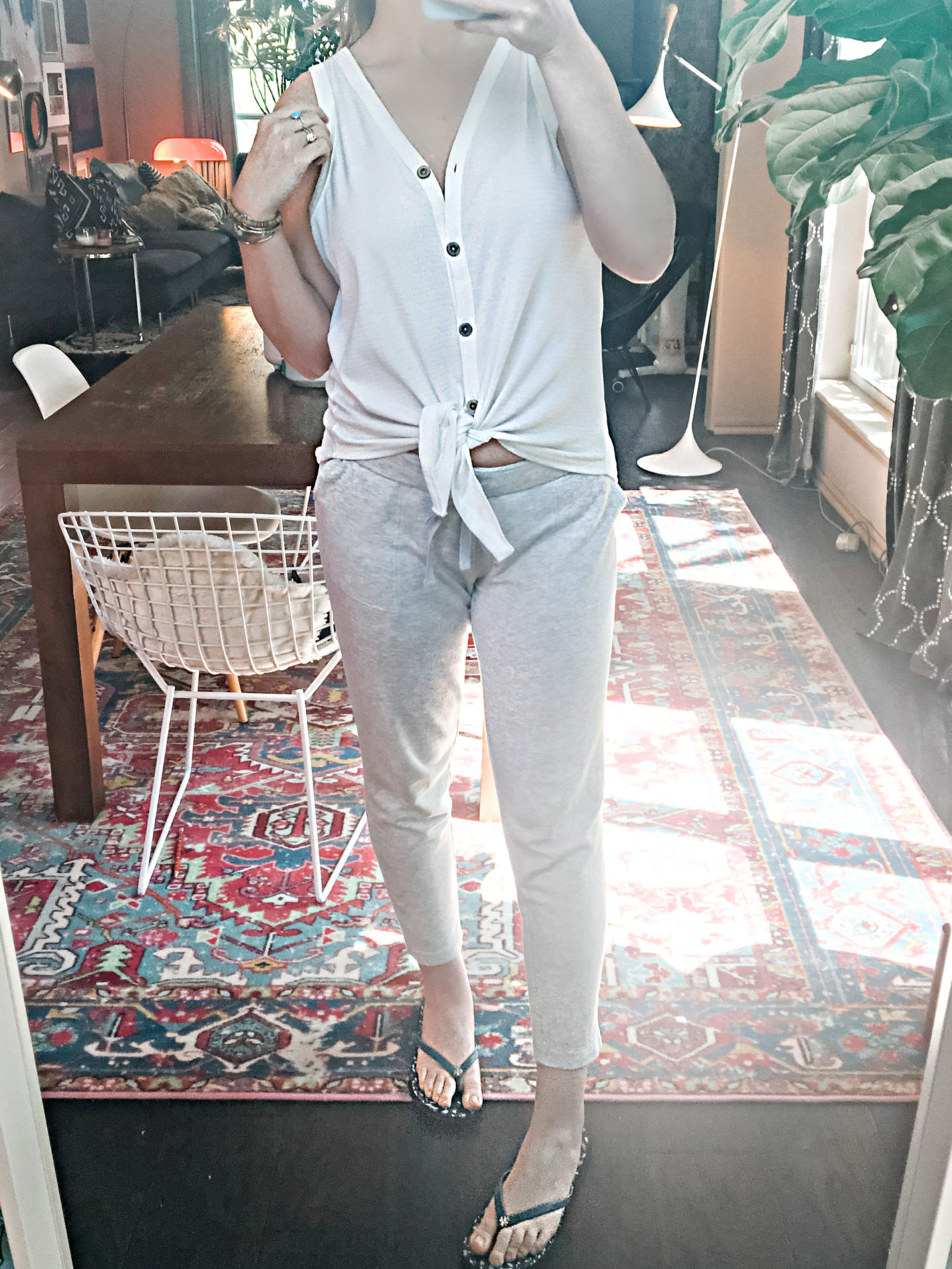 Button Down Waffle Knit Top: I will say this top is a bit boxy and not as flowy as the Urban Outfitters version. I'm have a long torso and I don't like that my stomach shows a bit. It is comfortable and washes really well. It's true to size and would look cute with jeans.
Lou & Grey Leggings-I've had these leggings for years. They are super expensive but I've washed them so many times and they are still in perfect shape. Loft often puts them on sale so I highly recommend waiting for that. In fact, they are currently 50% off. They run a bit big. I am wearing a medium.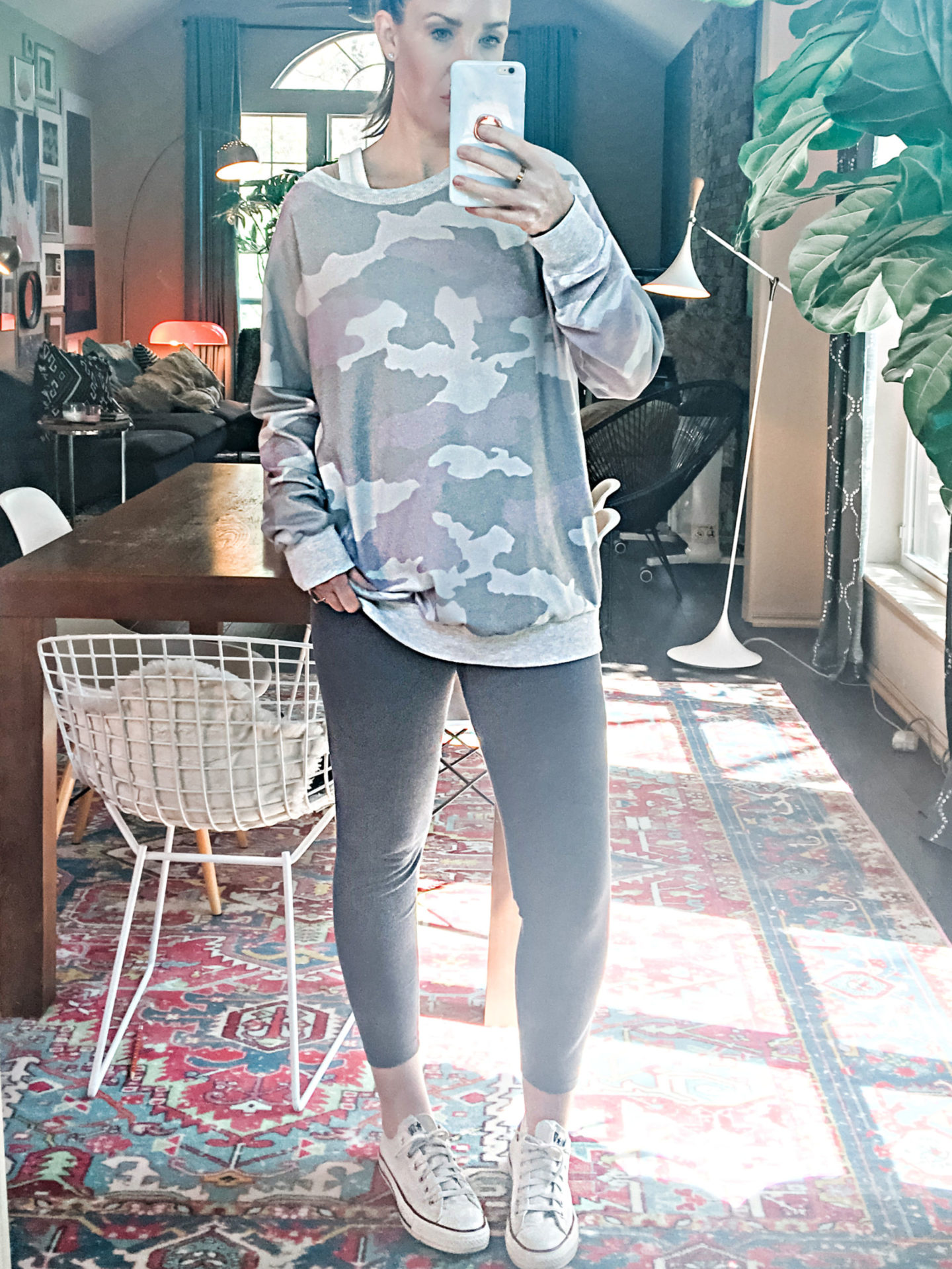 Camo Sweatshirt-This sweatshirt is true to size and super soft! I love the heather gray trim on the sleeves and neckline.
Leggings are High Waisted Balance Yoga from Old Navy.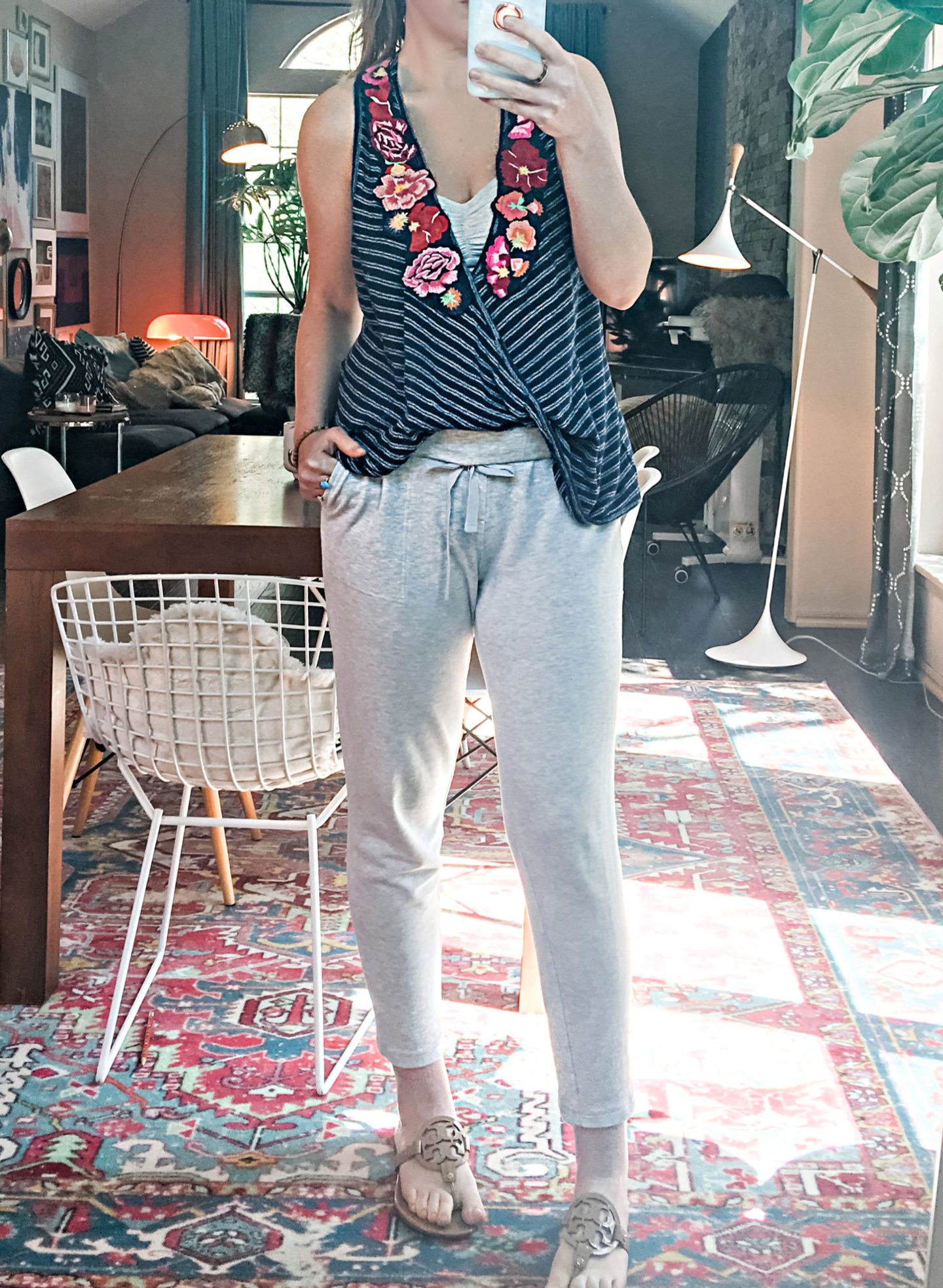 Free People Frida Top-This is the same top as above but in navy and in a large. Again-Check out Amazon and Ebay for off season tops at a fraction of the cost. This one was under $10 from Ebay! I love it with joggers or leggings and a knit bralette. See full description of this top above.
Lou & Grey Leggings: See description above…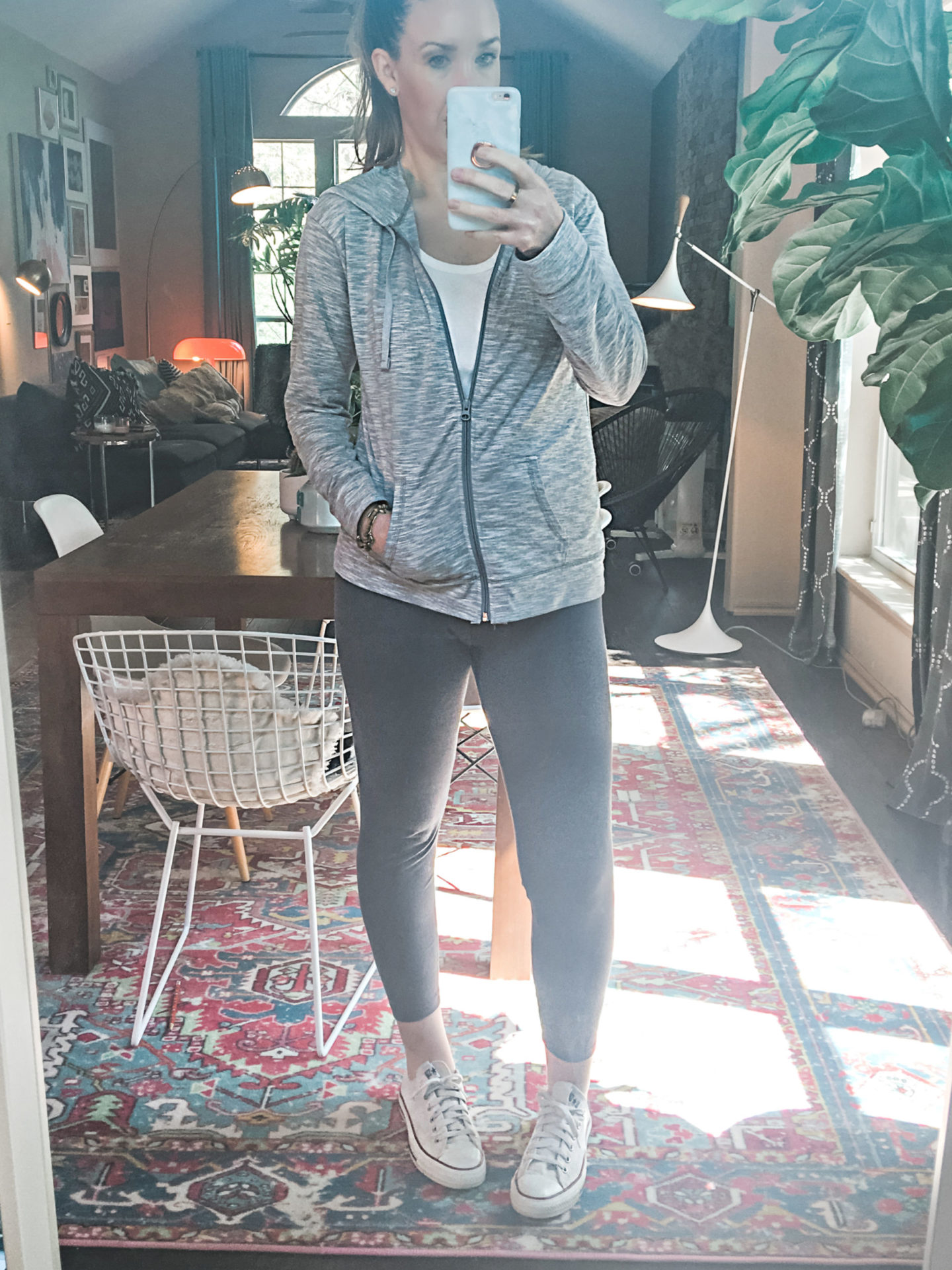 Grey Hoodie: I couldn't be happier with this very light weight hoodie! It was so cheap yet exactly what I had in mind that I ordered a white as well which was only $10. In my opinion, it's perfect for summer when the air conditioner is too cold and you want something light. This jacket runs true to size. I'm in a medium.
Leggings are High Waisted Balance Yoga from Old Navy. I'm in a large.
There you have it-so many comfy, cozy items from this haul! Hope you enjoyed!!
xx, Jenni
Shop the Post: