The boho modern living room is a mix of both structure and a free spirit abandon. To me, boho modern is modern only in the larger pieces of furniture. The boho is more of the accessories of the room. Look for clean, straight lines in your furniture and lots of textures, colors and coziness in everything else. A Mid-century sofa, coffee table and consoles anchor the room while comfy, colorful floor cushions and throw pillows, bold textures and rattan accents create a well traveled, eclectic vibe.
Characteristics of a Boho Living Space:
Bohemian style consists of natural elements mixed with an earthy color palette. Visual interest is everywhere! Bright colors are also welcomed. Natural textures and colorful textiles are prominent. Wicker furniture is also used often.
Achieving boho design can consist of combining your personal style with different cultural elements. To get that boho vibe incorporating house plants, floor pillows, rattan accent pieces, vintage items and loads of layered texture will pull together the eclectic look. Often different cultures are represented throughout the space.
A boho rug is typically often shaggy with fringe or vintage and full of vibrant colors. Boho wall art if also colorful and quirky and a perfect way to display a well traveled host. There is typically ambient lighting with loads of lamps (no overhead light) which creates a chilled out, relaxing atmosphere.
Characteristics of a Modern Living Space:
Modern living rooms consist of neutral colors, clean lines and simplicity. Often times, modern is a streamlined, less is more design style. Minimalism is welcomed.
I personally love to incorporate at least one mid-century modern piece in each room in my home. I love the warmth of the wood as well as the simple shapes. Lighting a modern style living room is a great way to show off personality. Modern light fixtures can be beautiful and full of personality. And of course, vintage modern lamps can make a bold and stylish statement.
Combining the Modern Boho Look:
Modern interior can sometimes feel sterile and cold, so to add bohemian decor is a great contrast that creates a beautifully designed space. To combine these two very different design styles, you are taking from the best of both worlds. It's almost an opposites attract scenario. These are two very different styles at opposite ends of the design spectrum.
The modern boho style has no rule book. As I stated earlier, the foundation of the boho modern room tends to be modern with sleek furniture while boho elements are layered over the modern. Often times a bright, eclectic gallery wall in a structured shape is a feature and exemplifies the two styles working together.
Contrast is a great thing. It creates balance in a space. To have a room be 100% modern can be boring. A 100% bohemian room can be cluttered and busy. Modern boho decor is a beautiful romance between a free spirit and a play by the books personality. The balance between the two is in perfect harmony.
Also combining two opposing styles shows that an interesting person lives here.
Related Post: Mid-Century Man Cave-2 Options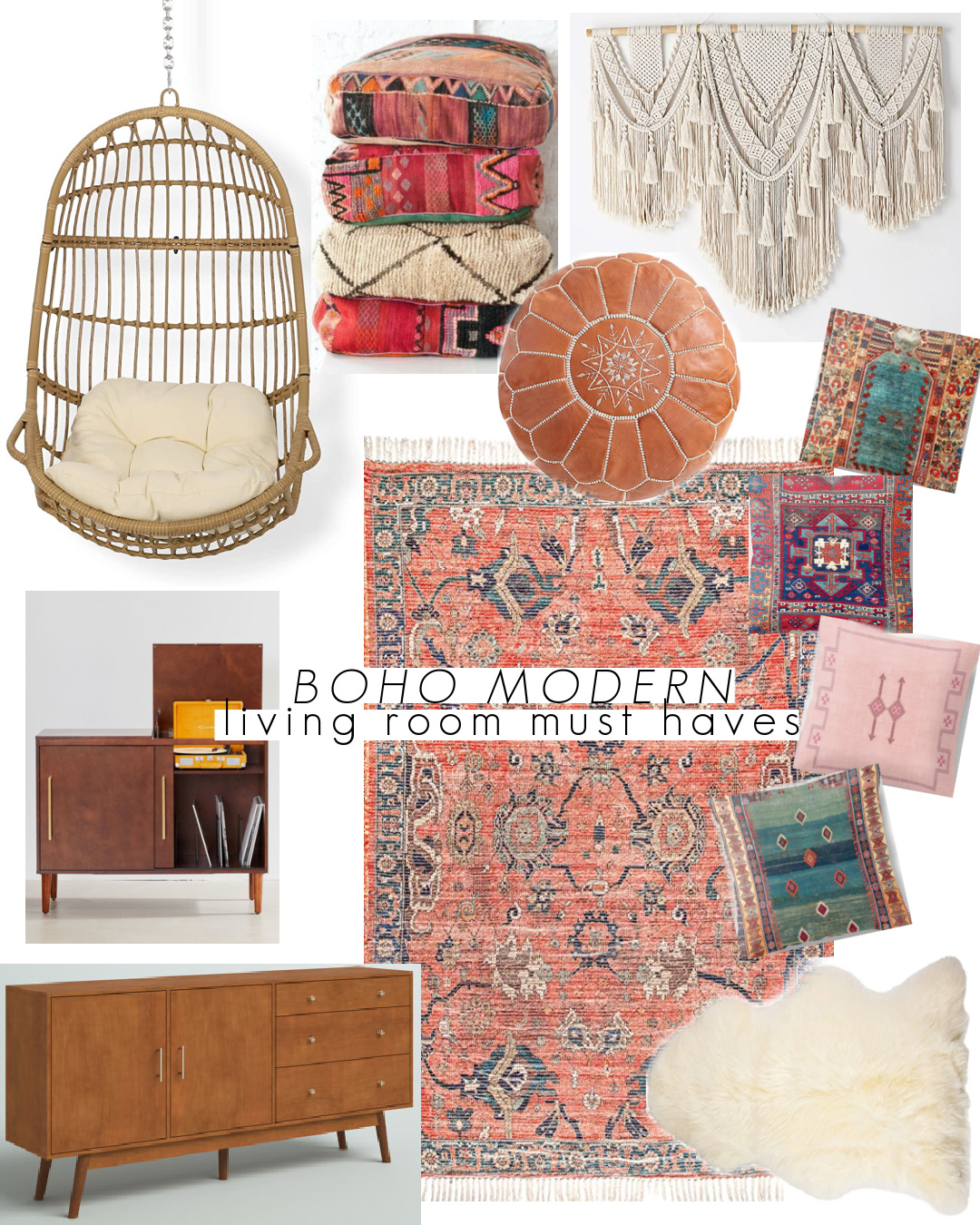 A boho modern living room is inviting and lures friends to stay a while, lounge out, pour a drink and listen to some records.
If you'd like to create a boho modern living room, I've rounded up a few pieces that will be perfect for achieving the look!
Indoor Plants: One necessity a boho modern living room always must have are plants! The bigger the better! As a bonus and to save loads of money on planters, find large baskets to display them in rather than ceramic pots! Keep them in the pot they come in is smart because the plant is already in shock when you bring it home. Repotting can damage the plant permanently. Related Post: Indoor Plant Inspiration
Macrame Wall Hanging: I found THIS wall hanging that is huge and super affordable! These wall hangings are a lot of bang for their buck because they give off big vintage/boho vibes! They can take up a lot of wall space as well.
Colorful Turkish/Moroccan Rugs: Cozy, cushy and textured rugs work well for the boho look. I found THIS rug on Amazon. I have THIS shag rug in my living room and love it. Don't be afraid to layer rugs as well!
Wooden Mid-Century Pieces: Mid-century modern pieces like console tables, coffee tables, media consoles and stream lined velvet sofas help anchor the look giving the overall vibe of the room a little more structure than a purely boho living room. I love THIS solid wood media console.
Textured Pillows: I found some beautiful Turkish Pillows HERE. They make a bold statement and add pops of color to the room!
Poofs and Floor Cushions: I have THIS leather moroccan poof and it's an incredible deal. It comes unstuffed but I found it easy to fill it with blankets and linens. THESE kilim poofs are stunning and a must have for floor cushions!
Rattan Furniture, Baskets and Wall Decor: A Hanging Chair brings a bit of whimsey to a room. Baskets to store trows and throw pillows add even more texture and I love rattan baskets hung on the wall.
Records and Record Storage: Nothing says mid-century, boho vibes quite like a record playing section of your living room! THIS wooden record cabinet is perfect and leans both towards modern and boho in style. I love how it has a sunken area to hold your record player! THIS one is smaller and much more affordable but still has a vintage look.
Sheepskin/Animal Skin & Rugs: Layering textures gives a room a cozy yet global look. Sheepskin rugs are a great way to cozy up a rattan chair or place in front of a fireplace for added comfort! I found a huge faux sheepskin rugs at my local Ross that comes in handy when I need to keep the sofa free of pet hair! HERE is a large one on Amazon.
Shop the Post:

Below I rounded up lots of photos that show the boho modern living room perfectly!
Related Post: Pinterest Lately:Home Decor
I hope you've enjoyed my vision of a modern bohemian living room. I've always love boho-whether it's in my fashion sense or home decor, boho is who I've always been. It wasn't until my late 20's that I discovered that I loved modern design and started exploring a cleaner look. My great love is mid-century modern design so to find a way to combine my first love with my greatest love is my home decor style of choice.
Always remember-it's your home and it's supposed to represent you. Throw out the rules. If you like it, it's right.
xx, Jenni
PIN IT!!!