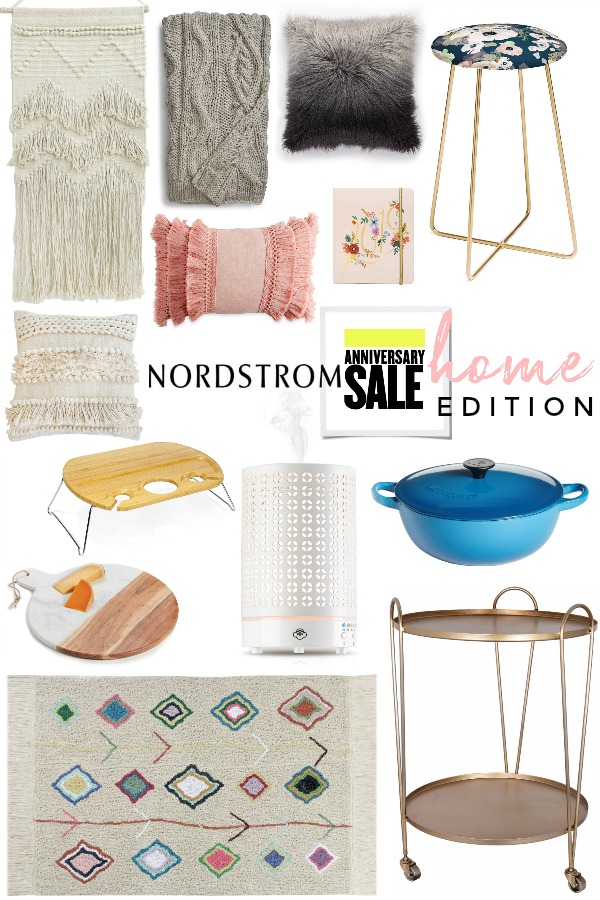 Today is the first day of the Nordstrom Anniversary Sale All Access!  This means, anyone can shop-no Nordstrom credit card needed!  I'm pleasantly surprised that many of my picks in women's fashion/shoes/bags are still available after early access which started last week.  However, today I wanted to tell you about the amazing items for your home that I've found and think are definitely worth a look!
Macrame Wall Hanging-I love these for giving an instant "boho" feel to a room.  This wall hanging is 15 x 35 and very reasonably priced!
Gray Cable Knit Throw-This throw just screams cozy fall/winter nights by a fire!  It comes in 4 different colors including a blush pink!
Faux Fur Accent Pillow in Gray-This dip dyed fur pillow is another boho staple!  Since it's faux, it is very affordable (and cruelty free!)
Vanity Stool-How cute is this?  It comes in 4 different prints and would be perfect for a makeup table!
Pom Pom Accent Pillow-I love this pillow!  It's great quality and marked way down!
Pink Lumbar Pillow– At only $22 this pillow is a no brainer!  It also comes in blue!
2019 17 mos. Planner-So pretty and a great way to start a new year!
Wine/Picnic Tray-I had to include this tray because it comes with a cut out for a bottle of wine and 2 glasses!  How cool-add a cheese tray and have a picnic!!
Ultrasonic Aromatherapy Diffuser-I'm sold on this diffuser for 2 reasons-One, it's cute and two, it's cheap!  It also had a timer and an automatic shutoff.
Le Creuset Cast Iron Soup Pot– I only use Le Creuset in my kitchen and while it can be an expensive investment it is a safer option.  I rely on sales like this one and this soup pot is a must have for fall/winter months!!
Marble and Wood Cheese Platter-Not only would this be an attractive tray for a wine and cheese night, it would also look quite attractive in a kitchen on display!
Tribal/Boho Rug-this hugely stylish, 5 x 7 rug is well priced but the really excitement is that it's able to be thrown into the washer!  It's also 100% cotton!
Metal Serving Cart-This cart is perfect for dinner parties-it would work so well for a bar cart and when it's not in use, it can easily be rolled away!
Shop the all home items in this sale HERE.  All prices will go back up August 6th.  Shop my women's fashion picks HERE.
Happy Shopping!  Jenni
Shop the Post