Disco balls make most of us think of the disco loving 70s. It's no wonder these mirror balls were used to light up a dance floor since they cast such a dazzling display when light hits them! Turns out, disco balls are making a come back thanks to the social media giant, Tik Tok. They have become so much more than party decor and are being used in regular homes to add a wonderfully magical atmosphere for anyone's living space!  Whether you're looking for a chic disco vibe or simply want to add a touch of kitsch to your space, disco balls are where it's at!
I believe home decor should be an extension of the inhabitant's personality. There are no rules in my design style and I love a trend like a mirror disco ball to light up your living room for a little extra flair! And Lord knows, I like to give a nod to the 70s every little chance I get!
The Surprising History of the Disco Ball:
Disco balls are synonymous with the 1970s but interestingly enough, the first disco ball was made by electricians in 1897 in Massachusetts for an annual ball. It was reported that the light from the ball could be seen for miles.
It gained much popularity in the roaring 20s but lost steam during the Great Depression. It reemerged again during the 1940s to compliment the Art Deco style. Mirrored balls were made by a company called Omega which was made up of mostly women since the men were typically fighting World War II. They also made sheets of the tiny glass mirrors so they could be molded to other objects such as Liberace's piano!
It wasn't until the 1970s that the disco ball was actually named the "disco ball" thanks to it's popularity in New York City clubs and discotheques. Once the A.I.D.S crisis hit, the disco ball went back into obscurity.
The disco ball was used through out the 90's and beyond but recently, it was made relevant again in a fresh way thanks to influencers on Tik Tok sharing how they use this versatile design in home decor. Many believe the trend has caught on thanks to the pandemic and quarantine inspiring many of us to find ways to spark joy while being at home.
Fun Ways to Display A Disco Ball:
A few of the coolest ways to display a disco ball is to simply place one in a spot where light will hit it. Whether you situate a small ball on your coffee table, place a few on a bar cart or hang a large disco ball from the ceiling making it the focal point of the room, these decorative balls are the perfect addition that can add a touch of glamour!
Forget limiting disco balls to a 70's disco party! This trend is being added to weddings, baby showers, birthday parties, outdoor events, engagement parties and for sure a great addition to a New Year's holiday party. With gorgeous disco ball wreaths intertwined with greenery and flowers, disco balls make a bold statement without breaking the bank.
Popular Types of Disco Ball Decor:
Find a stylish disco mirror ball today and sit back and enjoy an extra bit of sparkle in your interior design style! Easily take your home's ambiance to a new level with a glamorous mirror ball.

Disco Ball Wall Art:
In love with this trend and would like to find fun and inexpensive wall art of disco balls? I got you! Below is a round up of digital downloads from Etsy that are a great vibe!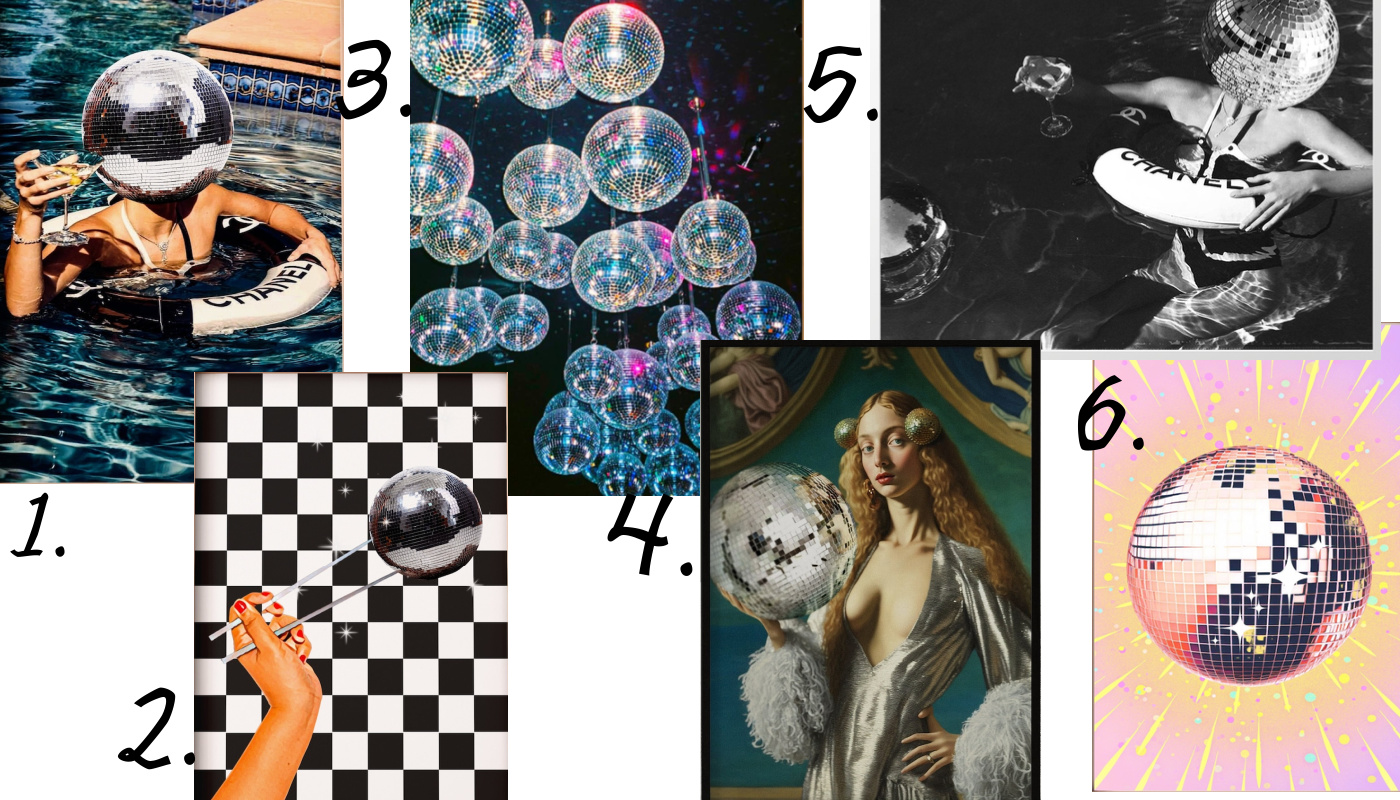 Best Disco Ball Decor Ideas:
I have scoured the world wide web and found the BEST disco ball inspiration! I think you'll agree, these gorgeous disco ball decor ideas make hopping on this trend easy!